Gastronomic tourism is the act of travelling for a taste of the place, in order to get a sense of the place, says Sandeep Goyal.
I was travelling by road from Jaipur to Kishangarh last month. Huge billboards selling jumbo 32-inch paranthas just freaked me out.
It was more curiosity than hunger. I asked the driver to park at one of the dhabas offering the wondrous stuffed bread. I was not disappointed.
There were 15 types of aloo-paranthas alone on the menu -- aloo with additional fillings that included pyaaz, gobhi, mooli, methi, matar, gajar, zeera, paneer and even achaar.
The menu had an equally enticing range of other stuffings that included patta-gobhi, even mushrooms and broccoli.
The tawa expectedly was extra-large. So were the other accessories, including the belan.
A monstrous amount of atta and mix of stuffings were expertly kneaded and flattened by the cook in no time.
The tawa was flooded with ghee as the parantha was browned, baked and cooked to perfection.
A huge dollop of white makhan atop the parantha, a large helping of fresh dahi and 2-3 varieties of achaar completed the presentation on a super-sized thaal.
The parantha was uniformly crisp on the surface, yet soft inside; the fillings were evenly and liberally spread; the ghee and the makhan further enhanced the taste, which was nothing short of sublime.
I had a small portion and asked for the rest of it to be packed to take home.
The pit-stop at the dhaba, with prices ranging from Rs 700 to Rs 850 per parantha, was just divine.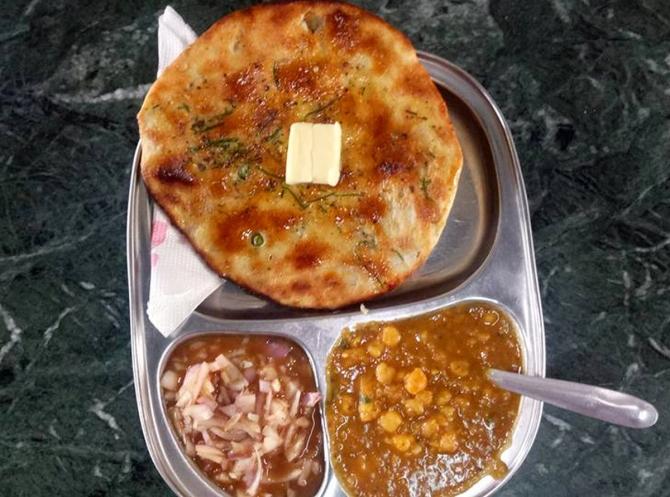 Four weeks ago, I was in Amritsar with some friends.
Besides the blessings that we had gone to seek from the Wahe Guru, culinary explorations were high on the agenda.
The gastronomic journey started at the Golden Temple itself with kara parsad and Guru ka langar.
Both blessed with goodness and heavenly taste.
One meal was just Amritsari kulchas at Harbans Lal Kulche Wala. Simply delicious.
The Amritsari machhli at Makhan's was out-of-the-world.
Keema kulcha at Beera's, mutton tikka at Bubby's, paya at Pal da Dhaba, mutton chaap at Adarsh's, bheja fry at Mame da Dhaba, mutton curry at Prakash's and Amritsari lassi at Gian's left us with little or no space for maa di daal and lacchhe at Bharawan da Dhaba.
Nevertheless, kulfa at A-One's was un-missable -- it has a bed of phirni, on which there is a layer of ice-cold kulfi, and on top of that is an assortment of faluda, rabri, crushed ice, and a mild essence!
For good measure we carted back home pinnis and besan laddoos from Kanha and gajar-da-halwa from Novelty's. The Amritsar trip was blessed in ways both godly, and Epicurean.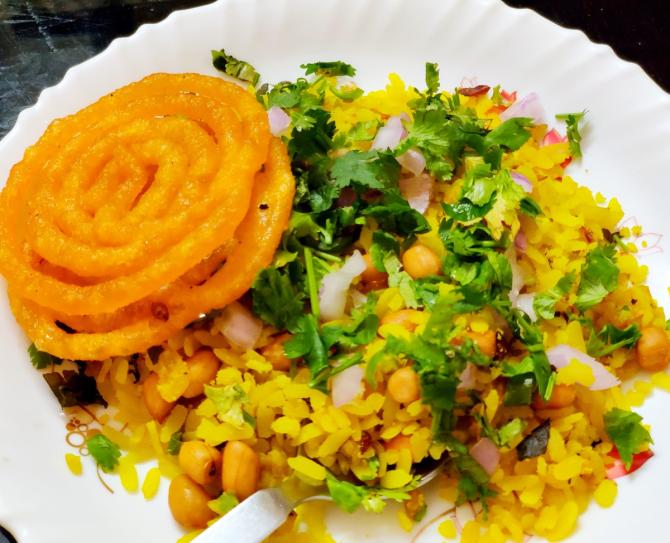 Gastronomic tourism is the act of travelling for a taste of the place, in order to get a sense of the place. Lots of us talk about it. Few practise it.
Most cities and towns in India have great local food, local specialities to offer -- Indore's dahi vada, poha jalebi, khatta samosa, moong bhajiya, mawa bati, bhutte ki kees, dal bafla, jaleba, sabudane ki khichdi, garadu, khopra patties and even kulfi faluda can be as enticing to Indian tourists as forts or palaces as a compelling reason to travel.
But Indore as a city doesn't advertise itself as an unbeatable food destination.
The same holds for Lucknow where tunday kebab, nihari and kulcha, Idris ki biryani, basket chaat, nimish, khasta kachori, sheermal, Raja thandai can kill you with taste and love... or the sheer extravaganza from Kolkata -- sandesh, rasogolla, chhanar payesh, chom chom, mishti doi -- sweet nothings that are deliriously delightful.
But no city or state tourism body in India has really made food tourism a reason-why-to-travel.
The city of Tsuruoka in Japan, however, has positioned itself as a food paradise.
It is today a UNESCO City of Gastronomy, part of the Creative City Network.
It even has a logo for the city that includes katakuri(fawn lilies), Black Sea bream, cherry salmon, dadacha soyabean and many more foodie elements.
I was in Tsuruoka a few years ago. Food there is intimately linked to the religious and spiritual side of Tsuruoka city, such as with asceticism (Shugendo) of the Three Sacred Mountains of Dewa.
I enjoyed partaking 2-star Michelin Shojin ryori meal -- devotion cuisine -- not dissimilar to our langar at a monastery.
Ascetic cuisine follows the ideas of simplicity and harmony.
Dishes feature a balance of colours and flavours: Every meal offers five different colours (green, yellow, red, black, and white), and are prepared in five different ways (raw, boiled, baked, fried, and steamed), in order to achieve a delicate balance of five different flavours (sweet, sour, salted, bitter, and umami), which are drawn out naturally from the ingredients rather than additional seasoning.
Besides Tsuruoka, there are thirty-six Cities of Gastronomy in the world.
Brazil and China have as many as four, Turkey and Italy both have three, while Colombia, Mexico, Spain and the United States have two each. All tourist magnates, aggressively promoted.
And yes, Hyderabad in India is on the list too. But whoever ever talks about it?
Sandeep Goyal is managing director, Rediffusion
Feature Presentation: Rajesh Alva/Rediff.com