He is a Senior Correspondent on The Daily Show.
He has powered the solo off-Broadway show Homecoming King.
He hosted this year's White House Correspondents' Dinner.
And now his Homecoming King has become the toast of Netflix.
'Maybe there's something in the chai right now that's making us all so creative and pushing us to tell our stories,' Hasan Minhaj told Chaya Babu.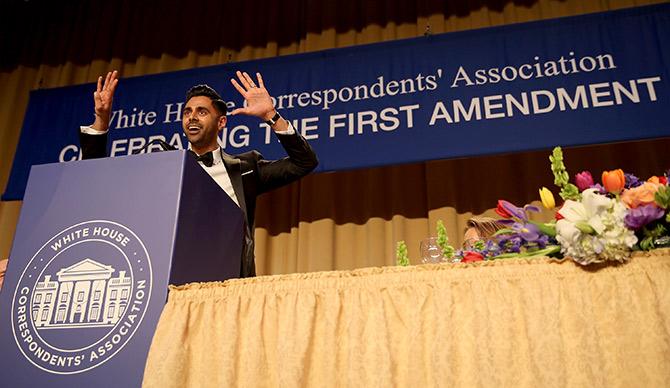 "I'd rather be an angry optimist than an angry nihilist," Hasan Minhaj says over the phone on his lunch break.
We're discussing his one man off-Broadway show, Homecoming King, his awesome role as Senior Political Correspondent on The Daily Show, and comedy in general, which is his platform to discuss a range of social and political issues.
Many of the topics he touches upon through his comedy are certainly areas that rouse anger for many -- race, immigration, Islamophobia, and more -- but his chosen medium gives space for simultaneous fun and lightness next to the gravity of some of the subject matter.
His piece commenting on then presidential hopeful Donald Trump's call for an all out ban on the migration of Muslims to the United States was the perfect response to the absurdity of Trump's statement: 'I think Trump is 100 percent right here,' Minhaj said. 'Muslims should not be allowed into this country. It's just not safe.'
When asked by colleague Trevor Noah, 'So, you also agree that Muslims are a danger,' Minhaj clarified, 'No no, I meant that Muslims are in danger, Trevor. One third of a major political party in America is backing a racist maniac. This place is scary right now.'
On point, and certainly a more optimistic take on Trump's stance than we've seen elsewhere.
While much less current-event-based, Minhaj's Homecoming King also focuses on related themes through a first-person narrative about his upbringing as a South Asian boy and then young man in the United States.
From stories about his family to the tragic tale of his prom date rejecting him last minute because her parents wanted her to attend the dance with a white student, the show is rife with raw feeling and humour.
It has attracted audiences of all cultural backgrounds and age groups.
Minhaj explained that though the story is personal, there's universality to it that anyone can relate to: "All the things that impact you the most have the undercurrents of love, fear, anger, hate, distrust, loyalty, loss, which are just very common human emotions," he said.
He has now turned Homecoming King into a Netflix special, which began streaming May 23.
As the rave reviews -- from critics and peers -- pour in, we revisit our chat with him when Homecoming King was on stage.
I'm going to guess a lot of your fans have seen both Homecoming King as well as your Daily Show material. In your mind, where are the overlaps and differences between these two separate strands of your comedy?
The biggest difference between what we do at The Daily Show and what I do in Homecoming King is kind of like this: at The Daily Show, every day, we're building a sand castle out of the elements or parts that we're given -- the news.
Stephen Colbert often described it like the show Chopped, where it's like, 'Hey, you have to make a meal out of pretzels, gummy bears, and wonder bread -- go!' That's essentially what we do with the news...
We work with those set elements (what's in the news) to create the show that day.
We build the sand castle, and then the water comes and washes it away, and then we do it again the next day.
With something like comedic storytelling, like what I do in Homecoming King, it's a longer form thing.
In terms of the way I dissected it and built it, it really goes over my life, and so there were moments, or basically acts -- 15 minute chunks -- that I would work on with my director.
We curated the acts and then worked on each of them, and it was a slower build.
It also requires a lot more time to look back and reflect on material: What are the themes and through-lines that we're trying to create in the show, because there are certain threads that are woven in throughout. That requires time. (A project like that) keeps evolving and growing and changing.
In this personal story, there are themes of immigration, Diaspora, race. Are these themes you want to continue to work with?
I totally want to continue working with those themes.
What's interesting is that, working at The Daily Show, Jon (Stewart) really taught us that legacy of asking, 'What is the thing you're ultimately trying to say? What is the argument you're making? What do you see that's happening in the world that you don't feel is just or fair, or you feel isn't getting enough of a spotlight?'
So, for me, what I tried to do with Homecoming King is that I showed something as minute and everyday and American as a kid trying to go to prom with someone he cares about, and I extrapolated that to a much larger thing, to illustrate how this fear, this idea of us versus them and that certain people are 'other,' is pervasive in all of life.
It doesn't just come up in politics. It's one of the most pervasive things in the human condition.
That's why one of the themes in the show is called Log Kya Kahenge, or 'What will people think?' -- that's pervasive in the way we date, interact, work with one another, love one another, and even in the political process...
The great thing that we do on the show is that we're not toeing any political or corporate line; it's just, 'Hey, this is what we're observing, this is what we think is happening.'
I tried to bring that level of honesty to Homecoming King as well.
The style and the ways in which that was executed -- those were entirely different. But that's why I decided to do the theatrical performance: you can really dive into something in 85 minutes rather than having to convey a ton of things in just 22 minutes a day.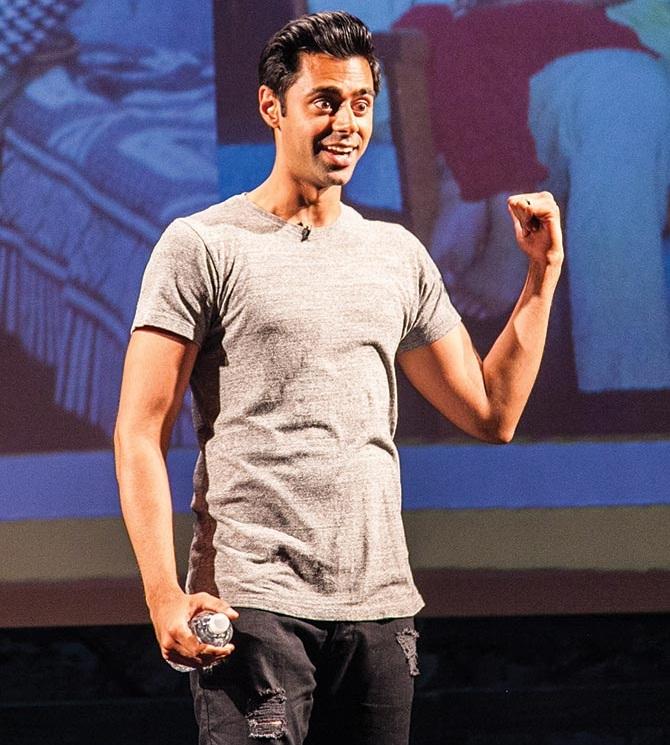 IMAGE: Minhaj first created Homecoming King for the stage. Photograph: Andrew Kist
What is compelling to people about discussing current events, political and social issues, and more through comedy?
Comedy is very disarming.
It's a way to talk about things and still be light-hearted. And when it's done really well, you never see the strings, whereas when you watch an infomercial or a politician speaking, a lot of times you can see the strings, you can see what agenda they're trying to push.
With comedy, satire specifically, if done well, it's such an honest analysis of the BS and the ridiculousness of life that you can't help but laugh; that's your visceral reaction of agreement.
That's why I think it's so powerful.
If you and I believe two different things, I can attack you verbally all day, but if I can make you laugh and show you the absurdity of your argument, it will lower you guard. People let you in then.
How are you feeling about the reception Homecoming King received?
The audiences have been amazing.
The people who enjoy it really connect to it and really find it to be powerful and feel that it's a representation of an experience that hasn't necessarily been told and added its chapter to the book of the American dream and the American narrative.
Then there are people for whom it doesn't click, and that's totally fine.
But I think it's a necessary story to be told.
Speaking of the other side, what is the feedback you've gotten that hasn't been quite so enthusiastic?
Some people wrote that some of the stories are mild, or that some of stories aren't that important, such as me experiencing racism or bullying in high school.
That's their take. All I can do is just provide my experience.
This is authentically my experience, and I know there are so many kids who experience the same thing, this type of otherness regardless of race, sexuality, creed, class, gender, ethnicity, whatever.
I know kids have experienced that. And I know because they tell me. They reach out to me after the show and they take photos with the poster outside.
There's definitely this connection, like, 'Finally, our experience is being told and it's just as American as apple pie and Air Jordans.' And I think, yeah, it really is. That's what I find to be most important.
But I think it's like with anything, even with standup comedy -- I'll perform at a club and I can crush it, but there will be a handful of people who are literally staring at you like, 'Why are you doing this?'
They're looking at you like you're speaking another language. But that's okay. I think that's the beautiful thing about art.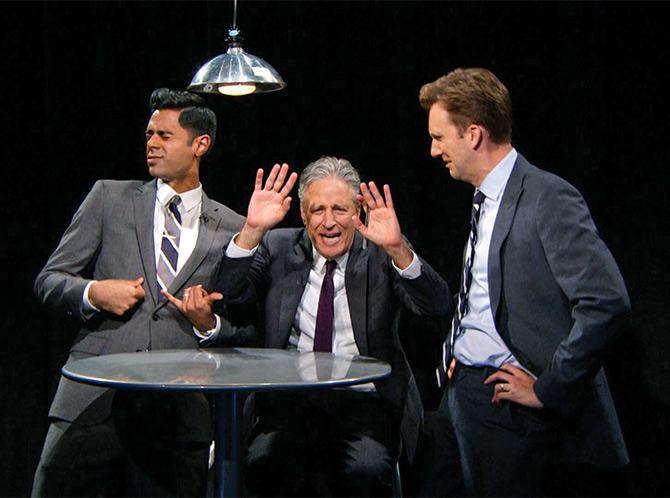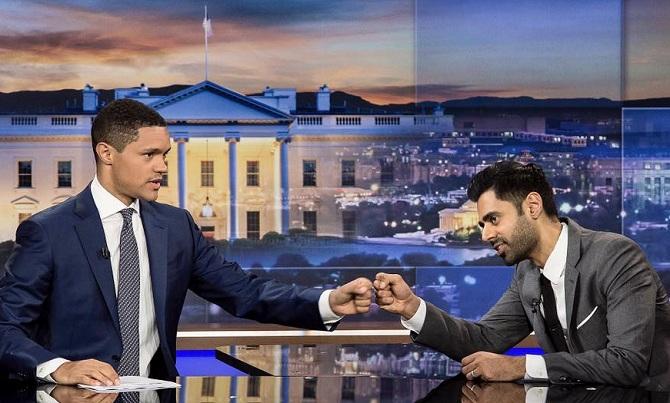 IMAGE: As a correspondent on The Daily Show, Minhaj has worked with both Jon Stewart and Trevor Noah. Photographs: Kind courtesy @HasanMinhaj/Facebook
I read that one with the criticism about how you're hanging on too much to stuff from your past.
I think there's a double standard there. Everybody's past and history informs them.
My growing up and what we had to go through to become a family and the events that took place after that -- it really made me the person I am today.
That's why I chose comedy, because comedy is the only medium where you can stand up and say something. You really can.
And it's actually listened to. And it doesn't come off as soapboxing, which sometimes people don't want to hear.
Comedy is a very powerful tool.
I understand that I may not be for everybody, but that being said, the thing that gives me the most confidence and belief in myself is the people.
The audience has been super diverse from what I could tell. When I went, it wasn't even half South Asian.
Yeah, it's been cool. I would see a mix in the audience, a real variety of people, and that was really awesome.
I loved that there was a variety of ages too. People brought their parents; sometimes kids as young as 15 would come.
It was great -- I've never been able to be a part of something in my career that taps into such a wide mix of people. I couldn't believe it.
Do you have other artists, comedians, and others in our community, telling our stories through various media, who you admire?
I look up to so many different people, and so many creative people of colour for so many different reasons.
Mira Nair is such a huge inspiration -- I can't believe she made Mississippi Masala in 1993. It's incredible.
Aziz (Ansari) is doing great work with Master of None.
Kumail Nanjiani (Silicon Valley) is phenomenal.
Hari Kondabolu is a beast.
Aparna Nancherla is so funny.
Ta-Nehisi Coates is one of my favourite writers.
Junot Diaz is another one; The Brief Wondrous Life of Oscar Wao is such an amazing book.
I love Eddie Wong's Fresh off the Boat.
I'm inspired by so many different creators of colour and people who have gone through the immigrant experience and are writing about it. I just think it's so great.
Maybe there's something in the chai right now that's making us all so creative and pushing us to tell our stories.
My theory is that, with our parents having immigrated here in the '70s and '80s, their children are now old enough to have some perspective and also the means and ability to talk about these experiences on large platforms.
All of us are in our late 20s and 30s. We're in that age range where we can talk about it with some depth. It's really awesome.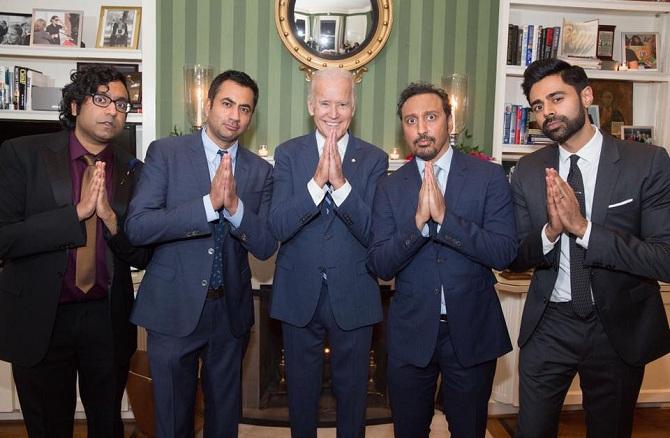 IMAGE: Then US vice-president Joe Biden, centre, with top Indian-American comedians -- from left, Hari Kondabolu, Kal Penn, Aasif Mandvi and Minhaj. Photograph: Kind courtesy @HasanMinhaj/Facebook
How did The Daily Show opportunity come up for you and finally coalesce?
Basically, Michael Shay left The Daily Show to go to Saturday Night Live, to do Weekend Update, so they needed another correspondent.
My manager sent me an email saying, 'Hey, The Daily Show is looking for a new correspondent, do you want to audition?' with a question mark. That's not a question mark email; it's more of a statement.
I submitted a tape, Jon liked the tape, they brought me in to screen test, but I had to write another original piece, and then coincidentally that Ben Affleck episode with Bill Maher went viral that week, so I wrote this piece based on that and he really liked it.
Then I got hired on the spot. It was one of the coolest experiences of my life.
How has it been since then?
It's great. It's incredible. We're like a family here. It's the best job in the world.
It's the best job in comedy. Everyone here is just so smart and brilliant and bright. I just love it.
It's cool that I get to work on a show that actually informs the national dialog in some way.
And what's to come?
There's a bunch of other projects that I'm working on that I can't disclose, but it's really, really exciting stuff.
All these doors have opened because of The Daily Show and because of Homecoming King. It's awesome.
This interview was first published in India Abroad, then a Rediff.com publication.