On Friday, Google celebrated Indian danseuse Mrinalini Sarabhai's 100th birhday with a colourful doodle.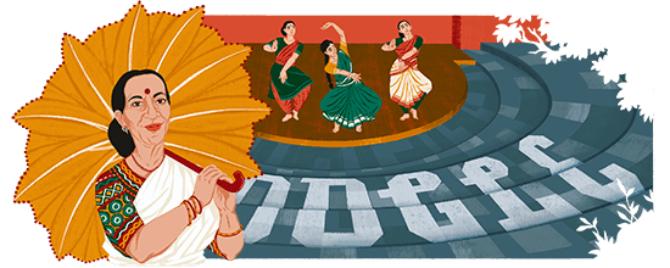 Mrinalini Sarabhai was born May 11, 1918 in Kerala.
Her father was a barrister at Madras High Court and mother was a freedom fighter.
During her childhood in Switzerland, Sarabhai trained in western dance forms. In India, she had the privilege to study at Shantiniketan under Rabindranath Tagore, during which she realised her passion for dancing.
She completed her training in Kathakali from Guru Thakazhi Kunchu Kurup and Bharatnatyam under Meenakshi Sundaram Pillai.
In 1942, she married physicist Vikram Sarabhai.
In 1948, she founded the Darpana Academy of Performing Arts to train students in dance, drama, music and puppetry, in Ahmedabad, Gujarat.
She received the Padma Shri in 1965 and Padma Bhushan in 1992 in recognition of her contributions to art.
'Mrinalini Sarabhai was gracious, well-read, liberal, very secular, and very well informed,' recalled film historian S Theodore Baskaran, in his tribute to the legendary dancer.
Post a brief illness, the dancer breathed her last on January 21, 2016. She was 97.
"My mother Mirnalini Sarabhai has just left for her eternal dance," her daughter and noted dancer Mallika Sarabhai said in a Facebook post announcing her death.
The dancer is survived by son Kartikeya Sarabhai, founder of Centre of Environment Education (CEE), and daughter Mallika Sarabhai, an activist and classical dancer.