The search engine doodled India's first superstar's 114th birthday.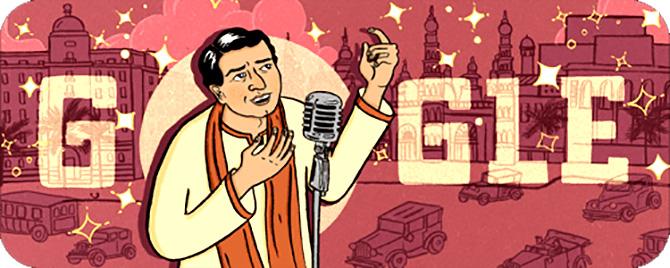 Google on Wednesday dedicated its doodle to Indian singer-actor K L Saigal on his 114th birth anniversary.
Designed by Vidhya Nagarajan, the google doodle shows Saigal singing against the backdrop of a city, representative of Kolkata or Bombay.
Kundanlal Saigal was born on April 11, 1904 in Jammu.
He came to Kolkatta in 1930s to work in the entertainment industry and went on to impress everyone with his inimitable style of singing and expressions.
Saigal has sung over 200 film and non-film songs in Hindi and Bengali, including evergreen ones like Jab Dil Hi Toot Gaya.
In his career spanning a decade and half, Saigal acted in Hindi, Bengali and Tamil cinema.
KL Saigal can rightly be called the first superstar of the Hindi film industry.
His songs have inspired legendary singers like Lata Mangeshkar, Kishore Kumar, Mohammad Rafi, and Mukesh.
Speaking of her admiration for the singer Lata Mangeshkar said: "I was a big admirer of Saigal saab's music, and later, I attempted to sing like him (smiles)."
"While singing, I used to try and pronounce the Urdu words the way he did," Mangeshkar told Hindustan Times.
Saigal breathed his last in 1947. He was 42.