Every time she takes to the stage, the actress has a bold message to share.
And she was no different while talking to Rediff.com's Anita Aikara at Lakmé Fashion Week, where she was a showstopper.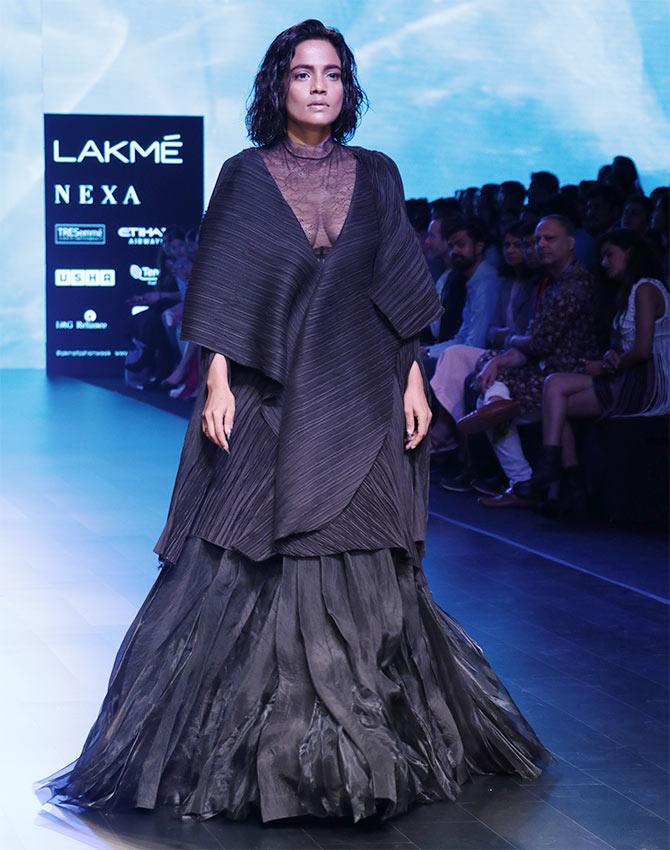 Priyanka Bose was the showstopper for Akshat Bansal on Day 3 of Lakmé Fashion Week Summer/Resort 2018.
Photograph: Hitesh Harisinghani/Rediff.com.
Priyanka Bose started her Bollywood career in 2007 with a blink-and-miss role in Johnny Gaddaar.
She went on to do several small roles in films like Sanjay Leela Bhansali's Guzaarish and Love Sex aur Dhokha.
Six years later, in 2013, she played the role of a single mother in an advertisement for Tanishq jewellery. The ad in which Bose, a dusky single mother, is shown getting married in the presence of her daughter broke many stereotypes.
The ad made Priyanka Bose a household name.
Since then, her career graph has only gone north.
Most of the roles she undertook later, including an international play in which she plays Nirbhaya, the rape victim, intended to drive a social message.
In 2016, she co-starred with Dev Patel in the Oscar-nominated Lion.
Today, she made an appearance at the Lakme Fashion Week as showstopper for designer Akshat Bansal, whose show highlighted the plight of the oceans.
After the show, Priyanka Bose spoke to Rediff.com about walking the ramp, what defines her career choices and more.
Describe your experience walking as a showstopper for ​​Akshat Bansal of BLONI.
It was a good experience.
Everyone was so intense. It was quite beautiful. I saw a little footage of my moments on the ramp and I'm glad I didn't fall on my face.
It was all very gorgeous.
This issue (plight of oceans) bothers India right now and if each one of us took up a purpose and an issue, we can really turn it around. I think what the designer has done is extraordinary.
When I was told that they wanted to pull me in, I thought this is the least I can do and talk about certain matters that really need attention.
​​What was your reaction when the designer told you about the outfit you'd be wearing at the show?
LFW has been really supportive of so many designers and that gives me a chance to experience different things.
With my roles, there is only so little I can do with the way I look.
But with clothes, I have two pet peeves; I love vintage and experimental clothes. That's the only way I think I can go out of the box.
When my stylist approached me saying that there is this brand that would like me to walk for them, I checked their work and liked what I saw.
I thought to myself, a little bit of drama never has hurt anybody.
I am an actor and if you ask me to tell you a story, I will tell you a story in the best possible way.
This (show) was completely different from what I have done before.
Earlier I've done street chic, and this outfit is way more glamorous. There is a side of me that is a little dark and I find my humour and joy from there as well.
The collection talks about the ocean and the damage we have done to our water bodies. In my outfit, I felt like a sea urchin coming out of an ocean.
Glimpses of the BLONI collection.
Photographs: Hitesh Harisinghani/Rediff.com.
​​What's your fashion mantra?
I don't really follow trends and I wear what's best for me at the time.
It is a representation of how I wake up in the morning. I can also mask what's going on inside of me.
I love my hair. I like it a little effortless. And that's why I cut my hair, so that I can wake up in the morning and still look chic and effortless at the same time.
​​Has the industry's perception of working with dusky actors changed?
I don't know. You tell me! Has your mindset changed? You understand what I'm saying?
I just feel that change has to come from within us. As soon as the demand for it changes, the money makers or the decision makers will change their mindsets too.
The supply (of dusky actors) is always going to be there. So the demand -- change in your mindset -- has to come from you, the audience.
As soon as the audience changes, everything changes!
Priyanka Bose starred in the play Nirbhaya, which won the prestigious Amnesty Freedom of Expression award and the Herald's Angel award.
Photograph: Shreya Dev Dubey/Rediff Archives
​​Working internationally vs working in India...is the experience different?
I won't say any experience is better or less. The only difference is in the culture.
I have had bad experiences there and good experiences here.
I'm willing to work abroad as well as in India.
When it is proficient, I have a great time and when it is not, I don't have a good time. It has happened there and here.
​​What has your experience with equal pay been? Have you experienced a bias?
Of course, I have (experienced bias)! It is very prevalant and you're obviously put in your place in the hierarchy you come from or are in the food/salary chain.
We are all fighting the same fight and my management in LA (Los Angeles) understands what we are fighting for.
Equal pay is definitely one of the things.
The amount of energy I put in is equal to a man, who is entitled to have a job.
But as a woman, I am also equally talented and entitled to an equal pay.
​​A dream role for you would be...
I would definitely try to do a couple of biopics in my life. Because I don't think in India we really have done justice to biopics.
I haven't seen Padman, but that seems close to something that Hollywood would give justice to.
Even Neerja was actually close to the person (on whom the movie was based). But apart from these two films, I don't think we do justice to biopics and that is something I want to do as an actor.
FULL COVERAGE: Lakme Fashion Week Summer/Resort 2018