Here's our weekly round-up that brings you the latest news on models, designers and celebs from the world of glamour and entertainment.
IMAGE: Urvashi Rautela. Photograph: Kind courtesy Matt Petit/The Miss Universe Organisation
Bollywood actress Urvashi Rautela feels it is important to impart sex education to children.
"I think imparting sex education to children is important. Being a model and an actress I feel we a have a responsibility towards society.
"We need to create social awareness," Urvashi told reporters here at the launch of Sex Chat with Pappu and Papa.
Sex Chat with Pappu & Papa is a five part fictional series that will provide information across different themes related to sex/sexuality.
Helmed by Ashish Patil, it (web series) covers topics from masturbation and periods to condoms, pregnancy and homosexuality but in a clean style with a lot of humor.
In one of the episodes, the Great Grand Masti actress is seen endorsing a condom brand.
"It's a short role but I loved the idea of this web series and hence I came on board.
"Ashish and his team have done a great job with this series... it was need of the hour."
The series is launched in 15 languages. It's set to be dubbed in six Indian languages including Hindi, Tamil, Telugu, Kannada, Malayalam and Bengali and also subtitled in ten international languages including English, Chinese, French, Dutch, Spanish, German, Bahasa, Malay and Thai.
****
Finally! Miranda Kerr says 'yes'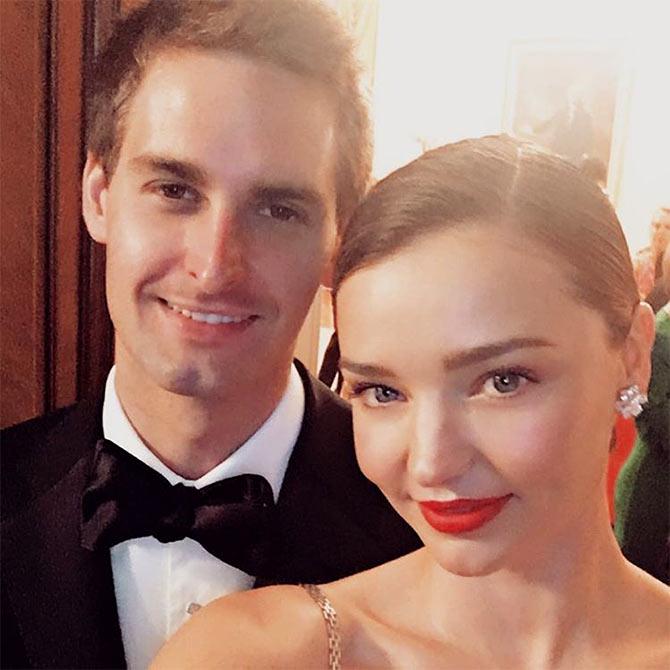 IMAGE: Former Victoria's Secret model Miranda Kerr takes a selfie with Snapchat CEO Evan Spiegel. Photograph: Kind Courtesy Miranda Kerr/Instagram
Supermodel Miranda Kerr is engaged to Snapchat CEO Evan Spiegel after dating him for one year.
The 33-year-old former Victoria's Secret angel shared the news on the micro-blogging site Instagram in which she posted her engagement ring with the caption: 'I said yes!!!.'
Kerr also added a cartoon to the picture depicting a marriage proposal.
"The couple will have an extravagant wedding, in true Evan style and Miranda certainly won't mind!," a source told E! Online.
The couple -- who met in 2014 -- started dating in June last year.
Kerr was previously married to actor Orlando Bloom from 2010 to 2013, and the pair has five-year-old son, Flynn.
*****
Julianne Moore's style icons are...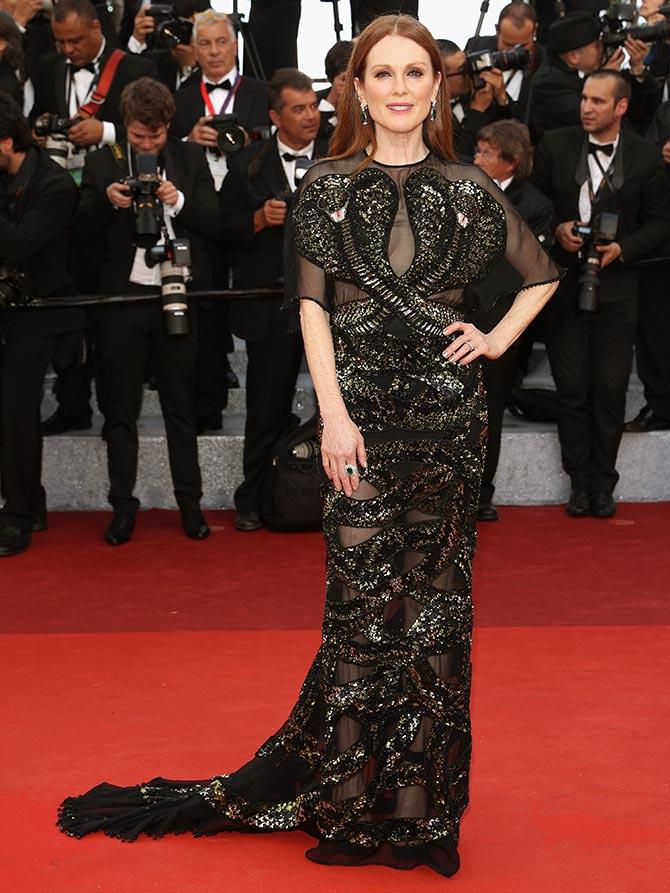 IMAGE: Actor Julianne Moore at Cannes Festival 2016. Photograph: Andreas Rentz/Getty Images

Actress Julianne Moore says child stars-turned-fashion designers Mary-Kate and Ashley Olsen inspire her when it comes to styling.
The 55-year-old Oscar winner is known for her stylish looks both on and off the red carpet.
Moore said instead of looking to more classic Hollywood stars for clothing tips, the actress reveals she is actually a big admirer of the 30-year-old twin moguls, reported Contactmusic.
Asked who her style icon was, the Still Alice star immediately replied, "The Olsen Twins".
****
Rejoice! Pippa Middleton is engaged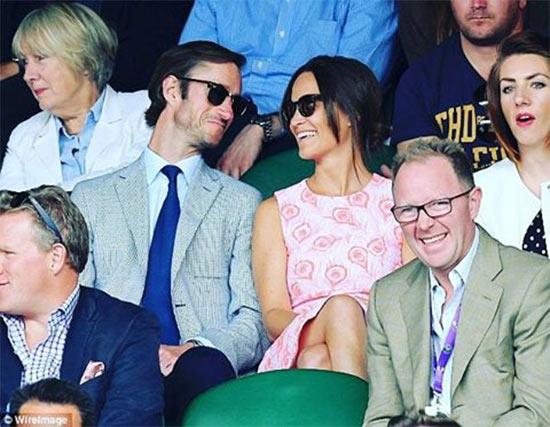 IMAGE: Hedge fund manager James Matthews (left) and Pippa Middleton attending Wimbledon. Photograph: Kind Courtesy Pippa Middleton/Instagram
The Duchess of Cambridge's younger sister Pippa Middleton and hedge fund manager James Matthews announced their engagement on July 19, setting the stage for a celebrated society wedding in the coming year.
The couple confirmed rumours in a statement to Britain's Press Association, saying they planned to marry in 2017.
The statement came as Middleton appeared in photographs with a diamond engagement ring on her left hand as she left her London home.
Matthews got down on one knee while they were visiting the picturesque Lake District and proposed to the 32-year-old Middleton on Sunday.
British media said they have been dating less than a year.
Her elder sister -- the former Kate Middleton -- and Prince William said they were "absolutely delighted," by the news, Kensington Palace said.
"They make a wonderful couple and we wish them every happiness together," said her father, Michael Middleton.
Middleton played a prominent role in the 2011 royal wedding of her older sister Kate and Prince William at Westminster Abbey in London, a wedding seen live by a worldwide television audience.
****
Kim just charged nearly $1 m for party selfies?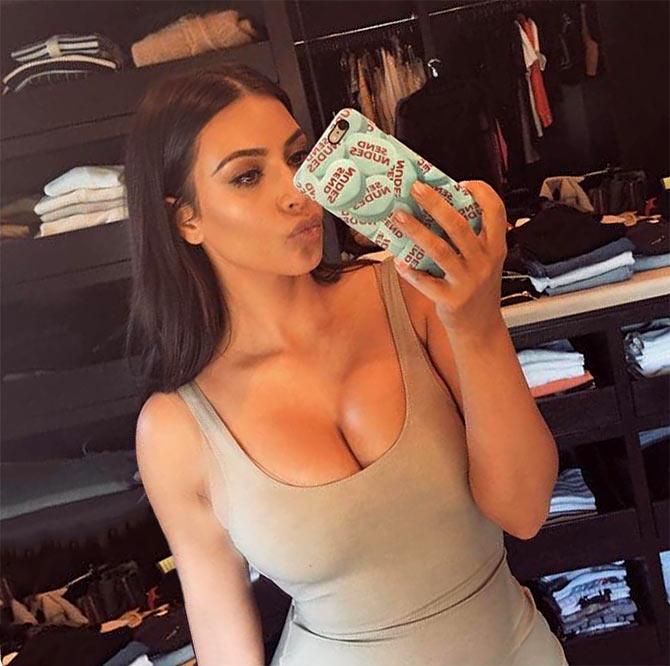 IMAGE: Kim Kardashian takes a selfie in front of her wardrobe. Photograph: Kind Courtesy Kim Kardashian/Instagram
Looks like 'selfie queen' Kim Kardashian has found a new yet interesting way of raking in more money, and that too with selfies.
Kardashian, 35, has reportedly received a staggering 700,000 dollars (Rs 4,69,76,615 approximately) to pose alongside social media stars for selfie's at a house party in the Hamptons, New York for fashion brand Revolve, News.com.au reports.
The 'Keeping Up With the Kardashians star' -- who was flown in and out by private jet -- accompanied by 25 bodyguards, posed with 'influencers' for a little over an hour.
The party organisers said they have shelled out between half a million dollars to one million dollars for her appearance.
However, her representative is yet to comment on this.
****
JLo's birthday wish: PEACE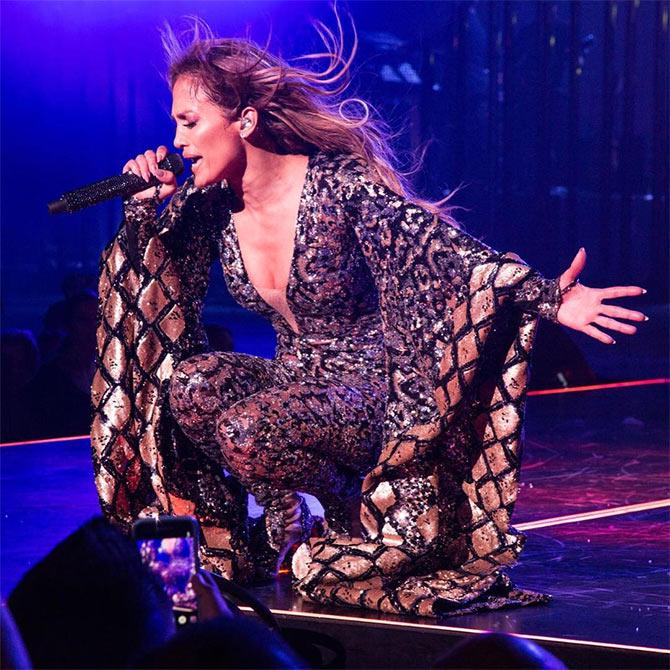 IMAGE: Jennifer Lopez performing at a concert. Photograph: Kind Courtesy Jennifer Lopez/Instagram
Singer Jennifer Lopez, who will turns a year older -- says she wants the world to resolve all differences and maintain peace.
The 46-year-old Ain't Your Mama hitmaker talked about disharmony caused by the terrorist group ISIS that left 84 people dead including 10 children in France and Orlando shooting at gay nightclub in Florida, reported E! online.
"I wish something bigger than for myself. I wish that the world would find a way to resolve our differences and have more love and unity right now," Lopez said.
The American-born dancer, who recently paid tribute to the victims of the attack, said, "It was her idea. I had a song called Love Make The World Go Round. It was about relationships and love.
"I just thought once the Orlando thing happened, which was kind of the first in a string of things that have happened now tragically, I thought, 'Let's do something for this."
****
Alexander McQueen's DNA cloned for fashion line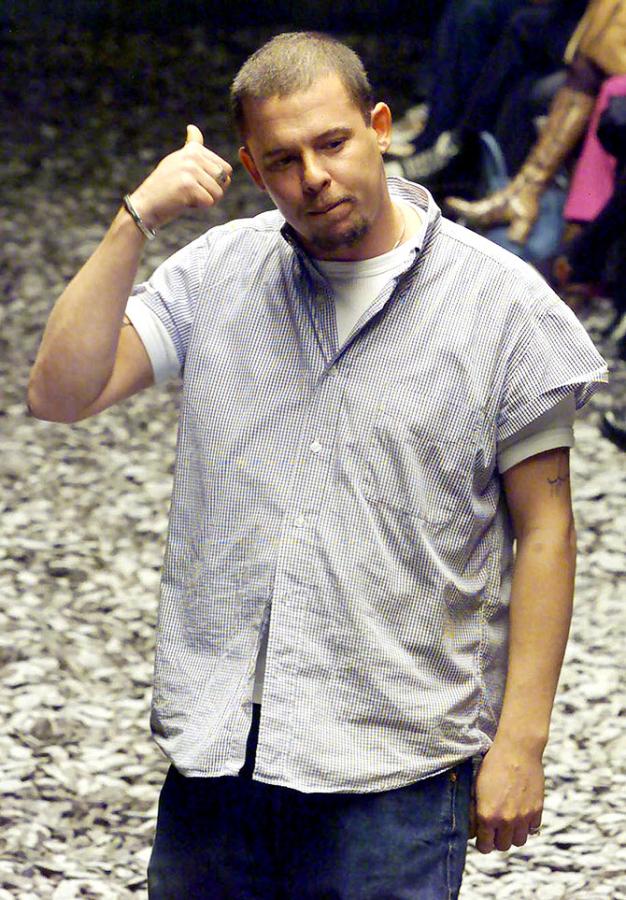 IMAGE: Late fashion designer Alexander McQueen. Photograph: Dylan Martinez/Reuters
Late fashion designer Alexander McQueen's DNA is being used by a recent graduate from Slovenia to create a collection made from 'human leather.'
Tina Gorjanc, a Central Saint Martin pass out has developed the idea of creating a collection which is made in a laboratory using McQueen's DNA, reported Telegraph.
McQueen, Central Saint Martins' star alumni, used his own hair in his 'Jack the Ripper Stalks His Victims' collection, and Gorjanc has managed to get one hair from the owner of these pieces, in order to extract his genetic information for her research.
The student submitted her concept as part of the final project for her degree, creating prototype backpacks and jackets using pig skins.
"You use a process which is called de-extinction, in which a biological agent is applied to the hair in the form of liquid and you extract certain genetic information from it and then you use that information to reprogram already existing skin so it is the exact texture and colour and everything of the original source, so in this case McQueen's skin.
"It also depends on how much the hair sample is preserved as to how much information you can extract -- fortunately McQueen's hair was preserved in a good state," Gorjanc said.
The finished product looks like the leather one gets in the shops, she claimed.
"While the skin is growing in the laboratory, it doesn't really look like skin, because we are are just growing the first two layers of the skin.
"Visually, when you tan it and apply colouration to it, it can look just like leather."
Gorjanc has also applied for a patent application for this project, because she says the fact that you can patent someone else's genetic information is central to her point.
The budding designer has no plans to make the collection for commercial purposes, but aims to demonstrate how genetic information could potentially be exploited.