After a five year sabbatical, Swapnil Shinde is back to showcasing at Lakme Fashion Week.
The designer surely hit the right fashion notes with his comeback show as Sunny Leone turned showstopper for him.
In an interview with Prasanna D Zore, he shares his views on Bollywood and why he doesn't want to design for Indian politicians.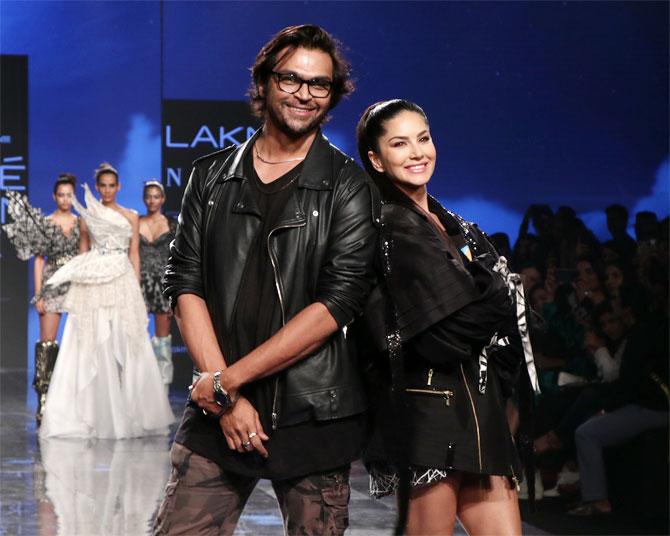 Designing for Bollywood
I'm happy that there are several stylists designing outfits for Bollywood now.
Plenty of them get in touch with me when a new movie or song is coming up.
I create the costumes and I'm done. I don't have to be on the sets. So life is easier.
I get to produce pieces that are unique, and that excitement works for me.
I just finished the designs for an upcoming Aishwarya (Rai Bachchan) movie that she is doing with Mani Ratnam.
An Indian celeb or politician you'd like to design for
I don't want to dress any Indian politician. Let them do their job.
Unko kapde pe dhyaan nahi dena hai, unko desh pe dhyaan dena hai(the politicians should not pay attention to how they dress, but take care of the nation). That is needed now.
In Bollywood I always wanted to dress Madhuri (Dixit-Nene) and Kareena (Kapoor Khan), which I did.
I grew up looking up to Madhuri and when I got a chance to work with her I felt blessed.
What is more challenging? Bollywood or fashion week? Why?
Lakme Fashion Week! It is so difficult to create 22-23 different looks, and weave a story that connects it together. Bollywood is fun. It's entertaining.
The biggest fashion mistake Indians make
They think too much.
They should just wear what they like without thinking about people judging them.
Look at me, I am a fashion designer and I don't care about what I wear and that's important.
There is a norm that designers need to look a particular way, talk a certain way and have swag.
(All these things) don't matter to me. Your talent should speak for you.
You can't have a preconceived notion about anything.
A message for our readers
Be yourself. Don't be afraid to experiment.
Go for your dreams and be patient.