Fashion pop-up stores are all the rage with emerging designers who don't have the resources for standalone showrooms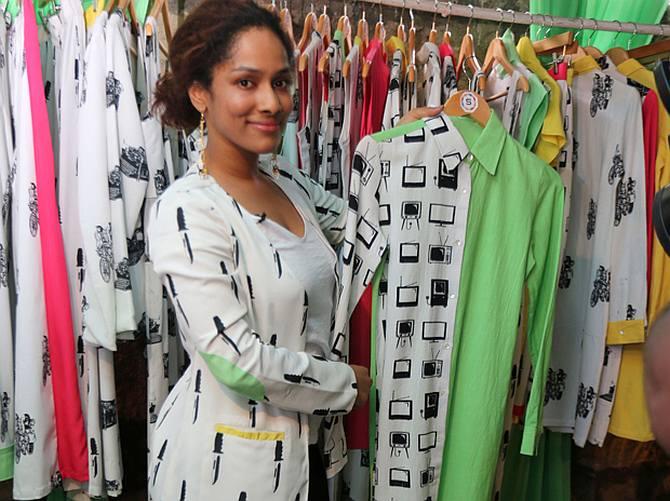 Masaba Gupta at another such event organised by online retailer, Stylista
For young fashion designer Swapnil Shinde, opening a flagship store in Mumbai would mean paying high rentals, hiring new staff and replenishing the stock routinely. Instead, gypsy-like, he usually packs his creations and travels to different cities, selling for a day or two at a time at pop-up events. "The organisers there take care of space, publicity, food and walk-ins, while I get to network with clients. It is a win-win situation," says the couturier whose mainstay is designing looks for Bollywood actors like Anushka Sharma and Priyanka Chopra. This temporary style of retail has found favour with emerging talent in the fashion industry who do not have the wherewithal for standalone showrooms. They dub it as "carefully curated", "casual" and "interactive", preferring it to the dull stall-driven format of conventional exhibitions.
The format seems to come with a promise of exclusivity for shoppers and sellers alike. "Exhibitions can have a hundred people participating. Pop-ups have select names with similar design aesthetic, so they draw the same crowd," notes designer Nikhil Thampi. These events give Thampi a chance to create fresh pret lines and he sees it as a way to make some pocket money. Thampi, who will next participate in "The 7", a pop-up curated by stylist Aastha Sharma, replaces the best fabric with the closest substitute so that price can be lowered slightly. Pricing is crucial, notes Sharma. She ensures items typically cost between Rs 2,000 and Rs 30,000, which is "very affordable for designerwear".
Bargains like these are what drive shoppers like 25-year-old Priyanka Iyer to shows put together by Stylecracker or Frocks + Rocks. "I may be daunted by the idea of walking into a designer's store. Pop-ups are aspirational but still accessible," she says. Fellow shopper Nirja Trivedi met a young designer who agreed to "make replicas of designs she liked for cheaper" at one such event. While they are not present at multi-brand or luxury stores that stock their creations, couturiers have to stick around at pop-ups for durations of 12 to 13 hours, talking to customers and offering styling tips. "If a designer personally tells a girl something looks good on her, she will be flattered and buy the piece," says Sharma.
Depending on how big the pop-up is, it can take one to two months of preparation, say organisers.
The process is similar to sifting or straining, according to Sacha Mendes, who runs a curated space in Panjim, Goa, stocking clothes and curiosities. Sacha's Shop, which began with two racks of clothes, cushion covers and orange-peel cookies, came to Mumbai in the form of a pop-up two months ago. Word was sent out on inexpensive channels -- mostly through existing clients and friends and the social media. During the event, Mendes discovered that "people are very supportive of local businesses. It allows for new and exciting things to thrive." But logistical concerns and hidden costs do crop up, she warns. The Vintage Garden in Bandra, which hosted her pop-up, focuses on young creators making offbeat products.
Since 2013, Aarti Patkar has curated shows at Vintage Garden featuring clothing by stylist Shreya Anand and chappals by The Sole Sisters, among others Since 2013, when she opened the space in the garden of her ancestral bungalow, Aarti Patkar has curated shows featuring, among others, clothing by stylist Shreya Anand and chappals by The Sole Sisters. Registration fees are either absent or affordable and curators are said to work on small commissions.
"We have always sought out people who retail online and we give them the opportunity to showcase their products in a physical space," says Tina Kapur, communications head at Blue Frog Media, which curates flash retail shops at its Lower Parel space. "Additionally, we showcase people who do not retail out of Mumbai so that they can get exposure to clientele from the city and vice-versa."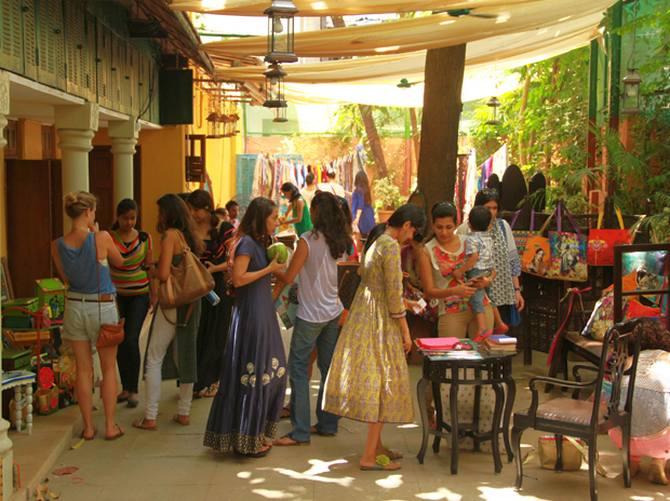 Since 2013, Aarti Patkar has curated shows at Vintage Garden featuring clothing by stylist Shreya Anand and chappals by The Sole Sisters, among others
There is a sense of competition too as similar players share the field but organisers say they also see synergies developing, for instance, when a clothing designer could pair up with a footwear maker to create a line. The challenge for blueFROG and other organisers is in ensuring that the sensibilities and pricing of the participants is on an even keel to avoid unfair competition.
Online retailers including Stylista and Myntra have been banking on occasional pop-ups too. Many buyers still shy away from Internet shopping either because they are not tech savvy or do not wish to share credit card information online for security reasons. Some have concerns about sizes. "Often, people assume that because our prices are so affordable, the fabrics will be of low quality and that makes them wary of shopping online," says Anjana Sharma, fashion director for Stylista.com, which sells designer clothing and accessories. "So, physical pop-up shops help us reach that customer base more effectively. Shoppers get to feel our products in person, allowing them get comfortable with the brand."
The set-up matters too as shoppers prefer spaces with character, not uniform stalls but open-air racks and bric-a-brac displayed on vintage furniture. Most feel the pop-up format is still open to innovation. Internationally, fashion trucks are gathering momentum. Online sellers like Stylista say they will attempt to seamlessly integrate digital aspects of the brand in the offline arena.
"There's a sense of freedom associated with the pop-up. For the creative mind, that is the ultimate," notes Mendes. "I think popping up in a hot air balloon will not be a far-fetched idea in a few years."