Shah Rukh Khan and Anushka Sharma turned Mijwan, the annual fundraiser into a fashionable affair.
Photographs by Hitesh Harisinghani/Rediff.com
The annual Mijwan show always finds the right reasons to celebrate.
The name of the show is inspired by a village in Uttar Pradesh, where late Urdu poet and Shabana Azmi's father Kaifi Azmi was born.
The fashion event, through Mijwan Welfare Scoiety, an NGO has been raising funds over the past six years to empower women and girl children in India. The show helps create employment opportunities for women in the village and also revive chikankari embroidery.
This year, the show held at Grand Hyatt, Mumbai, featured summer/festive collections created by women artisans from Kaifi Azmi Chikankari Centres and put together by designer Manish Malhotra.
Leading the ramp were Bollywood actors Shah Rukh Khan and Anushka Sharma.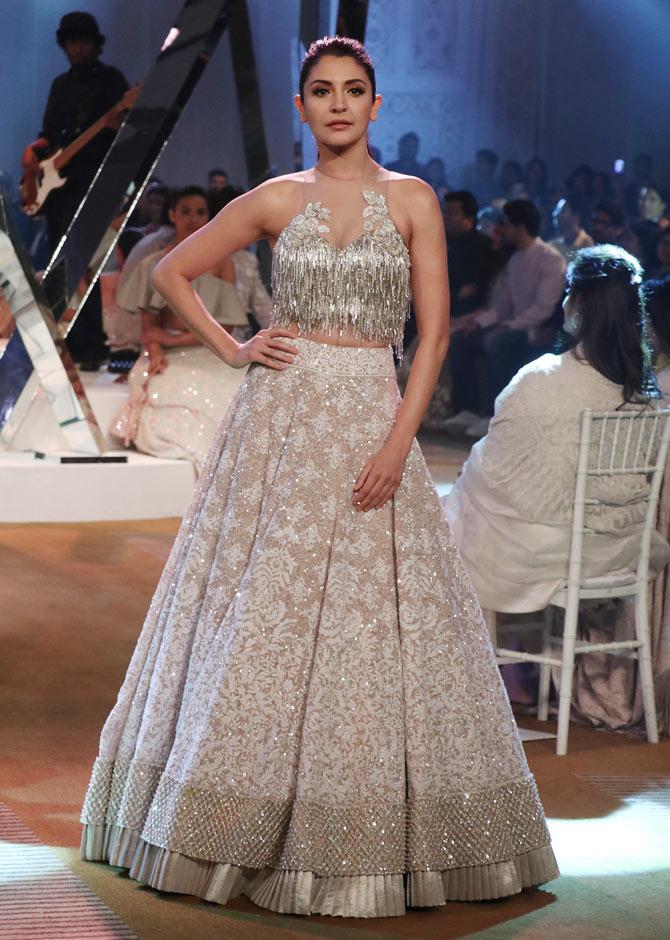 IMAGE: Anushka Sharma stunned in an embellished silver lehenga which she teamed with a fringed, sleeveless choli.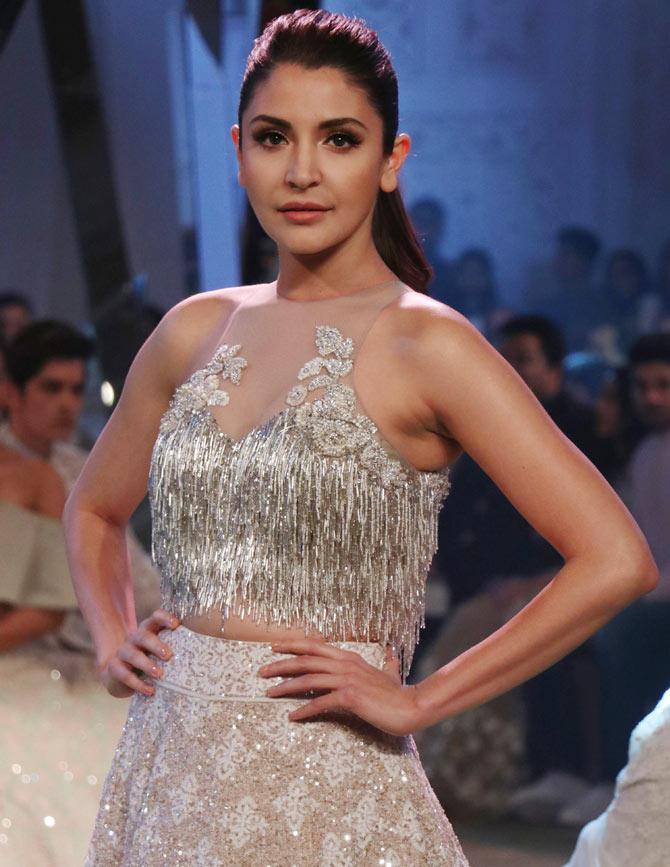 IMAGE: She looks lovely without make-up too.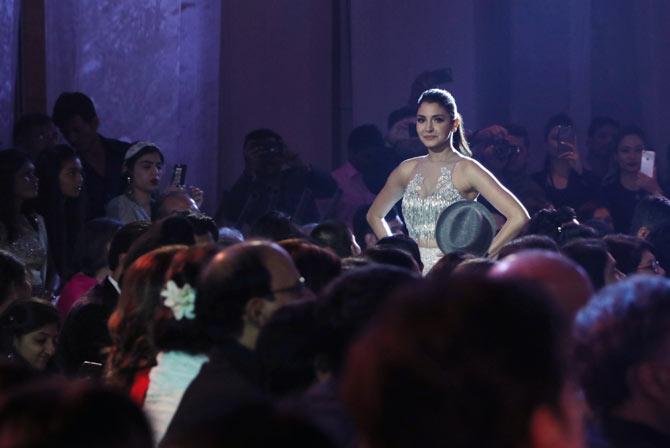 IMAGE: Radiant too!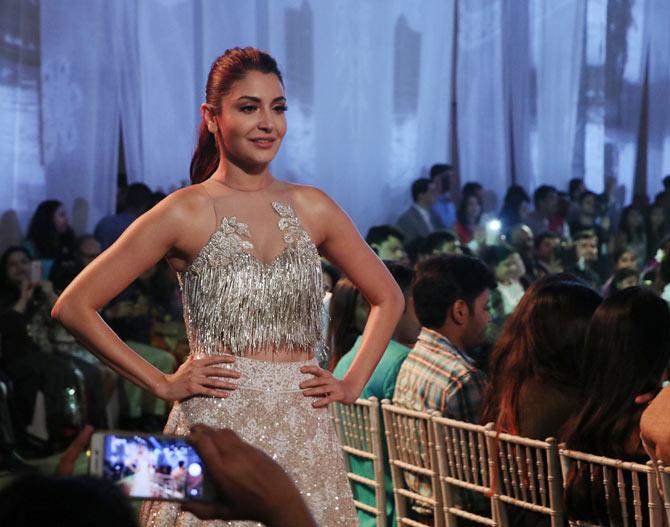 IMAGE: This was the first time the actor walked for Mijwan.
'Thank you Shabana Azmi Manish Malhotra Shah Rukh Khan #NamrataGoyal for this beautiful evening & doing the noble work you do!!' the actor wrote on her Facebook page.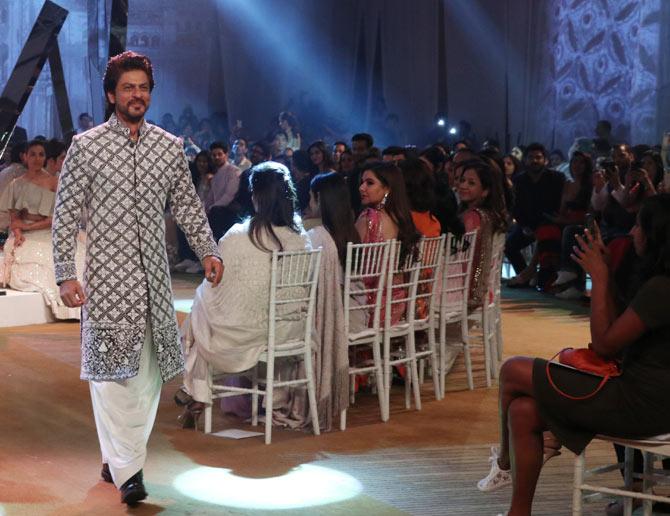 IMAGE: Shah Rukh wore a black and white bandhgala for the event.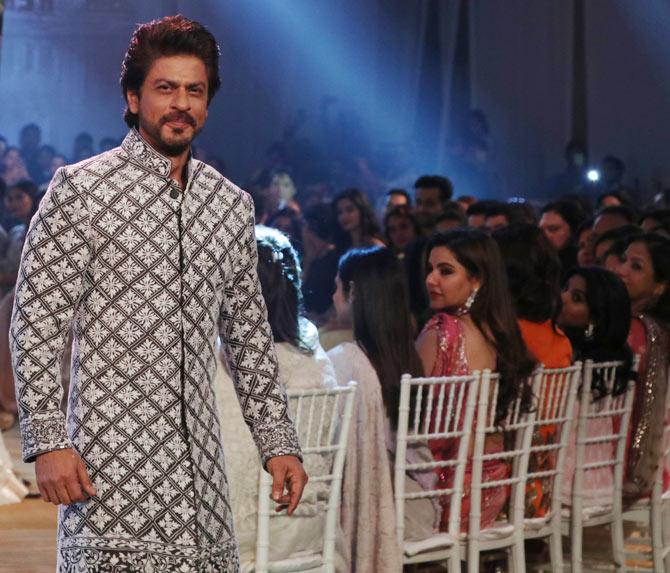 IMAGE: He looked suave.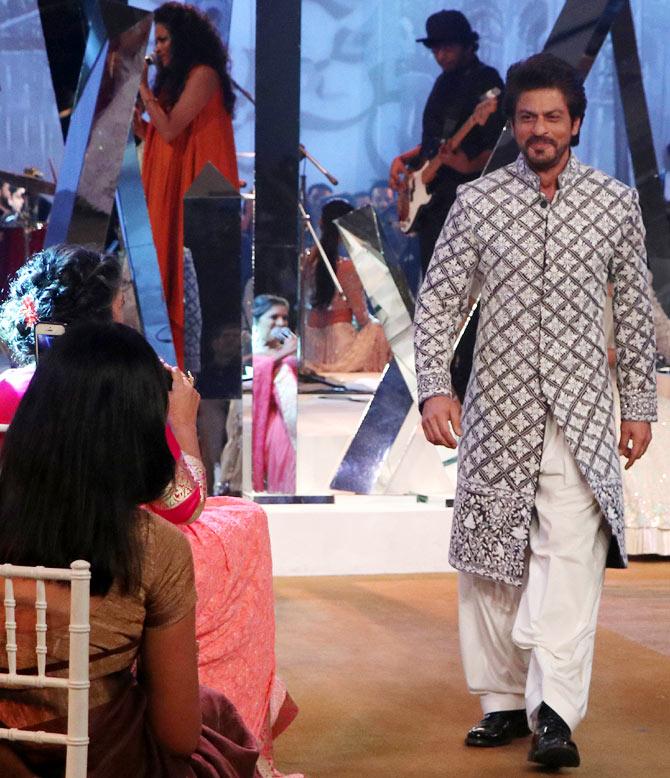 IMAGE: Can't miss that charming smile, can you?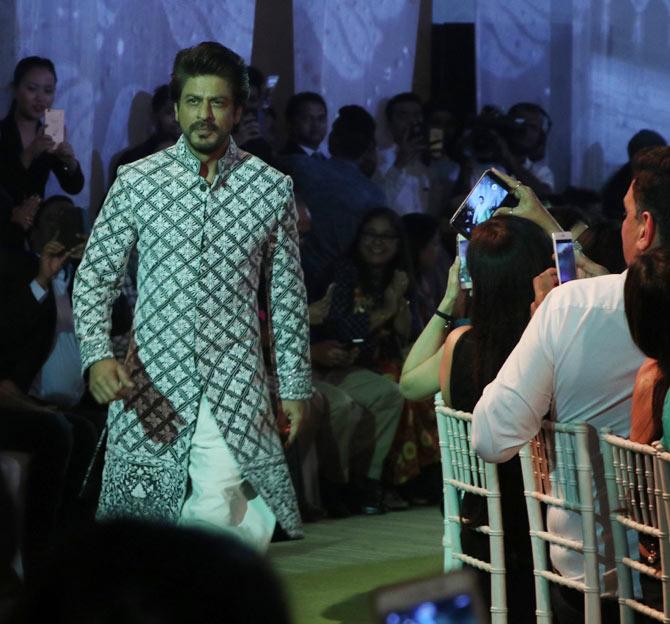 IMAGE: Confident as always.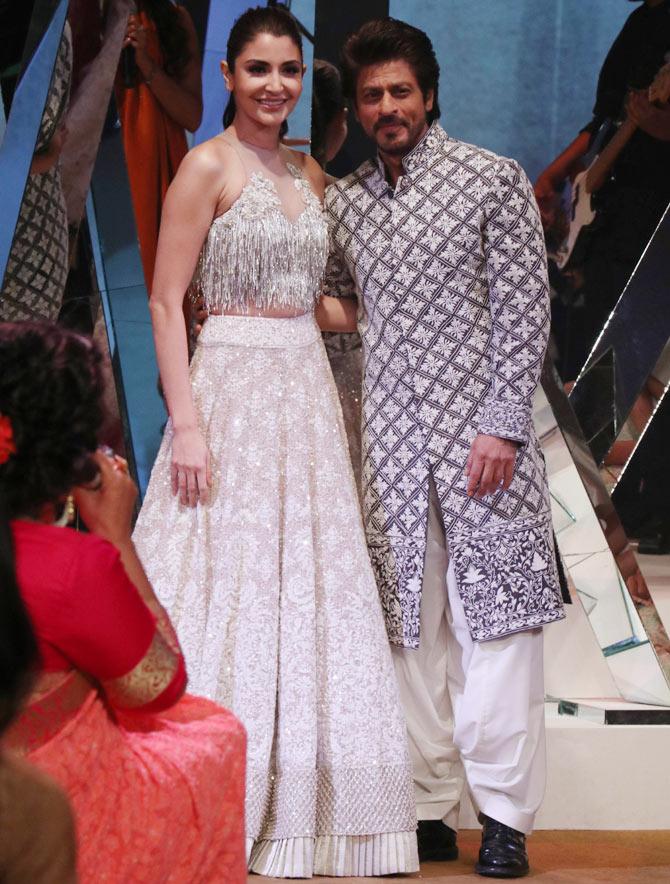 IMAGE: The showstoppers strike a pose.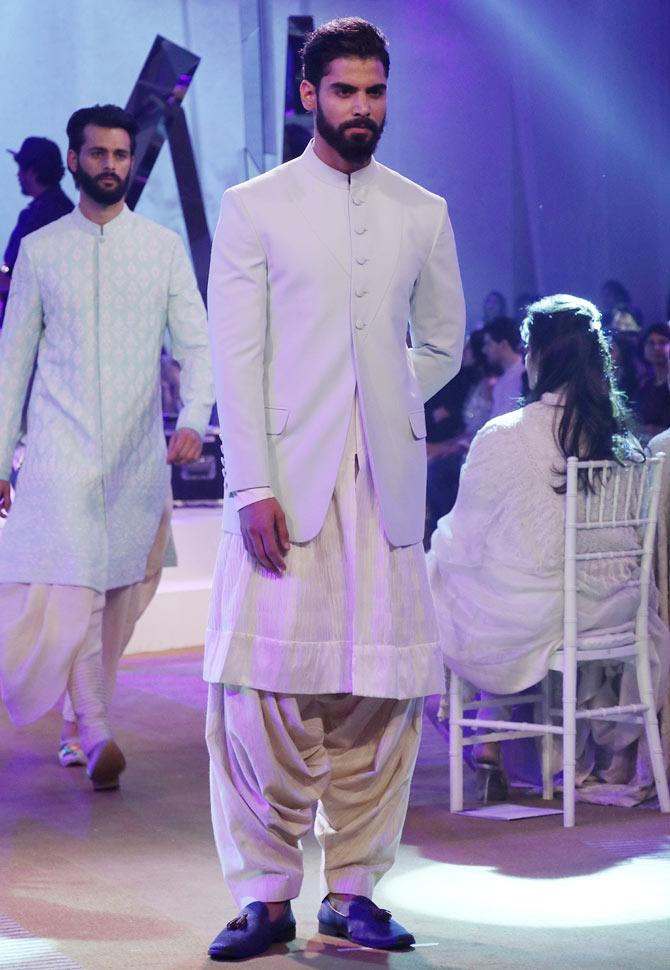 IMAGE: The menswear collection featured layers and structured bandhgalas worn over interestingly draped pyjamas.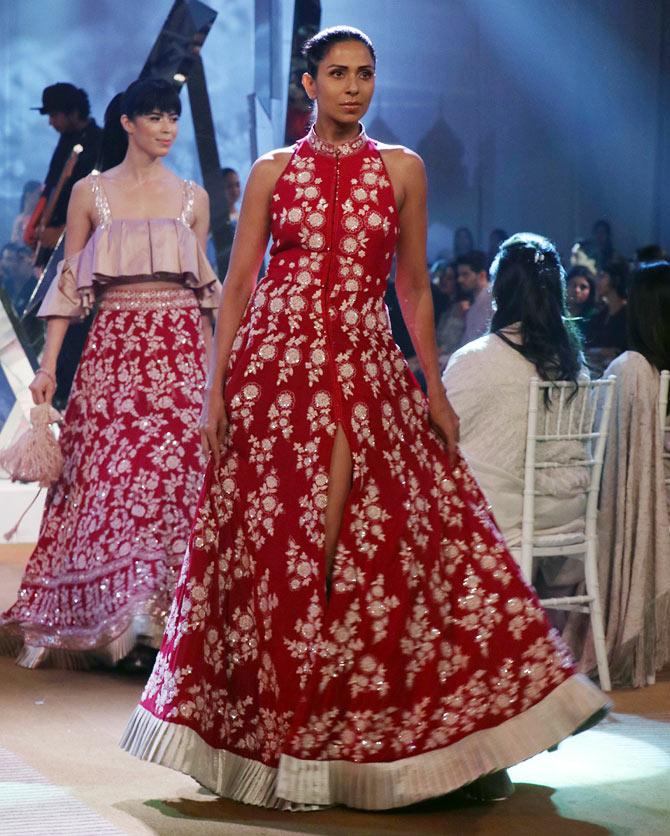 IMAGE: Candice Pinto flaunts a fancy red gown with a thigh slit.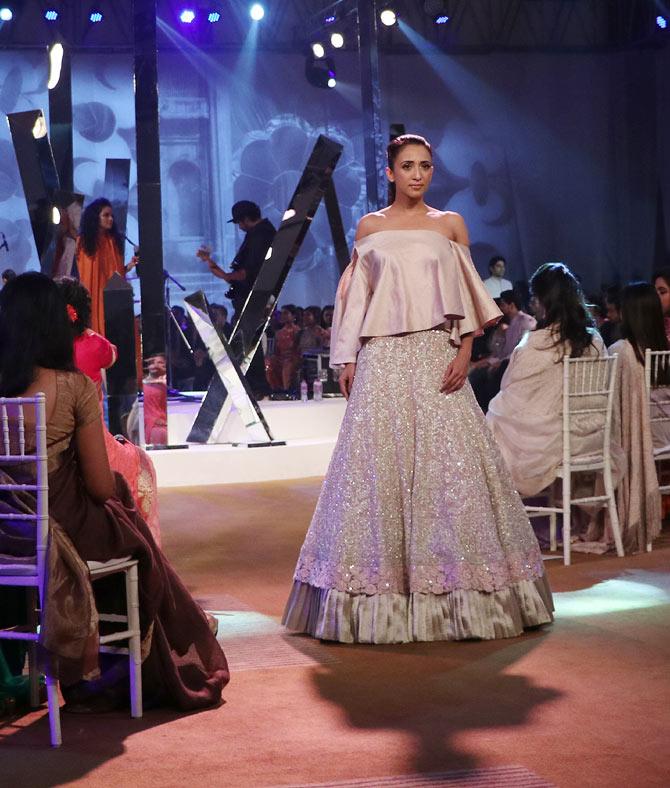 IMAGE: Off shoulder cholis with slit sleeves like these seem to be redefining festive wear in India this summer.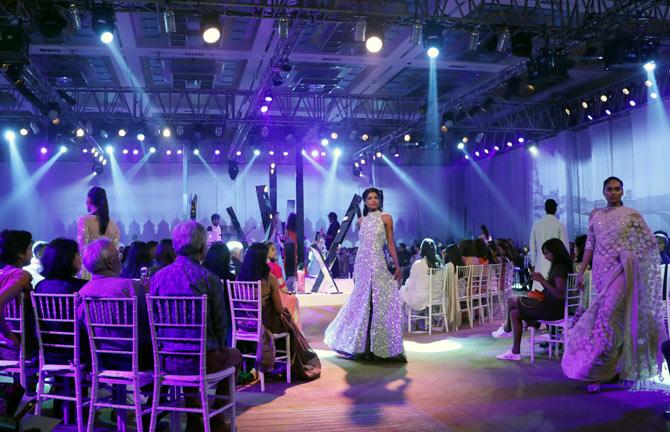 IMAGE: As the models glided one by one, the outfits shimmered under the lights.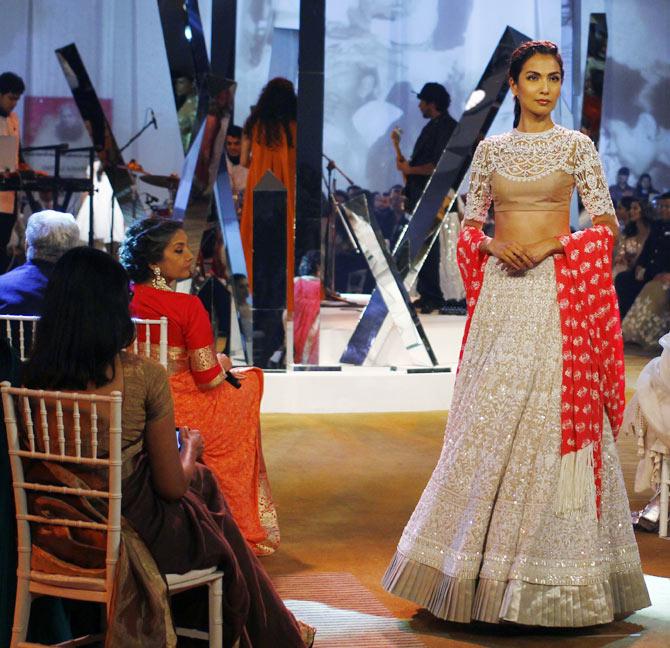 IMAGE: Sanea Shaikh models an embroidered lehenga from the summer collection.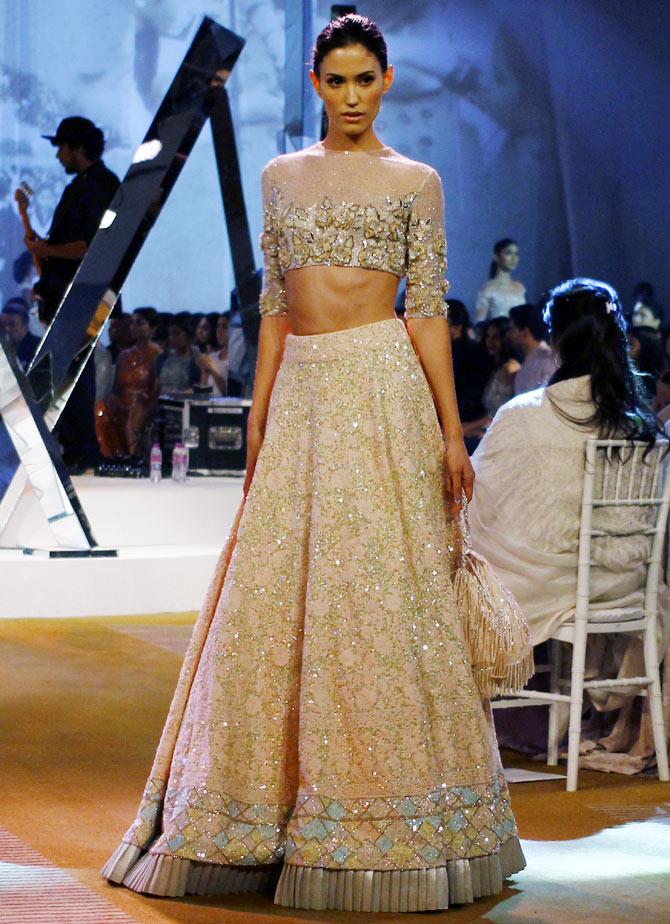 IMAGE: Sheer blouses and pleated hems like these were the highlight of the line.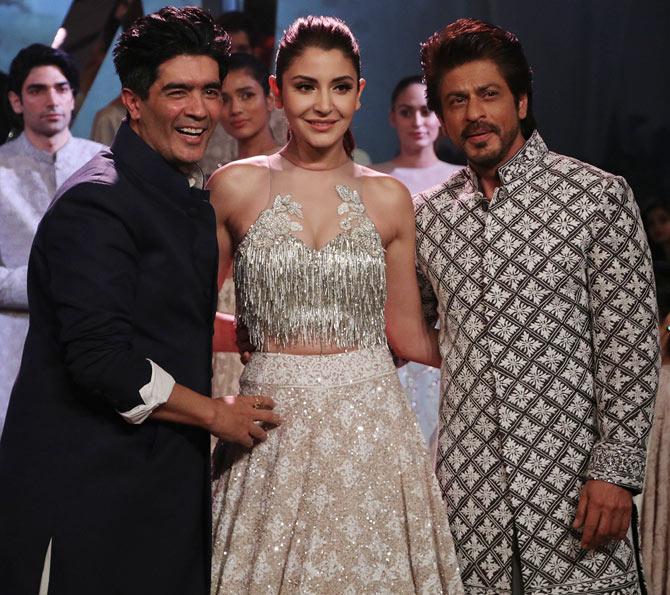 IMAGE: Manish Malhotra is a happy man!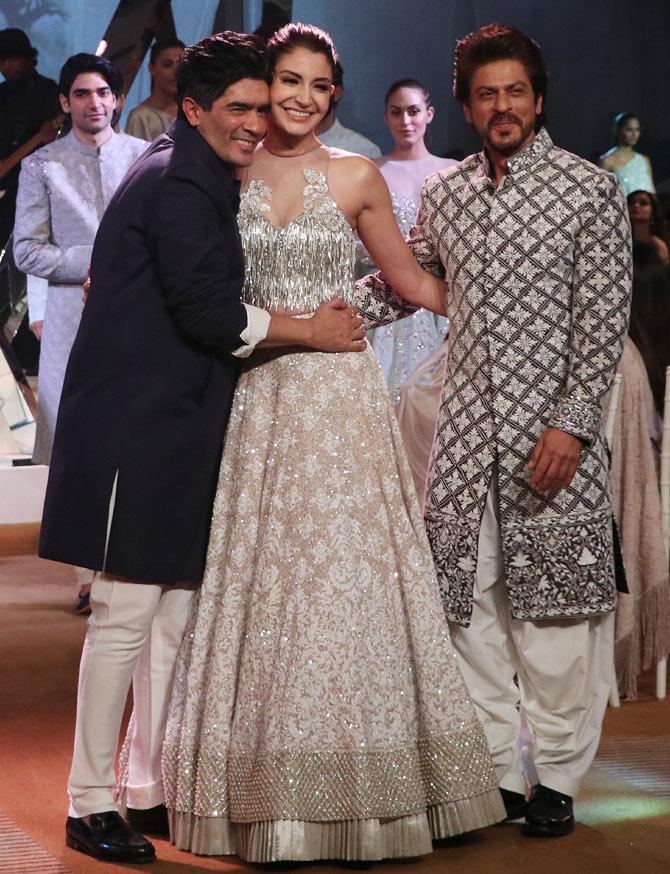 IMAGE: Hugs and kisses follow!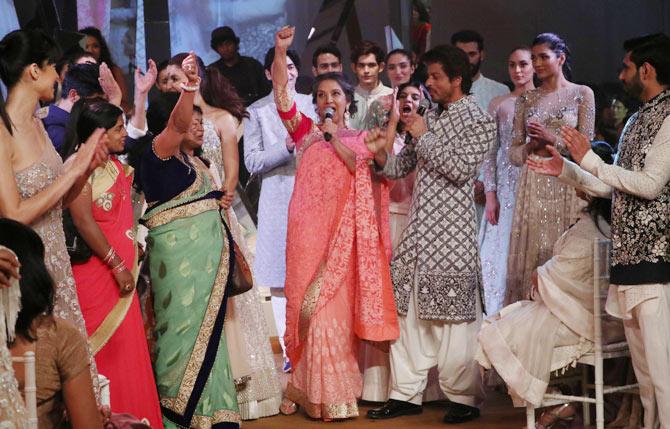 IMAGE: Shabana Azmi applauds the people who put together the show.
DON'T MISS the video below!
Video by Afsar Dayatar/Rediff.com