Because #TimesUp!
Also read: Decoding Priyanka Chopra's 'straight out of bed' Grammy look.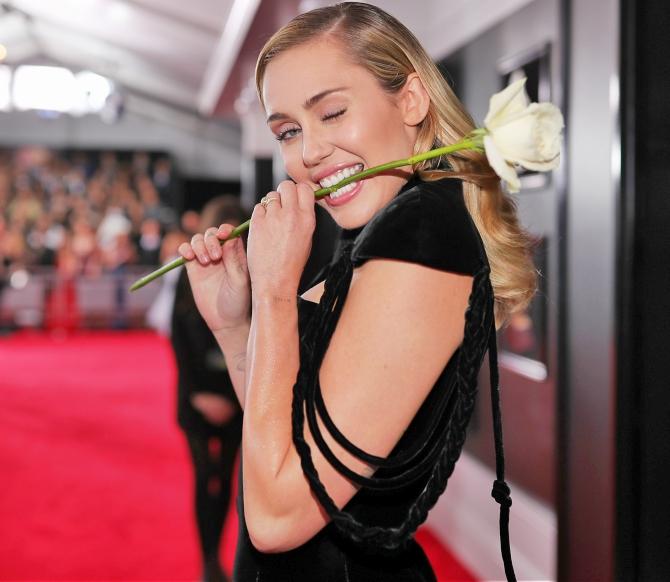 Singer Miley Cyrus was among the stars who sported a white rose on the Grammys red carpet on January 28. White, followed by black, were the dominant colours of choice on the Grammy's red carpet this year.
Photograph: Christopher Polk/Getty Images.
Inspired by the black dress initiative at this year's Golden Globes, music's biggest stars banded together on the Grammy's red carpet to support the Time's Up initiative.
Lady Gaga, Miley Cyrus, Kelly Clarkson, Eve, Rita Ora, Cyndi Lauper and Lana Del Ray were among the many women who accessorised their dresses with a white rose.
Host James Corden and other male stars, including Trevor Noah, Ryan Seacrest, Sting, Shaggy and Sam Smith also wore a white rose in protest against sexual abuse and harassment.
The effort was organised by a group called the Voices in Entertainment, led by Meg Harkins of Roc Nation and Karen Rait of Interscope Records.
'As we are inspired by the #TimesUp campaign, we are encouraging the artists that we work with and our colleagues attending the 60th Annual Grammy Awards in New York City to wear a white rose to the ceremony,' the women wrote in an open letter. 'We choose the white rose because historically it stands for hope, peace, sympathy and resistance.'
The Time's Up campaign was spearheaded by more than 1000 women in entertainment in reaction to the #MeToo campaign, which has shaken up the American entertainment industry with cases of sexuak harassment going back decades.
The initiative, which was formally announced in January 2018 includes a $14 million legal fund to help victims of sexual harassment nationwide.