After a series of challenges on reality show Kingfisher Supermodels 3 on NDTV Good Times, Aishwarya Sushmita from Bihar won the crown.
Yes, you read it right. That's her name!
The show was judged by actress and style icon Neha Dhupia; Mohan Neelakantan, consulting fashion editor of the channel; and renowned fashion photographer Atul Kasbekar.
A singer, belly dancer, and national level badminton player, Aishwarya Sushmita hails from Darbhanga, Bihar.
Here she talks of her journey…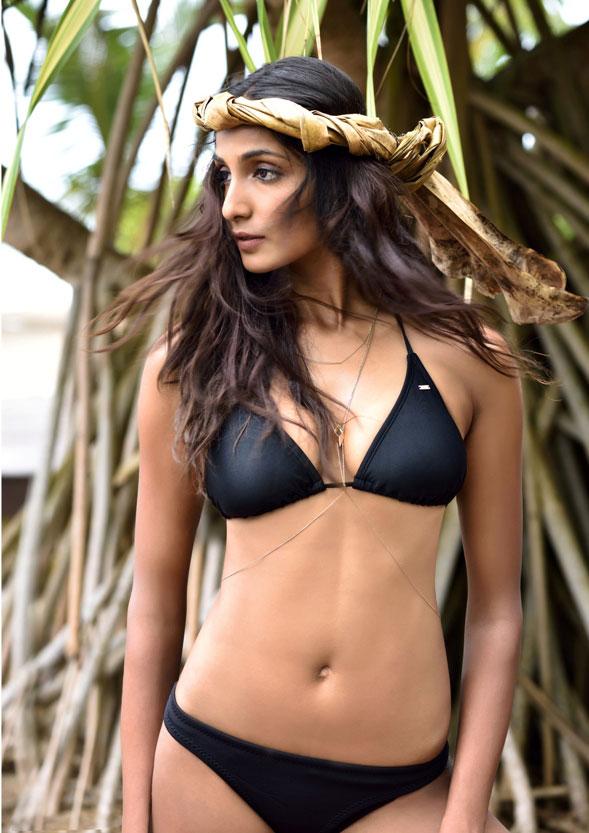 Give us a brief background about yourself.
I did my schooling in Bihar, 11th and 12th from Jaipur, graduation and post-graduation from Delhi.
My father works for State Bank of India and he has a transferable job. My mom is a homemaker.
I have two older sisters; one is a fashion designer, she is married and lives in Mumbai.
The other sister has completed her hospitality management.
She is exploring a career in singing in Delhi, as she is a good singer.
Is your name an amalgamation of former Miss World Aishwarya Rai Bachchan and former Miss Universe Sushmita Sen's names?
Indeed! I was born in 1994.
My parents were really inspired by them as they were crowned Miss World and Miss Universe in the same year.
Since you have two names, what do people call you?
People call me Aishwarya, Sushmita, Ash, Sush and one of my friends calls me Ashmita -- it's a new name for me.
When I was young, I didn't realise it, but now people are focusing more on my name than me.
My parents were confused whether to call me Aishwarya or Sushmita. In their confusion they decided it's perfectly fine if they use both names.
Have you met these two beauties?
I would love to meet both Aishwarya Rai Bachchan and Sushmita Sen. Let's see where my destiny takes me.
How did you become a model?
I participated in the Miss India contest through Campus Princess (a beauty pageant which scouts for potential beauty queens).
I was shortlisted from Delhi, and I came to Mumbai. After one week of training, I was in the Top 6, amongst 30 contestants.
When I went back to Delhi, my dad and my older sisters convinced me that I should try modeling as I had made it to the Top 6.
Since I am 5.9 and had some qualities of a model, I thought I should give it a try and started working on my body and diet.
For the last 5 to 6 months I have been working as a professional model.
I have done ramps shows and few print ads. However, I haven't got the opportunity to do a TV commercial yet.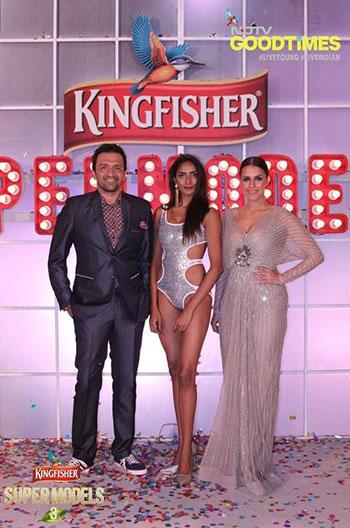 So how did Kingfisher Supermodels happen?
Like I said earlier, I started modelling a few months back as I had signed up with a Delhi-based agency.
They informed me about the Kingfisher Supermodels 3 auditions.
I went for the auditions without any expectations as I was very new to this field. But few days later, I got a call from NDTV Good Times informing me that I had been shortlisted.
I always wanted to be a civil servant. Hence I had opted for philosophy in my graduation and again in my masters as well.
Modeling just happened by chance. I never dreamed or aspired to become a model. But now I am loving it.
Did you follow fashion icons before you became a mode;?
I used to follow fashion icons like Deepika Padukone and Sonam Kapoor.
My favourite is Deepika.
I like the way she carries herself with just any kind of clothes and a messy bun. I also like Sonam Kapoor and Marilyn Monroe.
What kind of clothes are you comfortable wearing?
I am comfortable in all sorts of clothes. But generally I prefer casual clothes like shorts, loose pyjamas and tops teamed with a messy bun.
What kind of diet do you follow?
I drink plenty of water as it is good for the skin.
I drink green tea twice a day. I eat healthy and stay healthy.
I work out at least 30 minutes a day.
Apart from regular cardio and running, I also do yoga, which helps maintain the posture.
How has your life changed after becoming a model?
I didn't want to become a model because people have a misconception that models are into smoking and drinking.
Models do get into all this, but it depends on the individual and how you take it.
Kingfisher has given me a good platform and exposure. After winning the title, people have started recognising me.
Kingfisher Supermodels is something really big that has happened to me.
I have watched supermodel shows before and all of sudden it happened to me. That's quite a big deal.
But it's just the beginning. I hope to reach great heights soon.
Since I am the winner of Kingfisher Supermodels 3, I got an opportunity to shoot for the Kingfisher Calendar 2016 with four other girls in Seychelles.
It was a dream come true for me to be working with ace fashion photographer Atul Kasbekar. And it was an amazing experience.
How comfortable were you wearing a bikini during the calendar shoot?
I was very comfortable and confident about my body and myself.
How has your family taken your modelling career?
I used to wonder how my family would react after I got into modelling.
But there' are no complaints from their end.
It was my dad who supported me throughout and all my family members are as excited as I am.
What next?
I haven't really explored the industry as much. But I love to take risks and challenges in my life. I may take up acting classes after I move to Mumbai.
But I don't want to pressurise myself into doing anything; I just want to go with the flow.
I'm hardworking and determined, and am waiting for the right break.
Photographs: Courtesy NDTV Good Times
ALSO SEE
'It was a big step for a Naga girl to become a model'
Miss Philippines wins Miss Universe 2015 after shocking ending