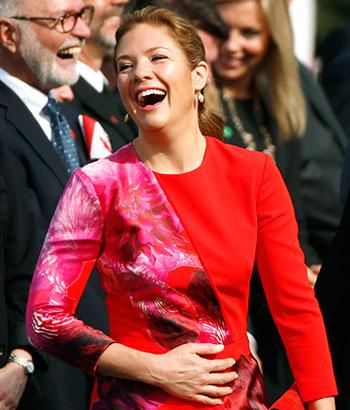 Has Canadian PM's wife Sophie Gregoire-Trudeau overshadowed America's First Lady in the fashion department?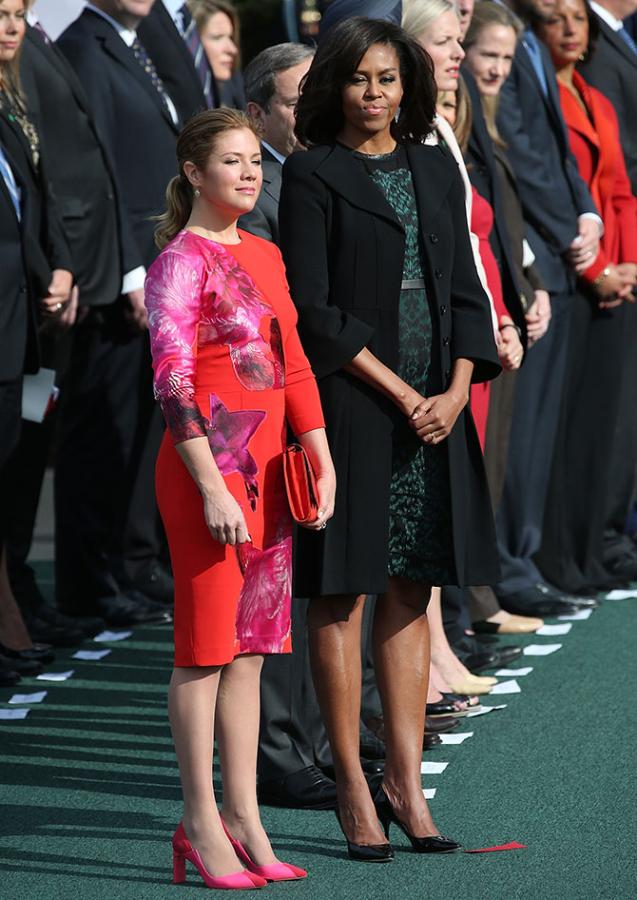 Image: Mirror, mirror on the wall, who is most stylish of them all! Sophie Gregoire Trudeau (in red) with Michelle Obama. Photograph:Mark Wilson/Getty Images
At the recently held State Dinner in honour of Canada at The White House, USA, all eyes were on one gorgeous woman.
And this woman wasn't First Lady Michelle Obama!
Michelle, who has in the past fared exceedingly well in the clothes department, had her spot in the limelight overshadowed by Sophie Gregoire Trudeau, wife of Canadian Prime Minister Justin Trudeau.
Touted as 'Canada's latest fashion icon', Sophie got her chance to shine in the international spotlight and she did it successfully.
Fashion critics and bloggers have been raving about the outfits she wore during the trip, which were all created by Canadian homegrown fashion designers.
Take a look at some of the outfits that Sophie sported during her American outing. We'll let her clothes do the talking -- clearly dressing for a state dinner is no child's play, especially when all eyes are fixed on your wardrobe.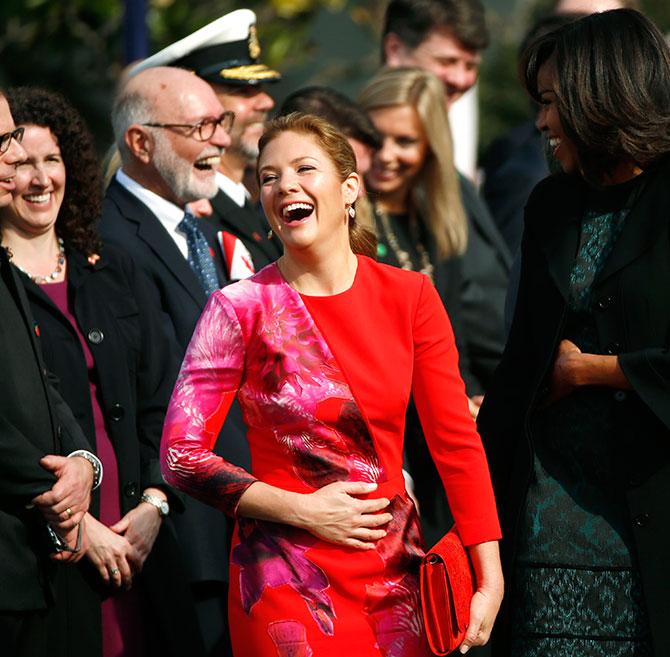 Image: This red sheath -- the use of red was symbolic as it's also the colour of the Canadian flag -- with fuchsia flowers across the bodice was designed by Canadian fashion designer Lucian Matis. Photograph: Kevin Lamarque/Reuters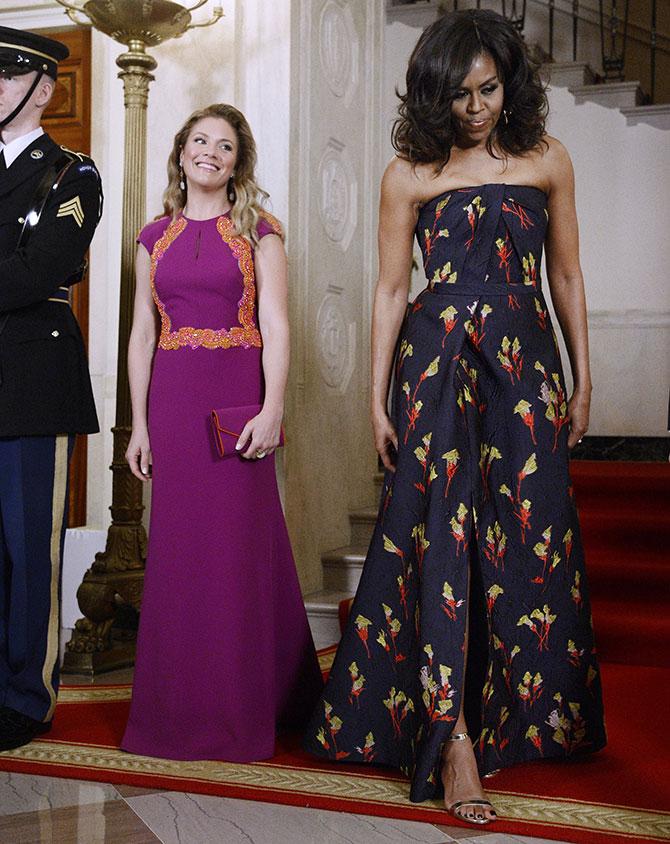 Image: Sophie's (left) royal purple floor-length evening gown with cap sleeves and a lovely train was created by Matis. She's setting some major style goals and it looks like Michelle Obama has some stiff competition for the 'fashion icon' title. Photograph:Olivier Douliery-Pool/Getty Images
Sophie is extremely versatile when it comes to dressing.
Known to dress according to what the occasion demands, she serves as a style inspiration for many back home in Canada.
It comes as no surprise that the white Sentaler coat, which she wore before her husband's swearing in ceremony was in such demand that it was sold out in a couple of days!
Here are some of her best looks from political events and rallies...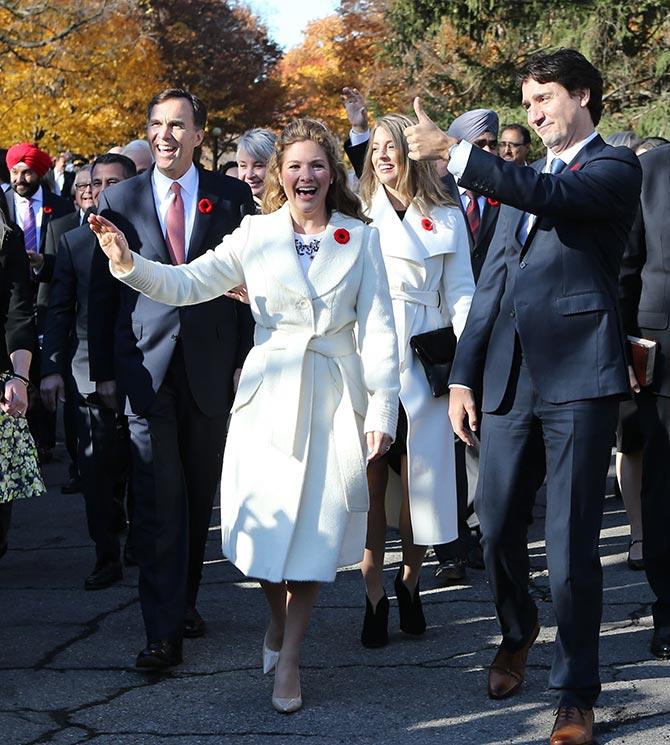 Image:Fighting winter blues, Sophie draped herself in an elegant white Sentaler coat as she walked with husband Trudeau for his swearing in ceremony on November 4, 2015. She chose a pair of nude heels for the occasion. Photograph: Chris Wattie/Reuters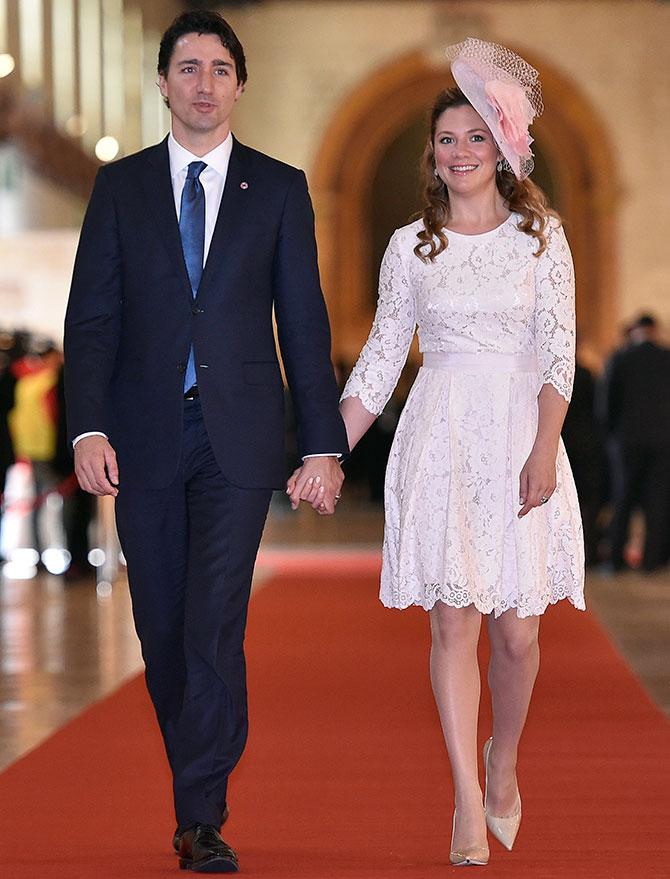 Image:She chose an elegant look during the Commonwealth Heads of Government Meeting in Malta on November 27, 2015. This pale pink lace dress, teamed with a lovely tulle-topped hat reminds us of Kate Middleton, doesn't it? Photograph: Toby Melville/Reuters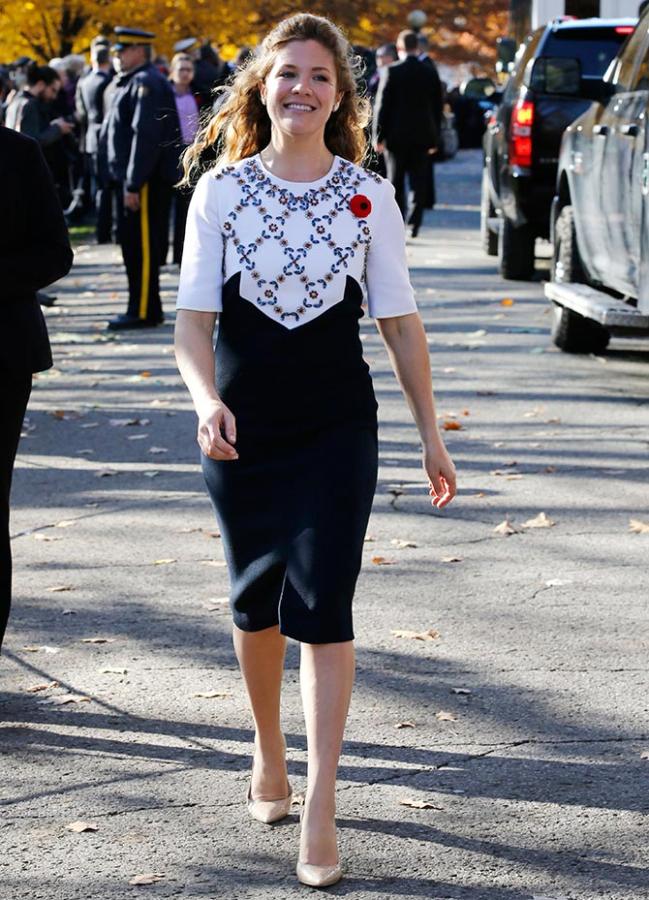 Image:Here's another look from the swearing in ceremony of Justin Trudeau as the 23rd Prime Minister of Canada in 2015. Sophie wore an outfit from Erdem's pre-fall collection. Does Erdem ring a bell? Well, it's Kate Middleton's favourite designer. Photograph: Chris Wattie/Reuters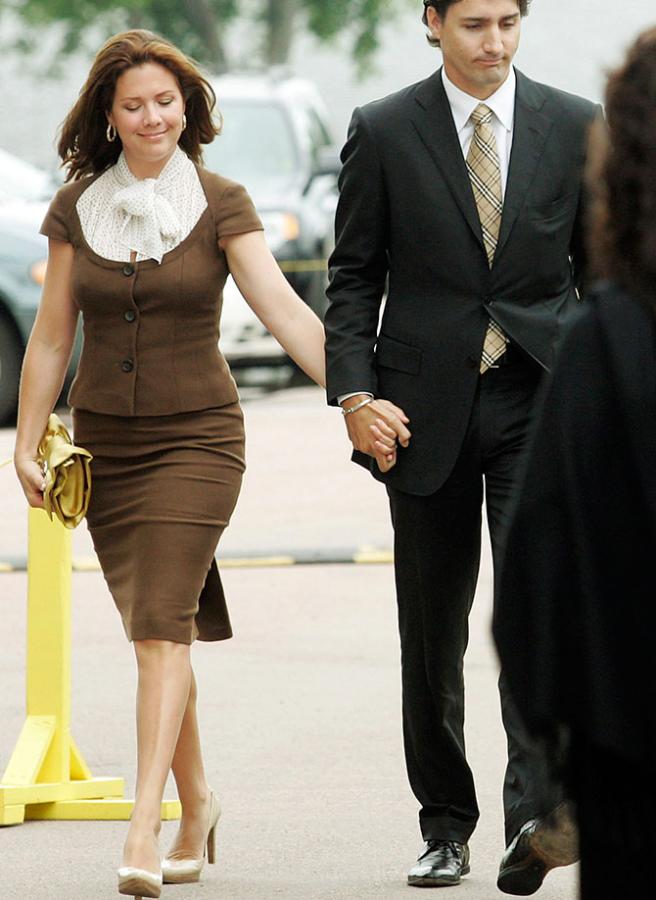 Image:Her outfits are trendy and fashionable yet conservative. She wore this tailored brown pencil skirt and a matching brown jacket for a state funeral service in 2009. Photograph: Paul Darrow/Reuters
Wondering what she wears when she is not attending high-profile dinners? Take a look…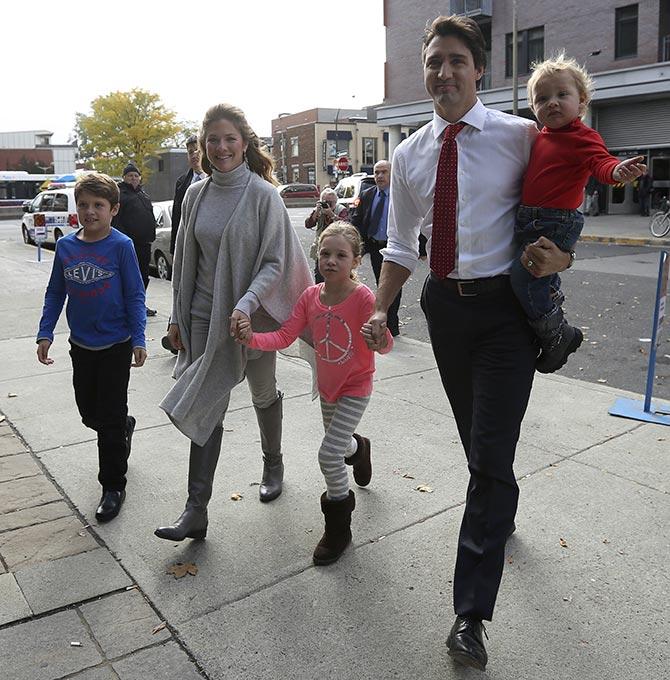 Image: Sophie stepped out in style dressed in an all grey outfit on Election Day, along with her three kids and husband in tow. She chose a chic grey cardigan worn over a turtleneck top. We love the selection of black riding boots. Photograph: Chris Wattie /Reuters
Image: Sophie was spotted at the Toronto International Film Festival 2012 in a halter neck, navy jumpsuit. While hubby Trudeau opted for a more traditional Indian look. Photograph: Jemal Countess/Getty Images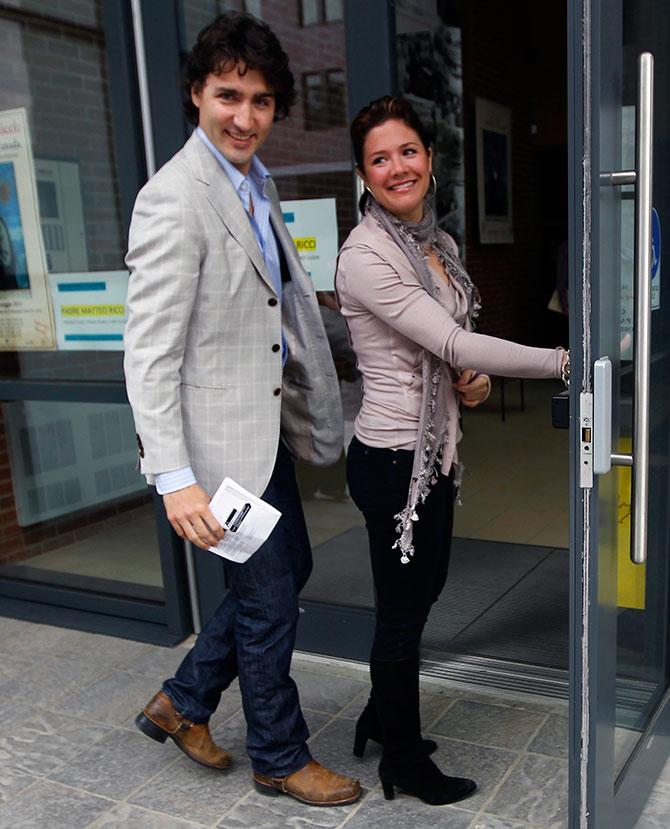 Image: Sophie wrapped herself in a grey scarf, which matched her husband's grey suit. The couple have often colour-coordinated their clothes. Photograph: Shaun Best/Reuters
And that's what she looked like on her wedding day!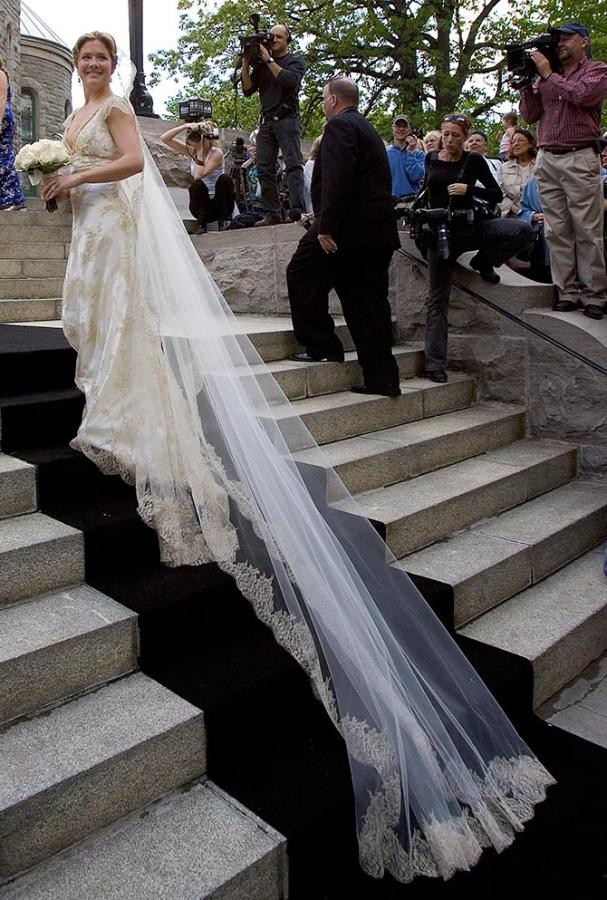 Image: Canadian dressmakers Les Noces Couture weaved their creativity into this dress for her wedding which took place on May 28, 2005, but not without Sophie's help and assistance. Photograph: Christinne Muschi/Reuters