Six young designers showcased their impressive collections to a packed audience
Photographs: Hitesh Harisinghani/Rediff.com
Gaurav Khanijo
This 32-year-old Delhi based designer played around with modern silhouettes and dramatic menswear. The collection represented the coming of age of menswear fashion.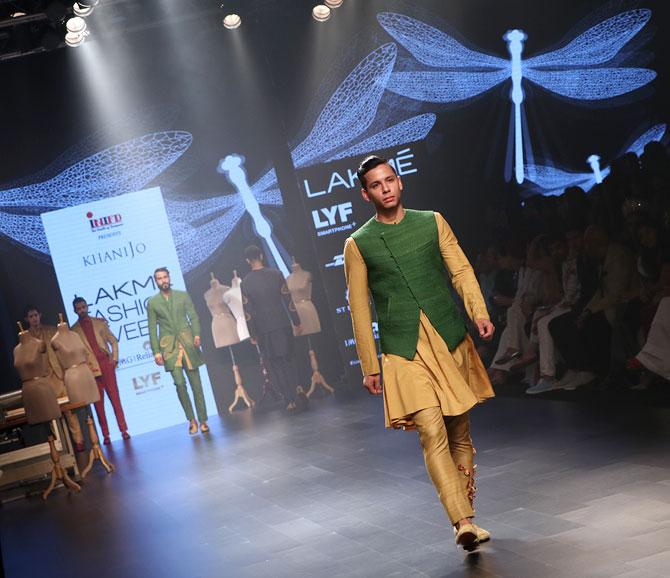 IMAGE: The collection saw lovely colourful combinations like this green jacket worn over a yellow outfit.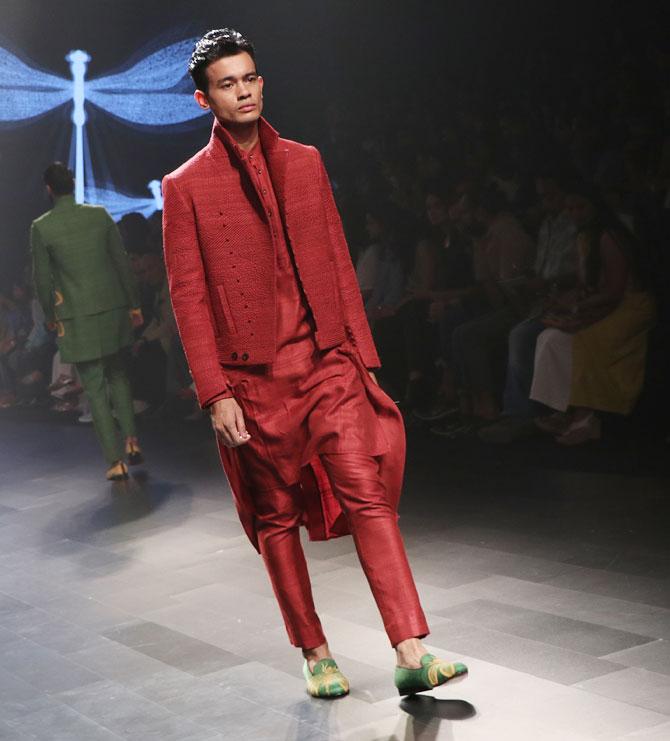 IMAGE: A model sports a dramatic red traditional outfit.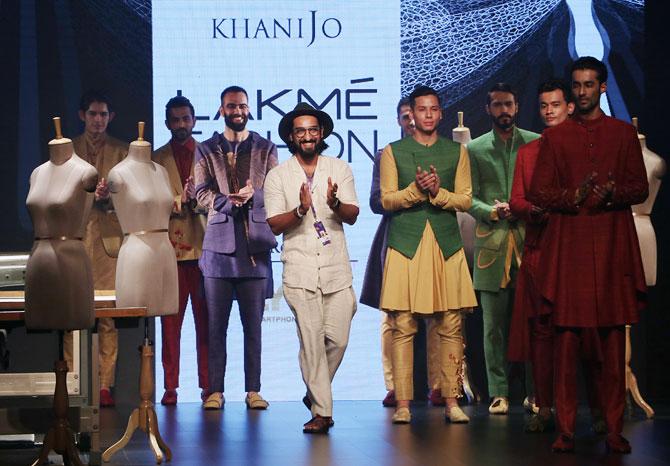 IMAGE: The designer steps out to a loud cheer.
Paridhi Jaipuria
A 23-year-old designer from Jaipur she stuck to her traditional roots with her collection that had plenty of relaxed silhouettes in neat, clean lines.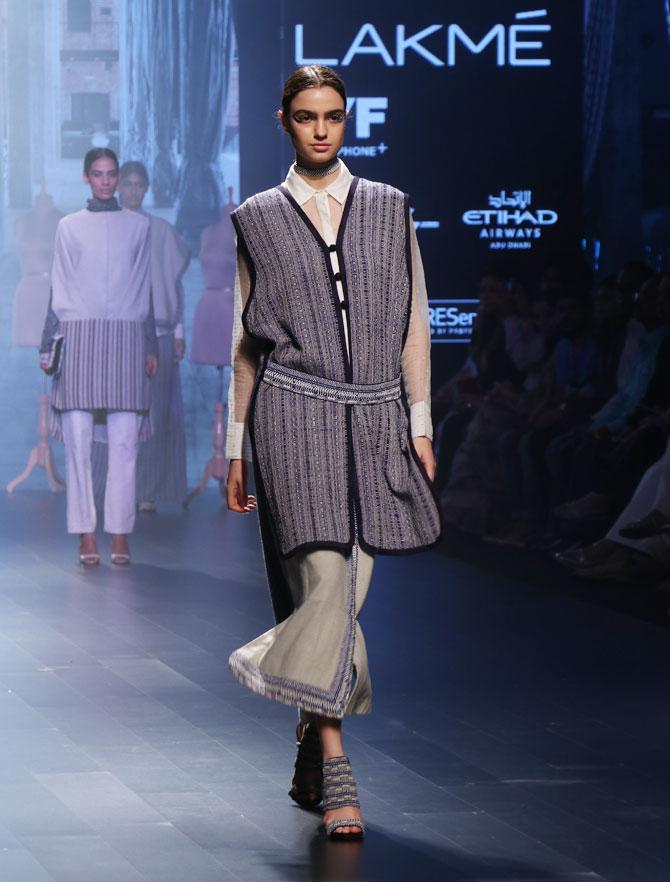 IMAGE: Quite a chic way to cover up a dreamy, relaxed silhouette? This was a happy collection with plenty of blues, grey and whites.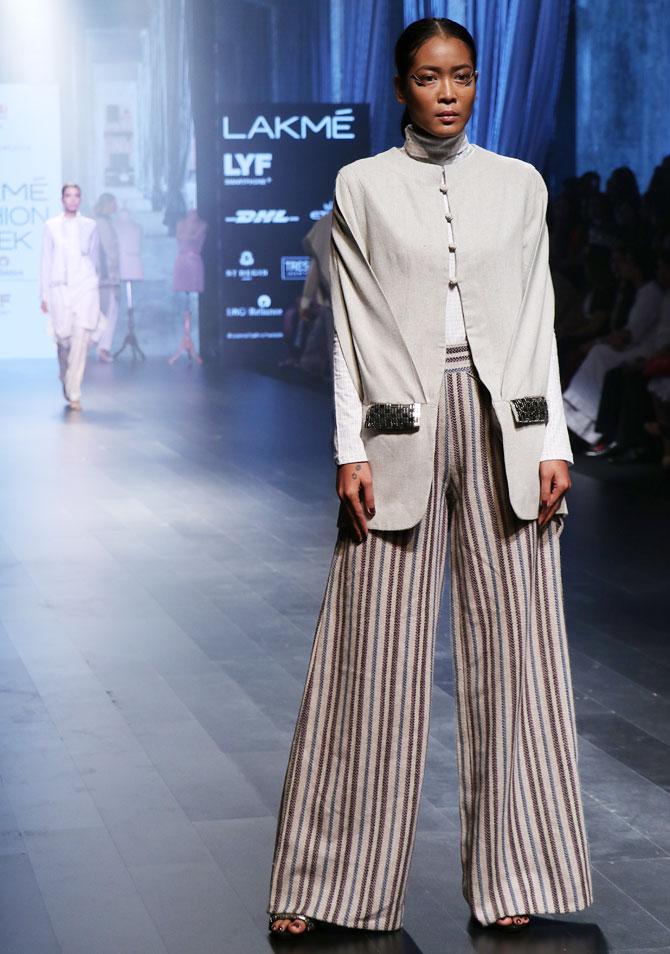 IMAGE: This model sports a high-collar jacket with striped flare pants.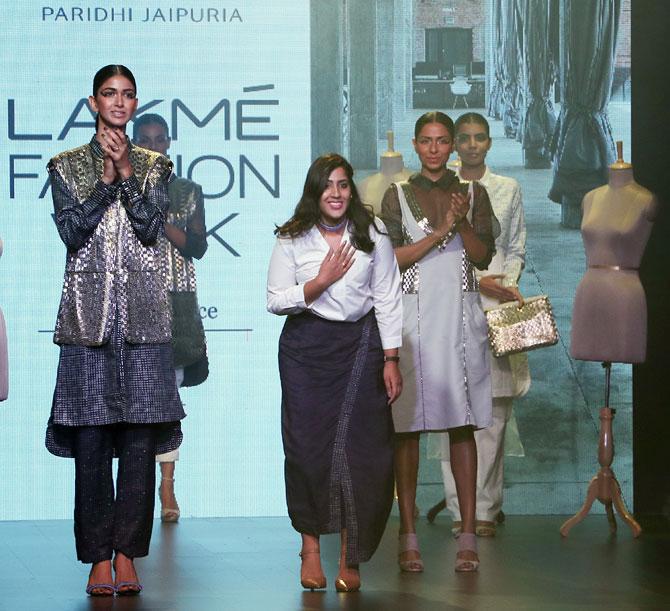 IMAGE: Designer Paridhi is all smiles to step out with her models.
Vaibhav Singh
Gurgaon-based designer Vaibhav, 29, charmed the audience with wearable, sporty fashion in black and grey.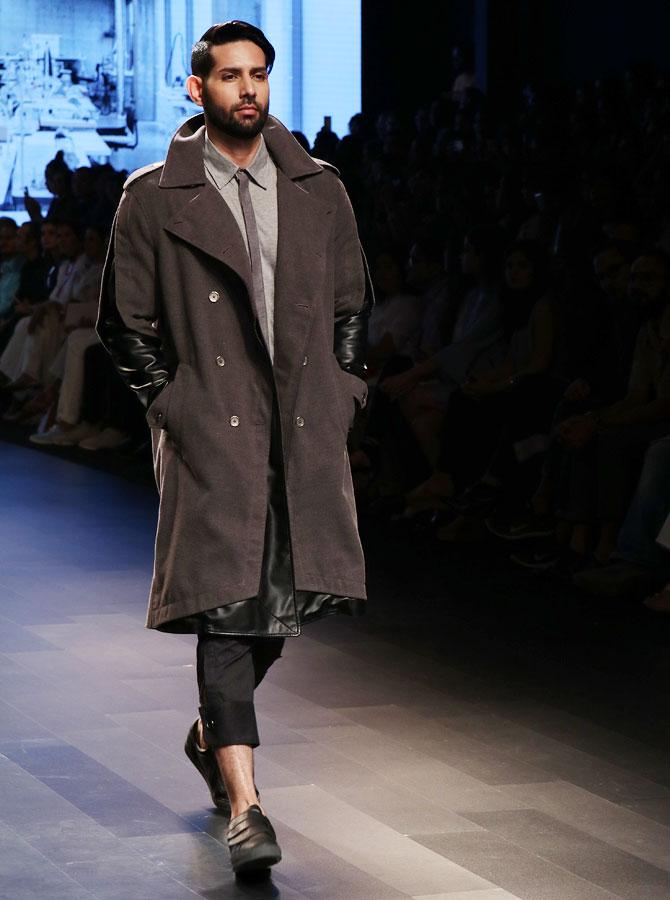 IMAGE: A coat with black leather sleeves make for a wardrobe staple for any dapper man, doesn't it?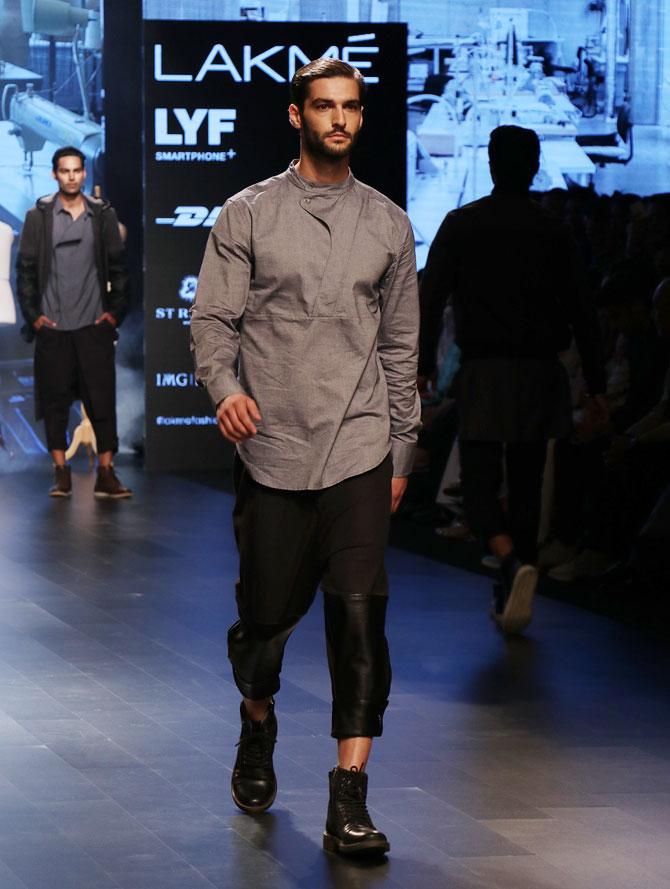 IMAGE: Ankle length pants just came back in vogue. The collection majorly comprised of blacks and grey.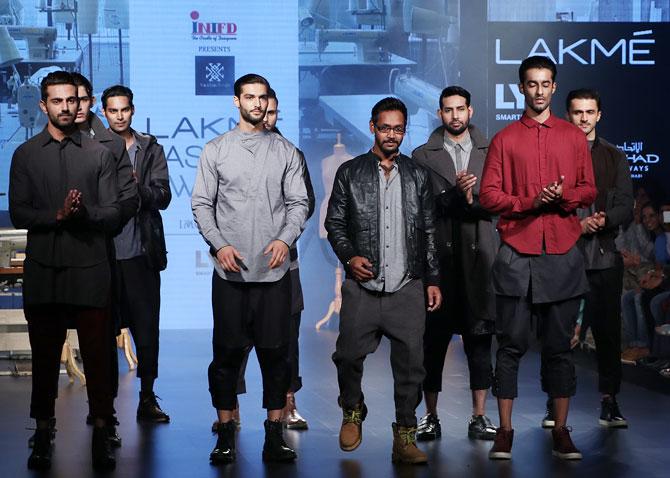 IMAGE: The designer takes a bow with his models.
Abhishek Paatni
In monochrome, this collection had everything for the dapper man. It was a cross between street style and a sophisticated look.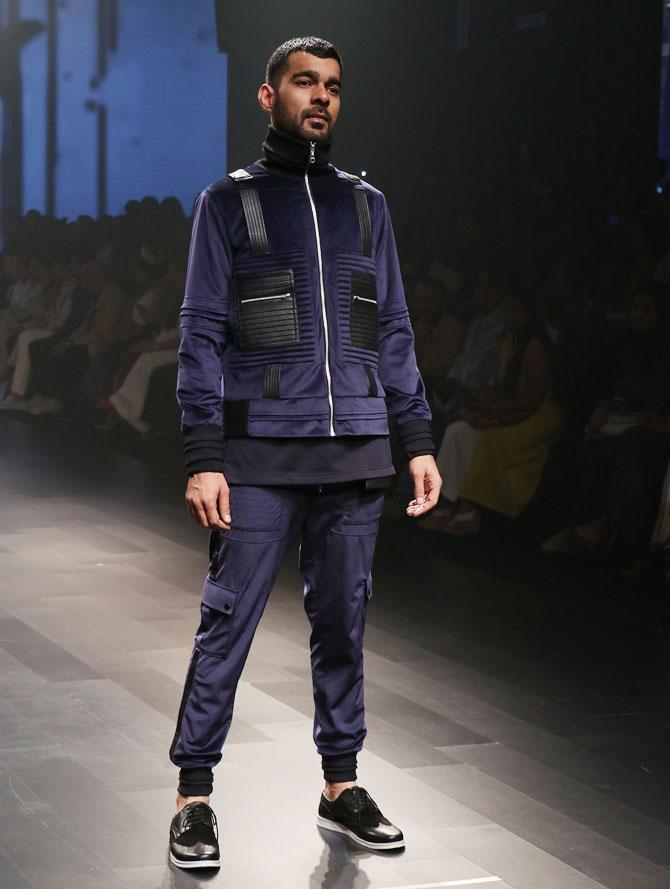 IMAGE: It's a fusion between warfare and street style for this outfit.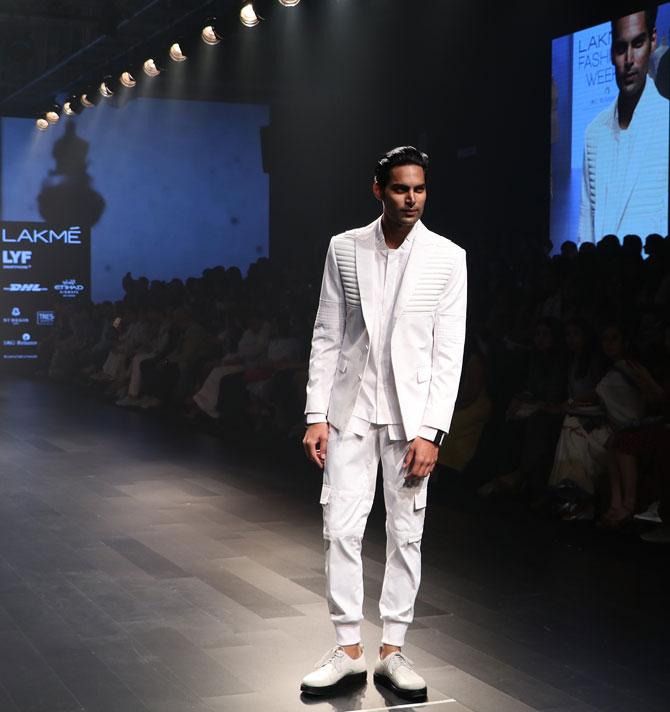 IMAGE: Doesn't this model look dandy in an all-white outfit.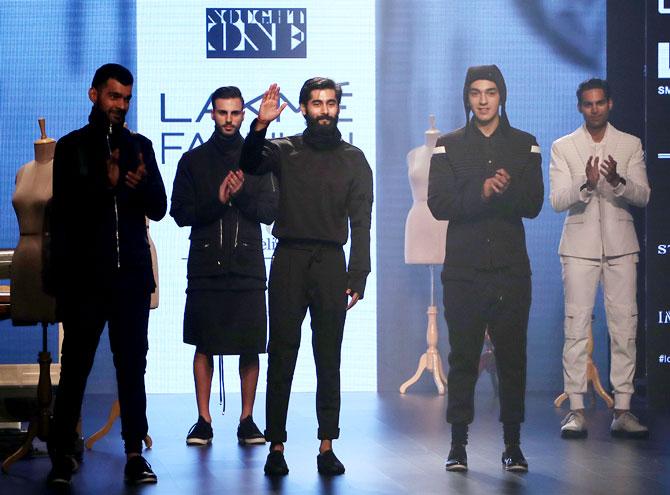 IMAGE: Say hello to Abhishek Paatni the man behind this street style creation.
Diming Rubu
This 24-year-old from Delhi celebrated lady-like chic with her garments. The collection saw separates, classic silhouettes, chic and sleek outfits.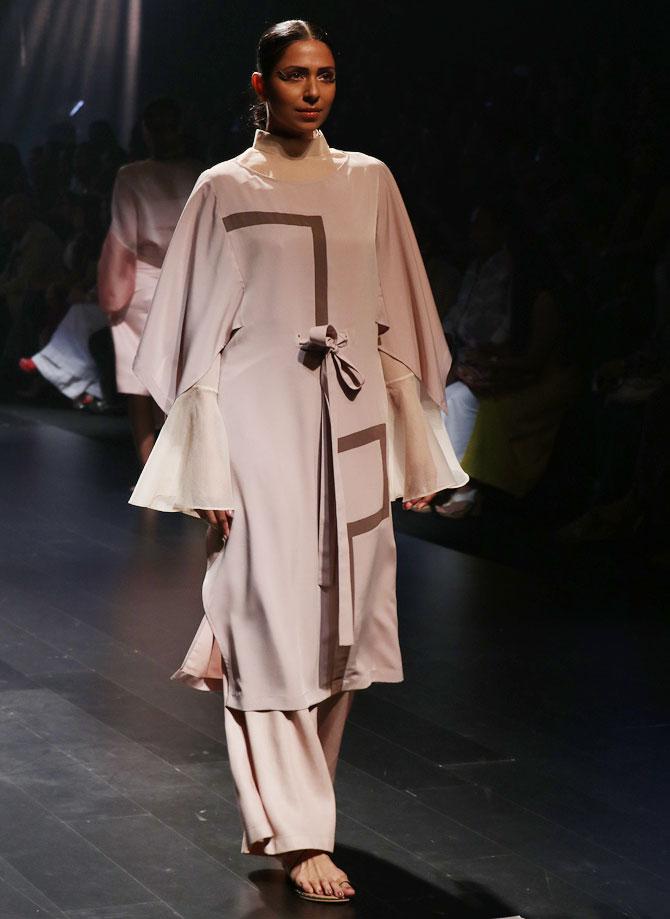 IMAGE: A model sports a pastel robe with flared sleeves and pants.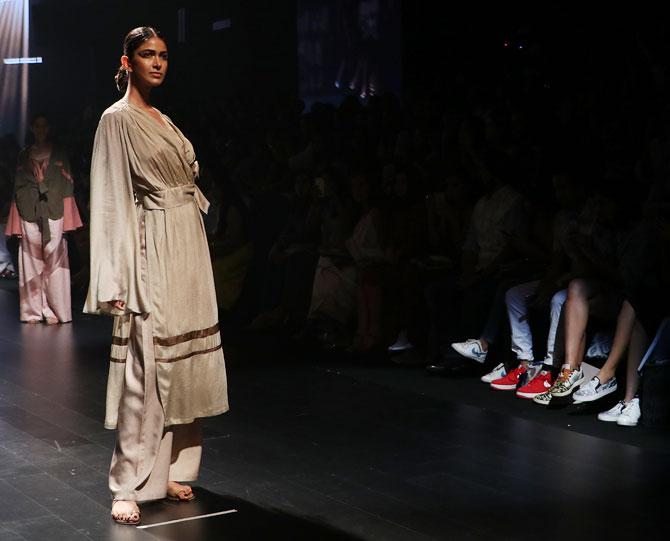 IMAGE: The collection had plenty of classical silhouettes.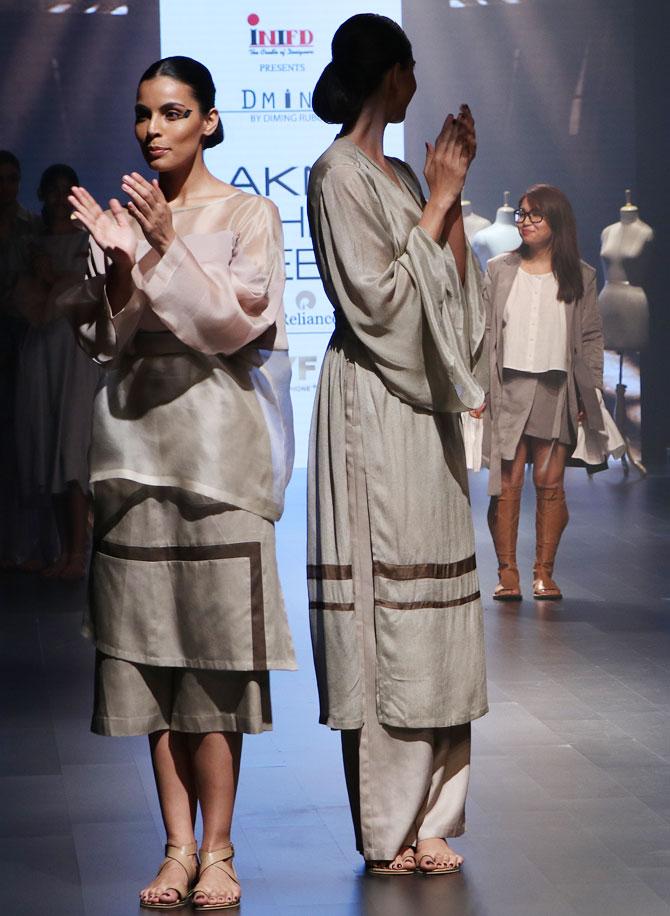 IMAGE: The designer makes an entrance while her models stand in tow.
Sidhu Ji
This 25-year-old from Chandigarh sprung a surprise with collection which was inspired by starry nights. Black was the dominant colour. Take a look!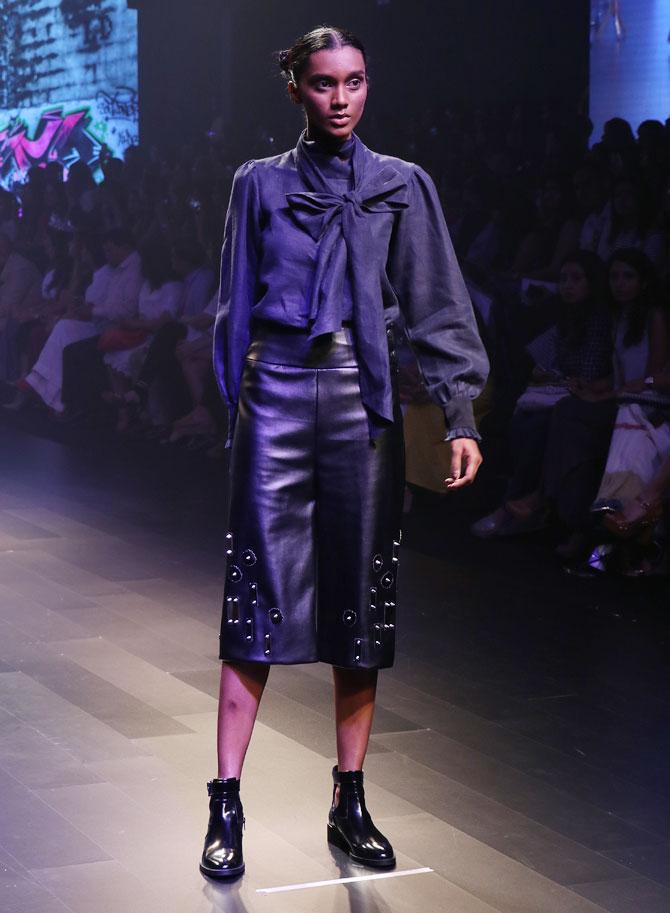 IMAGE: Inspired by the dark night, this collection was all black and dark shades. A model sports a blouse with a bow and leather culottes pants.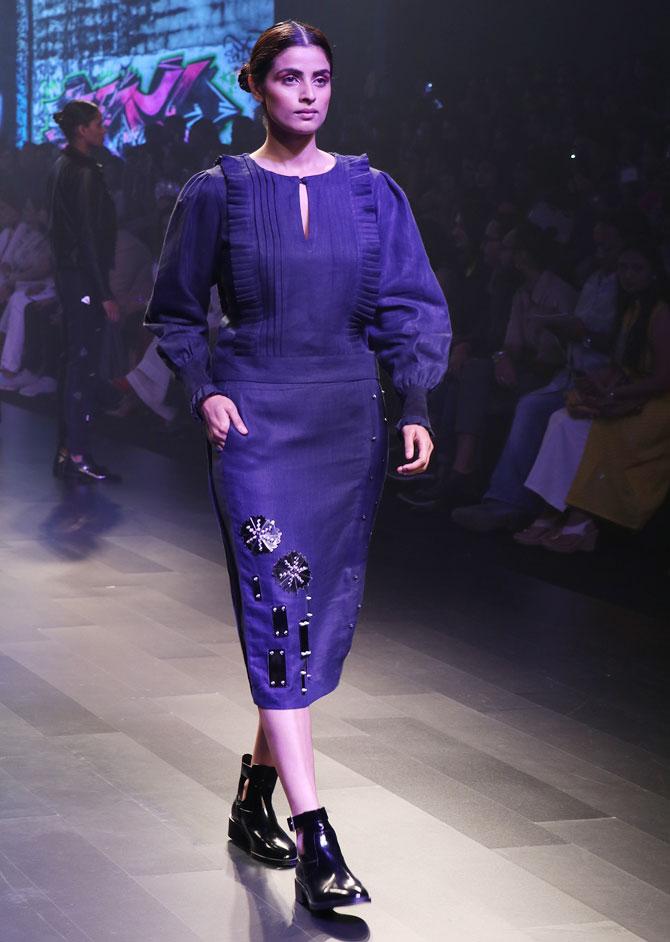 IMAGE: Pleats and embellishments add a touch of quirkiness to this outfit.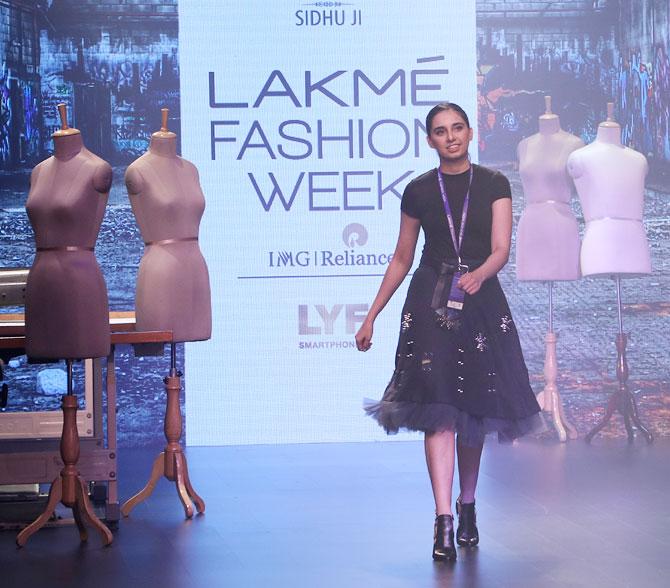 IMAGE: That's the designer dressed in one of her creations.
Lakme Fashion Week Winter/Fest: Full Coverage
Check out trendy outfits and accessories on Rediff Shopping!