All eyes on showstopper Swara Bhasker at Lakme Fashion Week.
Report: Anita Aikara/Rediff.com
Photographs: Hitesh Harisinghani/Rediff.com
FULL COVERAGE: Lakme Fashion Week Summer/Resort 2018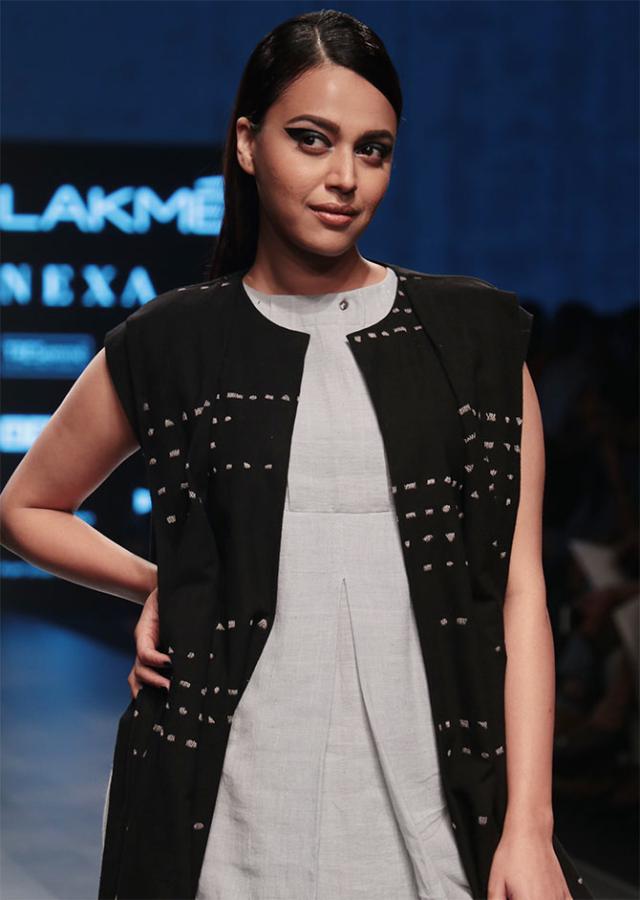 When Swara Bhasker walks into a press conference, it is not unusual for the actor to have a no-holds-barred conversation.
But the weight of the Padmaavat controversy -- which saw her being trolled terribly for writing an open letter to the film's director Sanjay Leela Bhansali -- seemed to have made her reticent.
"I think there is a real problem of tolerance of opinion in India. I think we see difference of opinion as dissent,"Swara Bhasker said to a select group of journalists on the sidelines of Lakme Fashion Week Summer/Resort 2018 where she had just walked the ramp as a showstopper.
She had been hesitant to talk at the customary post-show press conference -- she had walked in, glanced at the room full of media persons and stepped back outside for a bit.
But when she returned, she spoke as eloquently as always about being a showstopper for fashion designer Shaila Khubchandani's Crow and her own fashion evolution.
Swara Bhasker said, "If you can be who you are and dress up in such a way that it brings out the best in you, and also the truest form of you, that for me is really fashion.
"I am not an expert, but I don't believe that you can be truly fashionable until you are confident, and you can't be totally confident until you are truly comfortable with who you are."
The actor who grew to be on point on the red carpet said she had a very simple mantra when it comes to dressing for such events: "I just listen to my stylist. I think I'm too bohemian for the red carpet, and I have found a way to balance the trends and style with what really is me."
But away from the red carpet and the media eye, Swara Bhasker said her go-to choices involved saris and handloom.
"I am big fan of handloom. I love classic silhouettes that are comfortable. When I know that there is no press and it is a private house party, I take out all my sari love out there. I don't get a chance to wear saris otherwise."
Swara Bhasker also spoke fondly about her Veere Di Wedding co-star Kareena Kapoor, who is slated to close this edition of LFW tonight: "I love Kareena. She is amazing. There's no one like her on the ramp."
Scroll down to check out Swara Bhaskar's on-ramp moments...
Swara Bhaskar walked the runway in a dove grey kurta and pants under a black, multi-slit, tabard-style embroidered cover from a collection titled Fundamental Fragments.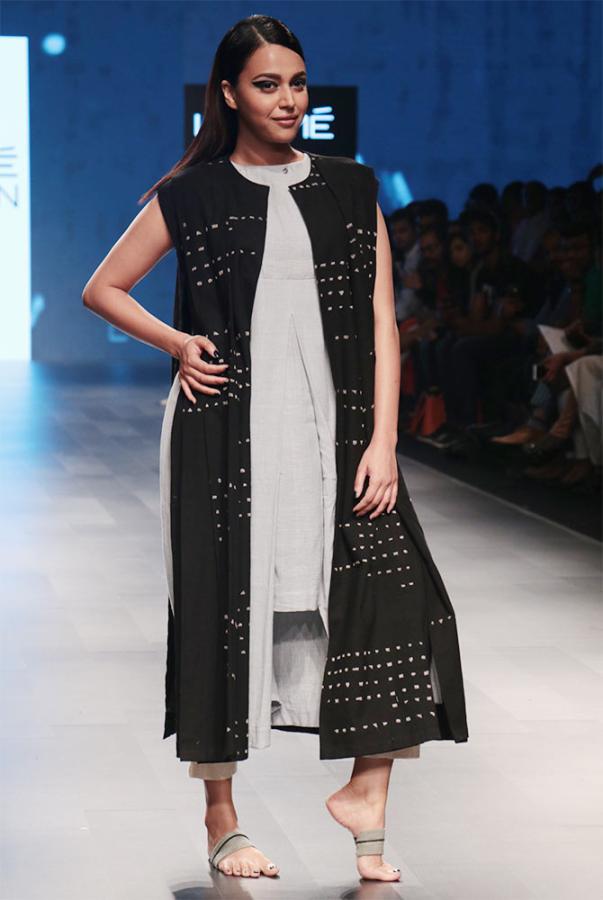 The highlights of the collection from Shaila Khubchandani's label Crow included turning squares into fashion forms and functional silhouettes in khadi, linen and cotton jamdaani -- all suitable for the summer months.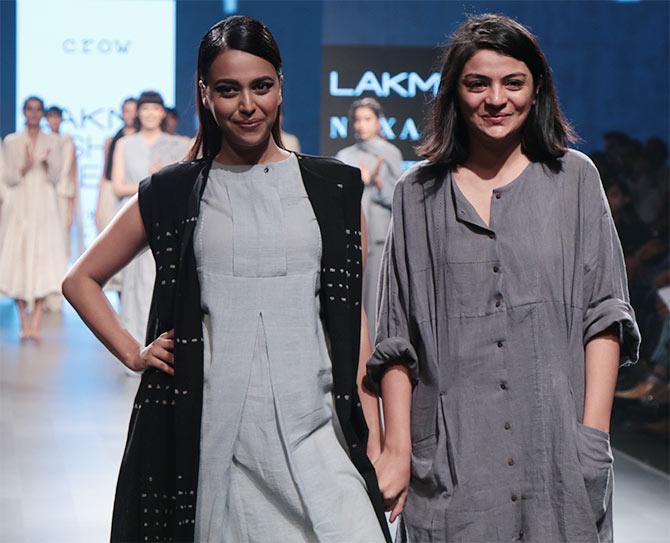 Designer Shaila Khubchandani and her showstopper.
Swara Bhaskar: Had no idea my open letter would create such mayhem