One of India's best-dressed designers Gaurav Khanijo reveals his ultimate dream. Is NaMo listening?
Gaurav Khanijo once designed women's wear.
But apart from dressing women, designers need to themselves dress sharply. When Khanijo would go out looking he couldn't find clothes for himself.
So he started designing for men.
New Delhi-based, Khanijo was among the six designers who showcased at Lakme's GenNext last season. His minimalist designs and strong cuts have made him a favourite among stars.
Over the last year, his clothes have been appreciated by actors like Varun Dhawan, Hrithik Roshan, Shahid Kapoor, Siddharth Malhotra. And many more. The list is endless.
Rediff.com's Anita Aikara caught up with Khanijo to find out more about his creative inspiration. His dream projects. His story...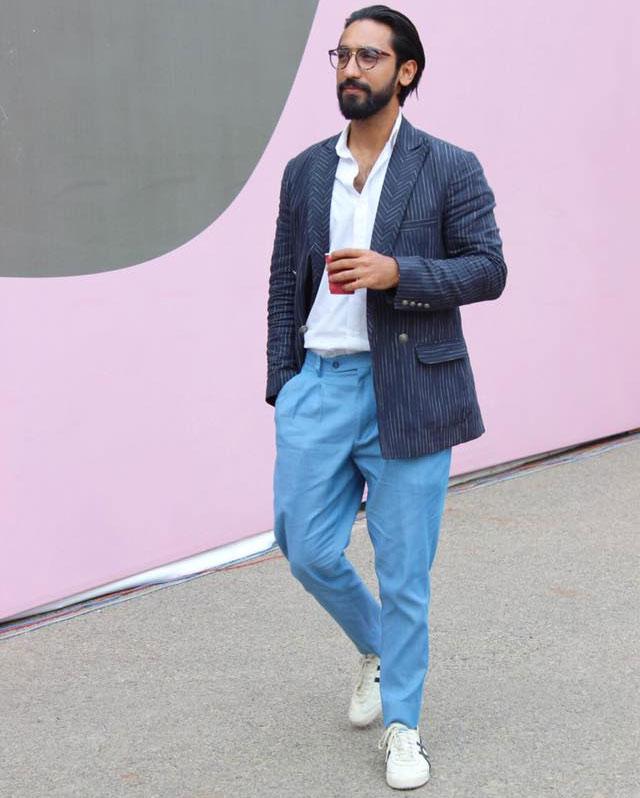 IMAGE: Gaurav Khanijo
Photograph: Kind courtesy Gaurav Khanijio/Instagram
From a GenNext designer to the mainstream -- How has the journey been?
GenNext was the only way I could start my career. I was making clothes for quite some time. This was the only platform I thought that could give me that kind of exposure. I sent my entries and thought if I was worth it, I would get through.
It's a brilliant platform where young talent gets recognised. Around the time I applied for GenNext I was short on funds. But they sponsor the show! So it is wonderful.
What else would you want as a young designer?! The GenNext designers need to get out eight looks. It can be an expensive affair given the fabric they are using.
When I did mine, I used a lot of Bhagalpuri silk, because it was winter and festive time. I went into this fantasy world and I knew people were not going to buy it the way I wanted them too, but the product definitely got me noticed.
The Indian mentality is such that if people know that you are associated with a platform like Lakme, they look at you differently. Recently, I told a client I was going to Mumbai for the Lakme Fashion Week. She exclaimed, "Oh great! You are going for Lakme!" Suddenly in her mind I was a bigger designer.
Lakme gets 1,000 of applications every year. The selection process is really tough. If you see the work of the young designers selected, you will be shocked to know that some are just making their debut. Their work is so good.
How many years did you go unnoticed before GenNext?
I started my career in 2001. I was in NIFT (Delhi) first. Then I went to Pearl (Academy of Fashion, also in Delhi), because I missed out my forms for the undergrad. I did a short course to understand if I really wanted to do fashion.
Post Pearl I got to intern with a lot of people like (designer) Narendra Kumar. I went to Paris and worked with a few designers there. (When) I returned to India, I worked in Tirupur, down south.
Then I started my own little business. My father pushed me to start something of my own -- that's the typical Delhi mentality. He felt that rather than working for someone, it would be a lot easier starting something. I made a lot of mistakes, but I learnt a lot too. I took my time. I realised that things (in the fashion industry) were moving too fast. I (thought) I would be left far behind if I don't start soon.
Trust me, I got into GenNext, but I don't think I am part to the next generation -- most of designers participating in GenNext are really young unlike me.
I wanted to start my own store and run it for a year and see if my product is worthy. Thankfully, people liked my product and I am still selling in Delhi. I have a lovely store in a well-lit up location. My store completed two years in December.
Being a part of GenNext got my brought into other stores like AZA. That helped.
Now I am focusing only on men's wear.
Is there really a market for out-of-the-box men's wear?
Yes, there is a market everywhere.
When I was in college, around 10 years back, we didn't have social media. We sat in the library, read and (went) through fashion magazines and to understand what designers were making and learn from them.
Now such information is freely available online. Fashion also has been changing so quickly. Everyone wants to buy stuff online and experiment -- it's across genders.
In the men's market, we are far behind. But the trend is catching up.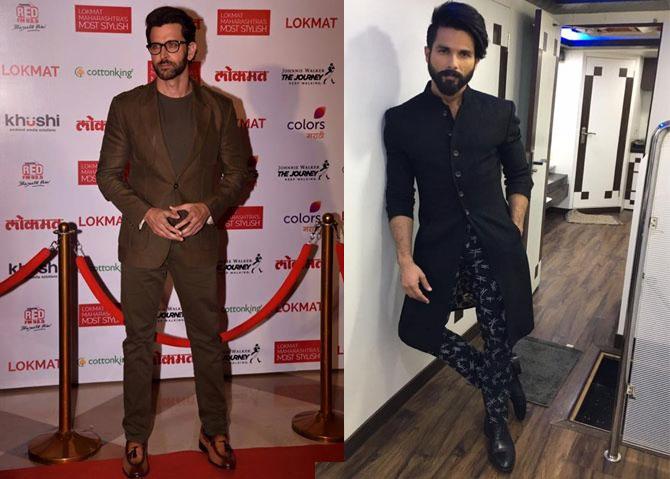 IMAGE: Actors Hrithik Roshan, left, and Shahid Kapoor in Khanijo's creations.
Photographs: Kind courtesy Gaurav Khanijio/Facebook
How does social media influence fashion?
Fashion moves so quickly it can be difficult for designers to cope and keep getting new stuff out every season.
Social media is killing it. Earlier, we used to cherish things. Now you don't cherish them any more. Even if you buy a product you really love, you wear it four times. Then you don't want to repeat it. Especially if your friends have already seen you wearing it on social media.
You lose the love for the product so quickly. People get so bored so soon (of their things). It happens with my sneakers... There are so many that it is better not to count.
What are the trends we'll get to see this season?
It is going to be a colourful summer. Pastel, subdued, more earthy browns and organic fabrics as it feels good and is comfortable in summer.
My entire collection is linen. There is not a single piece of silk. Linen are easy to carry.
Multi-utility clothing is going to be a big thing this year. If you buy a piece, you don't want to just wear it with a certain set of clothes; you want to experiment. It should be something that you could wear in different ways.
Whenever I think of making a garment, I think it should be functional. Before I started designing, I (would) buy churidaars, and they never had pockets.
I realised designers don't make pockets (in them). So I started pockets in my clothes.
The most stylish Indian you would like to dress
(Actor) Saif Ali Khan. And PM Narendra Modi!
Modi always dresses in new clothes. If you notice, he never repeats his clothes.
Maybe I would dress Modi in a long trench coat, cut (with) a nice collar, if he is travelling. He can wear his Nehru jacket inside the trench coat.
Saif doesn't need a stylist; he just carries everything so well.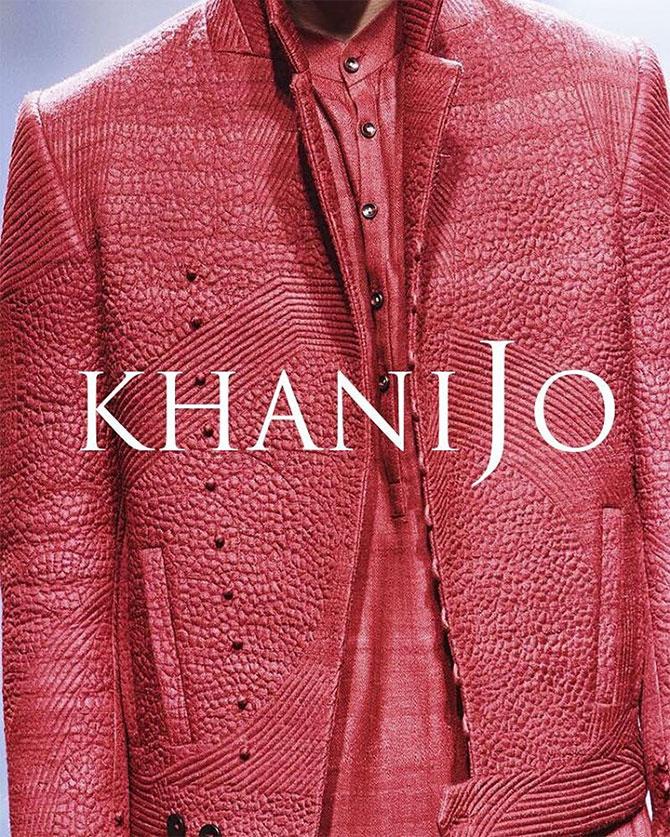 IMAGE: The designer believes in making easy-to-wear, functional clothes. They should make an instant impression.
Photograph: Kind courtesy Gaurav Khanijio/Instagram
What are some of the fashion mistakes that Indian men make?
Men sometimes get too fussy about matching separates. I think you need to break colours.
Also Indian men (the masses) don't really understand the fits. You can wear loose clothes, they don't have to be fitted, but they don't need to be so baggy either.
And then Indian men don't discard their clothes. They need to discard their clothes, so that they can buy new, better ones.
Your advice for aspiring designers
Follow your instincts. Do what you love. Don't follow the trend. Create something new.