Atithi Devo Bhava...
Language barriers apart, Rajesh Karkera takes this traditional Indian adage to heart as he welcomes two foreign nationals -- both new to the City of Dreams -- warmly and gets them talking about style and fashion at the Lakme Fashion Week.
Photographs: Rajesh Karkera/Rediff.com
***
Ruby Sak, 20, Belgium
About yourself...
I'm from Belgium's easternmost province of Limburg, a beautiful countryside.
This is first time in Mumbai for me. I've been put up by my agency here.
I've been in Mumbai for three weeks now and I love it here.
After taking some time to get used to the city's pace and culture, I am totally loving it now.
The food is a little spicy, but I'm getting used to it :-).
This is my first time at Lakme Fashion Week too. I saw Sanjay Garg's show yesterday and totally loved it.
What are you wearing?
I'm wearing a very comfy, blue sweater from Fila.
I like it because it is very comfy.
I am wearing a black dress under it to keep it slightly girly, but not too girly.
I want to be comfy but stylish and that's why I am wearing sneakers. I do like heels at times; but I prefer sneakers.
Fashion to you is?
Fashion to me is being myself but different from everybody else.
Wearing things you want to wear... bright colours... lots of colours and just being comfy and feeling good.
***
Natalia, 18, model, Brazil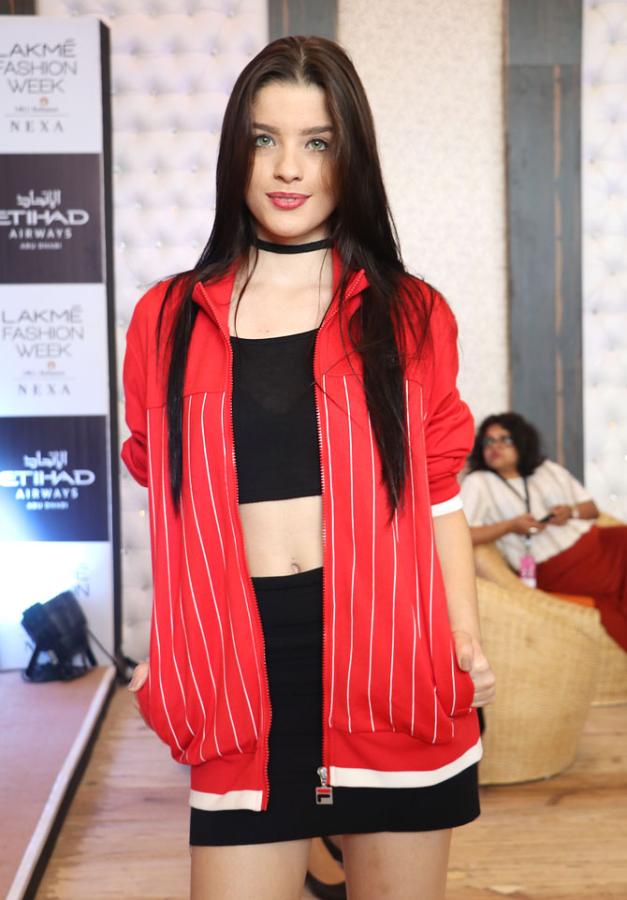 First time in Mumbai?
Yeah, first time.
What are you wearing?
I'm wearing a straight tube top and a black short skirt with a red Fila jacket; my shoes are from Zara.
I love what I'm wearing as it's very hot and humid here.
I normally love the Indian urban clothes.
What is fashion to you?
Fashion to me is a way of expressing myself.
I felt sporty today and this is the look which makes me feel comfortable and nice about myself.