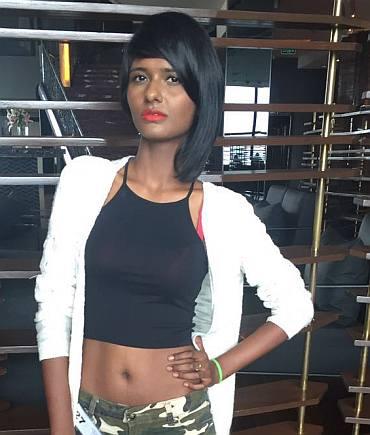 "I wanted to be a model since childhood. But as I am dusky, in North India it's a taboo. People made me feel that I am not pretty."
Aspiring model Neha Verma opens up to Tista Sengupta/Rediff.com.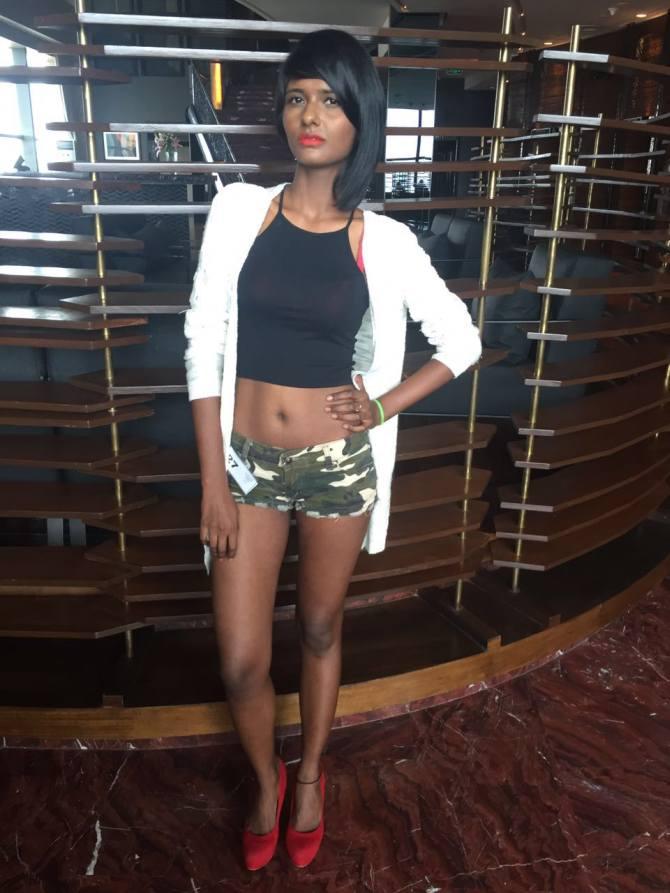 Neha Verma from Meerut, 23, tall (at 5' 7") and dusky -- who has been working as a producer for the last one year with Fame, a live video entertainment app -- was all prepped for the auditions. She is in the city of dreams to make a career in modelling.
With high hopes, she is back at the Lakme Fashion Week model auditions for the second time. (Unfortunately Neha couldn't make it even this time, but we wish her the very best for her next audition).
She speaks to Tista Sengupta/Rediff.com about how she aspires to become a top model.
This is your second time at LFW model auditions. So how have you prepared for the auditions this time?
If you want to be a model, you can't prepare in a day.
You have to grow as a model everyday, and keep changing with the trends. Hence, I keep to myself throughout and especially take care of my skin. Now being monsoons, you need take some extra care of your skin or you might get acne. If you want to make it to the ramp, you have to look good.
And...
I don't overeat and never sleep on a heavy stomach. As I am dancer (jazz and punk styles), it helps me keep my body in shape. I make sure that I work out at least four hours a day. Stretching and crunches are what I am mostly into.
You are from Meerut. Was it easy for you pursue this dream?
I wanted to be a model since childhood. But as I am dusky, in North India it's a taboo. People made me feel that I am not pretty. I used to feel different as a kid. This was one of the biggest issues that I had come across.
When I moved to New Delhi for higher studies, I applied for the auditions for a fashion show at my college's (Gargi college) fashion show 2012.
I called up my sister to discuss this. Initially I wasn't sure if I should apply, as all the girls were so glamorous, but my sister told me to give it a shot.
And to my surprise, my name was first in the selection list. This changed my life completely. See, I am getting goosebumps even today.
Were your parents convinced by the idea of you modelling?
Thankfully my parents have always supported me. But my relatives always said several things, but I never cared much.
Like I just got this funky haircut, and I got it because I wanted it. That's it.
How do you handle such criticism?
I always take it in my stride. They have made me a stronger person. You should keep going.
Your tips for girls who want to be a model...
It's very important to be athletic. I used to hang a lot when I was young, and that's how I got my height.
Practise walking in heels at home. It's very important.
Also, they need to know where they fit in -- is it the runway, print shoots or the television? Like I know I will look good on the ramp or print shoots, so I wouldn't want to go for television.
Quick make-up tips for the monsoon...
Avoid putting on makeup while on the way to college or work. Once you reach your destination, apply a nice BB cream instead of foundation. To set the cream on your face, dab a bit of translucent powder. If you have a deep set of eyes, just like me, avoid applying kajal on the lower line. Use an eye-liner on the upper line as it opens up your eyes.
Remember to wash your face with water as much as possible and carry a pack of soft tissues to wipe your face if it's oily.
Also Read: Dreams in their eyes: Models in the making at LFW auditions
Photograph: Tista Sengupta/Rediff.com