Designer Akshat Bansal, 26, is of the opinion that Indians are ready to experiment with fashion and look for individuality.

Akshat, who hails from Hisar in Haryana, was picked as one of the five GenNext designers at Lakme Fashion Week Winter/Festive 2017.
He shares his story with Anita Aikara.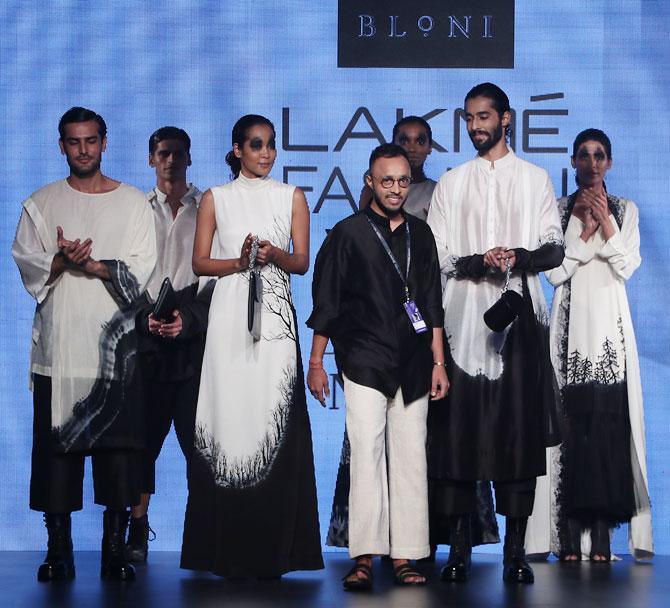 Back in 2013, just four days after graduating from NIFT, Akshat got to work with one of the best fashion designers in India, Tarun Tahiliani.
"He is truly a great mentor. It was an opportunity for me to learn from the best."
Since then there was no turning back for this young designer, who studied at the National Institute of Fashion Technology, Mumbai and Central Saint Martins, London.
A huge fan of Rajesh Pratap Singh's work, Akshat candidly reveals that he admires the designer for his creative pattern-making and tailoring skills.
"He creates something so simple yet complicated," says the GenNext designer talking of Rajesh Pratap Singh.
India has always been a powerhouse of talent, but Akshat has often looked to the West for inspiration too.
Among the top three international designers on his list of favourites are influential Japanese fashion designers Yohji Yamamoto and Rei Kawakubo, and Amsterdam based Aitor Throup.
"Yohji Yamamoto for the balanced asymmetry and avant-grade tailoring," he says.
"Rei Kawakubo for always being ahead of time and her design philosophy.
"Aitor Throup for representing the new-age fashion scenario."
The LFW collection, BLONI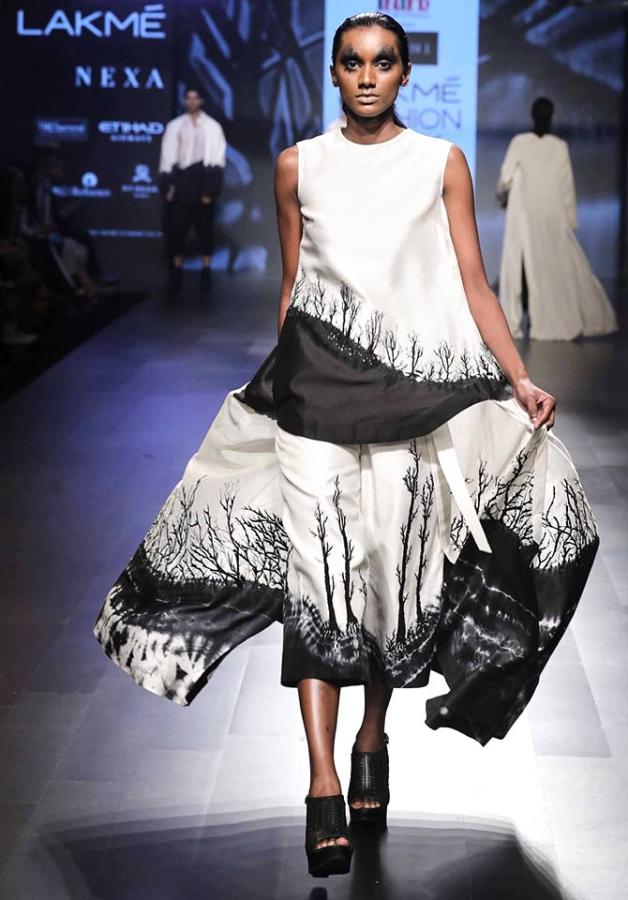 His LFW collection explored age-old techniques like tie and dye and crochet.
Photograph: Kind courtesy Lakme Fashion Week
Fabrics like chanderi combined with Italian crepes are used in the collection, which lends itself for a seamless fusion between Indian techniques and fabrics onto western silhouettes.
He calls it "a vision from the literal world carried on to another scenery, of snow-clad terrains, barely palpable -- admirably wooden.
"The collection is inspired by the science of nature in its most monochromatic appearance.
"I have explored age-old techniques like tie and dye, and crochet, and engendered a collection that remains androgynous at its core."
Design inspiration
"India is an intriguing country.
"Growing up here, I have always been mesmerised by the colours, textures, languages and various cultures, that add to its vibrance.
"The traditions of the country that have flowed down from centuries form the bases of my inspiration.
"Landscapes, colours, songs, myths, stories, history, art, craftsmanship, architecture and food from the globe, all of it becomes a melting pot of inspiring ideas, which helped me realise my inclination towards this field and to make an effort to be visually aware and adept."
Dressing up Indians
Akshat is of the opinion that Indians are ready to experiment and look for individuality in their dress sense.
Earlier, people made the silly mistake of dressing up only according to their body type. But this is set to change soon.
"There is an unconventional perspective and rhythmic flow of ideas from Indian new-age designers.
"This will encourage and nurture the future of Indian fashion and bring out the quirky in India.
"According to me, Indian fashion will soon have a global platform."
Quiz the young designer about the fabrics that Indians should avoid wearing and he says, "There are no such fabrics that can't be worn by Indians.
"We are fashion forward enough to use any fabric. It's all matter of place and time."
"However, men's fashion in India is still too narrow-minded," he adds. "Because the problem is that people are afraid of change."
"Men in India still dress for others and to impress. They should aim to be more individualistic and dress for themselves.
"There is a huge sense of pretence when it comes to men's fashion in India."
Akshat, extreme right, with the other GenNext designers at Lakme Fashion Week.
Photograph: Kind courtesy Lakme Fashion Week
Take Five
Athletic inspired fashion and mule footwear.
My style is a combination of contemporary and Indian fusion, where the brand translates its vision into fashion.
Celebrity I'd like to dress
Kangana Ranaut for her individuality and bold attitude.
Sonam Kapoor! She is not afraid of trying something new and unconventional, and knows how to pull off each look she wears.
Most common mistake Indians make when it comes to fashion
Selecting the attire according to their body type.