Archana Rao presented a breezy collection of outfits on Day One of Lakme Fashion Week Summer/Resort 2016.
Quirkbox's collection was inspired by France, and Sahil Kochhar's outfits reminded us of the beautiful floral prints etched on the walks the Taj Mahal.
Photographs: Hitesh Harisinghani/Rediff.com
Archana Rao's love for white was pretty evident in her collection A Petticoat, which was inspired by a fictional character called Lolita.
She worked her magic through intricate detailing with rosettes, crochet, and pinstripes. Her collection saw vintage petticoats, slip dresses, cropped tops and skirts.
Quirkbox depicted French couture through its collection. Shades of indigo, crimson, off-white and black ruled the runway and the collection saw fabrics like cottons, linens, and cotton silks, which are ideal for summer.
Sahil Kochhar's Sangamar-mar collection was unique for many reasons. The floral motifs on the outfits were created using printed fabric made of the textures of precious stones. Models also sported outfits with 3D hand-cut embroidery.
Scroll down to see different looks from these collections…
Archana Rao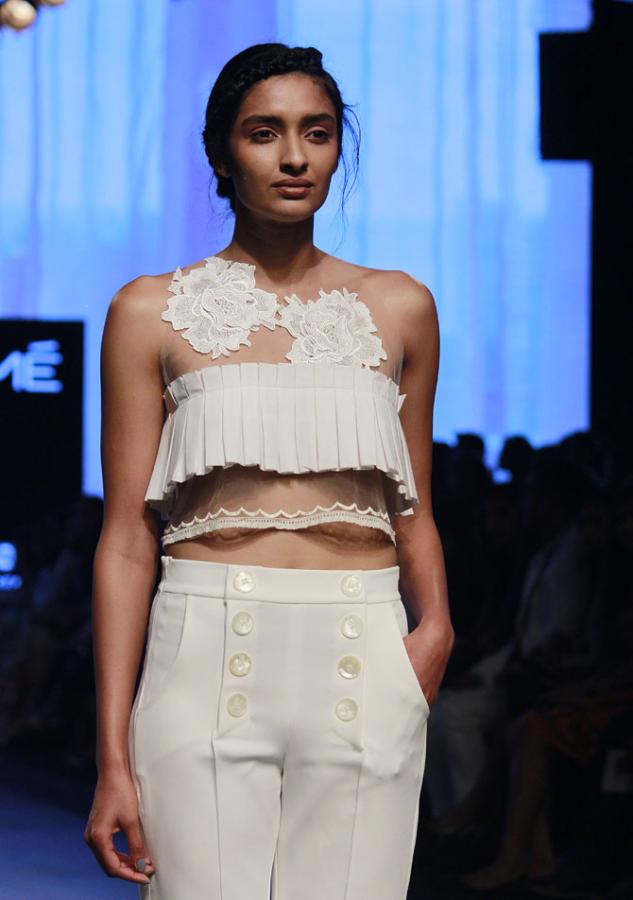 Summer silhouettes in white brought about a sense of vintage fashion and a touch of romanticism.
High-waist button down pants made a comeback on the runway.
The designer used pleats in an interesting fashion on tops and sleeves. Check out the next pic.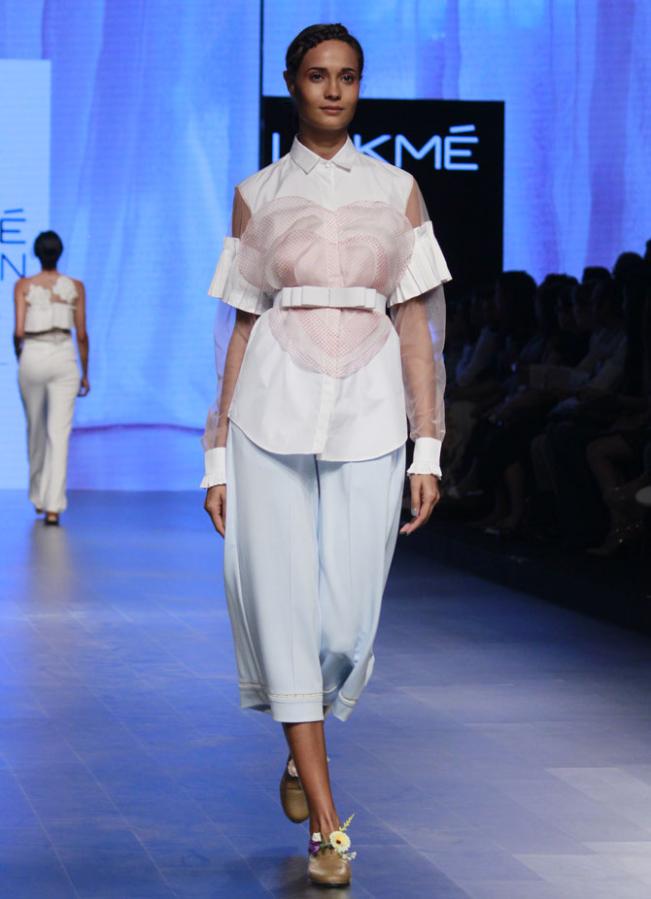 Model Rikee Chatterjee walks the ramp in a white shirt with sheer sleeves and pleats attached, teamed with pastel blue capris.
Shoes with blooming flowers were a highlight of this collection.
Model Candice Pinto dressed in a layered lace sari.
The blouse has an interesting mix of lace, pleats and small rosettes.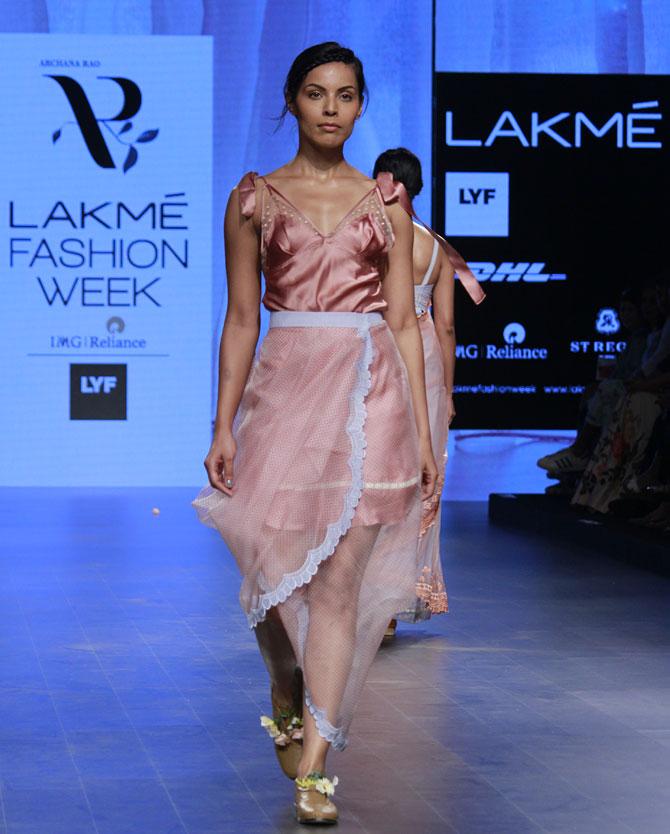 Model Deepti Gujral sports a slip-dress with a sheer skirt.
The collection also had vintage petticoats and pinafore dresses that went out of vogue years ago!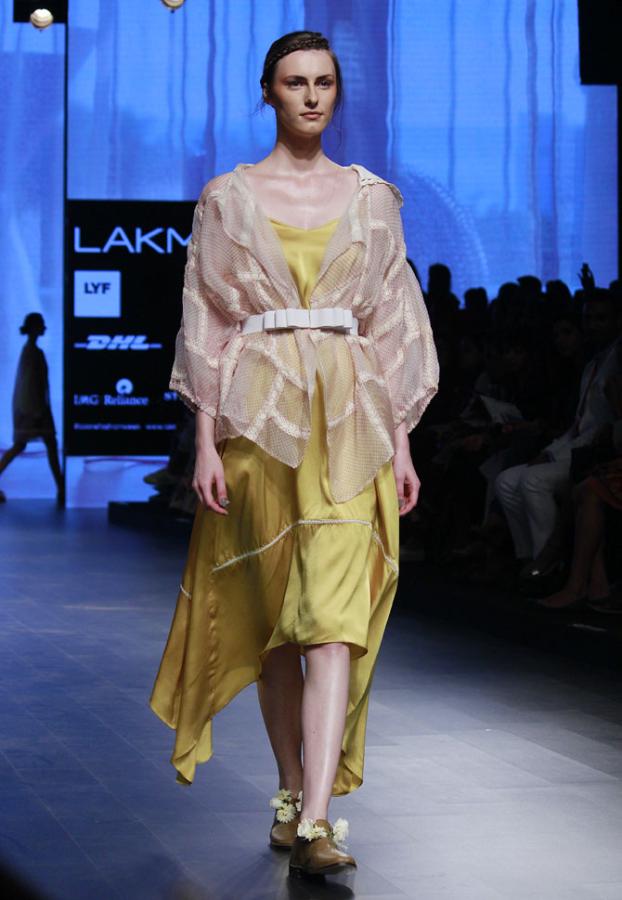 This breezy yellow dress, oversized shirt secured in place with a lovely, vintage white belt makes for the perfect summer outfit, doesn't it?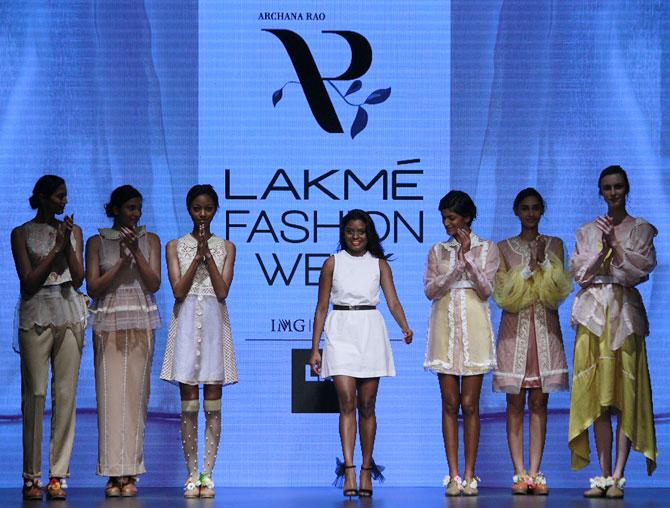 The designer steps on stage with her summer beauties.
***
Quirkbox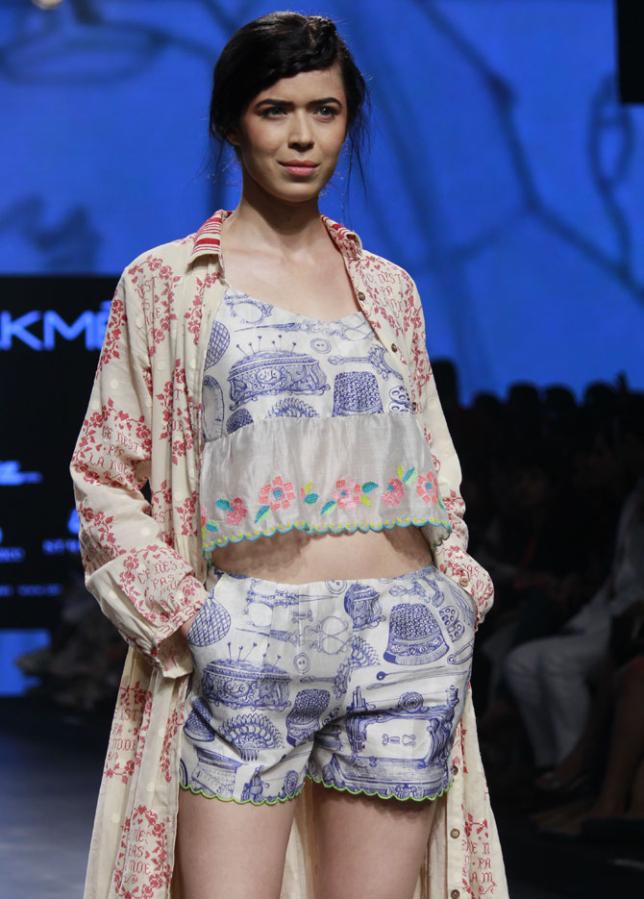 Looks like Sucheta Sharma is headed to the beach in these hot pants, a cropped top and a printed over-coat.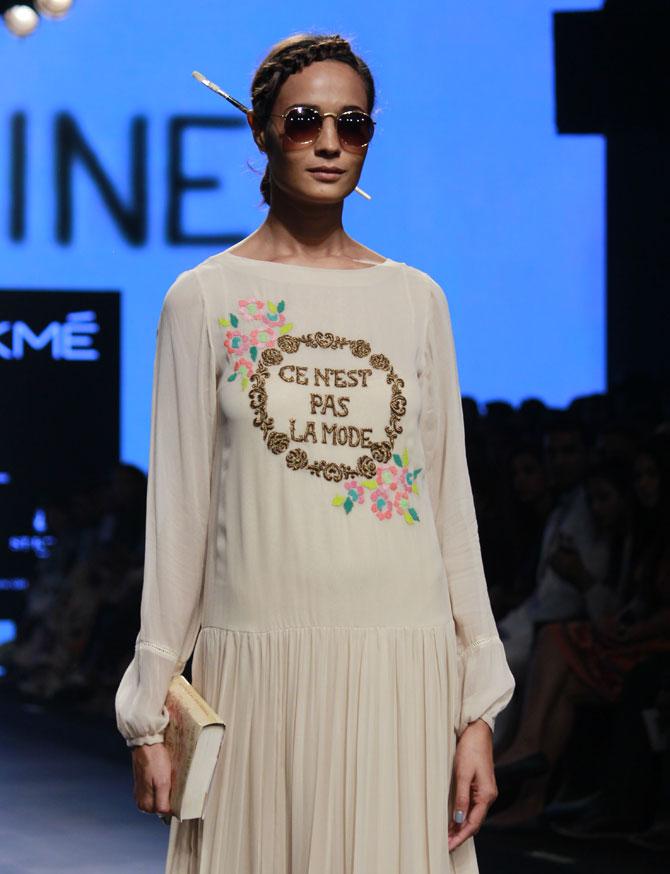 The collection was all things French!
French wording were embroidered on breezy summer silhouettes.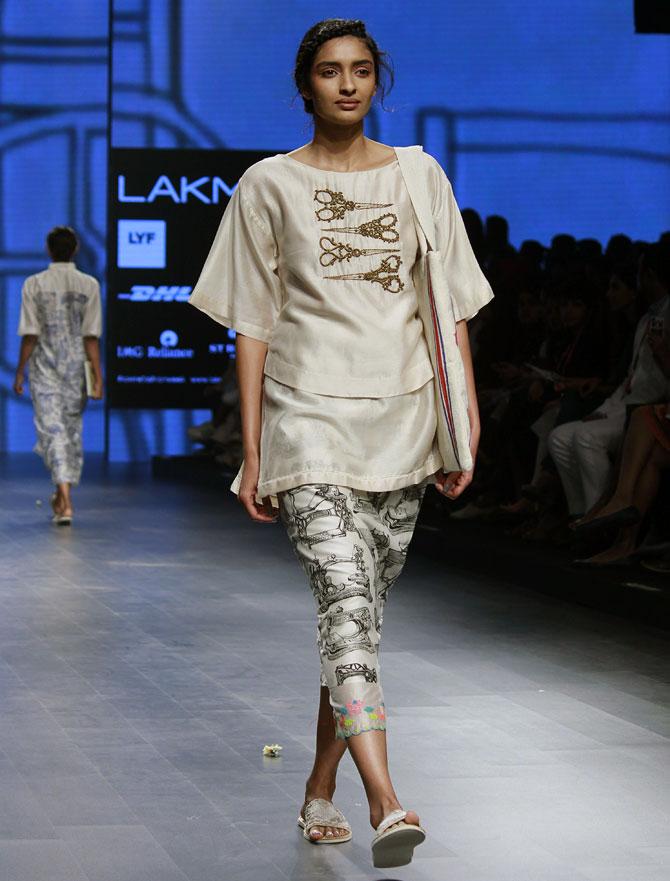 Vintage fashion accessories like sewing machines and scissors were embroidered on the outfits.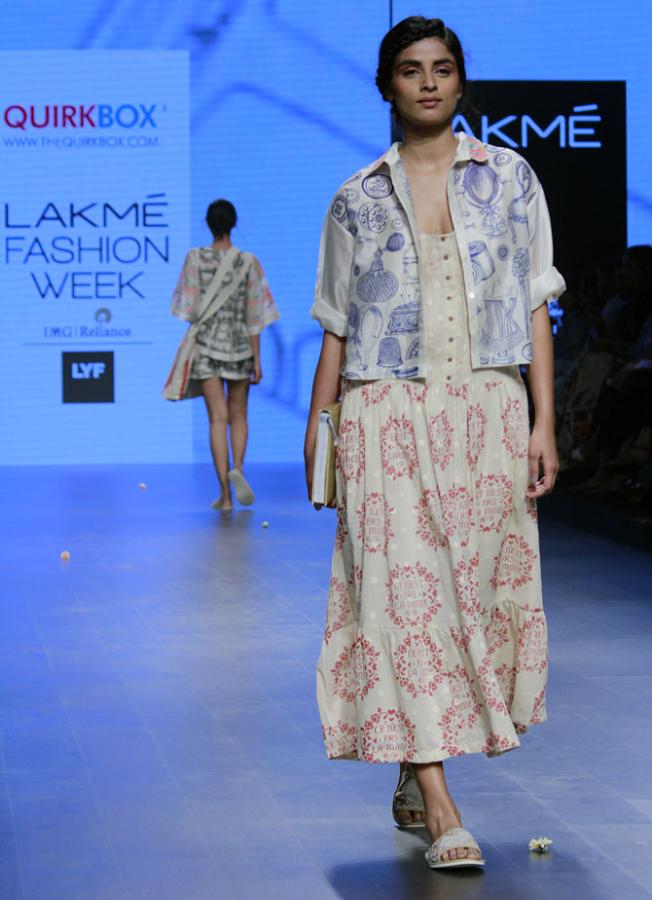 Model Aditi Mishra showed a summer white dress with red floral motifs, and an open jacket.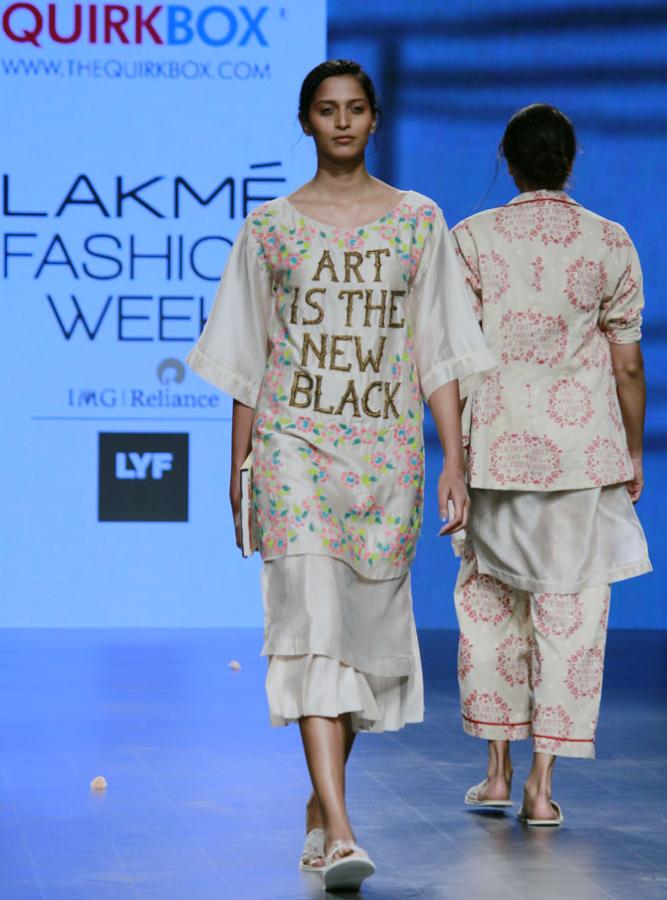 We absolutely loved the outfit Mitali Rannorey's showcasing, what about you?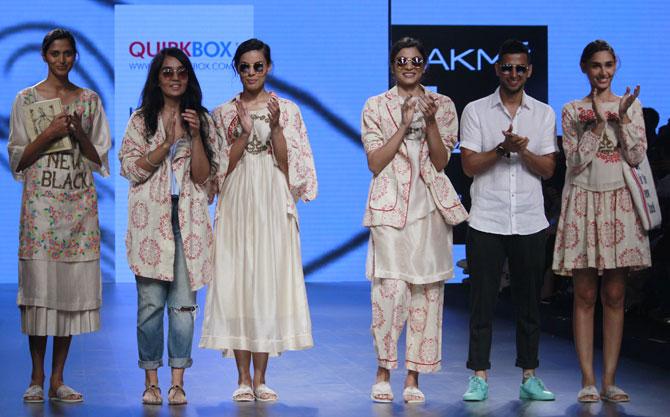 The designers grace the stage as their models cheer for them.
***
Sahil Kochhar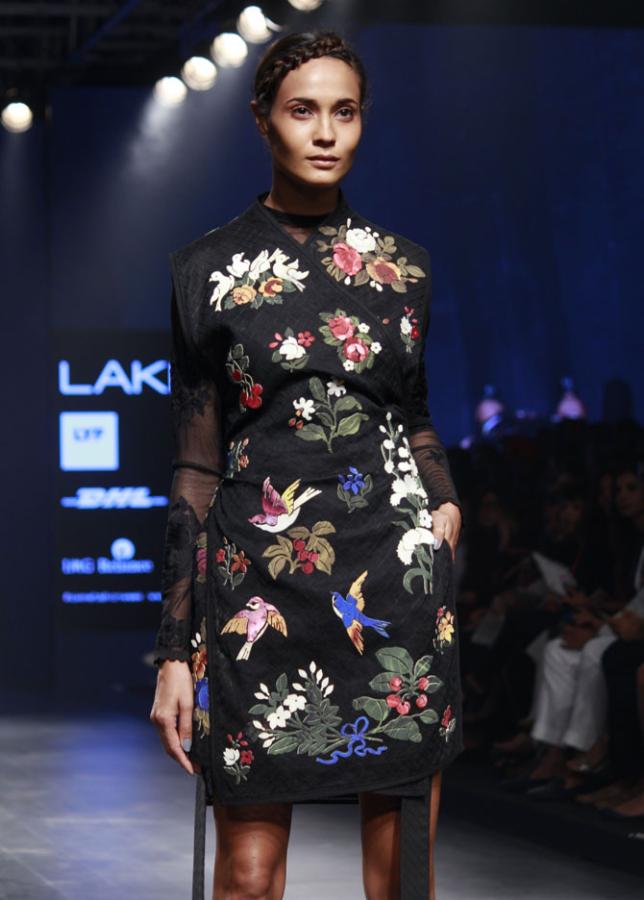 Model Rikee Chatterjee dressed in a black wrap-around dress with abstract floral motifs.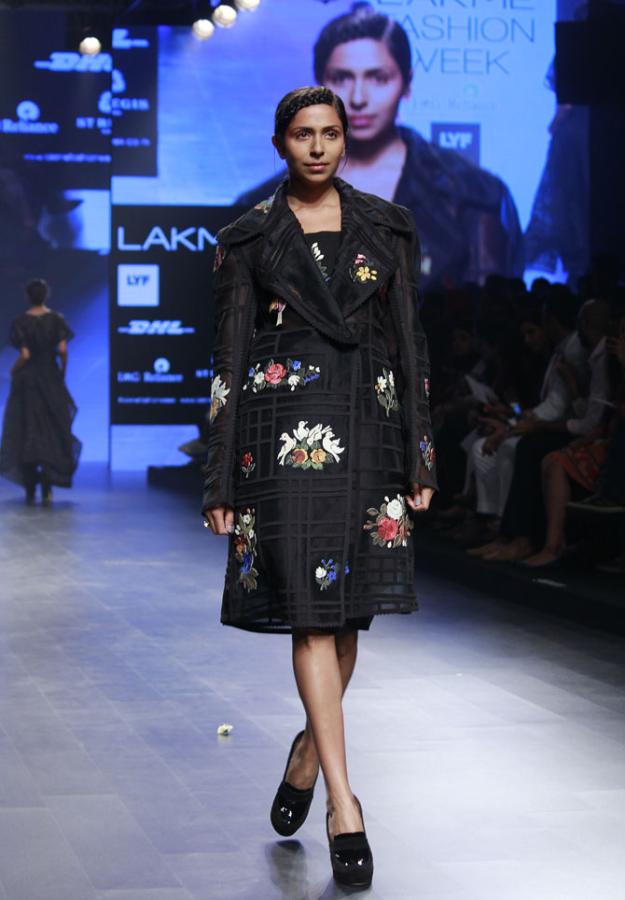 Model Candice Pinto showcases a silk organza jacket with marble cutwork appliqué.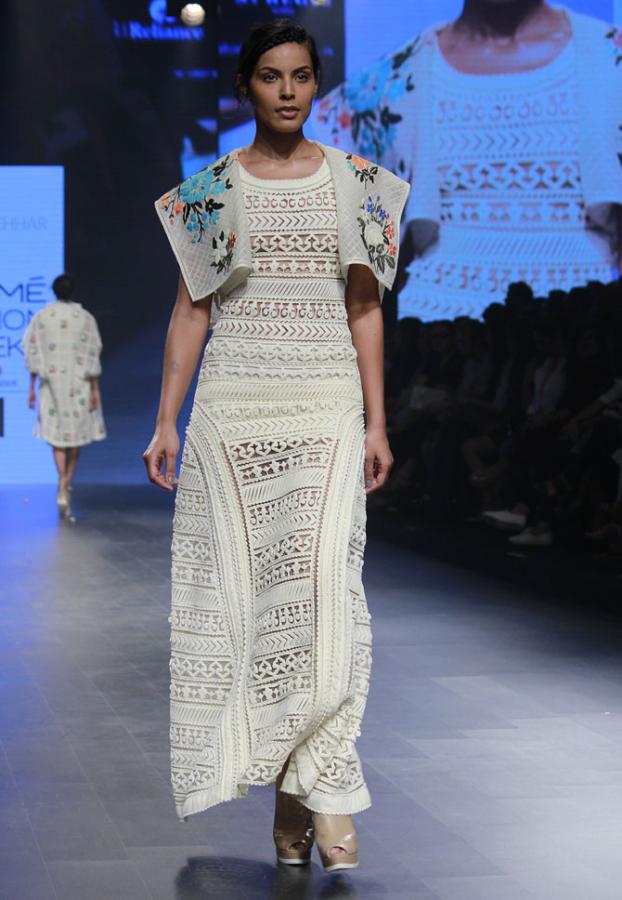 Model Deepti Gujral in a cutwork dress made out of jali work patterns.
The beautiful combination of white and black played out through this sheer dress.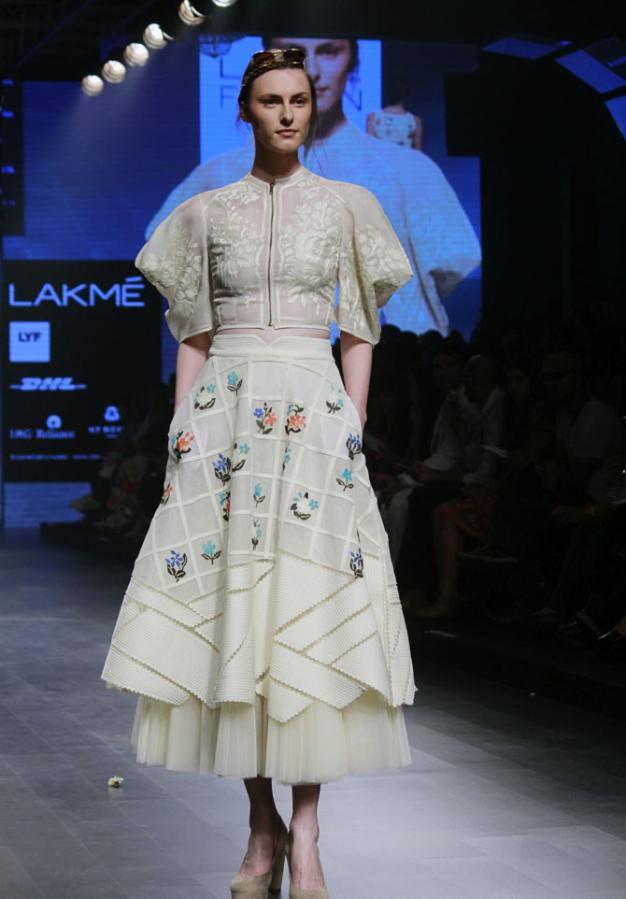 We love this kaftan inspired embroidered crop top and a white skirt with abstract floral motifs.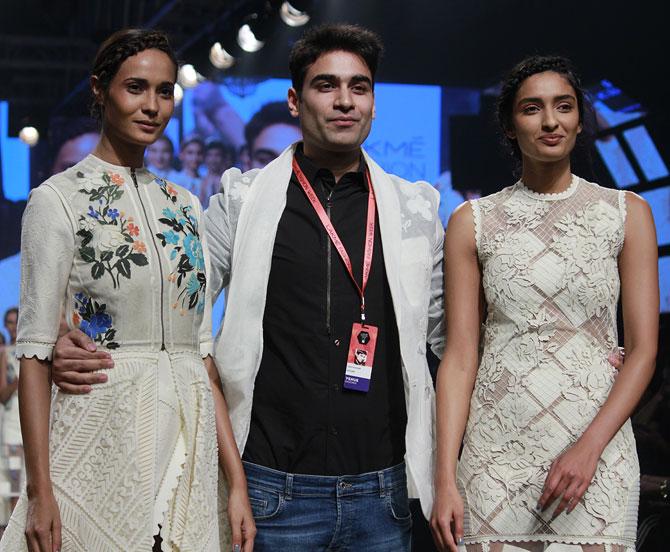 The designer takes centrestage along with models Rikee Chatterjee and Dayanna Erappa.
ALSO SEE