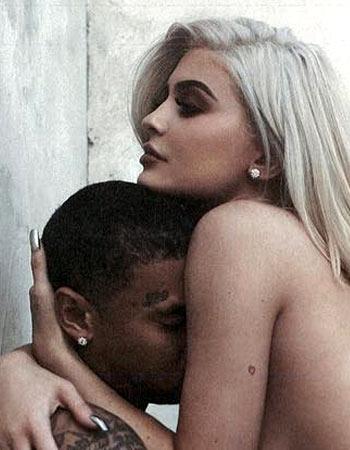 The weekly fashion round-up, where we bring you the latest on supermodels, style, designers and everything in between.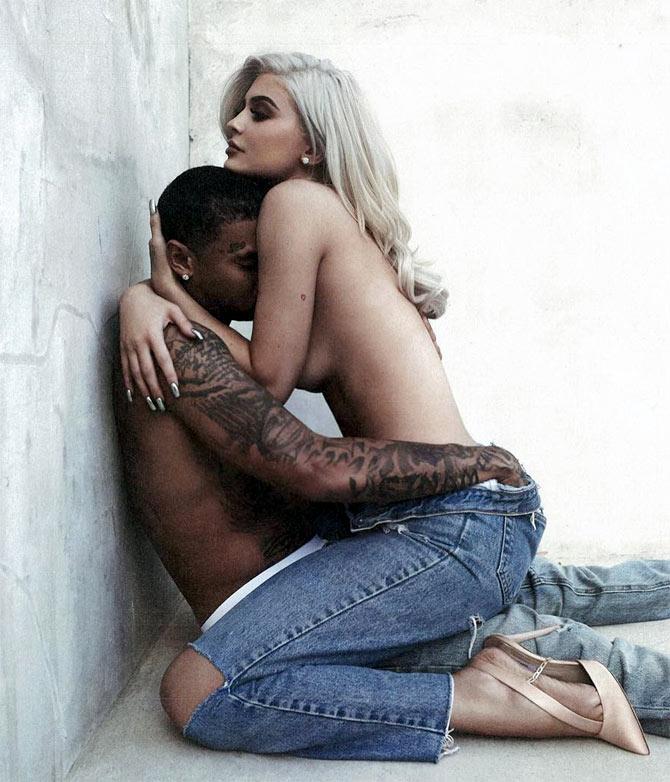 IMAGE: Kylie Jenner shared a steamy snap on Instagram with her rapper boyfriend Tyga to surprise him on his birthday.
Photograph: Kind courtesy Kylie Jenner/Instagram
Looks like Kylie Jenner has given boyfriend Tyga quite the gift on his 27th birthday.
The 20-year-old reality star took to social media to show her affection for the rapper.
Her Instagram page has two professionally shot photos of the couple embracing while she is topless.
The Keeping Up With the Kardashians star also shared a series of sultry videos on Snapchat showing her huddling up in a nice hug with him.
"Happy birthday baby," she wrote on Instagram.
Two of the posts also contained a caption that reads, "Happy birthday Tyga" with caricatures of her and the rapper, with her sporting her platinum blonde hair and a slinky white plunging jumpsuit.
*******
Gigi thinks 'fame is funny'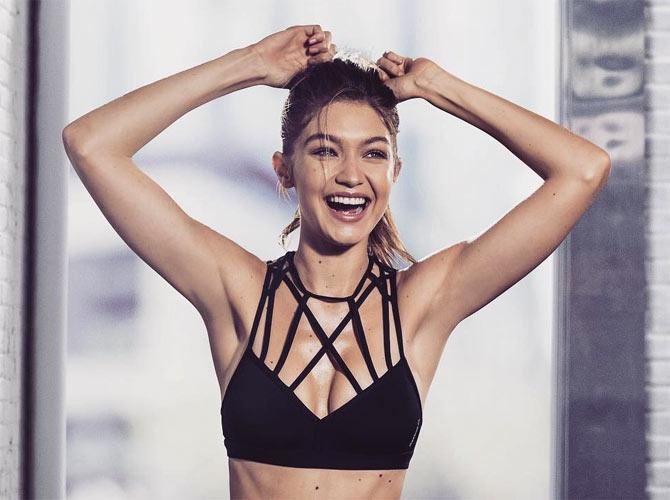 IMAGE: Gigi Hadid is all smiles in between her shoot with Reebok.
Photograph: Kind courtesy Gigi Hadid/Instagram
Model Gigi Hadid says she finds the constant speculation surrounding her personal life funny.
The 21-year-old model, who is currently dating Zayn Malik, finds the reports entertaining, reported People magazine.
"I think it's always funny to find out online that you're going through a breakup or something crazy's happening in your life.
"It's just funny that it comes out of nowhere a lot of the time but it's always entertaining. There's something every day honestly that's pretty entertaining."
*******
Paris Hilton 'never had botox'?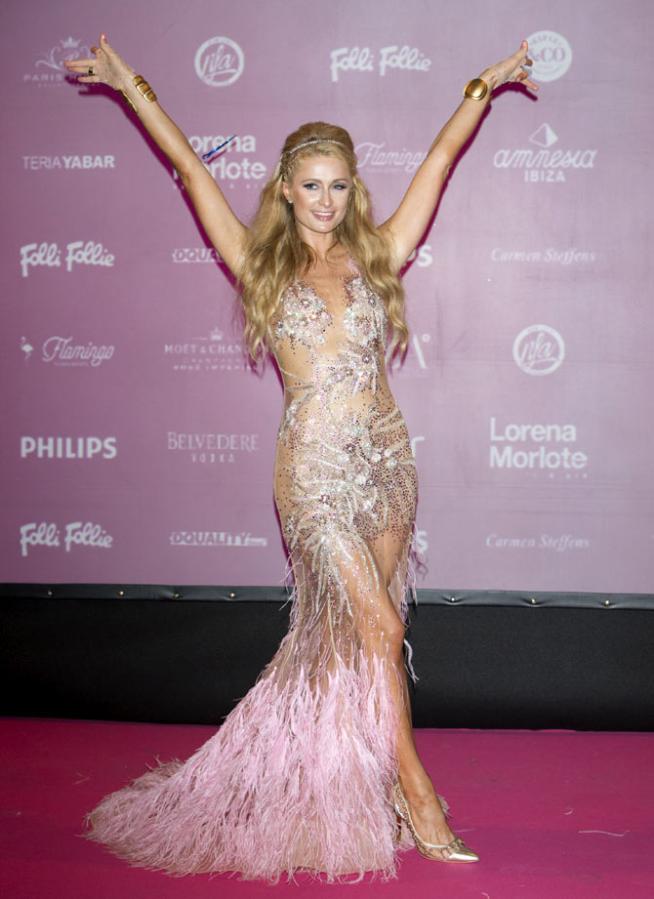 IMAGE: Paris Hilton flaunts her toned frame in a floor-scraping sheer gown with faux fur inserts at an event in Ibiza.
Photograph: Getty Images
Model-entrepreneur Paris Hilton says she is proud of herself for never having botox or cosmetic surgery.
The 35-year-old star has never gone under the knife but doesn't judge others, who have opted for cosmetic surgery, reported Female First.
"Yes, I'm very proud that I am all natural and have never had anything done. I am very happy with myself. But I don't judge others. People should do whatever makes them feel happy. It's just not something I've ever wanted to do," Hilton said.
The socialite said she is now mature enough to understand, who is using her for fame and who is genuine.
"Over the years I have definitely figured out all the signs of a hungry tiger. I can mostly tell when there are paparazzi and I can see the way a person like that reacts.
"Also, being in this business for so long it's pretty obvious what people's intentions are," she said.
*******
Katie Price, Kieran Hayler very much in love!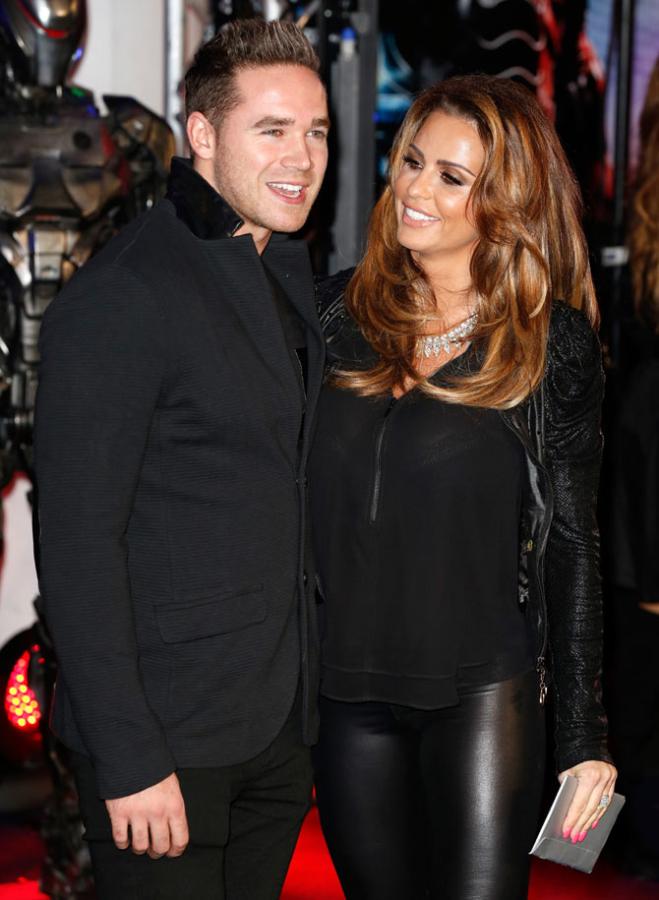 IMAGE: Model Katie Price, right, just can't take her eyes off husband Kieran Hayler at the World Premiere of Robocop.
Photograph: Tristan Fewings/Getty Images
Television personality Katie Price says she and husband Kieran Hayler are "very much in love" and not having any sort of marriage issues.
The 38-year-old star took to Twitter to deny claims that she and her husband, who previously admitted to cheating on Price, are experiencing fresh marriage difficulties.
"From the horses mouth me and kieran are 100 per cent together not splitting up we are very happy and very much in love leave our relationship alone (sic)," she wrote.
The duo renewed their vows in February 2015 after Hayler confessed to being unfaithful.
Katie, however, recently announced she was taking some time out from her ITV show Loose Women in order to focus on her marriage.
*******