Paris Jackson, 19, is set to begin her career in modelling.
Late Michael Jackson was the King of Pop. When he passed away, he left behind a legacy and three beautiful children -- Prince, Paris and Blanket.
While Prince and Blanket stayed away from the glare of the media, 19-year-old Paris has been making her move into the fashion scene.
She has been spotted at red carpet events including the Met Gala and has been recently signed as the new face of Calvin Klein.
Paris has also been signed by top modelling agency IMG Models, which handles the work of supermodels.
Here are 10 things you must know about Michael Jackson's daughter, Paris.
1. She's the next It girl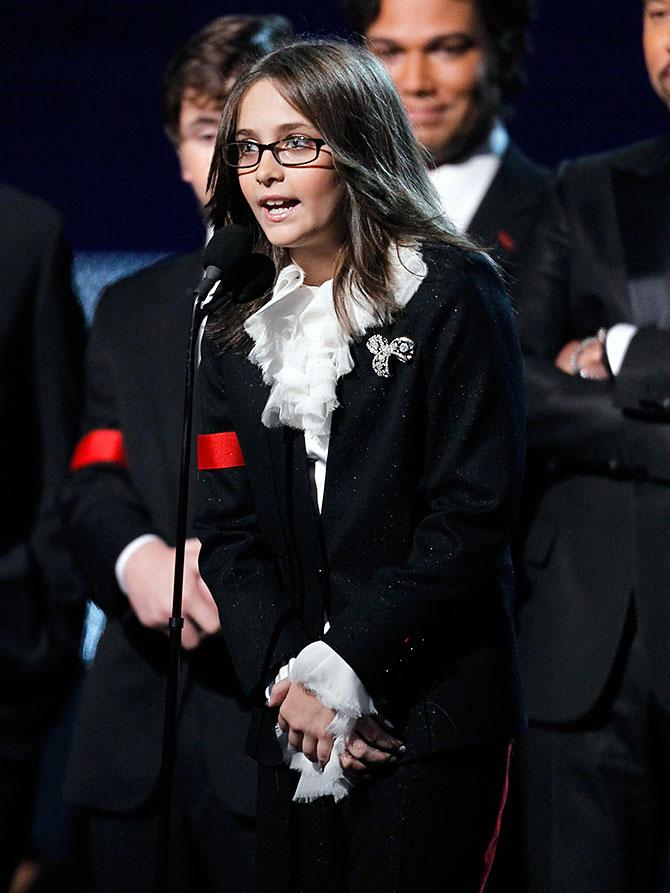 IMAGE: Paris Jackson is the daughter of Michael Jackson and nurse Debbie Rowe. She was just 11 years old when her father passed away.

This is a photo from 2010 when she accepted an honorary Grammy on her father's behalf at the 52nd annual Grammy Awards in Los Angeles.

But the present-day Paris is a far cry from the image you see above. Scroll down and you'll understand why!

Photograph:

Mike Blake/Reuters
2. The blonde with blue eyes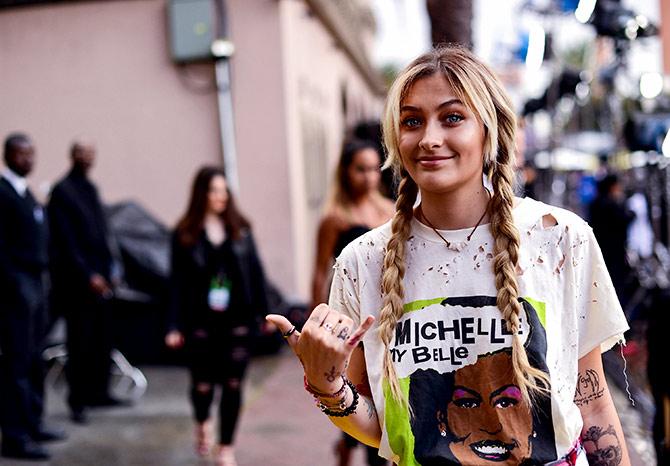 IMAGE: Paris is drop dead gorgeous. Known to speak her mind, this 19-year-old is constantly being trolled on Twitter, but that doesn't stop her from voicing her opinion.

Take a closer look at the T-shirt she is wearing (above) and you'll notice the message that Paris was trying to send out at the MTV Awards 2017.
The T-shirt has a drawing of former First Lady Michelle Obama with the words 'My Belle' written on it. Clearly, Paris seems to be a huge fan of Michelle.

Photograph:

Matt Winkelmeyer/Getty Images



3. She's the new face of Calvin Klein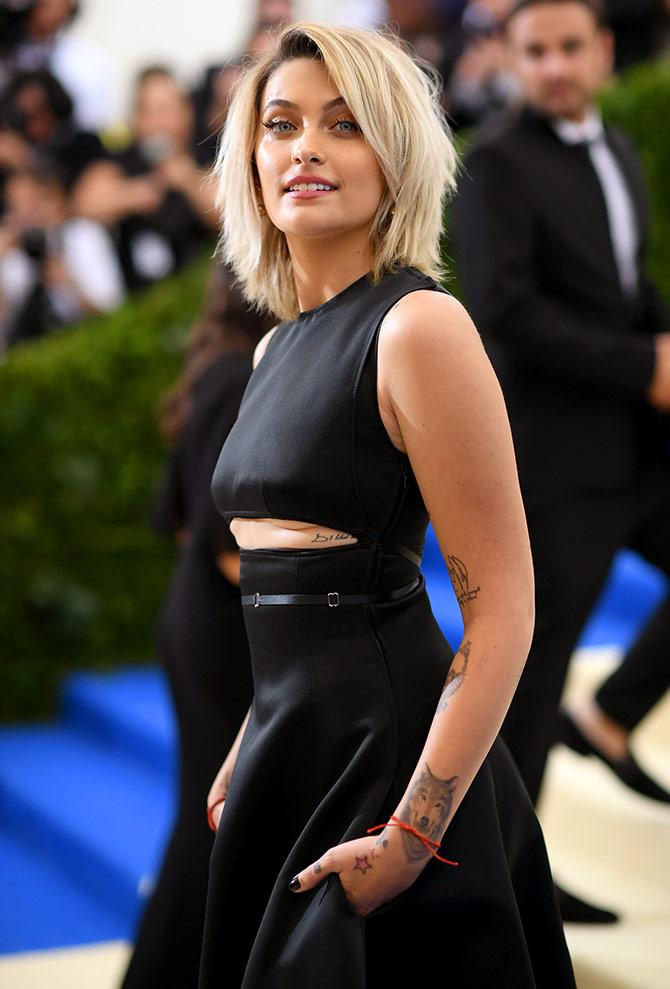 IMAGE: Paris has been signed as the new face of Calvin Klein and bagged a seven figure deal.
She made an appearance at the 2017 Met Gala (above), officially sealing her status as a fashion insider. She looked gorgeous in a black Calvin Klein By Appointment dress with a cutout waist, which flashed a little of her lower boobs. The dress was designed by CK's new creative director, Raf Simons.

Photograph:

Dimitrios Kambouris/Getty Images
4. She has 50 tattoos!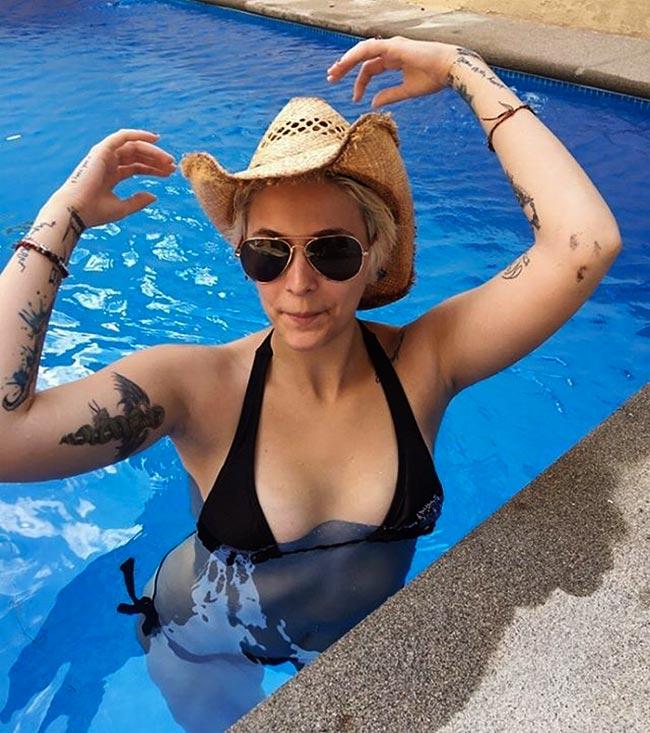 IMAGE: Paris has 50 tattoos etched all over her body. She has tattoos in honour of late musicians like John Lennon, David Bowie and Prince.
She's faced a lot of criticism on social media about not having any tattoo in honour of her father. But she gave her critiques a befitting reply by getting a forearm tattoo of a cover art from her father's album Dangerous.

Paris does miss her father a lot and she revealed to People's magazine that she wears her late father's 'rope and jade bracelet' -- the one that he was wearing when he died -- as a reminder.
'It still smells like him,' she told the magazine.

Photograph: Kind courtesy Paris Jackson/Instagram
5. She's signed with modelling powerhouse IMG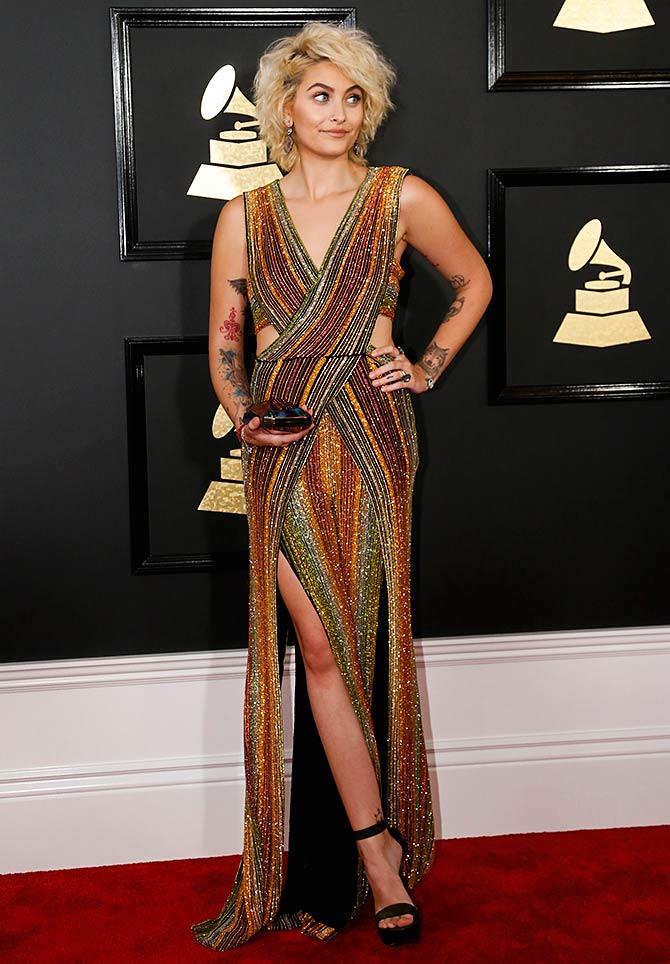 IMAGE: Paris Jackson at the 59th Annual Grammy Awards in Los Angeles in a Balmain jumpsuit.
Standing tall at 5'9", she is all set to begin her career in modelling and has been signed by the top agency IMG.
In an interview to Rolling Stones, Paris openly spoke about her battle with self-esteem issues. She felt that when she is modelling, she forgets all about those issues.
As a child she wanted to play many roles -- astronaut, vet and nurse. But today, she's got her focus going and is pretty sure she wants to be a model because modelling makes her happy.

Photograph:

Mario Anzuoni/Reuters
6. She's a huge fan of The Beetles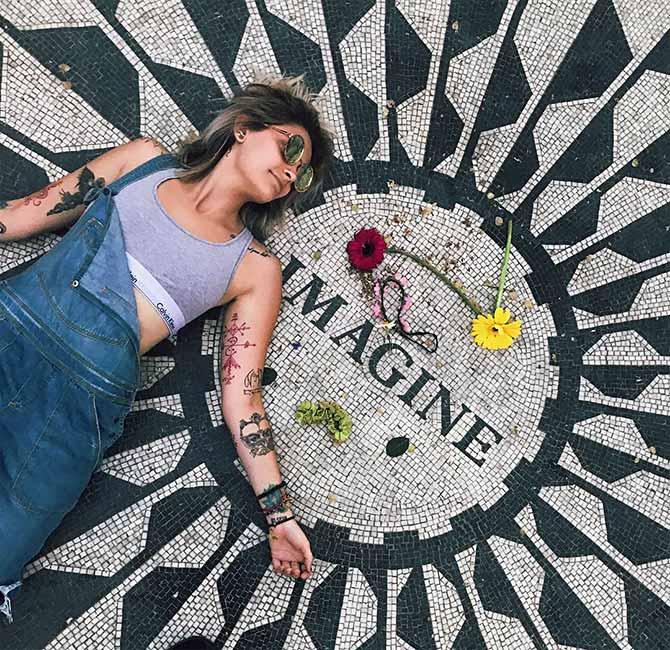 IMAGE: Paris took this pic at John Lennon Memorial in Strawberry Fields.
A week ago, Paris set flowers and kissed the concrete by the doorstep of the apartment building in which John Lennon was shot and killed at.
This is the conversation she had with the guard. She shared this conversation on Instagram.
Guard: I'm going to have to get rid of these.
Me: Why?
*silence*
Me: Why?
Guard: There's a memorial for him near Strawberry Fields.
Me: I know but he died here, not there.
*silence*

Photograph: Kind courtesy Paris Jackson/Instagram
7. She made her mag cover debut with Harper's Bazaar in April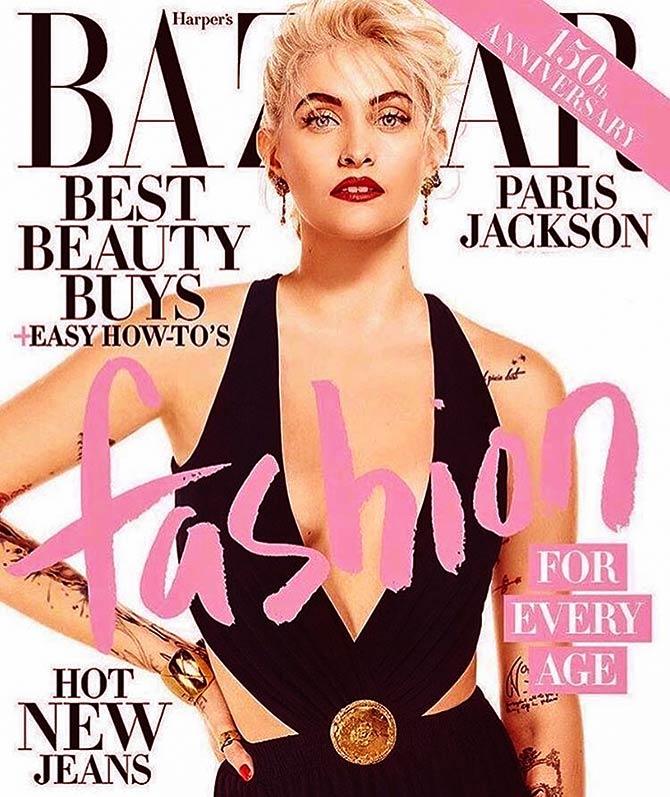 IMAGE: Look closely and you'll notice that she has channeled music icon Madonna's style. Her cover look was just like the Material Girl --short blonde platinum do, red lips, etc.

Her Madonna look came as a surprise to many because Paris' style is quite unlike the the singer's.
Paris has a more cool street style and dresses up casually most of the time -- it quite unlikely to see her sporting a pair of Converse and frayed denims.

Photograph: Magazine cover of Harper's Bazaar
8. She calls herself a 'meditation-loving hippy'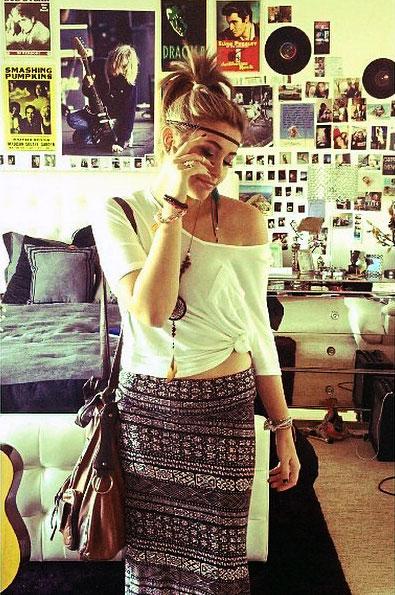 IMAGE: Paris is a star on Instagram with over 2.7 million followers and is all set to make her own mark. She's got 1.28 million followers on Twitter.
As a child, she was often dressed in lovely blouse, tailored old-fashioned pinafores and dainty dresses. But that's all stacked up in the past. Paris now is mostly seen in breezy, comfortable clothes. She wear several necklaces and has adorned her body with tattoos -- she calls them her body armour.

Photograph: Kind courtesy Paris Jackson/Instagram
9. Rock legend Stevie Nicks is her style inspiration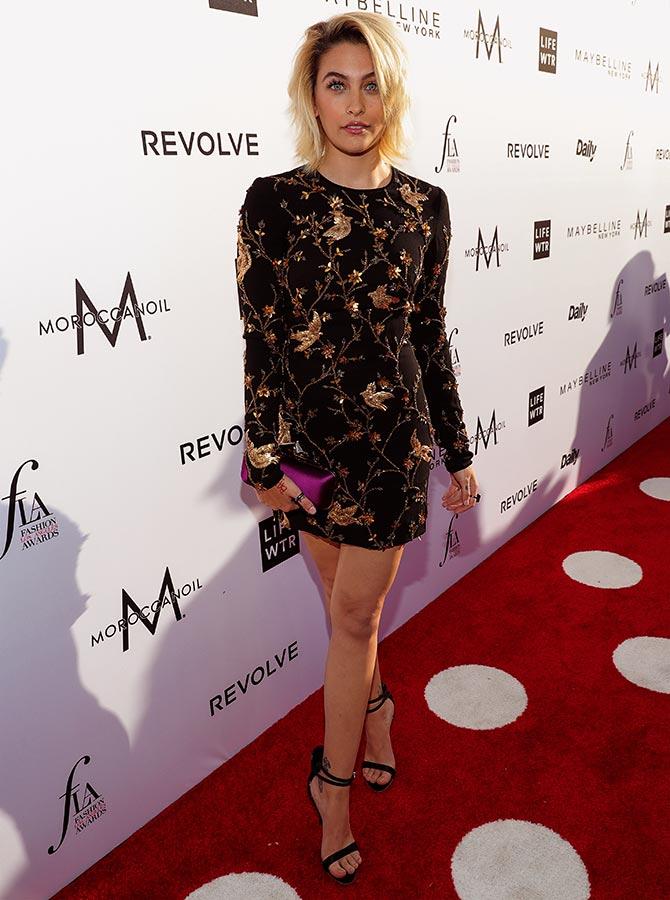 IMAGE: Paris was dressed in a dress designed by Naeem Khan at the Daily Front Row's 3rd Annual Fashion Los Angeles Awards. The Indian-born American designer is Michelle Obama's favourite desi designer.

Apart from the Harper's Bazaar cover, Paris is not influenced by Madonna -- her style is quite the opposite with loose hippie clothes. Her style inspirations are rock legends Stevie Nicks and Janis Joplin. 'Because there's never been anyone like them,' she said in an interview.

Photograph:

Neilson Barnard/Getty Images
10. She made her acting debut recently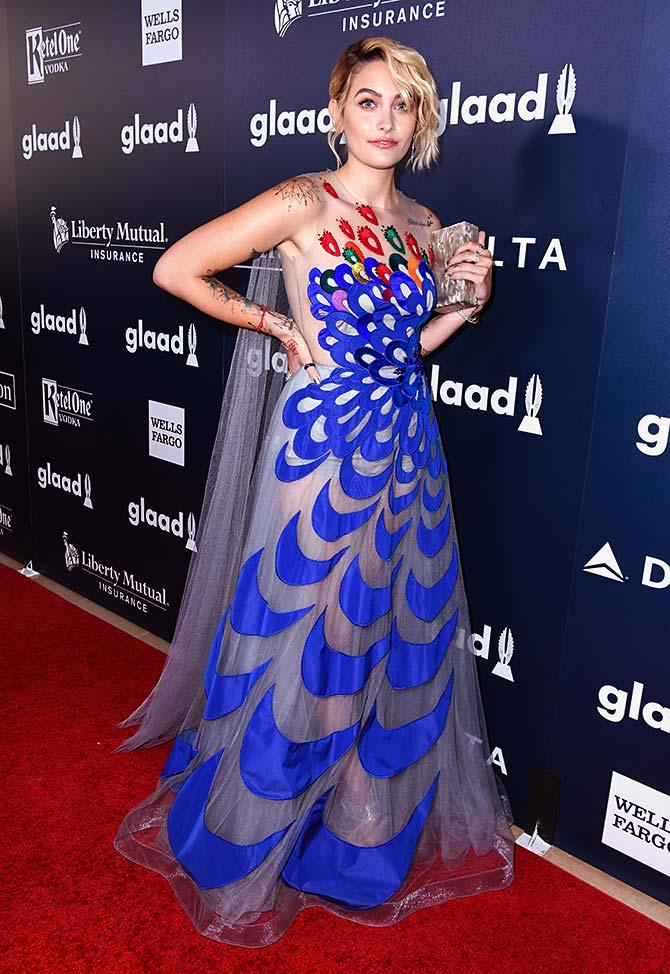 IMAGE: A newbie on the red carpets, Paris surely knows how to get the media's attention. Seen her at the 28th Annual GLAAD Media Awards in LA.

The aspiring model made her debut on Fox's new musical drama Star -- she had a cameo in one of the episodes and played the role of Rachel Wallace, a young, super-chic, stylish and intimidating social guru.

Given the rave reviews she received, it looks like we are going to see a lot of this gorgeous woman on television soon!

Photograph:

Vivien Killilea/Getty Images