Georgina Chapman may have left her husband Harvey Weinstein following the litany of sexual abuse accusations against him. But her brand -- the red carpet staple Marchesa -- might pay the price this award season.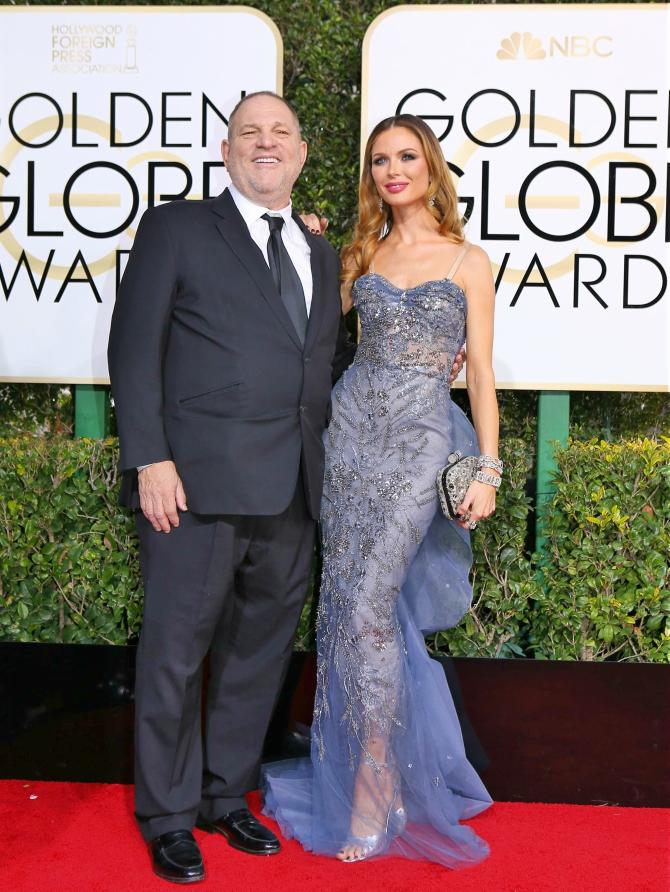 Harvey Weinstein and Georgina Chapman arrive at Golden Globes in January 2017.
Chapman left Weinstein immediately after news of how he sexually abused women for years became public in October 2017.
Photograph: Mike Blake/Reuters.
Until the 2017 awards season -- when Harvey Weinstein was still a powerful Hollywood mogul -- it was expected that at least a few actresses would turn up on the red carpet in gowns by Marchesa, a brand co-founded by Weinstein's wife, designer Georgina Chapman.
In fact, just a year earlier, Marchesa had claimed 'to be the most-worn designer label on the red carpet.'
'It was certainly a stellar year,' The Telepgraph reported. 'The supermodel Karolína Kurková wore a silver, petal embellished dress infused with LED technology that became the standout look of the always madly extravagant Met Gala, at the Oscars Heidi Klum divided opinion in a one-shouldered lilac chiffon creation, and Katy Perry exuded classic glamour in a scarlet lace gown at the amfAR gala at Cannes Film Festival.'
However, ever since the story about Weinstein sexually abusing women for decades broke in October 2017, the fate of Marchesa has been under question. And it is unlikely to be seen on the red carpet this awards season, especially when Hollywood stars are expected to dress in solidarity with the victims of sexual abuse.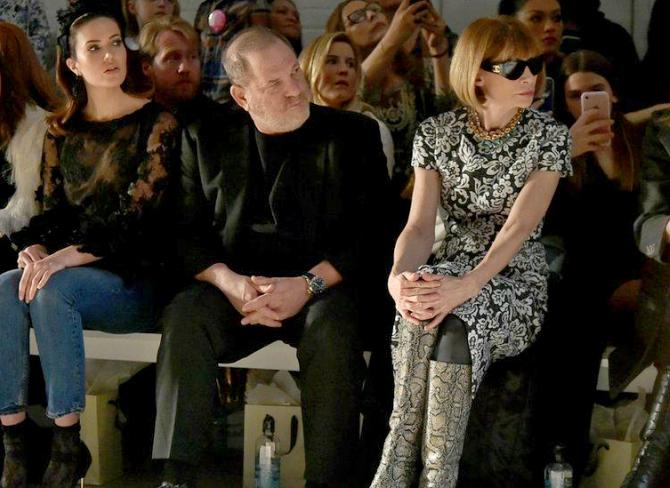 (From left) Actress Mandy Moore, Harvey Weinstein, and Vogue's Anna Wintour at the Marchesa fashion show during New York Fashion Week in February 2017.
Photograph: Theo Wargo/Getty Images.
Marchesa was founded by Chapman and former model Keren Craig in 2004 -- also the year Chapman and Weinstein began dating.
Though Weinstein doesn't have any official ties to Marchesa, his role in the brand's rapid rise is undeniable.
By 2007, the year Weinstein and Chapman got married, actress Sienna Miller and singer-actress Jennifer Lopez were wearing Marchesa to the Golden Globes and the Oscars red carpets, respectively.
The Hollywood Reporter wrote, 'Often seated next to Vogue's Anna Wintour, Harvey Weinstein has been a front-row fixture at wife Georgina Chapman's Marchesa fashion shows for nearly a decade and used his Hollywood connections early in the label's history to help place Marchesa gowns on A-list stars such as Sandra Bullock, Penelope Cruz, Renee Zellweger, Anne Hathaway, Kate Hudson and Jennifer Lopez.'
It helped that Weinstein was not only a good friend of the formidable Wintour, but also the money behind many fashion-related projects, including Project Runway, and costume films.
A fashion publicist old The Hollywood Reporter, 'He was the mastermind behind Marchesa -- orchestrating deals and using his influence in terms of the celebrity connections for her on behalf of the brand.'
Several reports, quoting publicists and stylists, cited instances of Weinstein bullying actresses into wearing Marchesa to awards red carpets.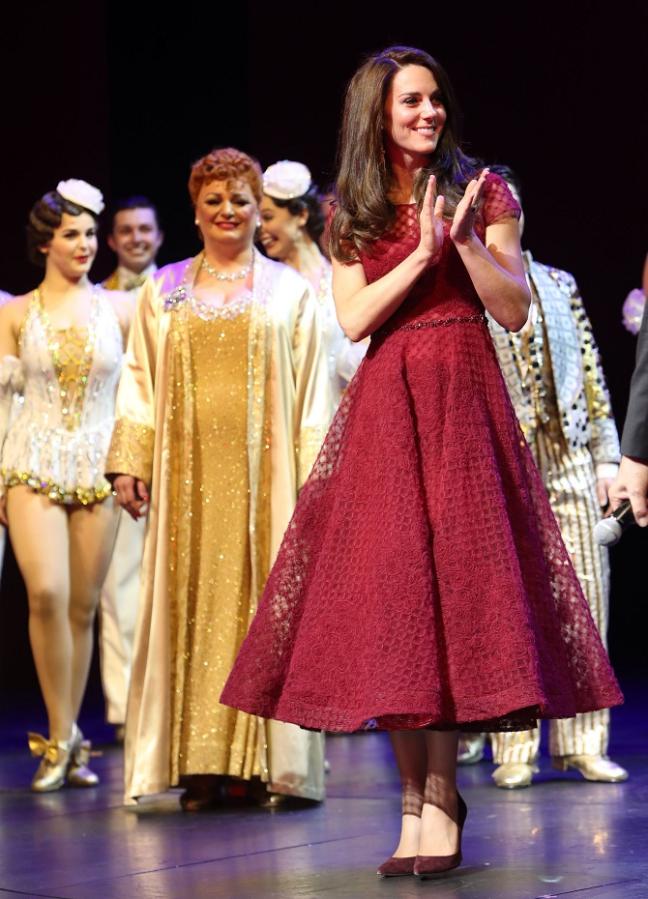 Kate Middleton, the Duchess of Cambridge, wore Marchesa to the Opening Night Royal Gala performance of '42nd Street' in London last year.
Photograph: Heathcliff O'Malley/Getty Images.
Cue to October 2017, and the fashion media was flooded with stories about the future of the brand.
Reports pointed out that the brand's star quotient had already dimmed before the Weinstein story broke and the scandal could not have come at a worse time.
Spotted, which tracks brands that celebrities wear, said that since the New York Times exposéon Weinstein was published on October 5 not a single actress had been seen in a Marchesa.
One fashion executive told, the New York Post, 'Actresses won't touch it now.'
Not unexpected when it became a tool to take swipes. In a famous tweet about actress Meryl Streep, Rose McGowan, who was one of the first stars to speak up against Weinstein, wrote, 'YOUR SILENCE is THE problem. You'll accept a fake award breathlessly and affect no real change. I despise your hypocrisy. Maybe you should all wear Marchesa.'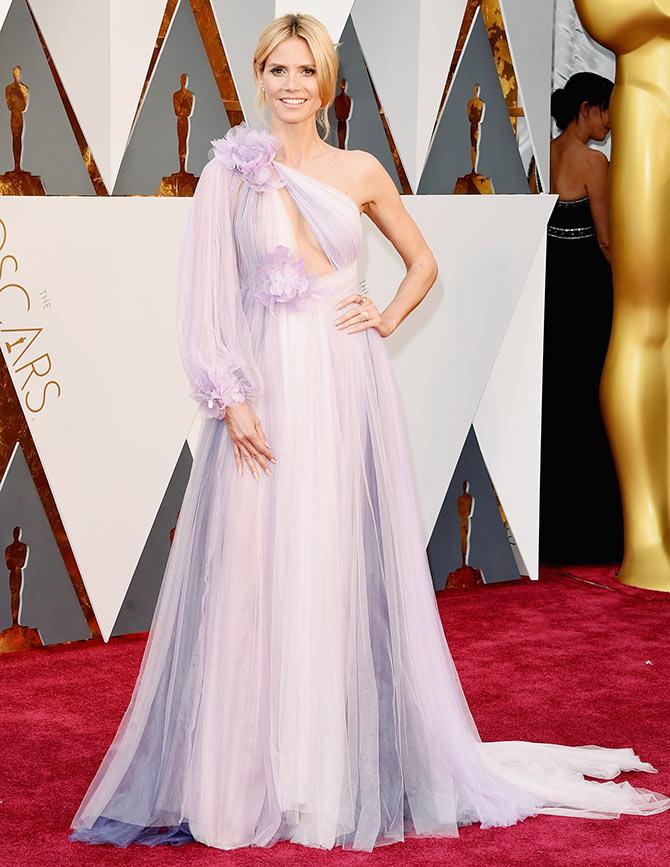 Heidi Klum wore Marchesa to the Oscars in 2016, which was a stellar red carpet year for the brand.
Photograph: Jason Merritt/Getty Images.
Douglas Hand, fashion lawyer at HBA LLP and professor of fashion law at NYU School of Law, told THR, 'For a high-end luxury brand with a talented designer and an aesthetic that is gorgeous, losing access to celebrities for red-carpet events would certainly be damaging.'
Industry insiders now believe that if Chapman and Craig do manage to pull Marchesa out of these tough times, it might have to be without Hollywood.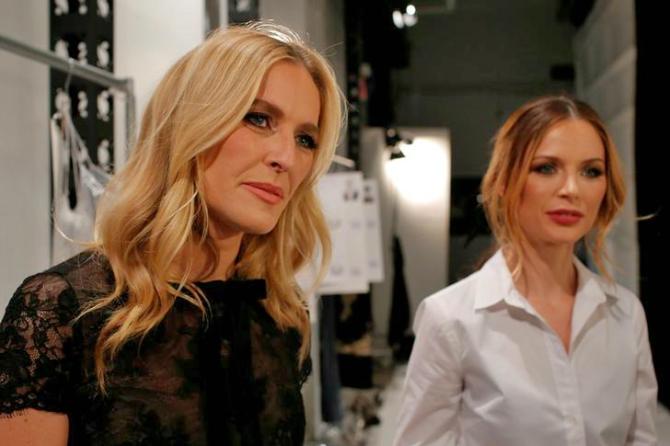 Will designers Keren Craig (left) and Georgina Chapman -- and Marchesa -- emerge unscathed?
Photograph: Andrew Kelly/Reuters.