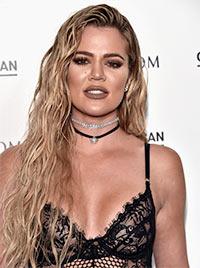 Catch the latest on models, designers and actors from the world of glamour and entertainment.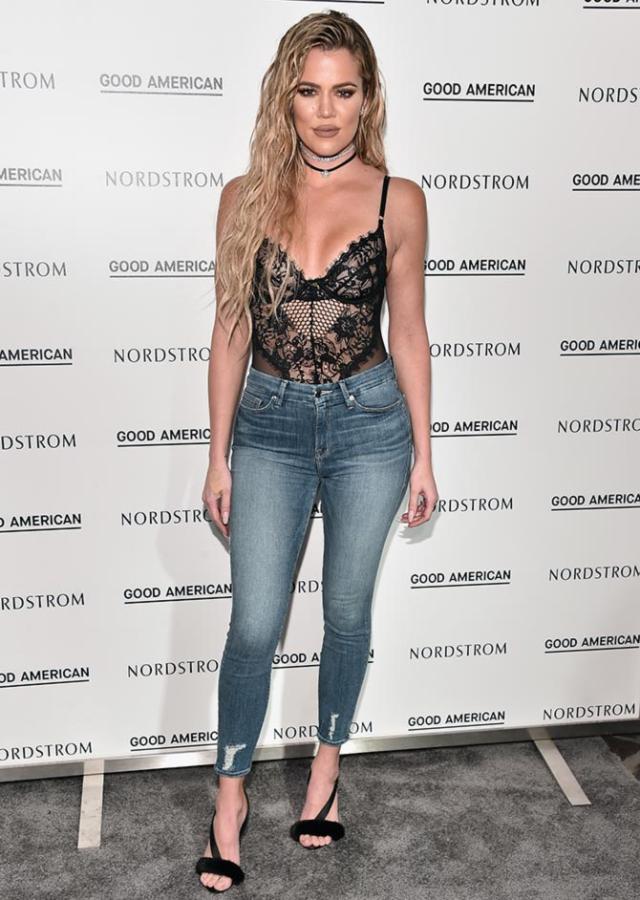 IMAGE:

Khloe Kardashian at the launch of her denim brand Good American.



Photograph:

Alberto E. Rodriguez/Getty Images
Khloe Kardashian always looks so hot.
Recently spotted at the launch party of her denim line Good American, she wowed in sheer bodysuit paired with a skinny pair of denims.
That raisin-hued matte lip and wet, beachy waves lent an absolutely gorgeous look to her.
For the lovely pout, she used the 'moon' shade from Kylie Lip Kit.
She also defined her lashes and sported a dewy, sexy glow.
******
And fashion's newest couple is....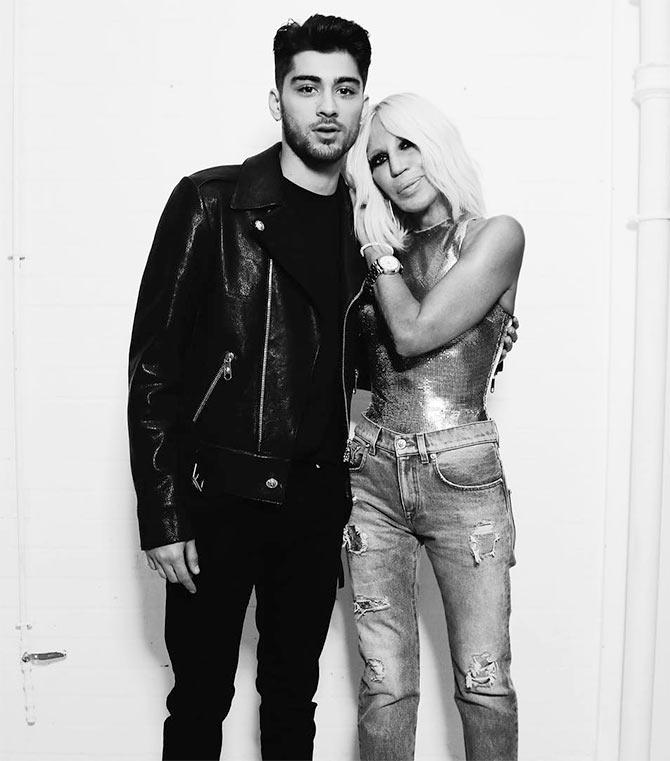 IMAGE: Zayn Malik, left, with noted Italian fashion designer Donatella Versace.

Photograph:

Kind courtesy Zayn Malik/Instagram
Singer Zayn Malik is collaborating with Donatella Versace for a capsule collection of men's and women's clothing.
Titled ZAYN X VERSUS, the collection will debut in May 2017, Aceshowbiz reported.
"I think Versus has always been a very cool brand. It's a great brand for me and for people in my generation. I've always wanted to design clothes, and there's no brand I'd rather design for than Versus.
"The bonus is that I get to collaborate with Donatella, whom I love and admire. I know we'll create something amazing," Malik, 23, said.
The Pillowtalk singer will also star in two campaigns for the brand next year.
"Zayn is one of the most exciting personalities on the world stage right now. When we first met, he told me how much he loves fashion. I thought it would be fantastic to collaborate on a new Versus collection together. And, given ZAYN's huge fan base around the world, I expect there will be a lot of excitement about what we create together," Versace said.
******
Kaia Gerber gets funky for mag shoot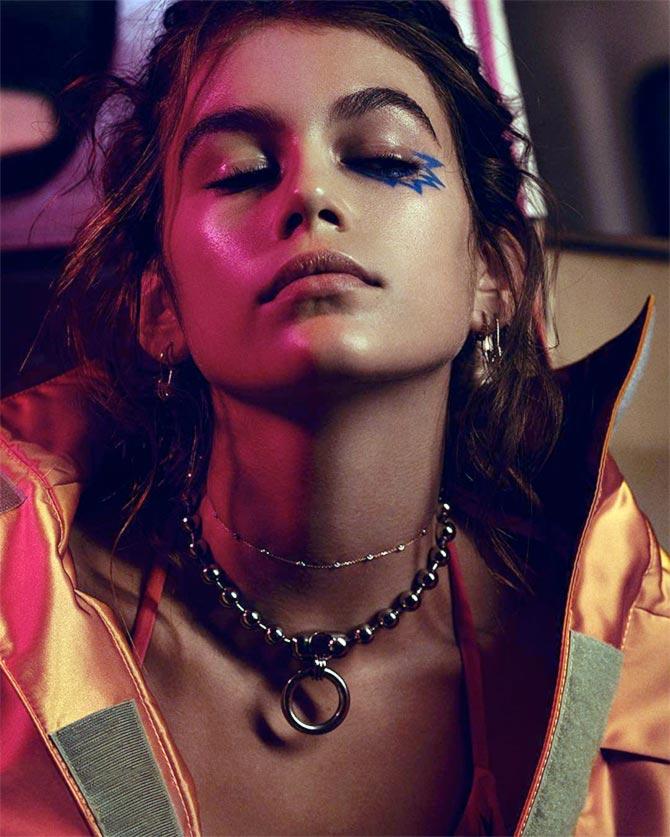 IMAGE: Kaia Gerber makes a killer pose for the Interview magazine's editorial shoot.

Photograph:

Kind courtesy Kaia Gerber/Instagram
After a stunning campaign for brand Miu Miu, Cindy Crawford's look-a-like daughter Kaia Gerber has caught everyone's attention with this sporty photoshoot.
Featuring in the Interview magazine, 15-year-old Kaia models a variety of beach and casual wear alongside a vintage car.
In fact, in one of the awe-inspiring images Kaia stands atop the car in a checked skirt and bikini top as she let her hair down.
Dolled up in trendy 90s-inspired pieces like a shimmery hooded jacket, chokers and platform shoes, her gorgeous poses seem quite effortless and captivating.
Speaking to Teen Vogue about her passion for modelling, she said, "As I got older, I realized more and more that I wanted to get into the world of modeling.'
******
Sabyasachi makes your home look so much better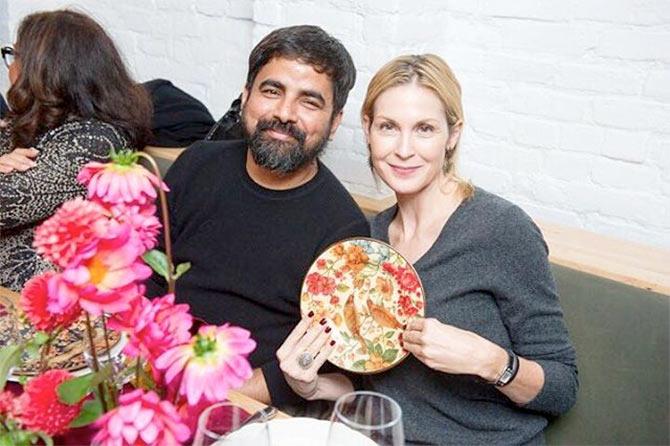 IMAGE: While designer Sabyasachi Mukherjee, left, poses for the camera, American actor Kelly Rutherford displays a plate that features intricate floral artwork created by the designer.

Photograph:

Kind courtesy Sabyasachi Mukherjee/Instagram
Look what one of India's most celebrated designer has been up to.
Ace couturier Sabyasachi Mukherjee has recently forayed into home furnishings in collaboration with Pottery Barn, a United States-based upscale home furnishing store chain.
Unveiling an eclectic line of over 50 pieces of colourful products, the designer has worked on vintage textiles and designs for the collection.
From plates, jewelry boxes to linens, the designs feature intricate floral and animal artwork hand drawn by Sabyasachi's artists.
The products aptly showcase the Kolkata-born designer's love for the rich heritage of India.
Interested in getting a few of the products for your home?
You can avail the products online now at potterybarn.com and at their stores from November 1. The product price range from $10.50 to $1,199.
******
Kate Moss is single?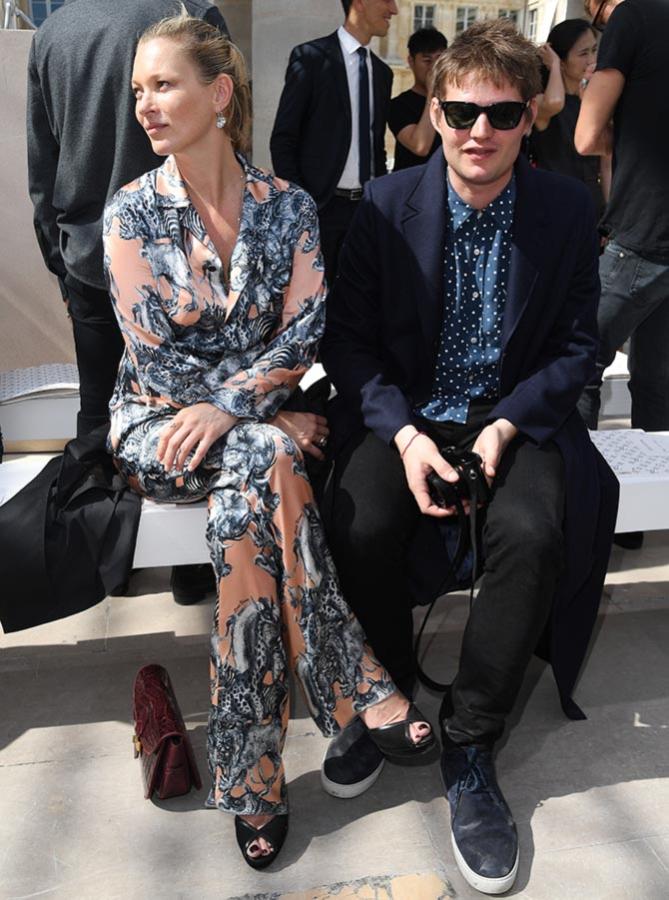 IMAGE: Kate Moss, left, with Nikolai von Bismarck

attended the Louis Vuitton Menswear Spring/Summer 2017 in Paris together.



Photograph:

Pascal Le Segretain/Getty Images
Supermodel Kate Moss has reportedly ended her relationship with Nikolai von Bismarck after growing tired of their constant arguments.
The 42-year-old supermodel has called time on her romance with Nikolai, 29, after one particularly "heated argument" which was the final straw in a long string of rows for the couple, reported Female First.
"Kate and Nikolai have been arguing a lot in the last few months but they had one row recently which was the final straw. It sounds like it was a really heated argument and Kate has said she is done with him after that," a source said.
"She was really in love with him but has said she can't take any more and that she now has to move on."
On top of the arguments with Moss, Nikolai is also reported to have been at loggerheads with Kate's 14-year-old daughter Lila, who "didn't approve" of their relationship.
******