Gaurav Jai Gupta experimented with handwoven fabrics, while Kiran Uttam Ghosh's ocollection had a touch of silver!
Textile and fashion designer, Gaurav Jai Gupta seems to be giving the handloom industry a huge boost with his collection.
The collection, 'Mumuksha', which means 'the one who seeks ultimate knowledge', saw handwoven fabrics used to create lovely blends of wool, silk, cotton, zari and stainless steel!
The collection had saris, shawls, trousers, shirts, shift dresses and much more -- but all wearable garments.
On the other hand, Kolkata-based fashion designer Kiran Uttam Ghosh's collection was elegant and mostly saw traditional outfits.
Titled 'Silver', the collection had the colour silver appear in the texturing, embroidery, mirror work and jewellery.
The designer interestingly brought out a tribal touch to her collection through the use of Tibetan and Mongolian jewellery motifs.
Presenting some of the outfits from both these designers' collection.
Mumuksha by Gaurav Jai Gupta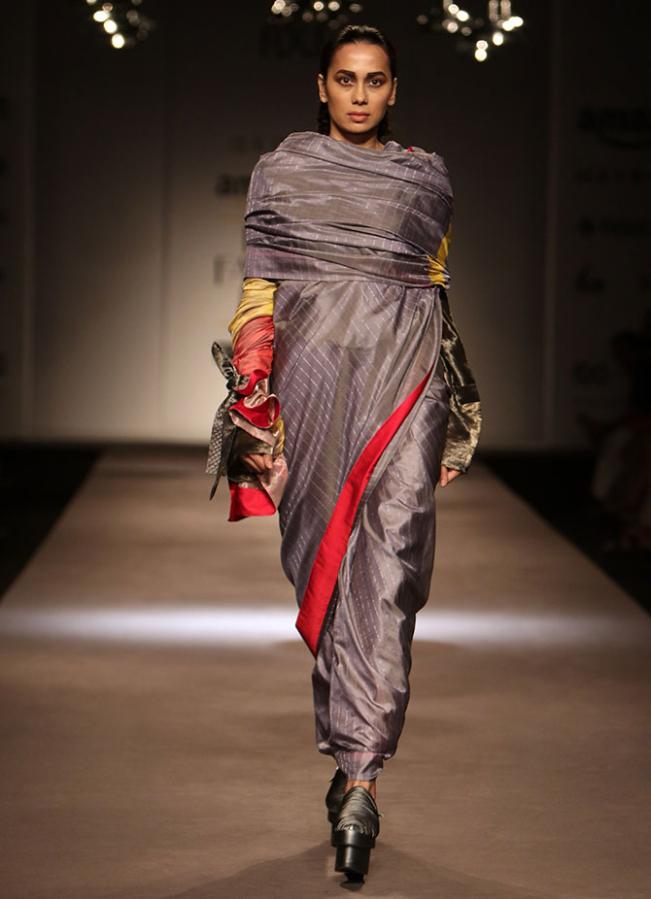 Image: Probably one of the most impressive outfits of the collection was this sari wrapped around the model. Quite an interesting way to drape a sari, isn't it?
Image: We loved the shift dress. But it was the big, chunky and wired footwear that caught our attention instantly.
Image: Sucheta Sharma sports a handwoven striped kurta, trousers and a silk long coat.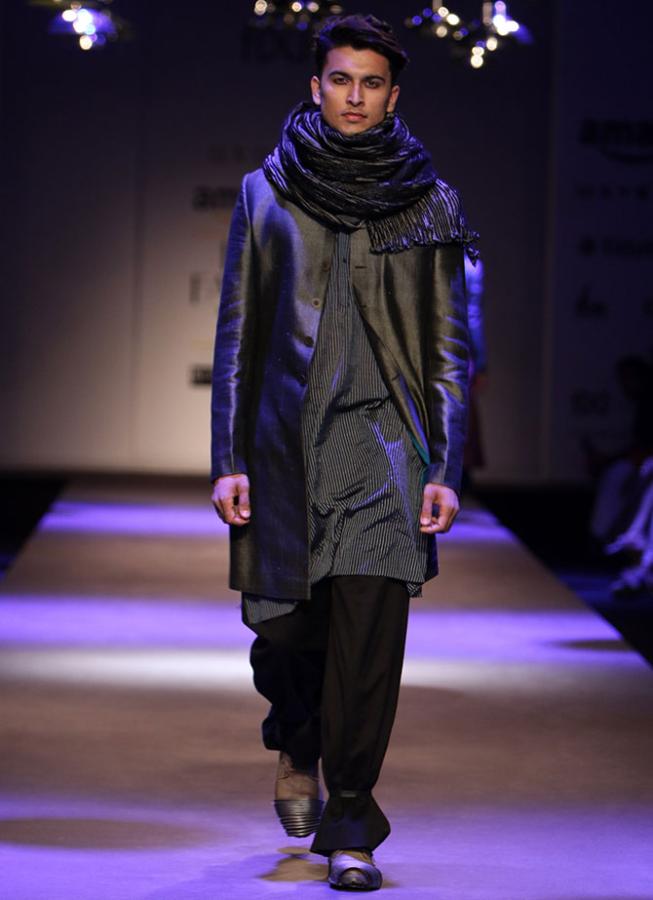 Image: The turban muffler makes a comeback!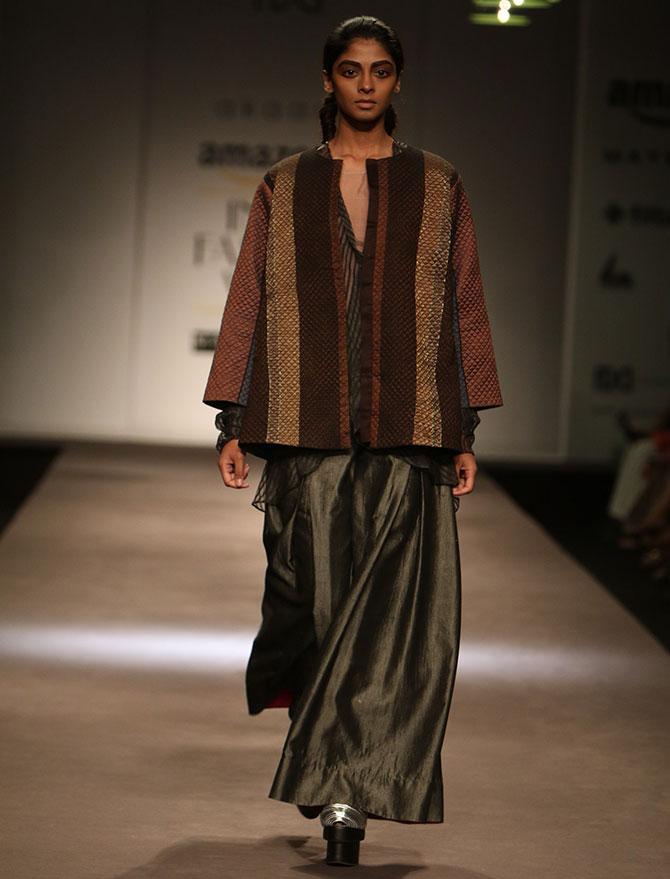 Image: Dull colours dominated the runway.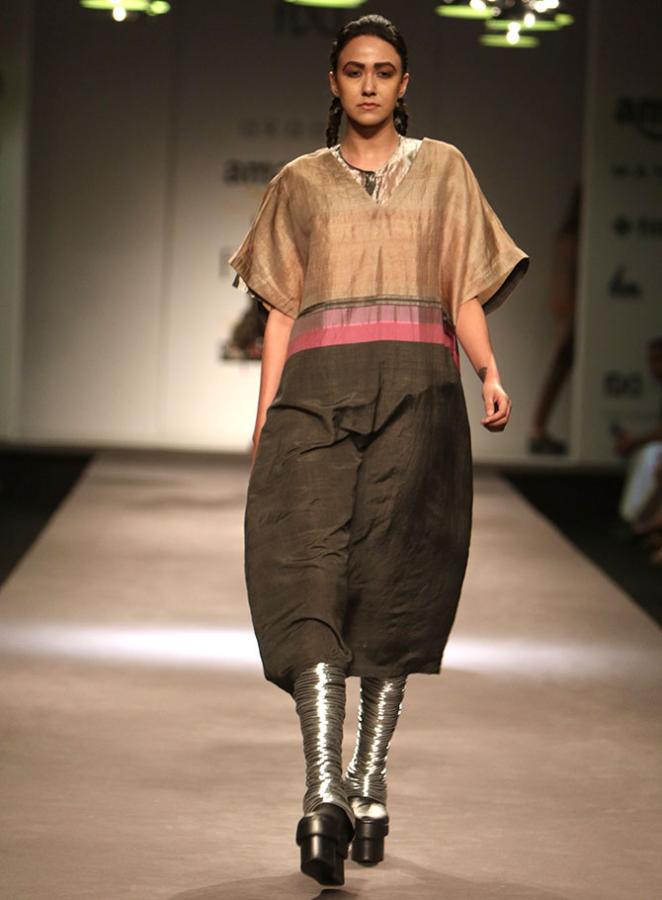 Image: Yet another long silk tunic with those awe-inspiring boots.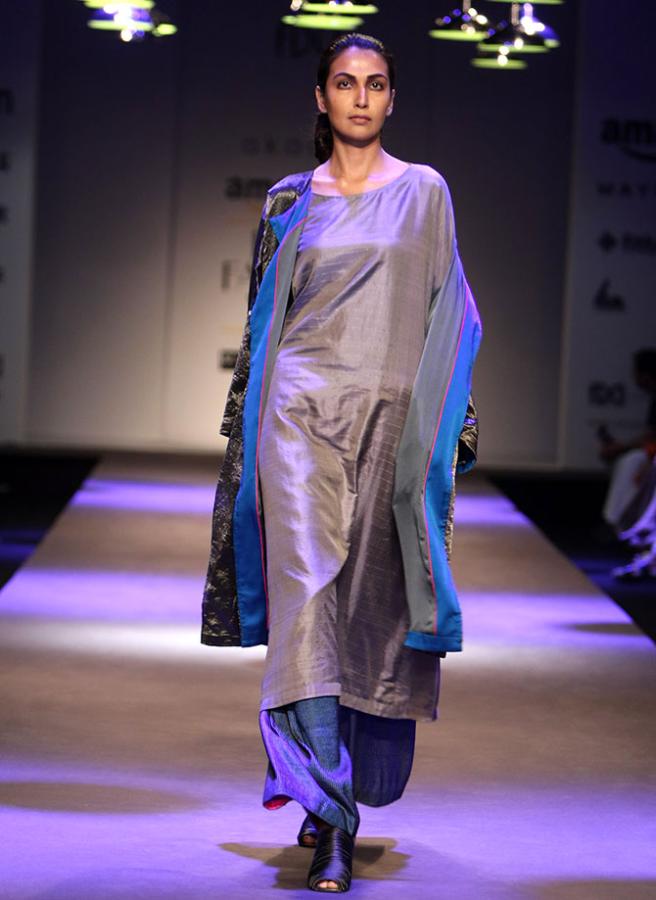 Image: A grey kurta matched perfectly with blue pants and a metallic jacket.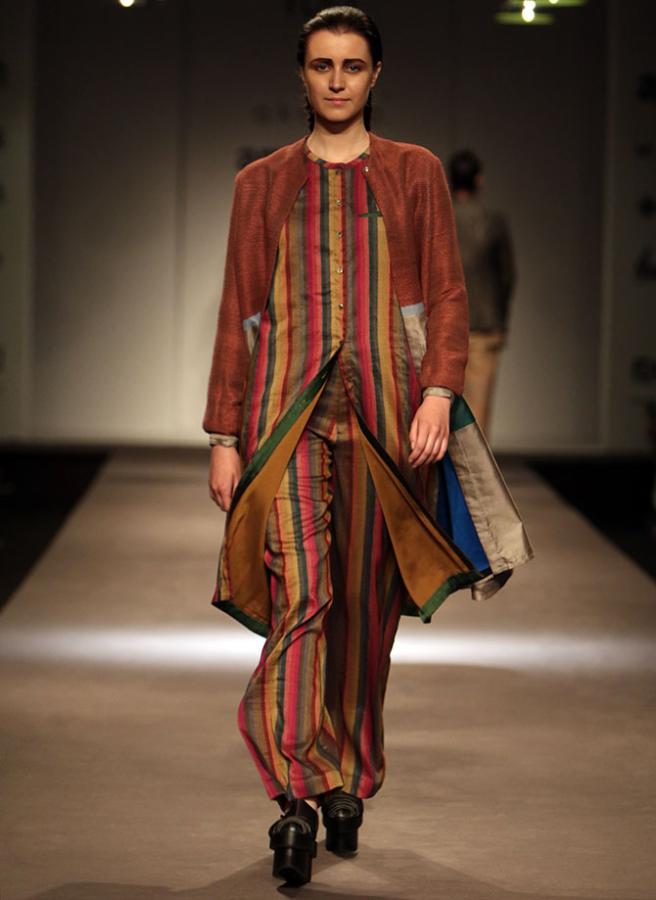 Image: Stripes are in, and they're soon becoming a staple in a woman's wardrobe. The designer paired them brilliantly with solid colours.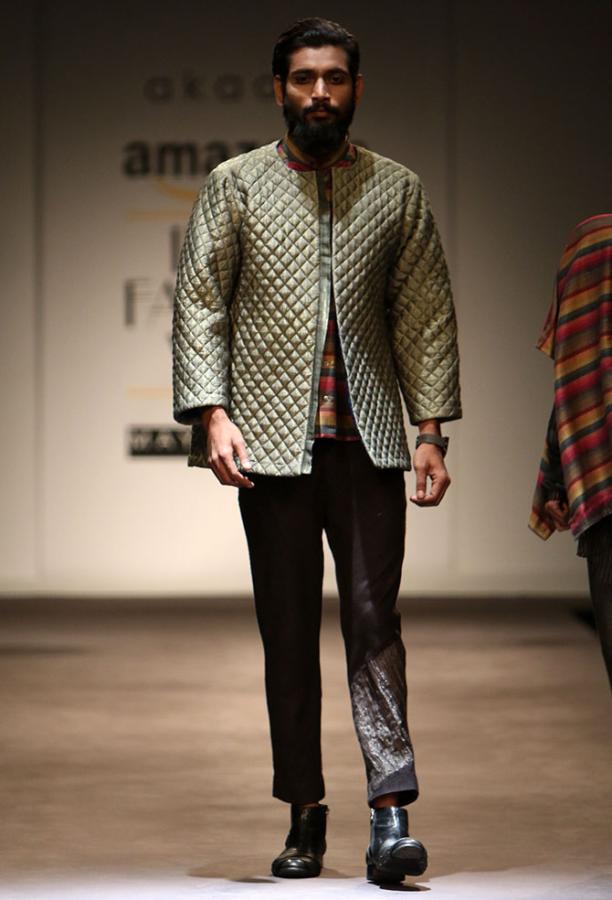 Image: A brocade gold jacket is a safe bet for any occasion!
Silver by Kiran Uttam Ghosh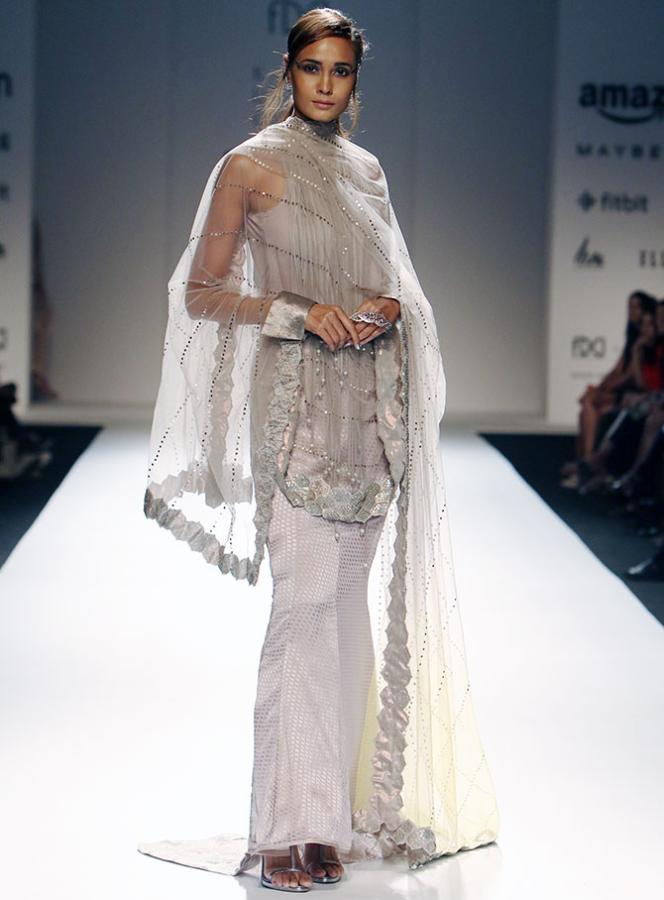 Image: Let's start with a silver outfit, after all that's what the collection was all about.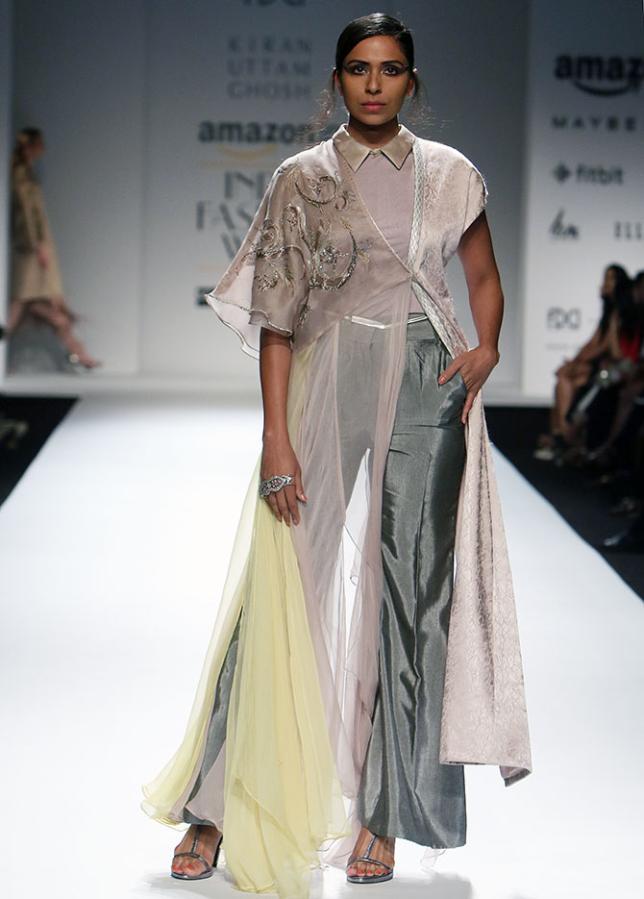 Image: Here's a beautiful kaftan with a twist. The combination of grey and pale pink with yellow works beautifully.
Image: Apart from silver, the designer also played with teal...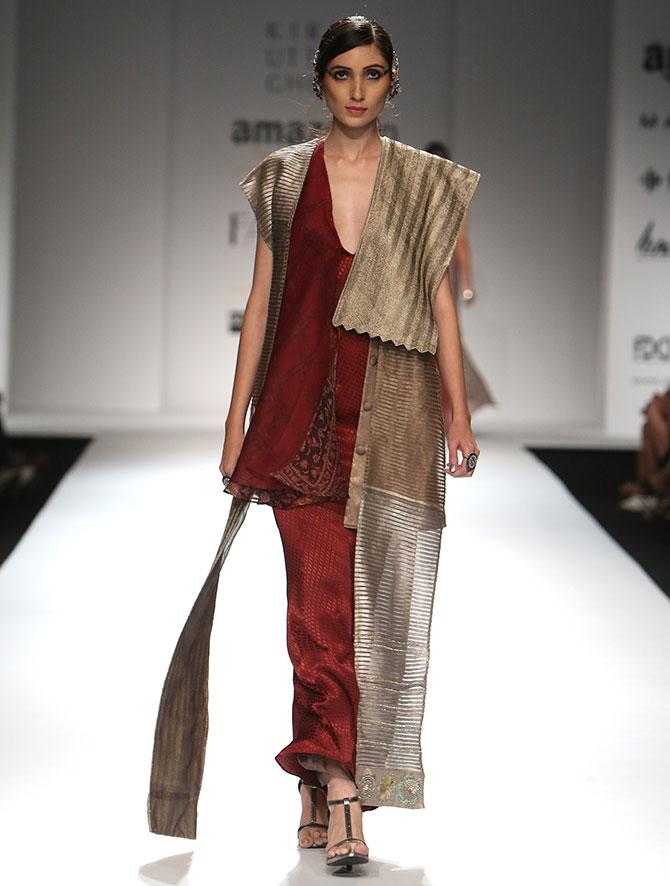 Image: And happy colours like maroon, red and yellow. The collection saw plenty of opaque fabric.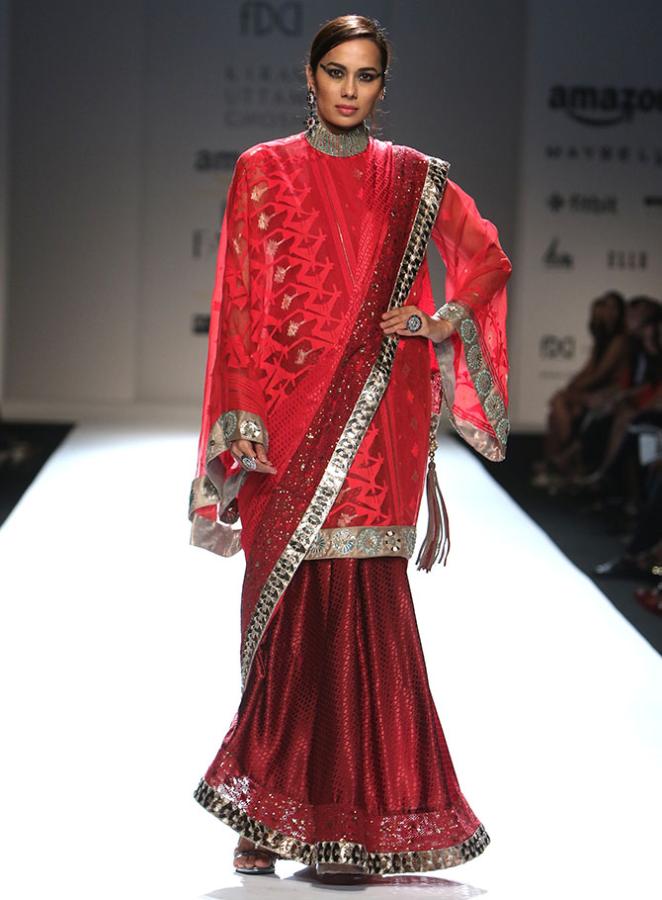 Image: A red sari with a kaftan! Ornate jewellery is a new addition to the collection, which also had outfits for the new-age modern bride.
Photographs: Kind courtesy FDCI
ALSO READ: