"It's difficult to ignore when people pass comments or make fun of your size."
"People who ridicule us or try to body-shame oversized people need to know that we are comfortable in our own skin."
"Let us be the way we are."
Tista Sengupta/Rediff.com speaks to celebrity judges and aspiring plus size models at Lakme Fashion Week auditions who tell us what oversized people need to do and how the world around should support them.
Photographs: Hitesh Harisinghani/Rediff.com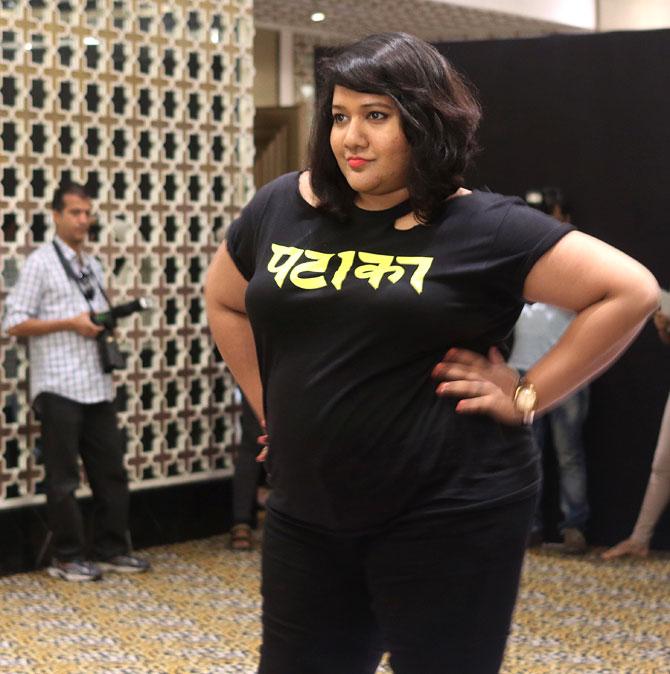 IMAGE: 'Pataka' Tanvi Geetha Ravishankar impressed the judges with her confident gait and turns on the ramp.

Their curves had no bounds. They killed it at the style game.
High on self-confidence, 160 aspiring plus size models (men and women) gathered at The St Regis, Mumbai few days ago to grab their big ticket to the world of fashion.
For the first time ever, Lakme Fashion Week will host a show that will present plus size women and men sashaying down the runway in creations curated by designer Shilpa Chavan in association with plus size brand aLL.
So how did the auditions go?
When the door of the elevator opened on the eighth floor -- where the auditions took place -- it was a whole new experience for me.
It's not that I haven't been to such model auditions, but this one was indeed unique.
As I walked into the banquet room -- where the contestants were seated -- I was surprised to see the response LFW had received for their plus size model auditions. This was one of the more successful auditions LFW has seen in many years.
It was a roomful of large men and women waiting for their turn to impress the jury that comprised fashion choreographer Lubna Adams, fashion designer Shilpa Chavan, actor, director and producer Divya Khosla Kumar, vice president and head of fashion at IMG Reliance Limited Jaspreet Chandok and Manish Aziz, business head of brand aLL.
I was anxious to see these aspiring plus size models walk on the runway.
The inspiration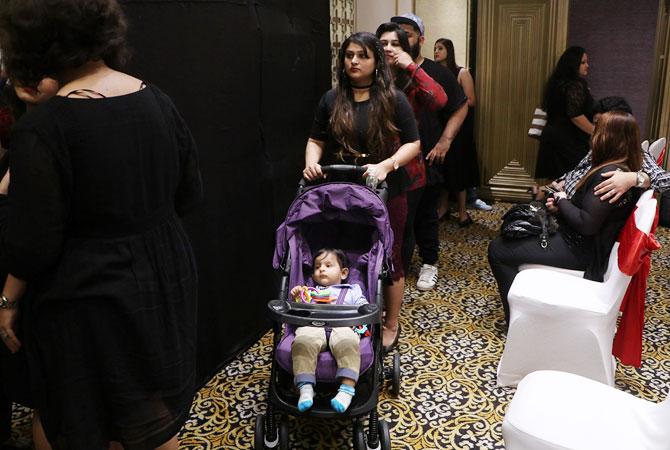 IMAGE: A contestant arrives with her son seated in a stroller to the auditions.
With most ensembles showcased at fashion weeks usually meant for the everyday fashion-conscious consumers who look for high-fashion designer wear, many people are often restricted because of size issues.
To break this barrier, LFW came up with the concept of making one of the biggest fashion platforms in India available to plus size models.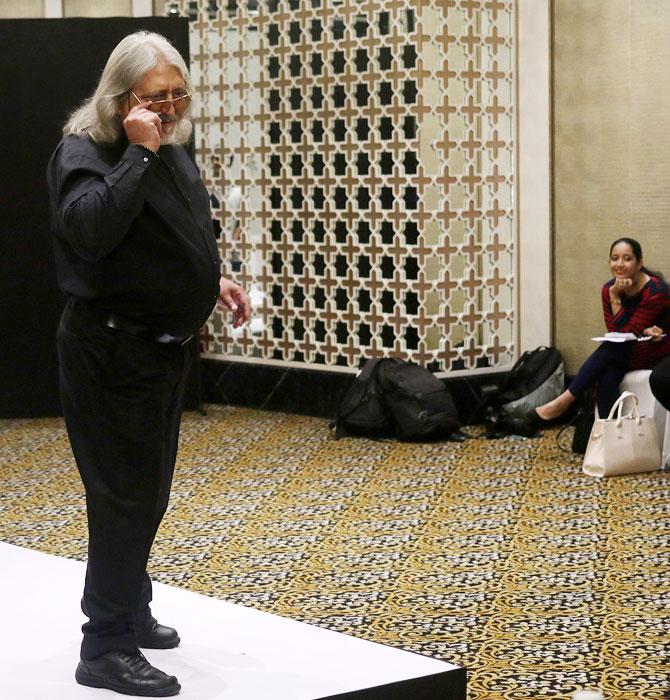 IMAGE: What swag! This high-spirited man with a cheerful smile and white hair shows us that modelling isn't a young man's game.
According to Shilpa Chavan -- founder of high-end accessories label Little Shilpa -- "Fashion cannot be 'one size fits all' entity. It's a global movement and hence free for adaptation and experimentation be it any size or shape."
"Beauty truly lies within and there is no better way to affirm this than with a plus size show with aLL at Lakme Fashion Week," she added.
Meanwhile, jury member Divya Khosla Kumar -- who looked like an angel in a white dress -- boosted the spirit of the contestants.
"Embrace who you are, what you are. Confidence is all that matters to carve your identity and spirit," she advised.
Body shaming: The ugly truth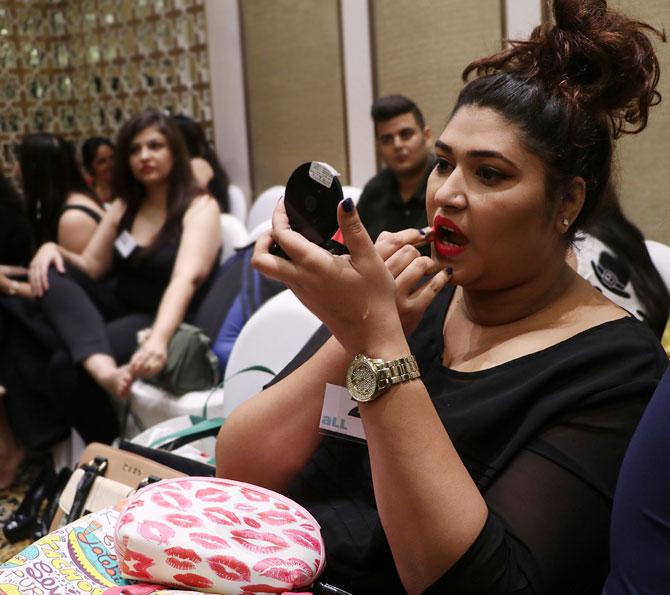 IMAGE: Radiant in red! A contestant gives a final touch up to her lips before it's her turn to take to the ramp.
It's not unusual for celebrities and socialites to share thought-provoking words with people who suffer from weight issues or are body shamed.
But how many people from the creme de la creme of the society have actually met and spoken to an oversized person to understand what they think or what they want the society to know about themselves.
According to Shraddha Dwivedi, who works as an executive in business development department at Future Retail Ltd, "India always has a narrow thinking when it comes to plus size people. Trust me, it isn't a boon to be a plus size model here."
"I have faced a lot of criticism as I am plus sized, but I always keep myself motivated. And now that a platform like Lakme Fashion Week is going to bring plus size models to one of their shows, it will certainly make a lot of difference," added the aspirant who cleared the first of the three rounds.

Bombay girl Tanvi Geetha Ravishankar, 28 said, she got to know about the auditions the previous night through social media.
"I have seen fashion shows on YouTube featuring plus sized models. It always made me wonder why don't we have plus size models in India. Finally, Lakme Fashion Week has initiated a phenomenal idea."
"It's indeed going to be good change. I am happy that it has begun in India. A big thanks to social media too for keeping us updated on what's happening across the globe," she added.
The preparation
IMAGE: A female model stops at the head ramp to pose before the judges.
Since most of the contestants were not professionally trained or assigned to a modelling agency, it was interesting to know how they'd prepared for the audition.
Most contestants were going to hit the ramp for the first time, except for Shraddha who had already been a face for brand aLL's campaign in 2013.
"I have modelled for posters and newspapers for (the brand) aLL. People know my face. And now they treat me normally, like they would treat those who are slim," shared Shradhha.
Thirty-four-year-old Jitin Menon, who flew down all the way from New Delhi was "excited and nervous."
"Three days before the audition, I got a call from brand aLL -- from where I buy most of my clothes. They told me that LFW was organising this for the first time and wanted to know whether I would like take part in the auditions."
"I had a word with my parents and they encouraged me for it."
"This might have been my first time on the ramp, but I was quite confident about myself and that's how I am as a person in real life. But I was a bit panicky as I knew I would be facing some of the big names from the fashion and entertainment industry," Menon added.
Dealing with failure, criticism
For pataka (bombshell) girl Tanvi (who wore a custom-made tee with 'pataka' written on it in Hindi), stage fright is something she masters.
"I have been a professional dancer. I have learnt Indian classical dance forms Bharatnatyam, Kathak and Odissi for 15 years. I have trained in jazz at a dance institute in Mumbai. As I have taken part in stage performances, I have faced cameras and lights often. So I don't have stage fear at all.
"In fact, I took part in my college fashion show auditions while I was pursuing engineering from KK Wagh Institute of Engineering Education and Research, Pune. My seniors were shocked to see me participate, and they thought I can't do it. But when I walked on the ramp, they came up to me and told me that I was really very good and confident.
"I thought I would get selected but unfortunately the senior who was going to select the finalists for the show told me that I was fat and hence he didn't select me.
"Back then it did hurt me a bit, but now it doesn't affect me at all. I always think whatever happens, happens for the best.
"Few days ago, a random aunty in Lokhandwala market, Mumbai told me that -- Beta (dear child), you are a beautiful girl trapped in a fat body. I was simply shocked and said nothing. I have stopped paying heed to such comments. I keep myself encouraged always. And see I am now going to walk at LFW this season."
How do they deal with body shaming?
"Sometimes it's been very depressing. I have a full-time job, and I have to travel. My parents often tell me to leave the job and lose weight," said a tearful Shradha Dwivedi.
The solution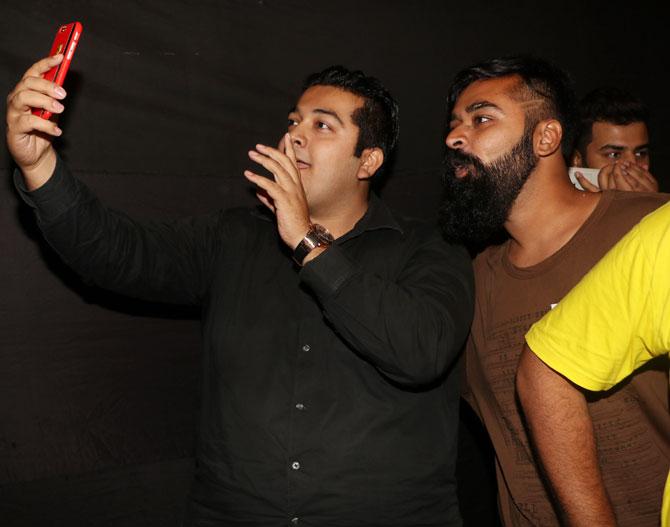 IMAGE: Selfie time!

Two aspiring male models take a selfie in between the audition rounds.
Jitin, who was always bogged down with studies and never got the time for any physical activities thinks that the lack of sports led to him becoming large in size.
He also blamed the education system and thought it needed to be changed immediately. "There has always been so much pressure on students. Parents, too pressurise children to get good grades in school and college. And they can't help but keep studying or else they might not get through good institutes. Eventually, one doesn't get the time to take part in sports. Schools need to start teaching yoga every day.In fact, parents too need to ensure their children exercise from childhood."
Emphasising the need for fitness, he said "Being fit is very important. Teens now-a-days don't keep a check on their health. You will always see them glued to their expensive phones and tablets. This generation just wants everything in their comfort zone, and they don't want to compromise on it."
Meanwhile, Tanvi suggested, "People who ridicule us or try to body shame oversized people need to know that we are comfortable in our own skin. Let us be the way we are. We will change ourselves, only if WE think we need to.
"I know it's difficult to ignore when people pass comments or make fun of your size. But next time you encounter it, try being a part of that fun. Make fun of yourself along with them. Some day they will stop. And if they don't, let it go. Remember people make fun of everything, from someone's colour, how their face is or eyes are. Just don't bother."
The winners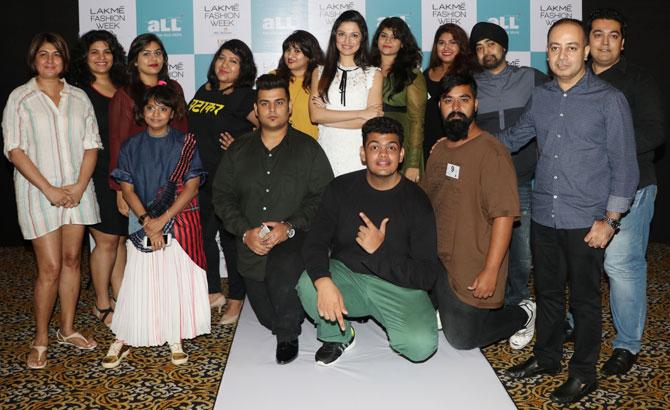 IMAGE: Say cheese! The 10 selected plus size models -- who will walk the runway in creations curated by designer Shilpa Chavan in association with plus size brand aLL -- strike a pose with the jury members.
While the chat continued, the long-awaited moment finally arrived after four long hours.
It was time for the results. The shortlisted contestants from the last round had their fingers crossed.
While some failed to qualify in the final round, 10 fashion enthusiasts came out victorious.
It was a moment to remember as the selected models -- Payal Soni, Anjana Bapat, Tanvi Geetha Ravishankar, Neha Panicker, Anil Pamnani, Fais Sunderi, Arpit Handa, Rajiv Bhasin, Vernika Jain and Amber Qureshi -- flashed their 100 watt smile.
The Lakme Fashion Week Winter/Festive is scheduled August 24 to 28, 2016.