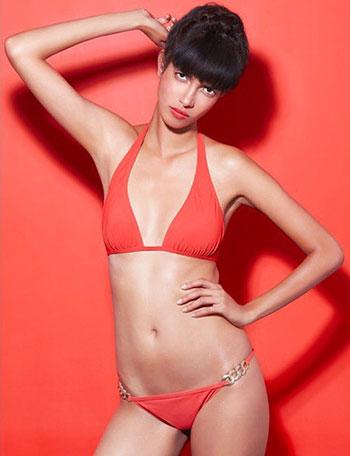 'Modelling should be a part of who you are, but it shouldn't define you.'
'When a Bollywood star is a showstopper at a fashion show, it completely stops being about the clothes. I find that pointless.'
Photograph: Kind Courtesy Smita Lasrado
She may be a seasoned model based out of Paris, but Smita Lasrado's roots lie in Bandra, Mumbai.
She may have started her modelling career with a two second role in a television commercial in 2006 (for a product she no longer remembers) but, in less than a year, this 5 ft 11" model was walking for a Dior show in Zurich.
In the last nine years, there has been no looking back. Smita has made it to a realm that only few Indian models reach.
Turning on the heat at international runways for labels like Chanel, Vivienne Westwood, Etam, Maison Rabih Kayrouz, Ashley Isham, Emilio de la Morena and Zoe Jordan, Smita has always been applauded for her charisma and confidence.
She enjoys working with designers back in India as well. Recently spotted walking at Lakme Fashion Week Summer/Resort 2016, she stole the show with her striking, distinctive looks.
In a conversation with Tista Sengupta/Rediff.com, Smita talks about how Indian fashion weeks should tone down on celeb showstoppers, how international and Indian fashion weeks differ and what models should do when there's no work.
How did modelling happen?
I got my first modelling assignment in India when I was interning with a production house in 2006 and the director, Navdeep Singh, put me in a commercial. I was so shy that I didn't want to do it but you can't say no to your boss. Today, I'm glad I didn't!
Later in the same year, I walked for designer Wendell Rodricks.
Was breaking into the international market difficult?
When I started, I was pretty much the only Indian girl at castings. They seem much more receptive now. In fact, it's a great time for Indian models to go abroad.
Indian girls should be brave. It can be hard to leave the security of work in India because it's definitely easier here. But you will be so much better if you try to get to the next level.
How are international fashions weeks different from Indian fashion weeks?
For me, there is only one big difference -- there, the teams are different for each show so each show will have a different casting director, a different set of models, different hair and make-up teams, different venues, etc.
Here, it takes place at one venue with the same teams for most of the fashion week.
How often do you work in India?
I started hopping between India and France in the middle of 2014.
After four years of working abroad, I felt there was a big growth in the industry here. Also, I missed home.
Right now, I am here as I want to explore other projects.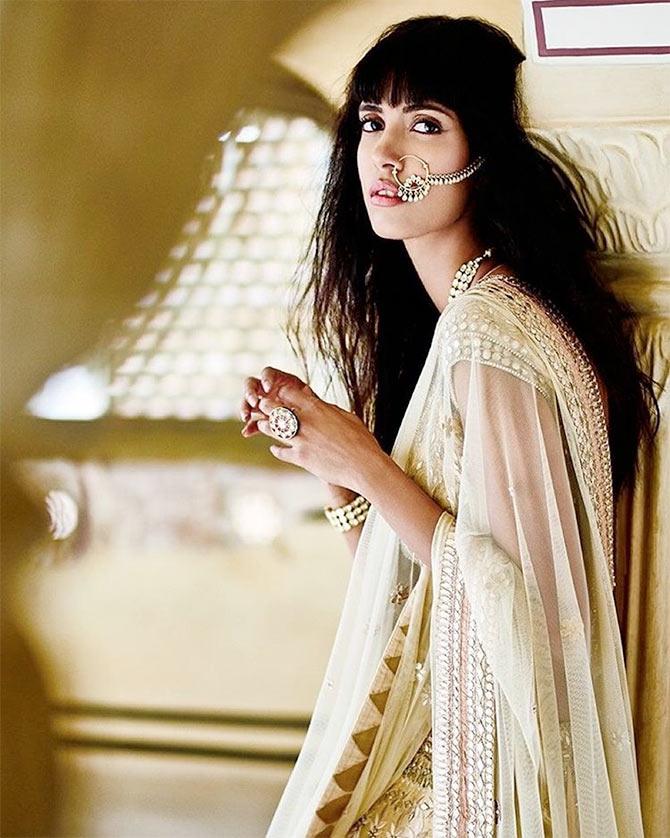 Photograph: Kind Courtesy Anita Dongre/Instagram
In one of your interviews you had said, 'Fashion models here do not have real power and Bollywood controls the reins'. Is it different abroad?
It is what it is. Our country holds Bollywood and cricket sacred. I accept that. But, more often than not, when a Bollywood star is a showstopper at a fashion show, it completely stops being about the clothes. I find that pointless.
In shows abroad, it's really about the clothes. It makes more sense, I think, to have the movie stars sitting in the front row.
You've been a model for so many years. What are the good bits?
Travel is the number one gift of working in this industry. I also met my husband (Korean restaurateur and part-time DJ) Nam Wook Kang as a result of travelling for work.
Modelling provides you with endless opportunities if you are smart enough to identify them.
Your major achievements in your career…
My biggest achievement was to be roped in by IMG Reliance while I was working full time in Paris and it's probably still the best agency in the world.
When it comes to shows, it was really cool to work with Karl Lagerfeld and walk for Chanel.
I have also spent many years working at Yves Saint Laurent -- be it presentations, fittings or shootings for accessories. I have made friends for a lifetime there.
How do you prepare yourself before the fashion week starts?
I don't. I just try to eat well and rest as much as I can. I listen to a lot of music.
And your fitness regime?
Right now I am not doing anything because I've been working and travelling non-stop.
The last time I did a yoga session was in February.
I am thin, thanks to my good metabolism, but not fit. I plan to start yoga and cardio exercises soon.
What's your beauty secret?
Keep it simple. All I use is Bioderma Crealine to remove makeup and Embryolisse to moisturise.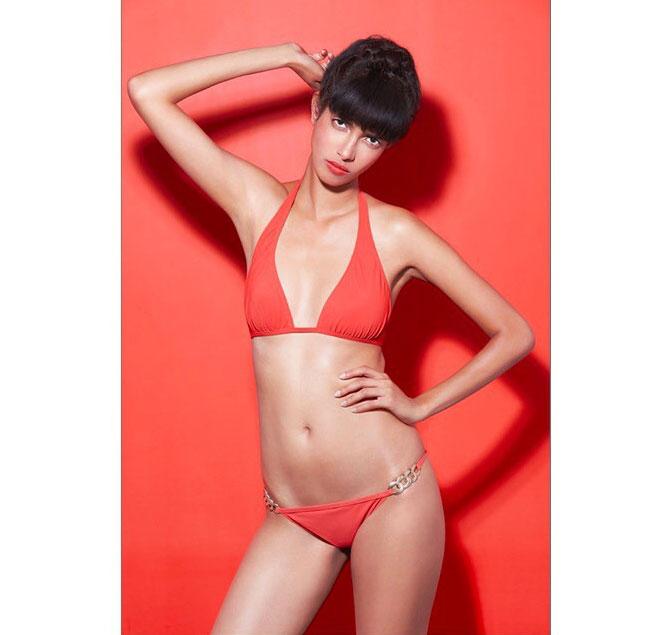 Photograph: Kind Courtesy Smita Lasrado/Instagram
Is there a particular diet that you follow during fashion weeks?
I don't believe in dieting. I try to eat a good breakfast and then simplify as the day goes on.
I do eat a lot of chocolate as it makes me happy. It gives me energy too, as we miss meals sometimes because the schedules can get quite hectic.
How many designers have you walked for at this LFW?

Our group at LFW had multiple designer shows so I would say around I walked for 37 designers or more.
Some of the designers I walked for were Anita Dongre, Huemn by Pranav Mishra and Shyma Shetty, Payal Khandwala, Masaba, Chola by Sohaya Misra, Paromita Banerjee and Urvashi Kaur.
Which are the shows you enjoy working for and why?
I love walking for shows where the beat is banging (music is highly energetic), so it would be designers like Sanchita, Namrata Joshipura and Huemn.
What were your expectations when you got to know you were walking for LFW?
I never have expectations because, more often than not, you are disappointed. But Lakme was great.
Our makeup team, headed by Namrata Soni, was good as was the overall ambience.
Aspiring models should…
... develop other skills and talents. It makes you a more interesting person and a model.
Apart from this, work hard and create your own opportunities. Don't wait for someone to turn you into a model. Do it yourself.
There are times when work is not in abundance. How should models cope during such times?
Life is so much bigger than the fact that you are a model. Modelling should be a part of who you are, but it shouldn't define you.