Her brand, Bodice, was representing India, Pakistan and the Middle East!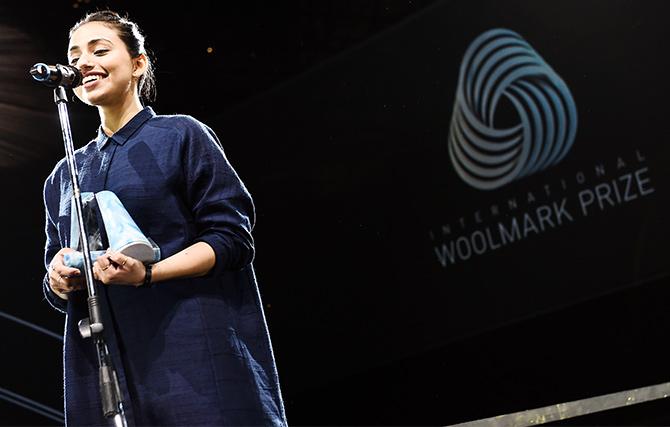 Ruchika Sachdev accepts her award at the International Woolmark Prize 2017/2018 on January 9, 2018 in Florence, Italy.
Photograph: Stefania M D'Alessandro/Getty Images.
Bodice by Ruchika Sachdeva has been chosen as the womenswear winner of the 2017/2018 International Woolmark Prize, presented in Florence, Italy, this week.
Sachdeva was representing India, Pakistan and the Middle East at the competition this year.
She is the third Indian to win an International Woolmark Prize since 2014 -- Rahul Mishra won the 2013/2014 prize, while Suket Dhir won the 2015/2016 prize.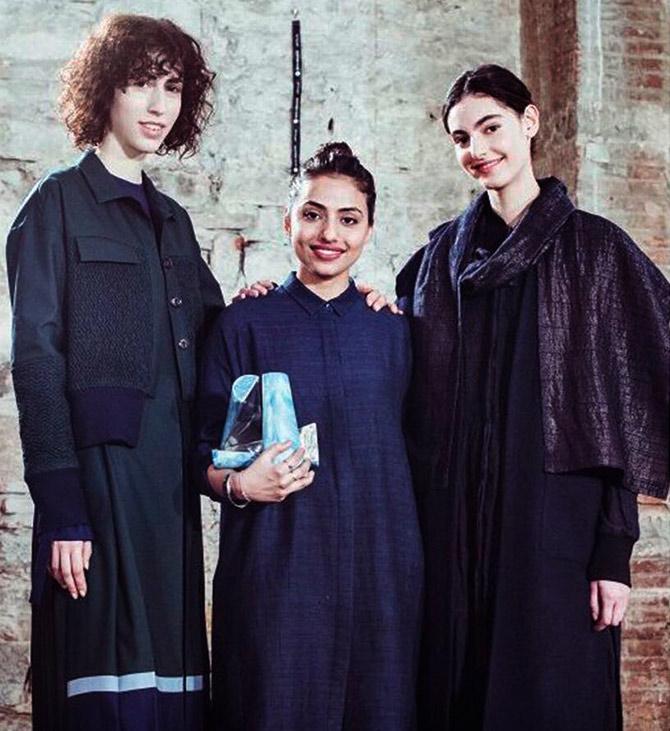 Ruchika Sachdeva and her designs
Photograph: @bodicebodice/Instagram.
The award announcement said, 'Inspired by her grandmother who used to upcycle saris into quilts, Bodice addressed the issue of consumer waste in fashion with traditional techniques of recycling and cultural beliefs in the spiritual power of cloth to affect our wellbeing.
'Collaborating with hand weavers and encouraging them to take an unorthodox approach to traditional techniques, Ruchika Sachdeva produced an elegant collection honouring Australian Merino wool and the artisans of her country.
'Bodice also worked with Bio-Dye in Sawantwadi, central India, which makes all colours from natural sources. The colour palette of navy and forest green mixed with pink and green pastels contains natural dyes and are safe for the skin -- a nod to the ancient practices of Ayurveda.
'Completing the label's holistic approach, Bodice sourced buttons from renewable sources of coconut shell, seashell, and wood.'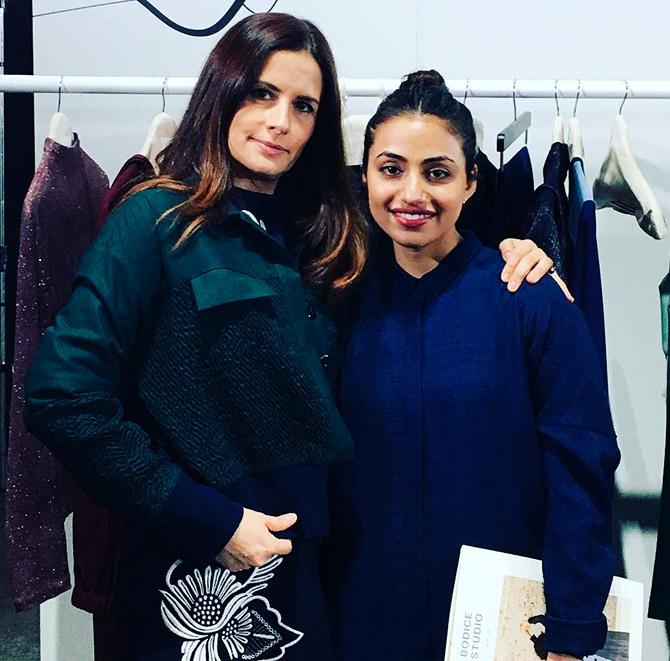 Ruchika Sachdeva with event judge Livia Firth, who is the founder of Eco Age, and -- fun fact -- the wife of Oscar-winning actor Colin Firth.
Photograph: @livia_firth/Instagram.
The award, a statement said, was judged by a highly esteemed panel, including Amber Valletta, Elizabeth Von Guttman, Emanuele Farneti, Julie Davies, Livia Firth, Liya Kebede, Miroslava Duma, Nonita Kalra, Phillip Lim, Riccardo Vannetti, Sarah Mower and Stuart McCullough along with representatives from the International Woolmark Prize retail partner network: Boutique 1, Boon The Shop, David Jones, Harvey Nichols, Hudson's Bay, Lane Crawford, L'Eclaireur, mytheresa.com, ORDRE, Parlour X, Ssense.com, Sugar, Takashimaya and Tata CLiQ Luxury.
Bodice was praised for technique and the manufacturing process.
Womenswear designer Phillip Lim, who thought Bodice's collection was 'completely thoughtful', said, 'From the ingredients and dyes used all the way to the application and everything in between, her collection really represents a modern woman.'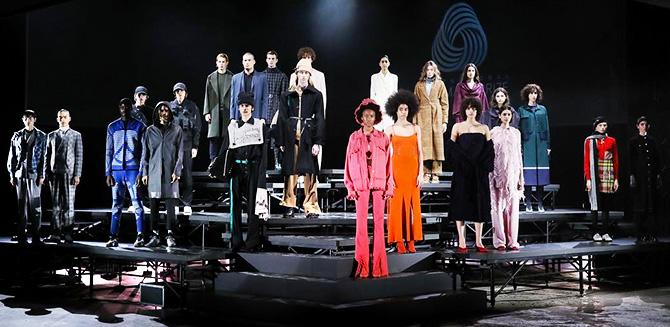 The standout designs of the year at the International Woolmark Prize.
Photograph: @thewoolmarkcompany/Instagram.
The competition, as always, was fierce.
The authorities said, 'More than 65 designers from more than 60 countries were nominated for this year's award, with finalists representing six different regions around the world.
'The global finalists were SixLee and KYE (Asia), Blair Archibald and Harman Grubiša (Australia & New Zealand), Matthew Miller and Le Kilt (British Isles), L'Homme Rouge and David Laport (Europe), Antar-Agni and Bodice (Indian Subcontinent and Middle East) and DYNE and Zaid Affas (USA).
The Woolmark Company managing director Stuart McCullough said, 'We saw the world's best emerging designers present a true celebration of fashion design and innovation... Each year, the competition has been fierce, and this year was no different.'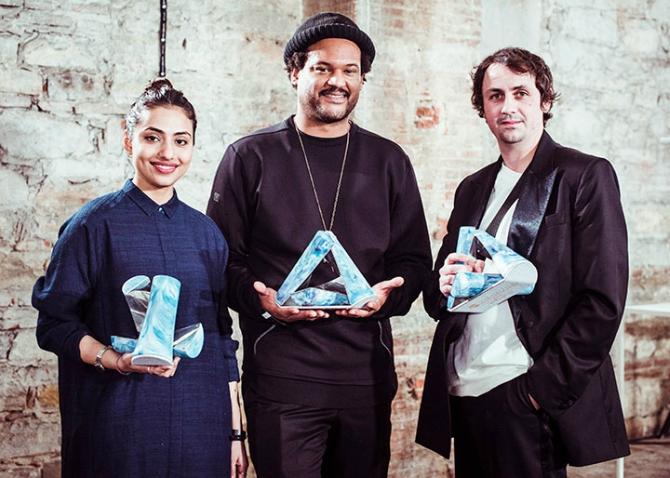 Ruchika Sachdeva with her fellow winners Matthew Miller (centre) and Christopher Bevans of DYNE (right).
Photograph: @bodicebodice/Instagram.
For Bodice, this is a huge win.
Sachdeva said in a statement, 'This is a huge opportunity to expand on what I do and keep doing it. To get the chance to work with these retailers is incredible.'
The other awardees this year are Matthew Miller for menswear and DYNE, who won the Innovation Award.
Both Matthew Miller and Bodice will each receive AU$200,000 to help support the development of their business. They will also receive ongoing industry mentor support, Woolmark certification for their winning collection and the opportunity to be stocked in some of the world's most prestigious department stores and boutiques.
DYNE will receive $100,000 along with commercial opportunities.