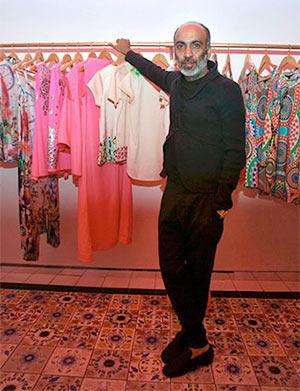 The Delhi-based designer has put India on the world map and how!
Manish Arora is basking in the limelight right now!
And why wouldn't he?
He was recently awarded the 'Knight of the Legion of Honour', the highest French civilian distinction, for his contribution to the world of fashion.
Known to push boundaries, he has created a revolution-of-sorts in fashion with his extraordinary collections.
He is one of the few designers who refuse to piggyback on celebrity showstoppers to up the glam quotient of their fashion shows.
We take a walk down memory lane and find out what makes Manish Arora the icon that he is.
1. He's the Kitsch King of India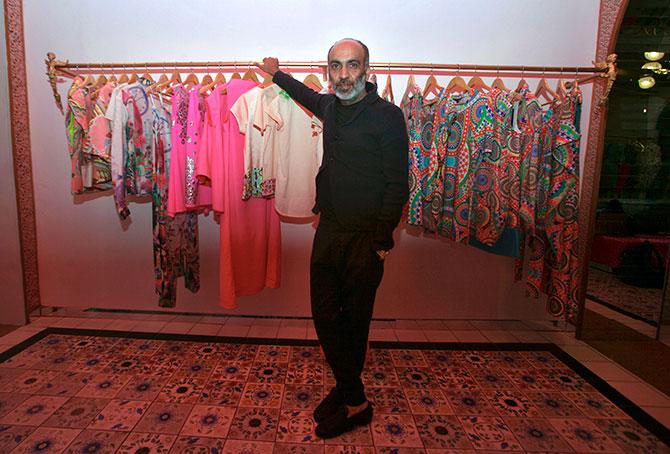 Photograph: Parivartan Sharma/Reuters
Let us remind you that kitsch was not always such a cool thing in India. 'Horn OK Please' was just seen on trucks.
But somewhere down the line, Arora brought it into mainstream fashion -- be it bags, clothes or accessories, he made them look cool and global.
2. He gave 'psychedelic fashion' a new meaning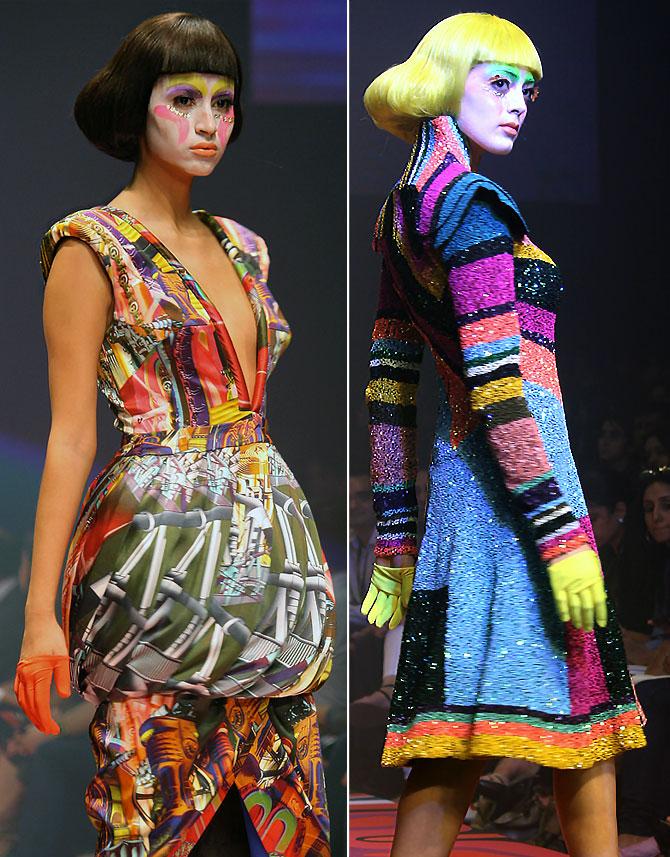 Remember Arora's first-ever showing at the Lakme Fashion Week in 2010?
He painted the runway with vibrant bright, super-sparkly neon colours and dressed his models in outrageous silhouettes, colourful wigs and pasted-on lips.
3. His shows are a riot of colours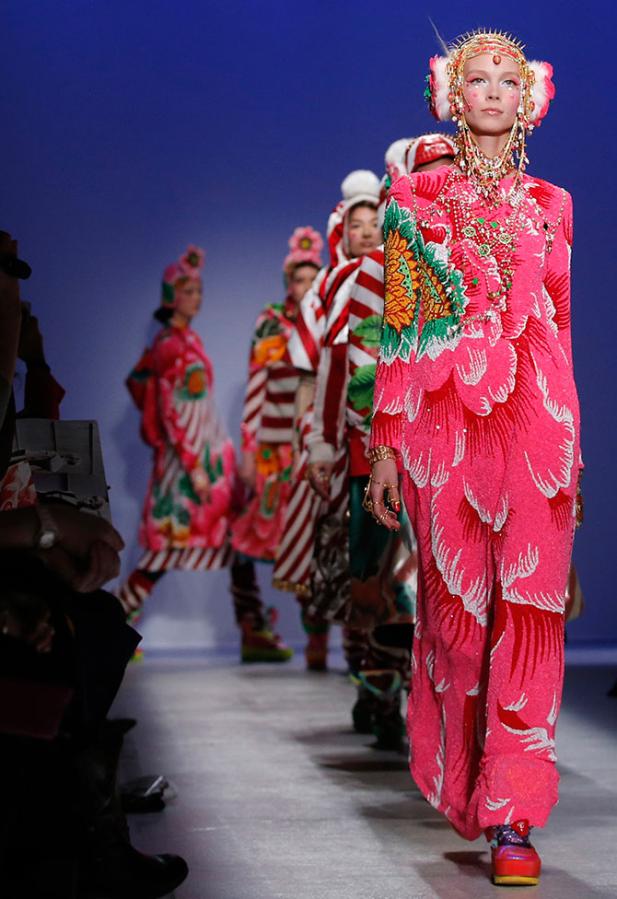 Photograph: Stephane Mahe / Reuters
Every time we witness a Arora fashion show, it reminds us of the festival of colours, Holi.
The bright colours immediately light up the ramp and make you gleam.
4. He paid homage to his Motherland in Paris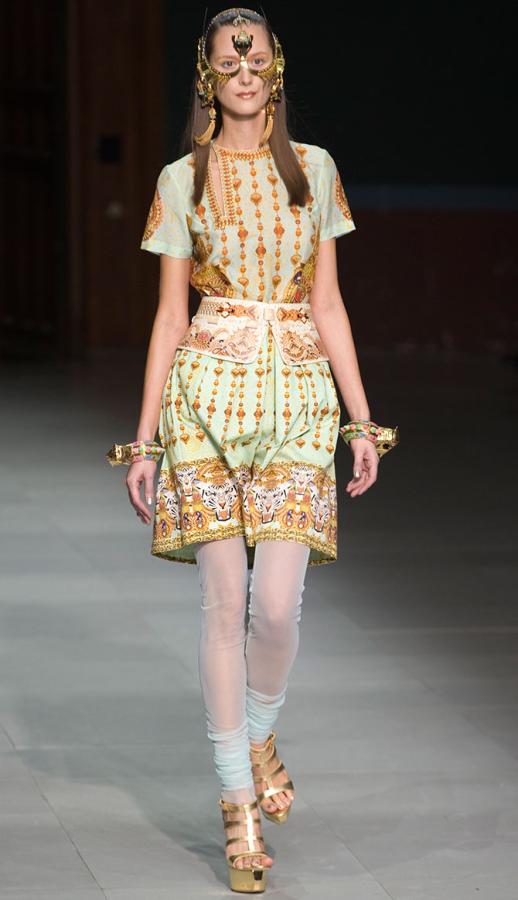 Photograph: Charles Platiau/Reuters
The Spring-Summer 2013 at the Paris Fashion Week featured outfits with Indian motifs and ethnic embroidery. We loved each of his designs.
5. He loves nature
Photograph: Benoit Tessier/Reuters
Arora painted the sky on his clothes after being inspired by a psychedelic wonderland.
The collection, which was showcased at the Paris Fashion Week 2013, was inspired by his trip to the Burning Man Festival in the American state of Nevada.
6. He has celebrity clients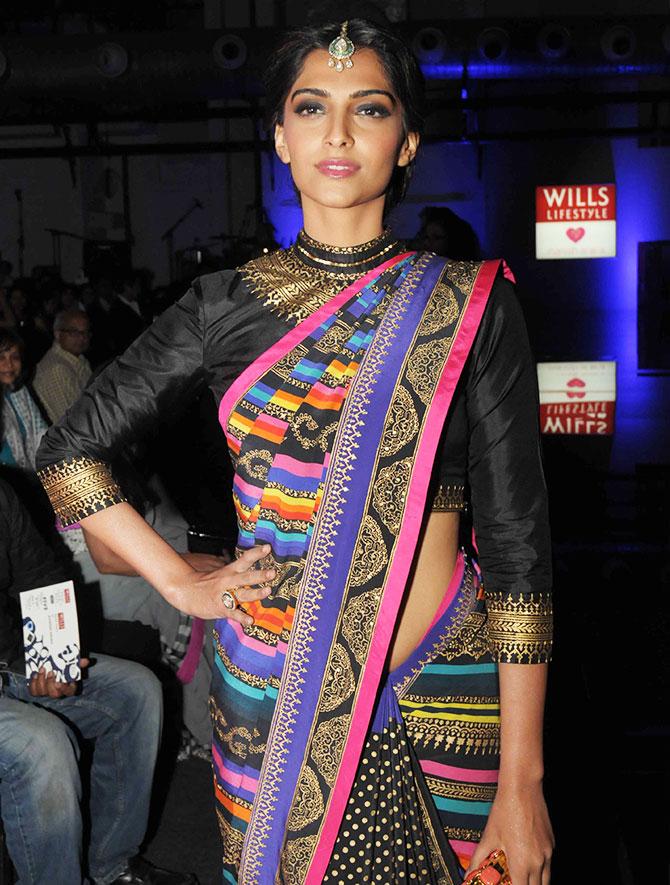 Photograph: Courtesy Corporate Voice Weber Shandwick
Lady Gaga and Katy Perry are just some of the celebs who have sported his clothes at various events too!
Sonam wore the multi-coloured sari from Arora's collection (pictured above) with a black blouse at the Wills Lifestyle India Fashion Week Autumn/Winter 2013.
7. He uses Indian elements in his designs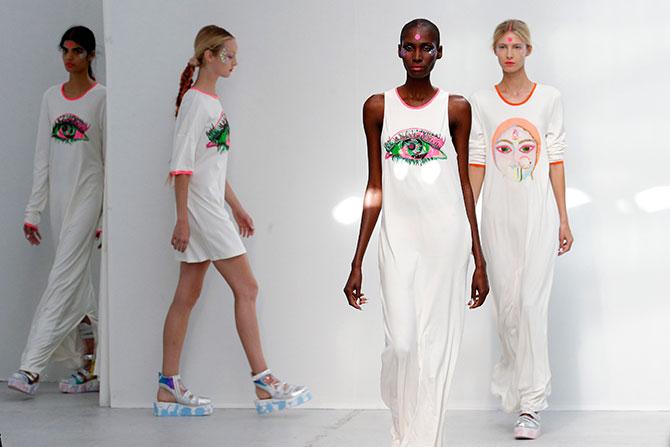 Photograph: Charles Platiau/Reuters
At the Spring Summer 2015 show at Paris Fashion Week, the designer sought inspiration from goddess Kali and other Indian deities making quite a statement on the international runway.
His models sported huge red bindis and sindoors. Check out the next pic...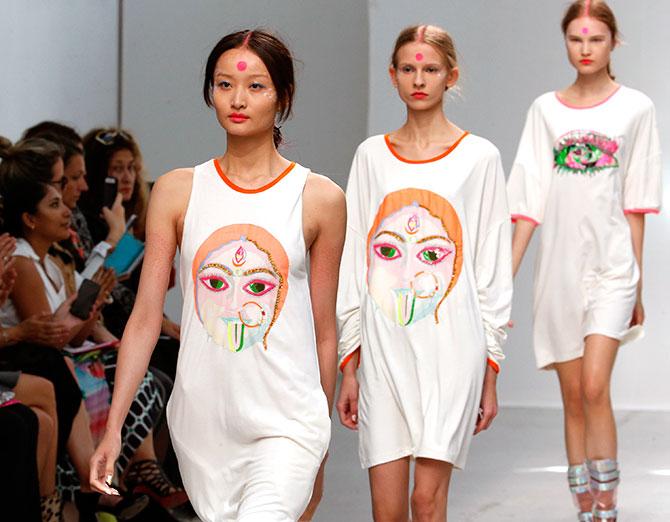 Photograph: Charles Platiau/Reuters
The collection was beautiful and aesthetically done. Oh, how we wish to own all the clothes from this collection! Sigh.
8. He's designed for Games of Thrones
Photograph: Charles Platiau/Reuters
He has done 14 shows in Paris already and also had a Game of Thrones collection.
9. 'Bizarre' is his signature style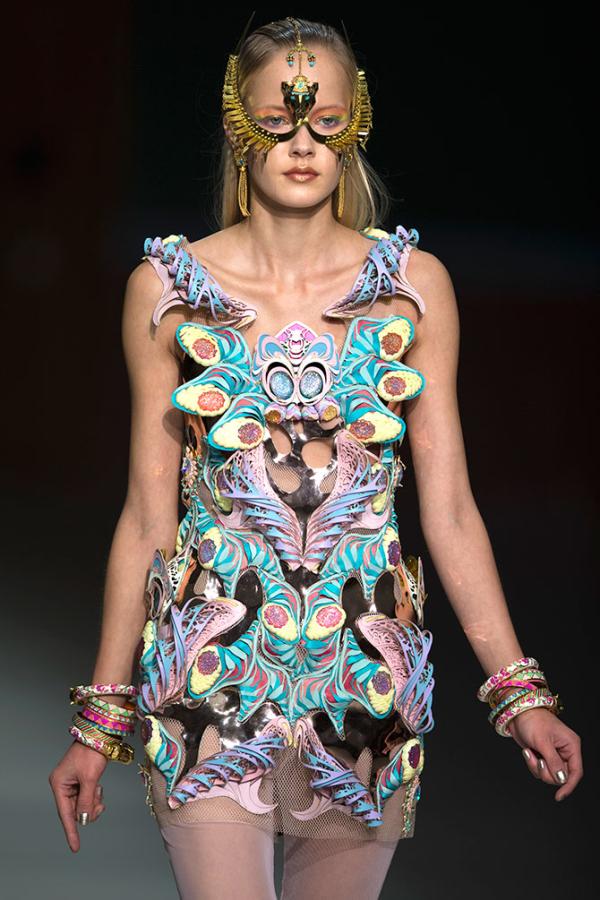 Photograph: Charles Platiau/Reuters
His clothes are not the run-off-the-mill kind.
They're quirky and speak volumes about this fashion designer's love to experiment.
10. His bags are loved by all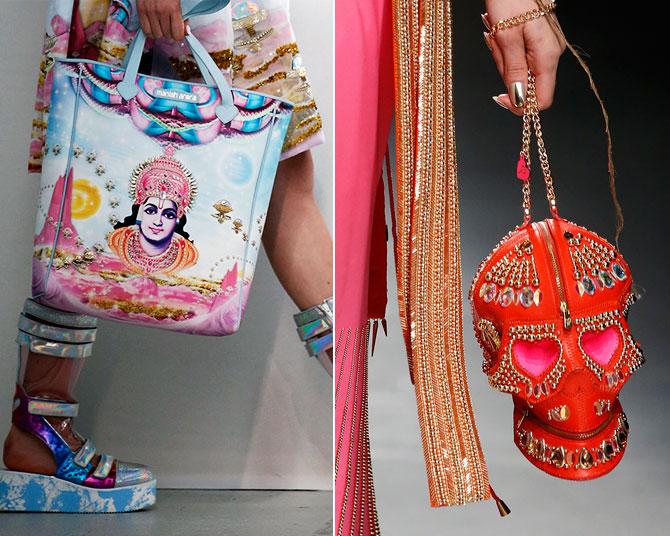 Photograph: Charles Platiau/Reuters
The bejewelled skull bag (right) by the fashion designer is a rage abroad. It was showcased by him at the Paris Winter Fashion Week 2015.
Wondering how expensive the skull bag is?
Well, it has been priced at Rs 50,000 onward and is available online.
Back home, his bags with prints of Indian deities are very popular.