At Ganesh Galli, one of Mumbai's oldest pandals, a team of more than 60 workers came together to create Ayodhya's Ram Mandir this year.
Text: Divya Nair/Rediff.com
Video: Satish Bodas and Hitesh Harisinghani/Rediff.com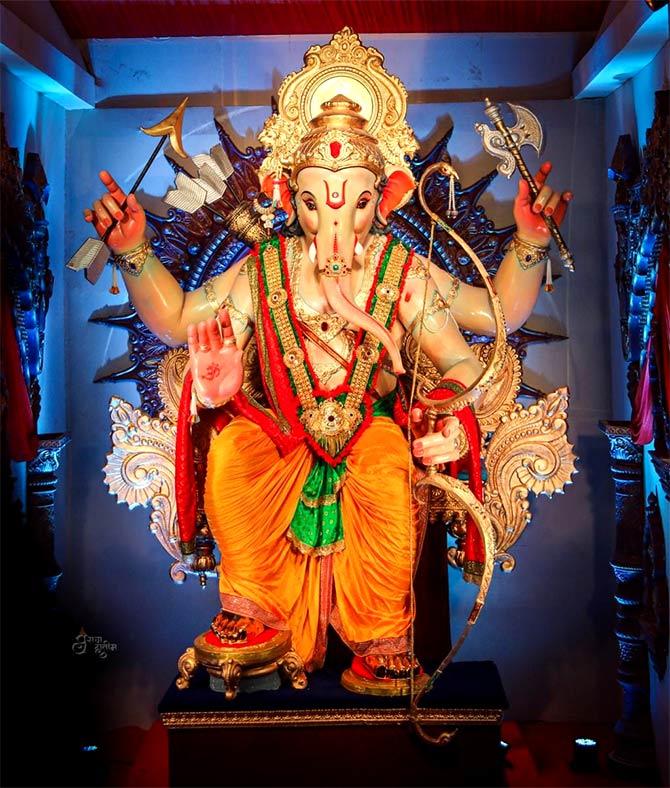 If Lalbaugcha Raja (the king of Lalbaug) is popular for granting your wishes, Mumbaicha Raja (the king of Mumbai) takes your breath away with its lavish themes and sets every year.
A tradition that started in 1928 for the benefit of the mill workers in the area today attracts visitors and funds from across the country.
Over the years, it has recreated landmarks like the Akshardham temple, the Sri Laxmi Narayani Golden temple and Gwalior's Surya Mandir.
This year, their theme is Lord Ram and Ayodhya Nagri.
"Every year, we try and recreate one of India's iconic landmarks in Mumbai so that people who are unable to travel due to financial reasons are able to experience and appreciate India's art and tradition.
"It is our humble effort to make the young and old connect with our roots and inform them of our rich heritage, mythology and history," Swapnil Parab, secretary, Lalbaug Sarvajanik Utsav Mandal (Mumbaicha Raja), Ganesh Galli, central Mumbai, tells Divya Nair/Rediff.com.
"For our 92nd year, we wanted to do something special.
"Since Ram Mandir has been a long pending dream, we thought of using our imagination and present it as part of our Ganpati celebrations this year," Parab says.
More than 60 workers led by art director Nitesh Kumar have worked to create the set which cost approximately Rs 35 lakh.
Watch! The breathtaking Ayodhya Nagri created for Mumbaicha Raja. Video by Hitesh Harisinghani/Rediff.com
Nitesh Kumar revealed how he executed the idea.
"For the entrance, we designed a 200 foot dhanush-baan (bow and arrow).
"We have used paintings and sculptures inspired by the Ramayana to tell Lord Ram's story.
"Since none of us have seen what Ram Mandir has looked like, we used our imagination to create a reference point for our future artistes."
Watch! Nitesh talks about bringing Ayodhya Nagri to Mumbai. Video by Satish Bodas/Rediff.com
Since 2017, the organisers are consciously working towards being eco-friendly.
They have replaced thermocol with reusable materials like wood and fibre to create the set.
"We have been considering several sustainable options.
"We don't want to be ambitious and try something that is not practical in the long run.
"I'm confident that in the years to come, we can try and go 100 per cent eco-friendly," Swapnil Parab promised.
"Lakhs of people from Mumbai and other cities visit our pandal every year and we take all measures to provide security to our guests.
"Our message is to inspire unity and appeal to everyone to celebrate Indian festivals with love, respect and discipline," Parab says.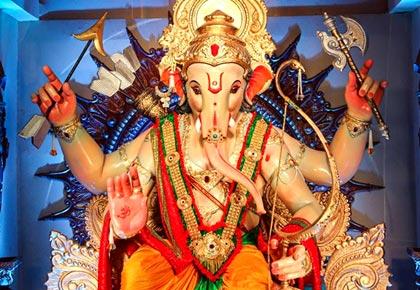 Dear readers, tell us how you are celebrating the festival.
Click here to upload your photographs on Rediff ZaraBol or simply e-mail it to us on getahead@rediff.co.in (subject: My Ganesha pic) along with your NAME, LOCATION and details of your Ganesha. We'll publish the best responses right here on Rediff.com.