What happens when fans of Game of Thrones decide to bring a Ganpati home! Scroll down to find out more.
The Game of Thrones craze never dies, and fans have always found a way to keep it alive.
For US-based couple Dolly and Mihir Dave, who love GoT, having an 'iron throne Ganesha', was a way of making their celebrations even more memorable.
"(We have been bringing Ganpati home) since the last year," says Mihir, who grew up in Mumbai and moved to USA a few years back.
"It's the essence of Mumbai's vibrant culture. Celebrating it (in the US) is the best way of reliving the time I spent in Mumbai," he adds, fondly remembering the things he did during the festival, back in Mumbai.
"(I remember& listening to) Marathi bhakti geet, preparing for the aarti, getting dressed in traditional clothes, and of course, waiting for the prasad at the end of every aarti," he reminisces.
This year, when the couple sat down to decide their theme for Ganpati, they poured their love for GoT into every element of the celebration.
From naming their Ganpati, Iron Throne Cha Raja to having modaks with flags of the various GoT houses, their Ganesh celebrations were heavily influenced by the popular series.
Their friend Mandar Jadhav, an artist based in Brooklyn, New York helped give shape to the concept.
Take a look at the pics.
Recommended for you: A sangeet inspired by Game of Thrones
The preparations underway! The chair was wrapped with white cardboard boxes. The swords were cut from the same boxes and attached to the base with a hot glue gun.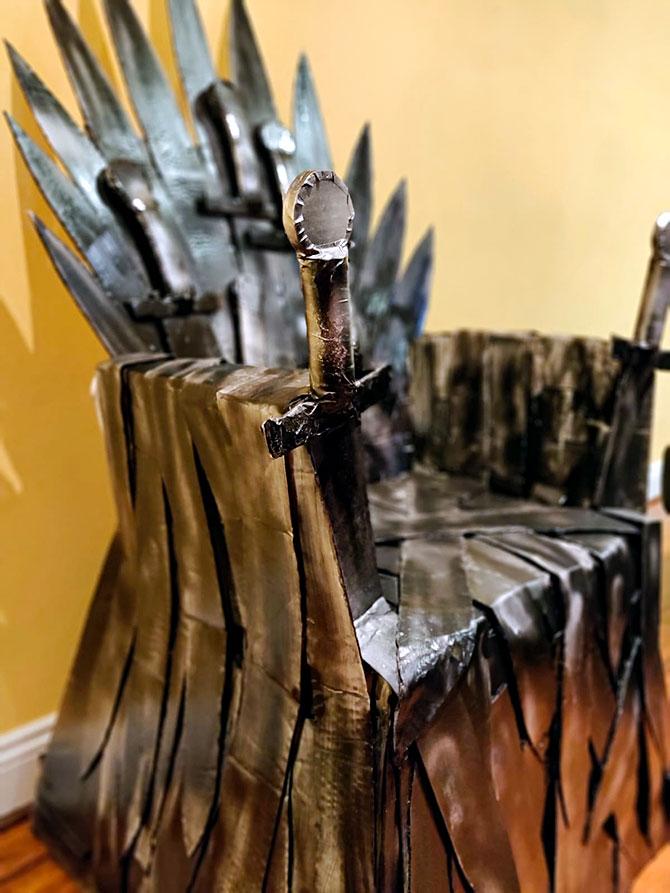 The iron throne is ready for Lord Ganesha!
"I saw Devdutt Pattanaik talking about Lord Ganesha online. To me, it felt as though he was describing one of the GoT houses and kings," says Mihir.
"That's where I got the idea (to have a GoT Ganesha).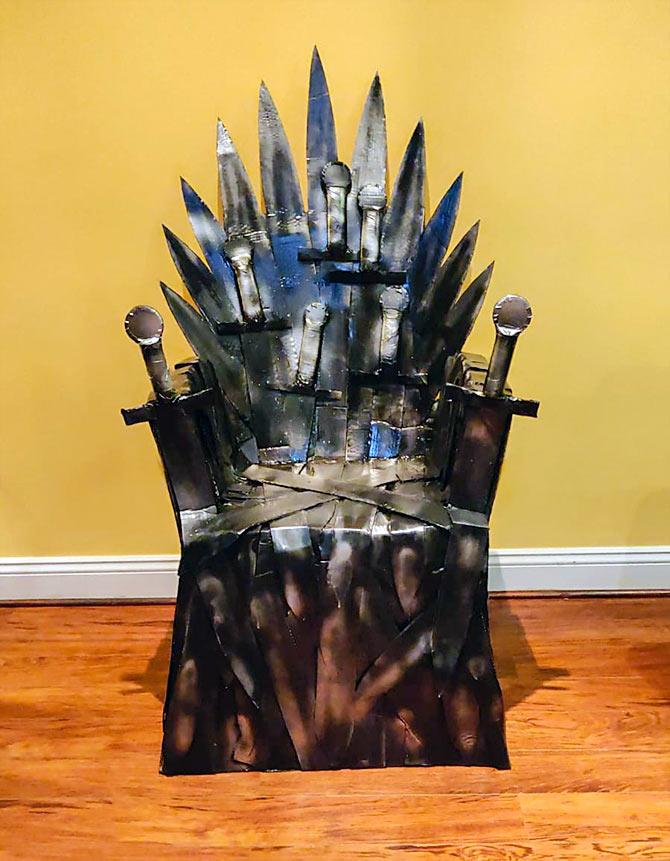 Who needs a backdrop when you have such a majestic chair?
It took the trio two days to create this masterpiece.
"We worked for six hours each day," adds Mihir.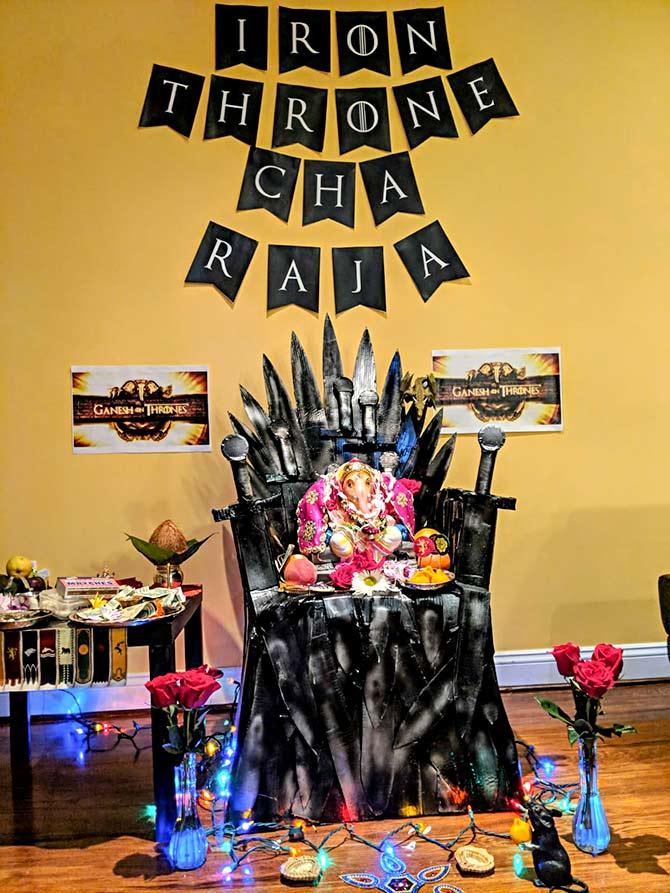 They called their Ganesh the 'Iron Throne Cha Raja'.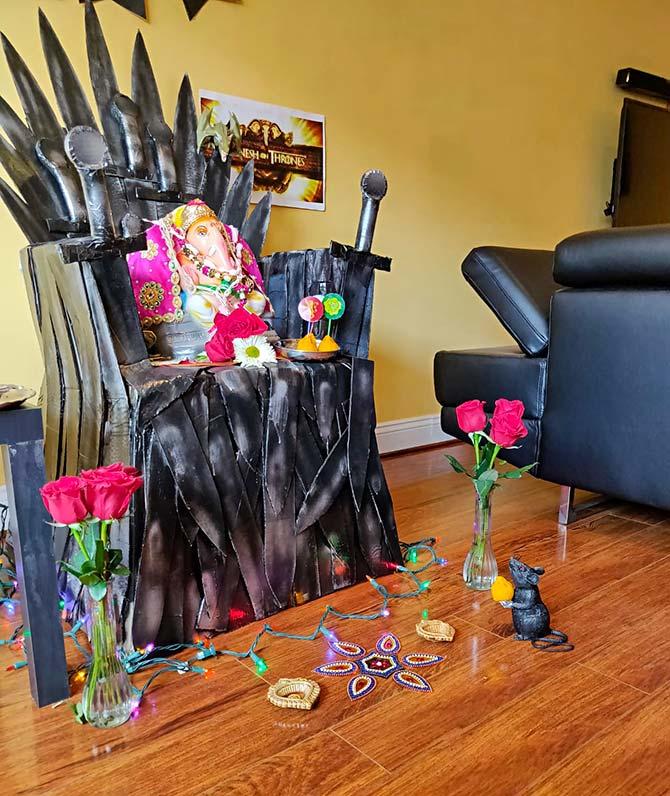 The modaks carried flags of the different houses of GoT. Scroll down to take a better look!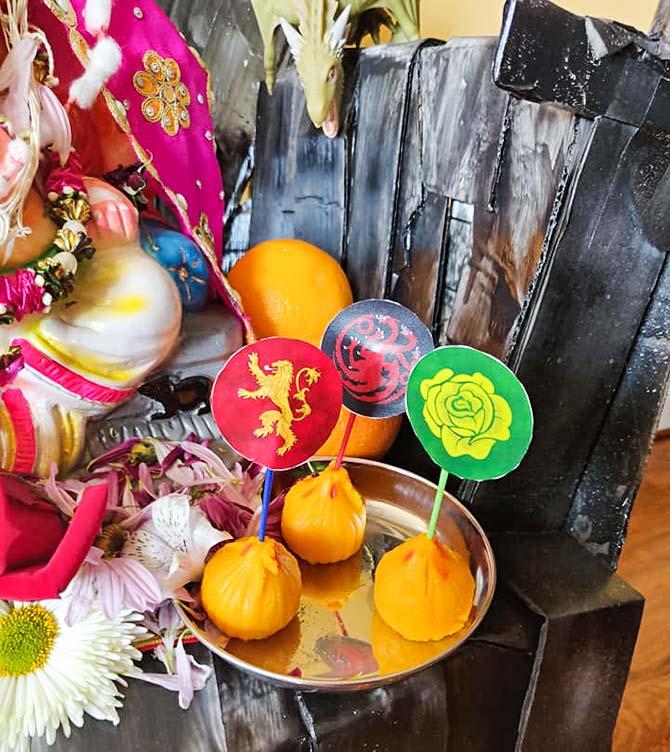 Which house are you rooting for?
The cutest element of the entire theme, we feel :)