The true test of a hybrid is how well it performs both as a laptop and a tablet, says Uttaran Das Gupta.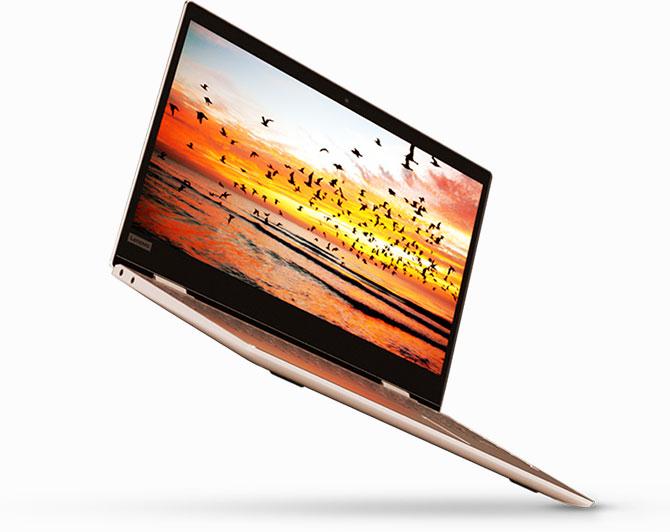 Photograph: Courtesy lenovo.com
Imagine a convertible laptop with great specifications at an affordable price: the 13-inch Lenovo Yoga 720 is exactly that.
It's also the first laptop-cum-tablet with the powerful Nvidia 10-series graphics, allowing one to indulge in unrestricted gaming and designing.
The machine has a very powerful battery -- which easily lasts a day -- great audio and clear picture quality.
What more can you ask for in a laptop?
Well, the keyboard could have been better with a little more space between keys for easier typing.
The machine runs on Intel Core i7-7,500U CPU and 8GB of dual-channel DDR4 RAM.
It comes with Windows 10 and the usual Lenovo software.
The true test of a hybrid is how well it performs both as a laptop and a tablet.
As far as its performance as a laptop is concerned, there is little to complain about.
All programs run smoothly. The computer does not heat up even during graphic-intensive gaming sessions. The battery life is about seven hours, which is pretty good compared to its peers.
As a tablet, too, the Yoga 720 delivers a top-notch performance.
This device is among the most powerful in its range. The display, however, could have been better.
It's also a little heavier than its competitors and might be a little difficult to carry around. But that's a small inconvenience for all its benefits.
If you are looking only for a laptop, you might find better options.
As a hybrid, Yoga 720 is likely the best of the lot.