Abhik Sen reviews the wireless soundbar that supports 4K.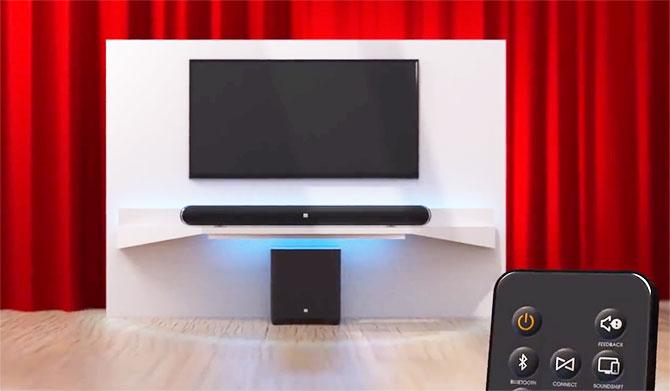 The JBL Cinema SB450 (₹39,999) had me flummoxed.
The wireless soundbar supported 4K. Now how can a soundbar support a video standard?
Turns out there are three HDMI inputs, which support 4K video, and one HDMI output, which also routes the audio of the TV through the soundbar.
The sub-woofer was massive and the soundbar dwarfed my 40-inch Samsung 4K TV.
While I was covered, the multiple HDMI inputs could be a godsend for those with limited inputs on their TV.
I used the soundbar two ways.
First, I connected my gaming console, the TATASky box and my Amazon Fire stick to the soundbar, which I connected to the TV.
Using the soundbar's credit-card sized remote could be a chore, I found. There are a lot of buttons and if you aren't blessed with good eyesight, you'll end up hitting the wrong buttons.
But it was easy enough to select the source; there are also buttons on top of the soundbar.
But it's difficult to figure out what the indicator lights signify, sitting on the couch.
Connected this way, I watched the latest season of Mozart in the Jungle, and boy, was I blown by the sound! The big, bad sub-woofer shook my whole flat as the music reached a crescendo.
Using the 'Harman volume' mode, I was able to bring forth the dialogues, even those mouthed by Marlon Brando as the ageing don in The Godfather; and while watching an IPL match between the Delhi Daredevils and the Kolkata Knight Riders at Kolkata's Eden Gardens, I felt the stadium had come home, when I switched on the virtual surround mode.
A caveat: If there's more happening in the mid range, the dialogues may just get drowned out.
Next, I connected the TV to the soundbar using an optical cable.
And I discovered that I could also turn the soundbar off and on with my TV remote.
Then I watched a Blu-ray of Rogue One: A Star Wars Story -- and the soundstage felt distinctly wider than what I experience on my regular soundbar.
One can also set the crossover frequency on the sub-woofer, as well as the phase, depending on where you place the soundbar.
And one needs to adjust it for the perfect sound for your room.
While I've been considering upgrading from a soundbar to a proper home theatre, this soundbar is possibly sounds as good as the home theatres available for the same price.
Next, I also played some CDs.
I found bass-heavy tracks to be excellent but the mids had a tendency to get muddied.
Thus, this wasn't suited to the kind of music I listen to.
The JBL Cinema SB450 is made for watching movies, TV shows and matches, and it performs as well as home theatres in that range.
Anything more than that is a bonus.