Some of the gizmos at the Mobile Word Congress 2018 were straight out of a sci-fi movie.
Rediff.com's Ashish Narsale lists the ones he found the coolest.
1: All things 5G
5G has been in the works for a while, and the Mobile World Congress showed that it is no longer a futuristic idea. It is here.
'It will impact consumers and enterprises alike.' Forbes noted. 'In simple terms, 5G will be up to 100x faster than current 4G and 10x faster than the broadband connectivity that we are used to. With this speed the promise of other technology trends like IoT, AR, VR, Edge Computing and more really become possible.'
---
2: The dual screen
The race to build a mobile phone that is compact, but still has a bigger display has began, and foldable phones could be the next big thing.
The dual screen ZTE Axon M, which was released earlier in November, 2017, found its way to MWC.
It's bulkier with respect to today's phone, but provides a 6.47-inch combined viewing area when flipped open.
There are rumors that Samsung is building its Samsung X as a foldable phone based on OLED technology, which might be more compact.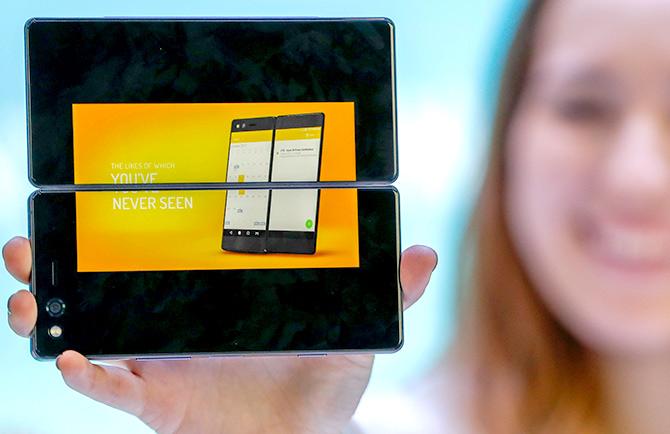 The A ZTE Axon M dual screens.
Photograph: Yves Herman/Reuters.
---
3: Amplifying experiences
Holographic ads could well be the future now.
Hypervsn, a technology based on Persistence Of Vision (POV), by Kino-mo demonstrated floating holographic adverts at MWC.
The technology actually creates the illusion of a holograph by spinning a four blade fan fitted with an array of LED. It's a modular unit and can be combined to create a huge display.
POVs has been around for a while, but Hypervsn takes it to next level. One unit costs $3,240 (approximately ₹2,10,600 ).
We were also impressed by NTT's use of Amplified Experience (AX) when it captured user expressions and portrayed them on lifeless Henshin Kabuki masks.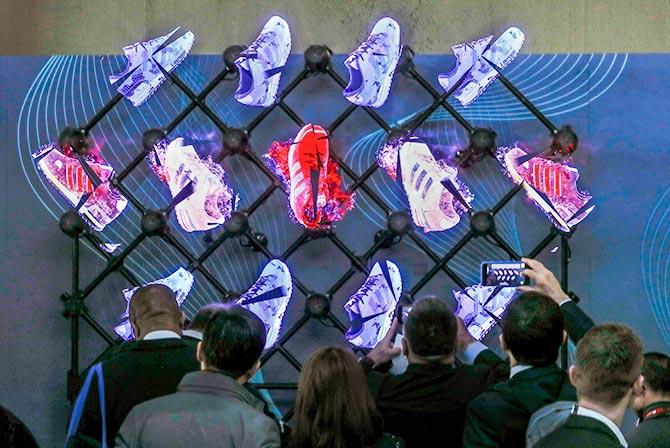 A hologram ad floats mid-air.
Photograph: Yves Herman/Reuters.
---

4: The eco-friendly phone
Blessplus, an Android-based Smartphone by ikimobile made in Portugal, is just what the world needs. Part of the phone is made of eco-friendly renewable and recyclable cork.
The cork makes the phone shock proof, heat resistant, durable and may be even floatable :).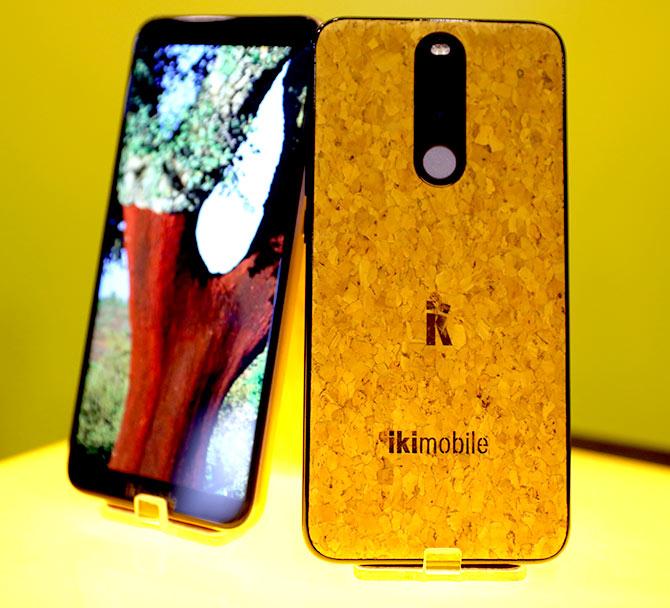 The Bless Plus Smartphone.
Photograph: Sergio Perez/Reuters.
---
5: When a smartphone drove a car
Huawei showed off its 'RoadReader' project -- demonstrating a driverless Porsche Panamera being controlled by the AI-powered Huawei Mate 10 Pro mobile.
The RoadReader project is based on object recognition technology, and we are suitably impressed.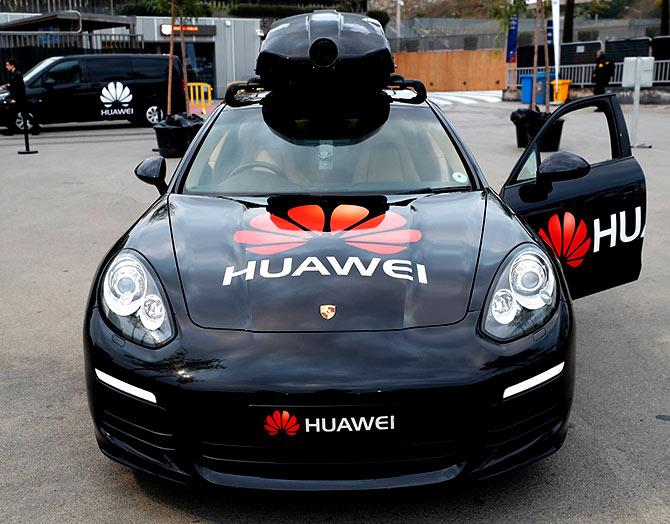 The driverless car controlled by a Huawei Mate 10 Pro.
Photograph: Yves Herman/Reuters.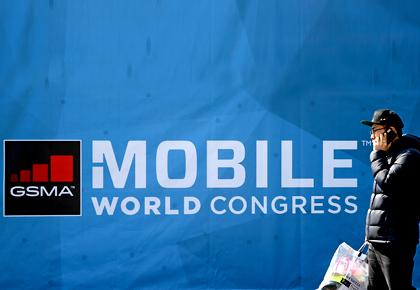 A man walks past a banner of the Mobile World Congress in Barcelona, Spain Photograph: Albert Gea/Reuters