Sony's latest offering promises to compete with the best cameraphones in the market.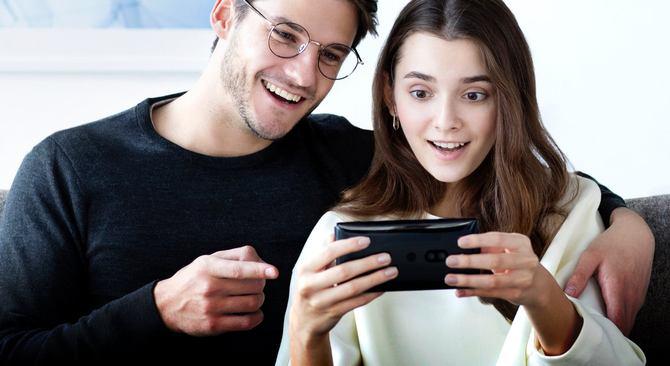 Not so long ago we saw Sony launch Xperia XZ2 and Xperia XZ2 Compact phones with new curved and 3D glass design at the Mobile World Congress in February 2018.
But both XZ2 and its compact version missed the dual camera setup and the modern full screen display.
To make up for it, Sony has announced Xperia XZ2 Premium.
With XZ2 Premium, Sony promises a high profile dual camera.
The display, however, will have 16:9 aspect ratio.
The Xperia XZ2 Premium is almost similar to Xperia XZ2 except for a few premium features.
The cameras -- front and rear -- on Xperia XZ2 Premium are a major upgrade to its siblings.
The primary rear camera with Sony's own Motion Eye technology will allow you to capture super slow motion at 960 fps. A predictive capture, it detects motion to capture four photos before you click and allows enhanced low light photography.
The dual camera consists of a 19 MP, 22 mm wide Sony G lens with aperture of f/1.8 and a RGB sensor.
The second camera is a 12 MP with aperture of f/1.6 and black and white sensor.
The camera also supports High ISO (scale for measuring light sensitivity) up to 12,800 for video and 51,200 for photo -- exactly half of what Huawei P20/ P20 Pro provides as ISO -- 1,02,400.
The camera also supports 4K HDR video recording.
After the next OTA update for Android, the XZ2 Premium will support Bokeh effect.
The front camera is a 13 MP with 22 mm wide with f/2.0 aperture and supports ISO sensitivity up to 3200 for photo and 1600 for video.
The phone is driven by the latest Qualcomm's Snapdragon 845 SOC, the same found in its siblings.
The processing is supported by 6 GB of RAM and 64 GB of ROM as storage. You can expand up to 400 GB of storage using micro SD memory card.
The phone takes its power from 3540 mAh battery and can be charged with quick charge 3.0 and wireless charging.
The phone has USB C-Type connector for charging and data transfer.
For music lovers, there are inbuilt stereo speakers with Sony's proprietary S-Force Front Surround technology.
The phone comes with latest Android Oreo 8 operating system.
All this hardware is encompassed in an aluminum frame sandwiched between a 3D curved glass shell back and front, certified with Corning Gorilla Glass 5 and can withstand water with rating of IP65/68.
For security, there is a fingerprint scanner at the rear.
The phone will be available in two colours -- Chrome Silver and Chrome Black.
If you are not a fan of full screen display but enjoy taking videos and photographs, this is the phone to look forward to.
But is it the best cameraphone available today? Do watch this space for our exclusive review.