Sanjeev Bhatia, co-founder, Onlymobiles tells you how to surprise your loved one.
Photograph: Kind courtesy Vodafone SuperNet
Wondering what to gift your mother on her special day?
She may be growing old, but she may want to read the latest book, watch a movie or simply stay connected.
How about a phone that's easy to use and is customised to suit her age?
Check out these smart and durable options:
Nokia 3310
Price: ₹3,100 approx
It's a basic model with utmost functions. If your mother is above 50, this would be the best choice for her.
It's easy to use and accommodates most basic functions of the phone.
The Nokia 3310 boasts a 2.4" polarized and curved screen window which is a joy to watch and provides good readability even in sunlight.
A 2.0 Megapixel camera with flash makes it a joy to take photos.
Other features include games, FM Radio and a good quality speaker phone. It supports 18 Indian languages.
Don't worry about the charger; this phone is made to last long
Honor 6x
Price: ₹10,699 approx
This is another option for mothers falling in age bracket of 40-50s.
The powerful beast allows you to seamlessly play games, browse, listen to music or run multiple apps at the same time.
The camera app offers plenty of shooting modes and filters to choose from, and is relatively easy to use.
Other features include a durable body, dual rear camera and fingerprint sensor.
Vivo Y71
Price: ₹10,990 approx
The Vivo Y71 is a decent option which is equipped with a lot of strong features.
The configuration is good to provide smooth performance while running multiple tasks at the same time.
The primary camera is excellent to offer mesmerizing photos.
A fingerprint scanner or a better battery backup would have made it a perfect option around this price range.
The Vivo Y71 flaunts a 5.99-inch IPS LCD HD display, which has a pixel density of 269 PPI.
Other features include 6-inch bigger screen phone, a battery of 3360 mAh capacity, face unlock and a 13 MP rear camera
Samsung S9
Price: ₹57,000 approx
The Samsung S8 is a stunner, with revolutionary design that features the very latest in technology -- both hardware and software, so it's fast, powerful and intuitive.
With a collection of security features, such as the Iris Scanner, Face Recognition and a fingerprint sensor, the Galaxy S8 keeps all your data secured from unauthorised access.
It has 8 MP front camera, 12 MP rear camera, is waterproof and has a special button to launch Bixby at a touch.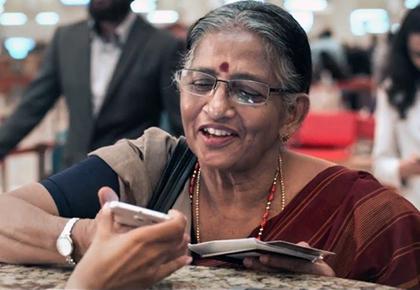 Lead image used for representational purposes only.