The latest avatar of the iPad, at least outwardly, is a dead ringer for its predecessor from last year. The biggest change, however, is support for the stylus, says Abhik Sen.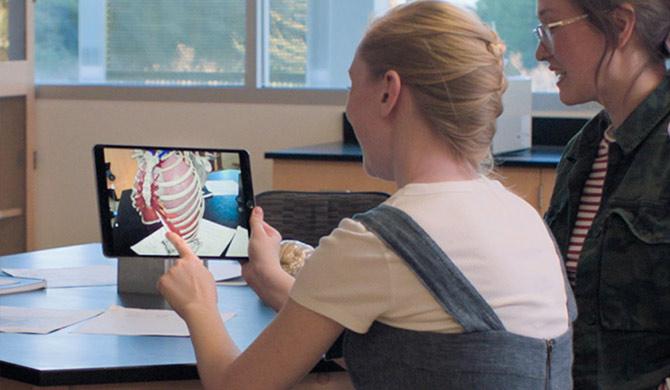 Last week, I was reminded of my high school days, to be precise, one particular class.
As a student of the biosciences, I have bittersweet memories of biology practical classes that involved dissection.
On the one hand, my teacher praised me for my tissue slides (called me a natural with the scalpel -- no doubt influenced by my father's rather pre-eminent reputation as a surgeon in our small town); on the other, as an animal lover, I was sad at the loss of lives the classes led to... of the frogs and lab mice.
But last week, I dissected a frog, without the scruples and the messy bits.
And, for that, I had to thank the latest Apple iPad (from ₹28,000).
Oh, and in place of a scalpel, I used the Apple Pencil (₹7,600).
The app that let me do this was Froggipedia, which also supports augmented reality, and using which I could place a frog on my dining table, much to the dismay of my wife!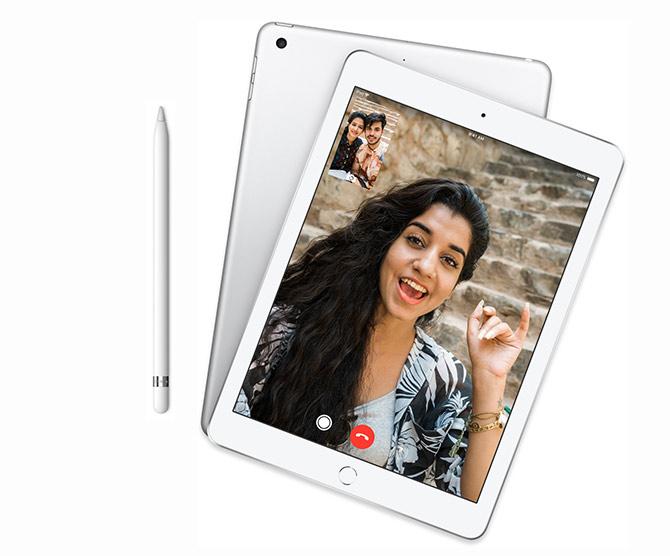 The latest iteration of the iPad, at least outwardly, is a dead ringer for its predecessor from last year.
The biggest change, however, is support for the stylus (one can also use one's finger).
Also, it is powered by a zippier processor which was in evidence when I played games such as Thumper: Pocket Edition and Asphalt 8: Airborne.
In many other respects, though, it remains the same -- such as the screen and the connectors; that is, this iPad misses the TrueTone and TrueMotion screen, the Smart Connector and the speakers its elder sibling the iPad Pro sports.
This means the 2018 iPad's screen wouldn't colour tones; the lower refresh rate means the stylus is a tad less responsive, but you'll understand that only if you're a professional artist; only Bluetooth keyboards can be connected to the iPad; and this one's not as loud as its elder sibling.
The real heroes, however, are the apps.
With Apple tweaking its iWork suite to support the Pencil, I realised one could easily annotate stuff in Pages, just like proofing a page.
I wish Word comes out with this feature soon.
Besides, the iPad also doubles up as a teleprompter -- a godsend in these days of videos and vlogs.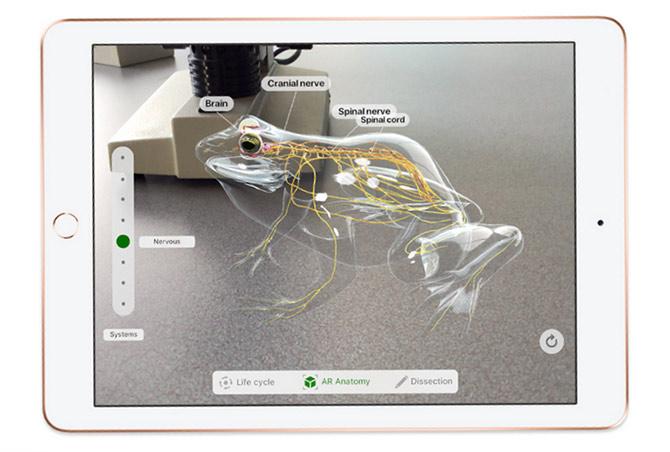 Besides Froggipedia, Ahmedabad-based Designmate has a host of other educational apps.
I also loved the WWF Free Rivers app, which allows one to place a river on one's table and interact with it -- for example, I built a dam across the river and the green fields, cut off from water, began to disappear.
On Boulevard AR, not only was I able to explore works of art, but was also able to place them on my walls and examine their frames.
And of course there were old favourites such as Insight Heart, which any child or teacher would love to have.
Plus there are tools for both teachers and students, something I wished I had as a student (and my mom had, when she taught in school).
Apple will also debut Everyone Can Create specific to the Indian school curriculum later this year and, if I go by what I've seen already, this should be interesting.
The thrust that this iPad (and its apps) have towards education got me thinking: Was this the blackboard of the future? It could very well be if I go by the immense amounts of good educational apps developers are coming out with.
As for the rest of us, it could be your first step towards a productivity tablet.
And if you were craving for an iPad Pro, this is the 'budget' version.
If you don't want support for the stylus and already own the 2017 iPad, stick with it.