The screen does the job, the speakers don't, says Khalid Anzar.
Television screens are among several electronic devices, like music players and cameras, that have faced an existential crisis since the inception of smartphones.
Once a prime source of entertainment, television has lost its monopoly to smartphones, which come with live streaming capabilities and the convenience of mobility.
However, the television industry seems to be fighting back with smarter products that are no longer just big screens that take up too much space.
The recently launched Thomson UD9-series 55-inch Smart LED, an entry-level TV with an ultra-high-definition resolution panel that supports high dynamic range content, is not special because of its panel or how it looks, but because of its simple user interface and pre-loaded content.
It is powered by a 1.2 GHz processor and is mated with 1GB of RAM and 8GB of internal storage for apps.
The processor is paired with an ARM graphic processing unit to handle HDR10 content on the mammoth 55-inch screen panel.
It also helps in upscaling the content from standard definition to high definition.
The TV boots a customised version of Google Android and supports several streaming services out of the box.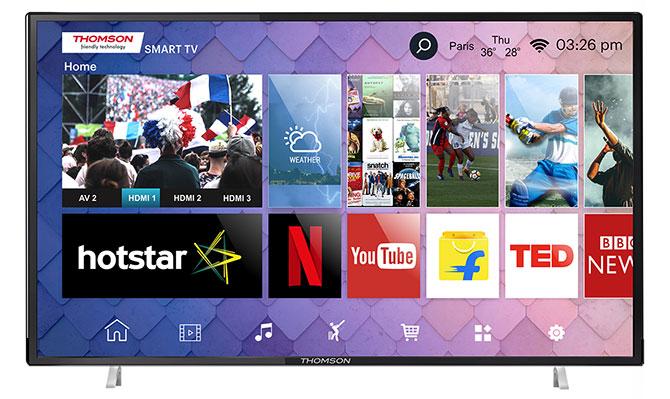 The television is neither slim nor bulky.
It has a sturdy design with its front dominated by the screen -- with thin bezels -- and a strong plastic back that houses the connectivity ports.
Even though its high pixel density makes the content look sharp, the overall picture quality is far from class-leading.
The blacks are not deep, which also hampers its contrast ratio.
However, as a daily driver to keep you entertained, the screen is good to go.

Its user interface, called My Wall, is quite easy to operate.
It shows content from different online sources, such as YouTube and streaming services like Netflix and Hotstar.
The television can either be used to watch online content through streaming services or digital-TV content through a set-top box.
Even though the online content is scattered, a dedicated search option available at the top of the screen makes it easy to locate specific content within the apps.
The remote controller, which is used for all the clicking and typing, is a basic unit that does not support voice commands.
Though it has been optimised to work around the television's user interface, the lack of contemporary functionalities such as a touch-sensitive joystick, voice command and point to highlight and select diminishes its utility and hampers the overall functionality of the television.
Another downside of this TV is its speakers.
Their power is insufficient for a 55-inch smart TV.
Sold for Rs 39,999, the Thomson UD9 makes for a good buy as an entry-level smart TV.
It has a vast library of online content and comes pre-installed with Netflix and Hotstar (related apps can be downloaded).
It also supports Miracast to share mobile content on the screen.
But like in so many other entry-level smart TVs, the quality of the built-in speakers and the remote controller remains a compromise.