The ability to operate the Roomba 695 from remote locations makes it a unique proposition, says Khalid Anzar.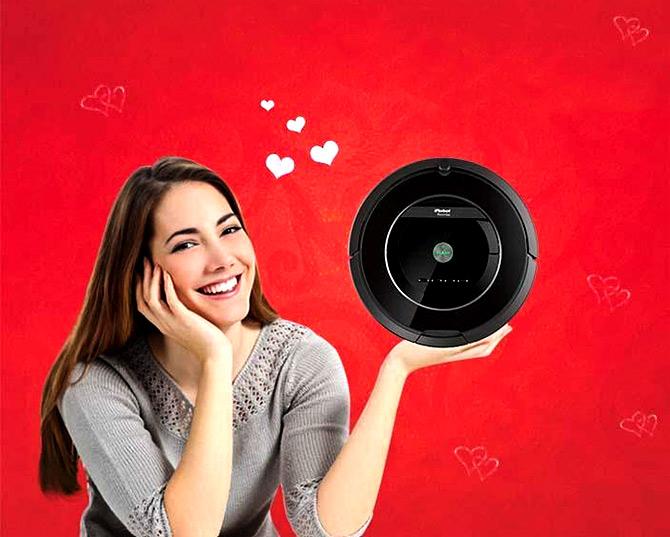 Like many, I leave the cleaning chores for a tomorrow that never comes.
So the idea of automating cleaning with little human supervision has always intrigued my imagination.
Then I came across the iRobot Roomba 695, an intelligent vacuum cleaner developed by roboticist experts at the Massachusetts Institute of Technology.
The Roomba 695 has a lightweight, no-frills disc design with three buttons on the top surface and a suction hose, cleaning brushes and other tools at the bottom.
While the front of the robot's circumference hosts sensors, the back features a removable dust and garbage storage bin.
Operating the robot requires only a push of a button.
The robot picks up dirt, dust, pet hair and any kind of grime from the floors.
It is not quick in doing the job, but requires no supervision and, therefore, can be left working even when you are not at home.
It comes bundled with a palm-sized vertical stand with a sensor that acts as a virtual wall -- a boundary the robot does not cross.
The machine has different cleaning modes -- for carpet and floor -- and switches between them as it moves from one surface to the other.
It also adjusts the cleaning time based on how much effort is required to do the job.
The side sweeping brush picks up accumulated dirt from edges and corners.
The ability to operate the Roomba 695 robot from remote locations makes it a unique proposition.
Priced at ₹39,990, the machine would have been a complete package if it could just go back to its charging station automatically.
Instead, it stops abruptly in the middle of cleaning.