After the Vivo NEX launch, it's the turn of its sibling, the Find X, to dazzle you, says Ashish Narsale.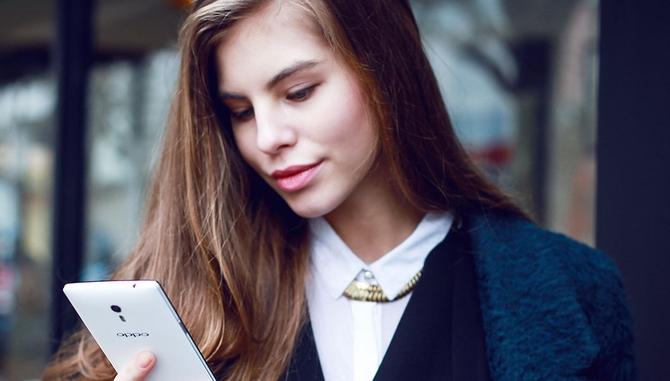 The Find X is all set for its global launch at The Louvre, Paris, this evening (12.15 am, June 20, IST).
If rumours are to be believed, Oppo's latest flagship will have a screen-to-body ratio of 93.8 per cent as opposed to that of Vivo NEX series' 91.24 per cent, which is the highest ratio to date.
The screen-to-body ratio is the area occupied by the display with respect to the body of the phone.
A ratio of 93.8 per cent leads to a very small bezel at the bottom.
The Find X is expected to sport an AMOLED screen with a display resolution of 2340 x 1080 (FHD +). Many phone companies nowadays are opting for an FHD display as opposed to a 4k since the latter consumes more power than an FHD.
It is also rumoured that the phone will deliver its performance via Qualcomm's Snapdragon 845 SoC, embedded with Adreno 630 for a high-end graphics performance.
8GB of RAM will further fuel the ride and you will have 128 GB/ 256 GB of ROM storage to play with.
That's not all: you can expand its storage using a micro SD card.
The most amazing innovation is expected to be the fact that there will be no cameras on the rear side of the phone. Instead, the camera will slide out or rise out from the phone's body.
In the camera department, the Oppo has included yet another new innovation.
At the MWC 2017 in Barcelona, Oppo had showcased its periscope style dual camera setup that attained a 5X lossless optical zoom without protruding the lens outside the phone's body.
In the dual camera setup, one of the cameras with the wide angle is placed conventionally, aligned face up with the image sensor, while the other camera that provides the optical zoom is placed periscope style, hidden away from your eyes.
The image sensor and the telephoto lens of the periscope style camera are placed at 90 degrees with a mechanism where the lenses can move up and down parallel to the flat side of the phone.
A prism is placed at the rear of the phone directs light at 90 degrees to the image sensor, which is also placed at 90 degrees.
Thus, this periscope style camera simulates the working of conventional zoom lens within the phone's body itself.
Powering the phone, it is rumoured, will be Oppo's proprietary Super VOOC Fast Charge technology showcased at the MWC 2016.
Find X's routine specs like under-display fingerprint scanner, type-C connector and face unlock are similar to the one found on the Vivo NEX.
Watch this space for further updates on the Find X.
Note: Image used by representational purposes only.