When life hands over lemons, the smart ones make lemonade.
Illustration: Dominic Xavier/Rediff.com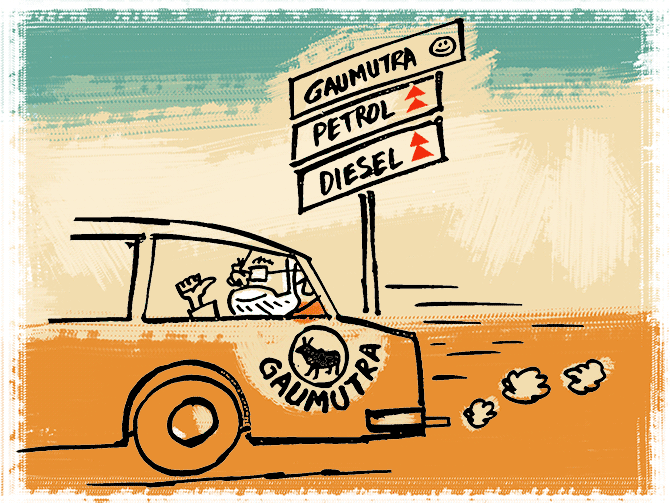 Fuel prices have hit the roof.
Unfortunately, we still have to continue stepping out of our homes for various reasons.
Some of you who have never used public transport in your lives may be looking for alternative means to cope.
If you ask us, this is the perfect opportunity to search for an out-of-the-box solution.
Here are some ideas to get started with:
Invent a car that runs on gaumutra
So what if you never made it to the IITs or NITs. This is your golden chance to create the next big thing in India.
Cows are sacred and if you can find a way to use urine to power vehicles, you'll be an Ambani in the making.
All hail gaumutra!
Find out which bank is offering a fuel loan
Housing loans are passe.
There should be a bank secretly offering loans to fund fuel costs. You just need to ask.
Pray for an early monsoon so you can use a boat/swim
In India, when all else fails, we perform a yagna.
You may even marry off frogs. Do what you may to please the raingods so that they bless us with an early monsoon.
Given that the municipal corporation is always unprepared, there will be enough water on the roads for you to hire a boat or even swim to work.
You can save on parking and toll costs too.
Change your CV to 'Will work for fuel'
Your resume should deal with specifics.
Change your salary requirements to match your current fuel costs.
If your company can't match your fuel demands, you shouldn't be wasting your time there.
Look for a new job ASAP!
Follow Gandhi, go on a dandi march
You may finally agree that Gandhi had a futuristic mind.
Now that the fuel hike has limited your commuting options, how about a modern dandi march?
Google Maps, can ya help with shorter routes please?
Try flying
The situation demand that you become a desi superhuman.
How about signing up for flying classes? Maybe you can ask Sallu bhai to refer you to his trainer from Race 3.
Bhai will never say no, we hope.
Invest in a hot air balloon
What good are those adventure rides if they can't bail you out in difficult times?
Ask the Tripura CM for advice
Right now, there is only one man in India who is thinking out of the box and belting out original ideas.
If you ask him, Biplab Kumar Deb will definitely offer his two cents on how to deal with this situation.
After all, it's not like the world is coming to an end, is it?
Do you have more quirky solutions to the fuel problem, dear readers? Do share them on the message board below.
*PLEASE NOTE, this feature is to be consumed with a pinch of salt.