What are you doing this Halloween? Here's our list of the top 6 spookiest parties for a 'freaky' good time.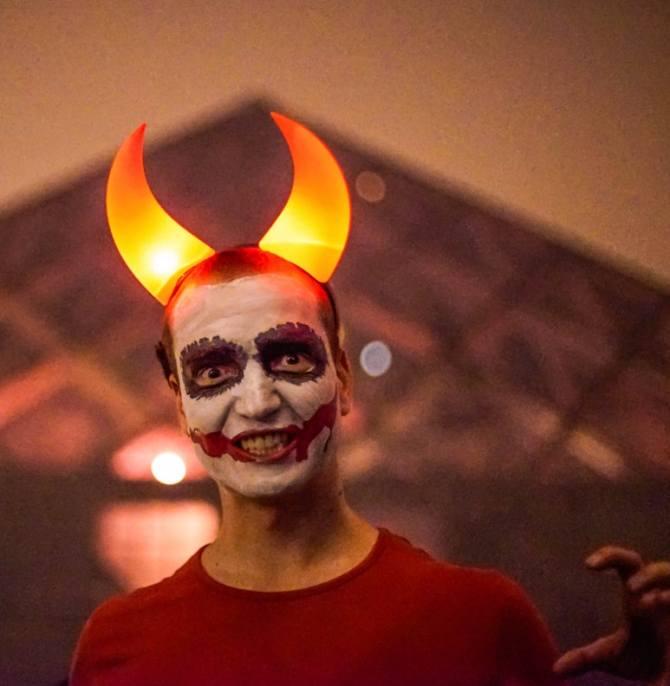 Halloween falls on Saturday this year, and popular pubs, restaurants and watering holes are pulling out all stops to ensure that it'll be a spooky and dramatic night. Expect some great Halloween-themed parties, dramatic set-ups with tombstones, spider webs, fog and glowing pumpkins, and an interesting line-up of lip-smacking ghoulish food and eerie cocktails.
Years ago, people believed that with the onset of winter, ghosts returned to Earth. To disguise themselves from these ghosts, people wore masks and dressed up in costumes which bore strong resemblance to spirits. Spooky as it may sound, this was how Halloween was celebrated years and years ago.
Today, the mystery, magic and superstition of Halloween have disappeared. However, what stays is the celebration, and back home, people are gung-ho about making this annual celebration a day to remember. Mumbai, Chennai, Bangalore and Delhi have lined-up Halloween events by the dozen.
Here's the lowdown on what's planned this Halloween. Read on to find out what's happening in your city.
Revolting Halloween Treats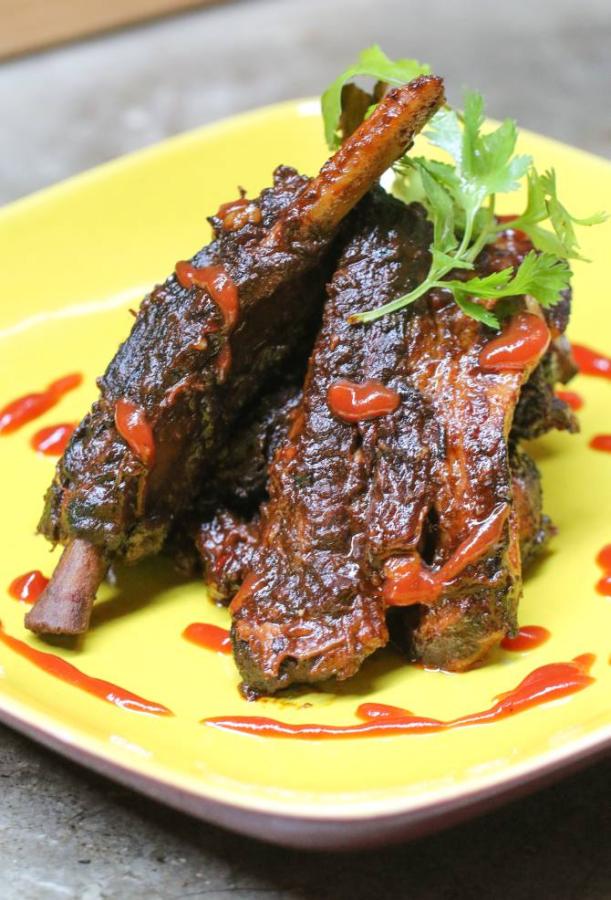 Dressing up food is part of the Halloween tradition. Close on the heels of their international counterparts, Indian chefs have lined-up spooky, spine-chilling treats for patrons. From 'Dracula wings' to 'Devil's Fries', yummy cocktail sausages disguised as blood-dripping fingers to strawberry jam masquerading as clotted blood, chefs have donned their creative hats to keep up with the Halloween theme.
Their enthusiasm proves that Halloween is no longer just about pumpkin soup and stocking up apples for bobbing. Getting creative in the kitchen, chefs at Delhi's Monkey Bar are adding a dash of 'horror' to their menu with 'Funny Bones' (pan caramelised BBQ Belgian pork ribs with spicy paprika sauce) and 'Dracula Wings' (spicy, deep fried chicken wings tossed with blue cheese dip).
Hoppipola, Mumbai hopes to surprise patrons with 'Worm-crusted Cheesy Mushrooms' and 'Slaughtered Fingers', which are a disarming combination of some lip-smacking ingredients.
Eerie Cocktails
Creepy, sinister-looking cocktails, cauldron bubbles and poison punches are all set to grace the bar. A welcome nod to the Halloween theme, the ghoulish cocktail line-up at Tilt All Day, Mumbai includes 'Vampire's Kiss', 'Pumpkin Squash', 'Devil's Punch', 'Dracula's Blood', 'Blue Lime Ghost' and 'Candy Corn Martini'.
The 'Blood Bank' cocktail at Mumbai's Hoppipola is sure to let a chill run down your spine.
The Sassy Spoon, Mumbai has lined-up a wild hopscotch of cocktails like 'Grimm Reaper' (house-infused spice whisky with fresh citrus mix) and 'Hocus Pocus' (tequila, lime juice and cabernet sauvignon). These drinks will keep you going all night, as you prepare to frighten the lost souls of the night.
A preview of the most-talked of parties
1. Fright Night at Monkey Bar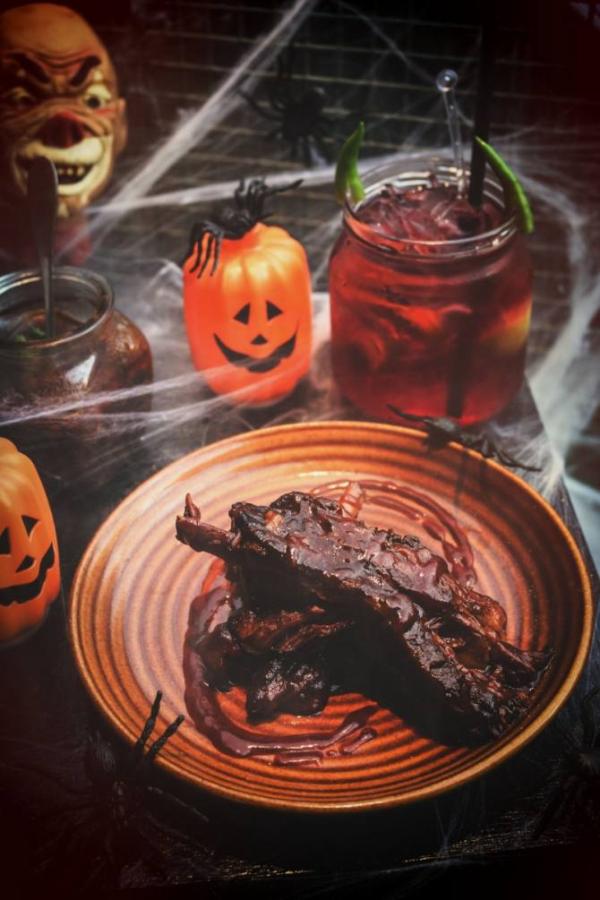 Be prepared to be spooked with tombstones, spider webs and glowing pumpkins thrown into their ambience. 'Horror' is the theme here. The chefs have an interesting line-up of cocktails like 'Poison Punch', 'Killer Cocktail', 'Jameson Finger and Lime', 'Jameson Bloody Mary', among others.
When: 8.30 pm onwards, Oct 31
Where: Monkey Bar, Linking Road, Bandra (West), Mumbai and Monkey Bar, Vasant Kunj, New Delhi
2. The Sassy Spoon, Mumbai
You can kick-start your Halloween with lunch at The Sassy Spoon. They plan to roll out the 'horror' carpet for you with Jack-o-lanterns, fun pranks, wicked costumes, 'revolting' food and eerie cocktails.
Where: The Sassy Spoon, Express Towers, Nariman Point, Mumbai
When: 12 Noon to 3.30 pm and 7 pm to 12 midnight, Oct 31
Where: The Sassy Spoon, Next to Holy Family Hospital, Hill Road, Bandra, Mumbai
When: 12 noon to 10.45 pm, Oct 31
3. Black Pearl, Bangalore
Be prepared to bump into people dressed like the grooviest swashbuckler, Jack Sparrow at this Pirates Bash. Dress in black and be surprised with free goodies.
Where: Black Pearl, Vikas Tech Park, Jyoti Nivas Road, 5th Block, Koramangala, Bangalore
When: Oct 26 to November 1
4. Raasta
Halloween lovers can indulge in a ghoulish celebration with tombstones in backyards, spider webs and plenty of grim surprises. Here's your chance to dress up in your 'scariest' best. Raasta at Hauz Khas is hosting a special Goosebumps and Halloween party.
Where: Raasta, Cyber Hub, Gurgaon
When: 9 pm onwards, Oct 31
Where: Raasta, Hauz Khaas Village, New Delhi
When: 8 pm onwards, Oct 31
5. Gatsby, Chennai
Put your dance moves to good use, as you burn the dance floor at this Halloween party. Gatsby transforms into a ghoulish castle with eerie décor and spooky music. Come dressed in your spooky best, and receive a special wicked treat.
Where: Crowne Plaza, Adyaar park, Chennai
When: October 30 and 31, 8 pm onwards
6. Hoppipola, Mumbai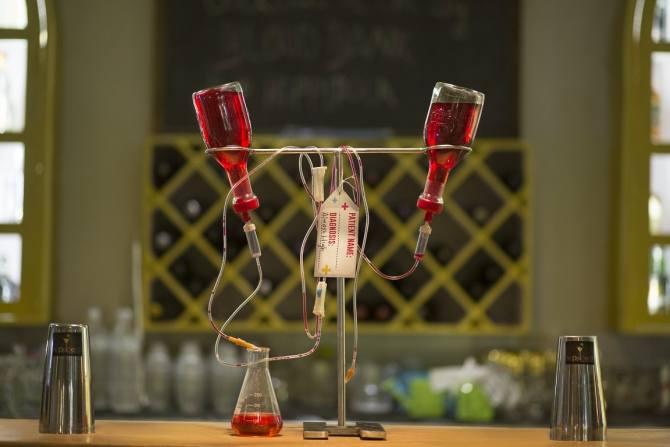 Come unleash your dark side without any inhibitions. They are hosting a frightful bash with spooky cocktails like 'Dracula's Blood' and 'Ghostbusters', along with some fiendishly good food. The best dressed takes away a bottle of champagne.
Where: Hoppipola, Khar (West), Mumbai
When: All day, Oct 31
Also Read:
IMAGES: Amazing celebrity Halloween costumes!

IMAGES: Outrageous celeb Halloween costumes!