Look no further than these popular Instagram accounts.
They have an insatiable appetite.
They are known to eat breakfast and lunch like royalty.
They know some of the city's lesser-known food joints and will gladly give their Instagram followers a virtual food tour of Mumbai.
Presenting 10 popular foodies in Mumbai who are sure to take you on a gastronomical adventure.
1. @thehungrymumbaikar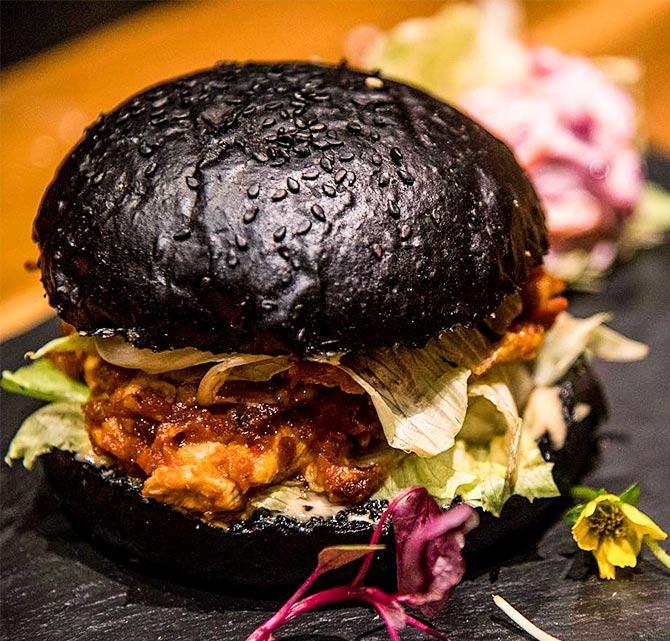 IMAGE: The Hungry Mumbaikar aka Rohit Haryani is a food blogger and consultant, who will introduce you to the best Mumbai has to offer when it comes to food, like this delicious juicy black bun burger (above) that he ate at Global Chaos.
From a'naan pizza' to 'masala pav pulled apart', 'Nutella sea salt kulfi' to 'lip-smacking butter idli fry', he'll treat you to the best Mumbai has on offer.
Followers: 74,500
Photograph: Kind courtesy The Hungry Mumbaikar/Instagram
2. @bombaybhukkad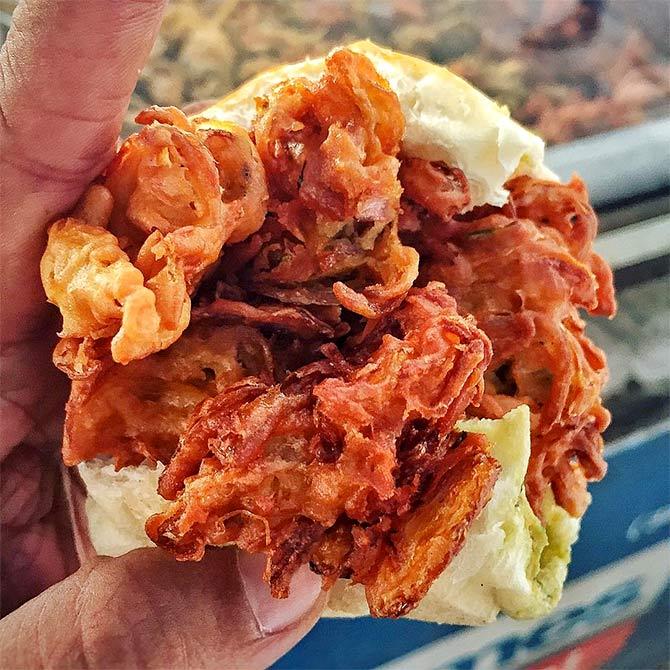 IMAGE: Bombay Bhukkad has the knack of making food look so tempting -- you'd want to eat as soon as you see a pic of it on Instagram. Take the case of this stunner (above)...the kanda bhaji that he found opposite an SBI Bank under the Lalbaug Flyover.
Bombay Bhukkad sticks to the local Mumbai flavour with Maharashtrian delicacies like thalipeeth (a savoury multigrain pancake), phodnicha bhaat, misal pav, poli bhaji, etc and shares his experiences eating these local delicacies in tiny hole-in-the-corner shops and stalls. He is more of the frugal foodie.

Followers: 29,300

Photograph: Kind courtesy Bombay Bhukkad/Instagram
3. @best.of.bombay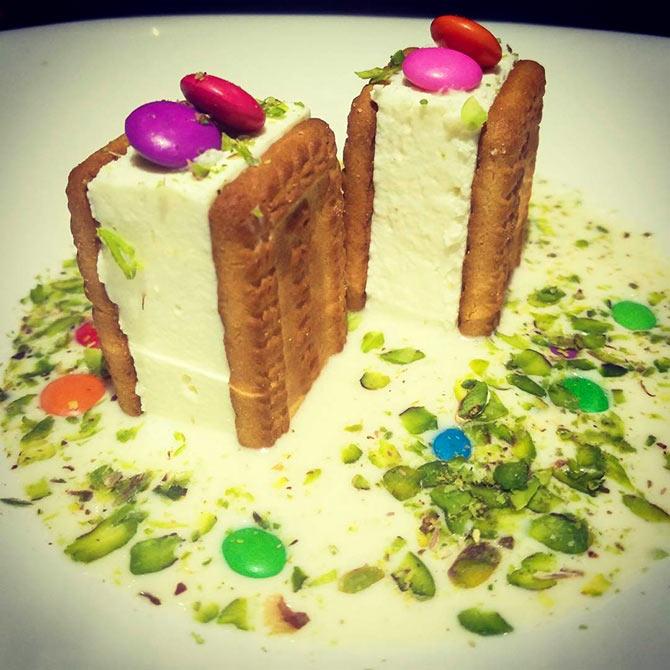 IMAGE: The Instagram handle says it all -- it is about the best finds in Mumbai.
If there ever was a food directory telling you about the places in Mumbai, you should be eating at, that would be the Best of Bombay. It has a little of everything -- Parle G cheesecake (above), waffles and hot chocolate, potato twisters, raspberry soda, zatar naan, etc.
Log on to the Instagram page and you'll be lost for words.

Followers: 61,400

Photograph: Kind courtesy Best of Bombay/Instagram
4. @branded_bawi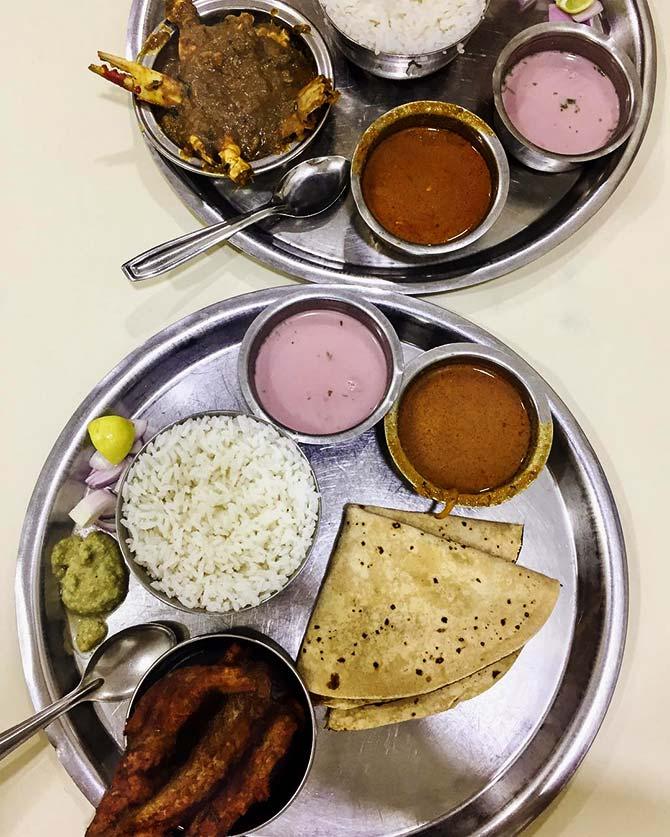 IMAGE: Branded Bawi aka Zenia Irani is the one who will tell you about tiny hole-in-the-corner restaurants in your neighbourhood.
A clinical audiologist and speech language pathologist by profession, Zenia's real passion is food. Her posts are all about eating, cooking and exploring new cuisines in the Maximum City.
Her Parsi influence trickles down to her Instagram page and she has introduced followers tolesser-known treats like sev tameta nu shaak (curry prepared with sev and tomato), schezwan locho (a Gujarati recipe combined with Chinese sauce) and paneer jalebi from Bhopal (yes you heard it right).

Followers: 5,704
Photograph: Kind courtesy Branded Bawi/Instagram
5. @drinkmumbai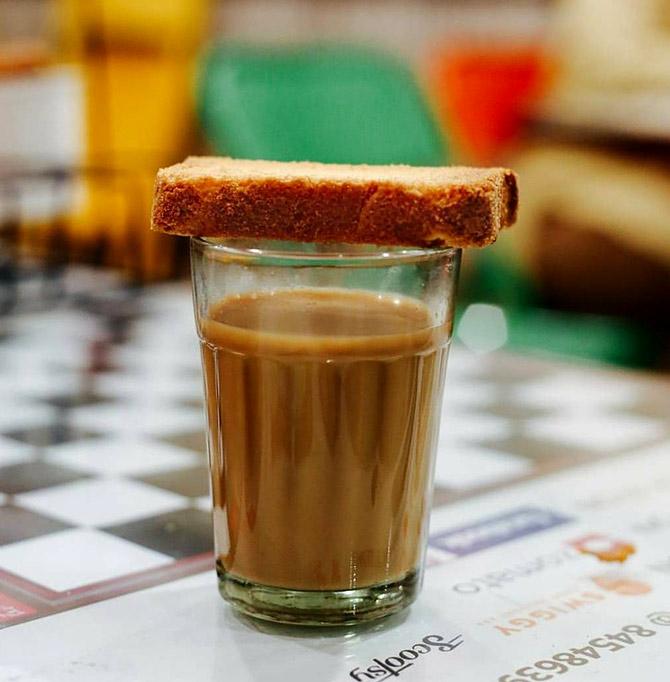 IMAGE: We didn't believe it at first, but there is an Instagram page dedicated to just curating the city's best drinks.
You will find delicious drinks like the Paani Kam Kadak Cutting (above) at Chai Pe Charcha, Freak Shake at DOH All Day, raspberry soda at Kyani and Co, etc. here. It is the place for the thirsty souls to discover a new drink.

Followers: 1,89,000

Photograph: Kind courtesy Drink Mumbai/Instagram
6. @mumbaifoodie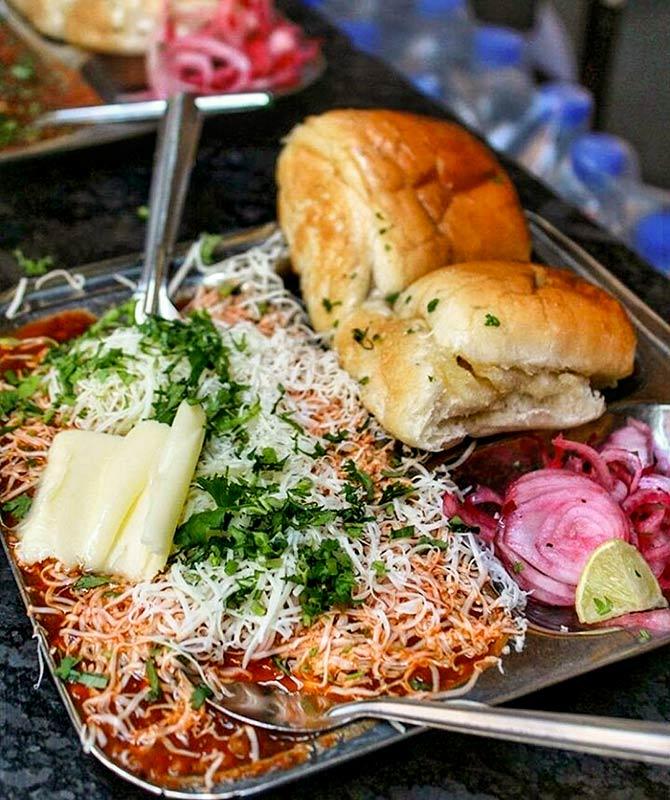 IMAGE: Their Instagram page will definitely make you hungry will pics of pretty little desserts, mouth-watering fries, amazing cheesecakes, translucent dumplings, and much more. You can call them the curator of all good food available in the city. They are the champions of street food.

They make it easier for their followers to find the eateries mentioned by including a Google Maps location. Pretty thoughtful, isn't it.

Followers: 2,17,000

Photograph: Kind courtesy Mumbai Foodie/Instagram
7. @mumbaifoodjunkie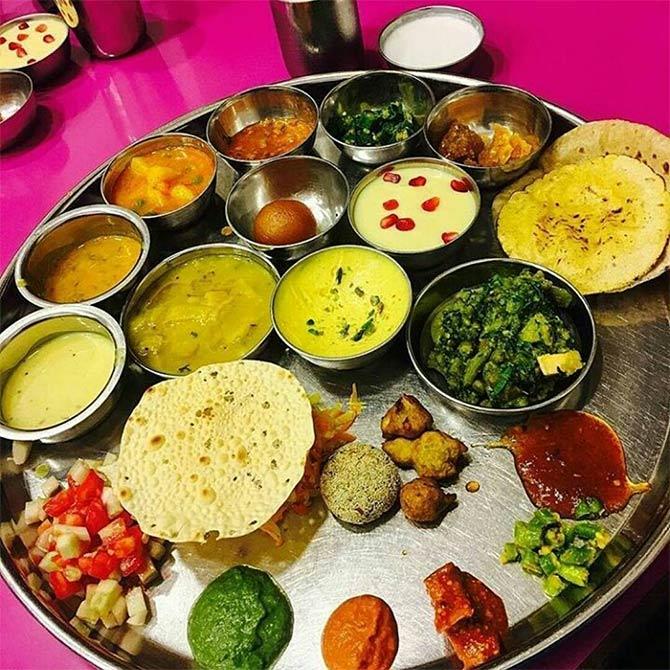 IMAGE:

Mumbai Food Junkie brings you the best of Aamchi Mumbai!


From multi-cuisine restaurants to pocket-friendly food, you name it and they will keep you posted.

One look at their page, and you will be shocked to know the variety of food available in Mumbai. From strawberry and pan ice cream sandwiches to krabby pattie burgers, gulab jamun tarts to three cheese quesadillas, marshmallow cookies to brahmin idlis, the list is endless.

Followers: 85, 800

Photograph: Kind courtesy Mumbai Food Junkie/Instagram
8. @munchymumbai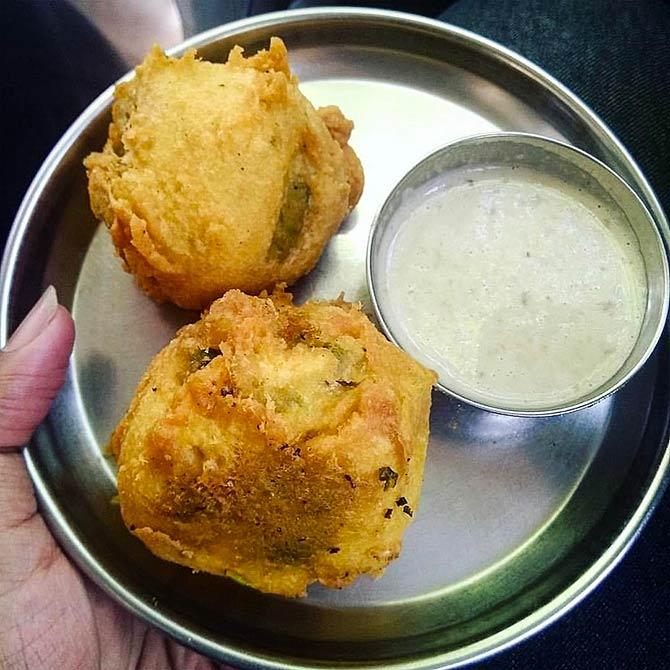 IMAGE: The brainchild of two students, Sagar Rupani and Parth Kothari, this account

promotes homemade food. They are a hit among Mumbaikars, who constantly visit their page to get recipes of some of the delicious food that's shared.


Now they have started chronicling their food journeys across restaurants, small food joints and lesser know eateries in Mumbai. You can discover tiny food stalls selling some tempting delicacies like the Mexican cheese panini at Raju Sandwich in Churchgate or the batata vada (above) at Prakash in Dadar.

Followers: 1,22,000

Photograph: Kind courtesy Huungry_engineer/Instagram
9. @poojadhingra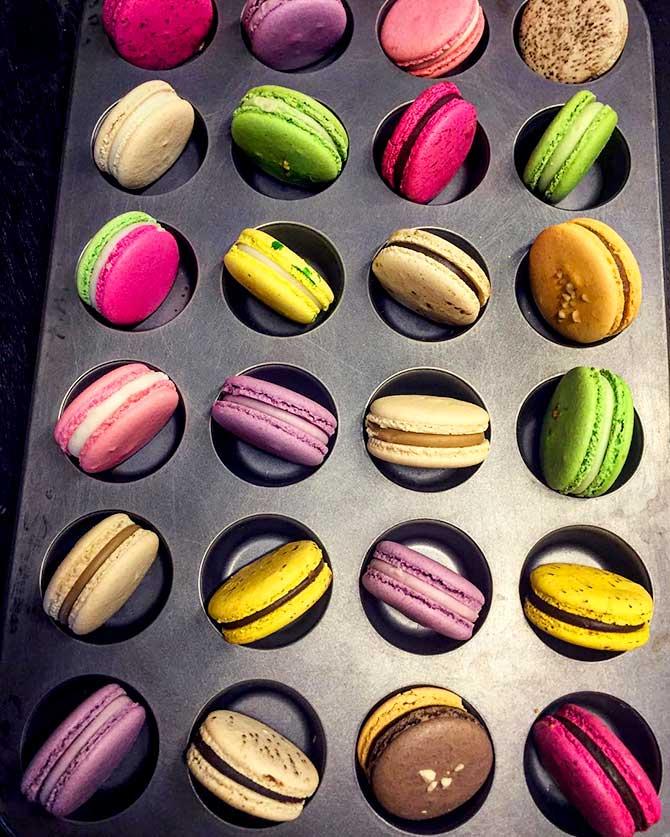 IMAGE: She's called India's Macaron Queen for a reason.
If you love macaroons, delicious treats but with a healthy twist, and want to know where to find them in the city follow pastry chef Pooja Dhingra.
Her Instagram page will give you a glimpse of how she makes those delicious peanut butter, blueberry and raspberry macarons.

Followers: 1,04,000
Photograph: Kind courtesy Pooja Dhingra/Instagram
10. @thegobblediaries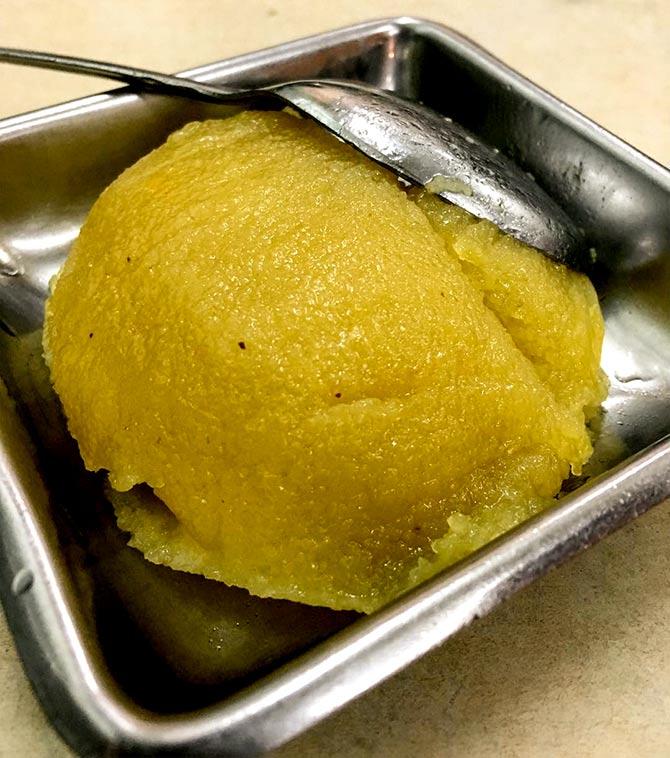 IMAGE: Here is a warning before you venture out to explore the The Gobble Diaries aka super foodie Aashna Jogani's Instagram page: You might fall into a food coma or might start drooling over your screen.
Either way, they promise to provide you with the best vegetarian food, trends, and offers in the city. Meat lovers, you might be tempted to say goodbye to your carnivorous days!
Hats off to Aashna for finding a baker who makes eggless macarons and a vegetarian sushi boat too!

Followers: 36,900

Photograph: Kind courtesy The Gobble Diaries/Instagram
Follow this
link to post the best of your food pics and we will publish them right here on Rediff.com!
Share your food pics along with a short description of the food and the place you clicked it.
Steps to upload pic on ZaraBol:
1. Click on 'Add Image' option on the left side of the #RediffFoodies page.
2. Upload an image from your computer/phone.
3. Write a small description for your image in the box above.
4. Hit post and see your image on ZaraBol.