Why visit KFC when you can make these yummy delights in your own kitchen?
Reshma Aslam tells you just how!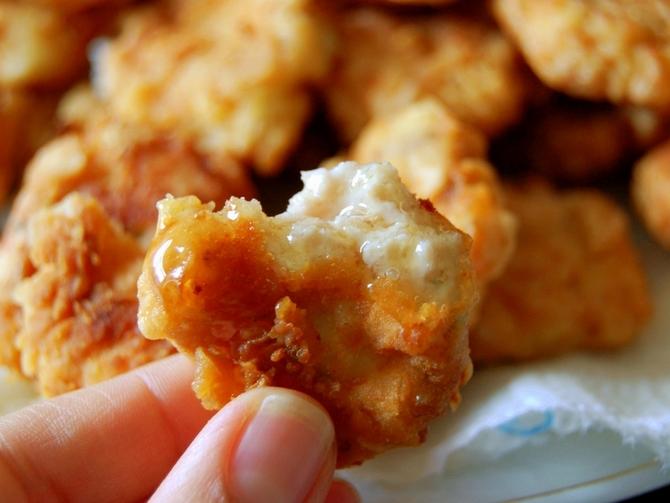 Marinating time: 2 to 3 hours
Preparation time: 30 minutes
Ingredients:
500 gm boneless chicken
2 tsp black pepper
1 tsp roasted cumin seeds powder (jeera)
1 tbsp ginger garlic paste
4 green chillies paste
1 lemon
1/2 cup fresh cream (I use Amul)
2 eggs
1 cup all purpose flour (Maida)
1 cup of bread crumbs/plain cornflakes ground
Salt as per taste
Oil for deep frying
Method for preparation:
Cut the boneless chicken into small pieces. Wash well and drain out all the water (press the chicken pieces in both the palms of the hands so no water remains).
Put the chicken pieces in a bowl.
Add salt to taste, lemon juice, pepper powder, ginger garlic paste, cumin seeds powder, green chilli paste and fresh cream. Mix well.
Keep it in the refrigerator for two to three hours to marinate.
Put all-purpose flour and bread crumbs in two separate plates.
Whisk two eggs in a bowl.
Heat oil in a pan to deep fry the chicken.
Remove the chicken from the refrigerator.
Now, pick each marinated piece of chicken with a fork, coat it with all purpose flour, dip it in the egg, and then roll it in bread crumbs.
Deep fry the chicken pieces in hot oil. It should take about 10 minutes of frying time for the chicken to be done.
When the chicken pieces are golden brown, remove from pan and drain excess oil on tissue paper.
Your chicken nuggets are ready.
Serve hot with tomato sauce or green chutney.
Note:
The content of the chilly paste and pepper powder can be adjusted to individuals taste.
The more time given for marinating of the chicken, better is the taste.
> More recipes and food features here
Photograph: My_Amii/Creative Commons