Experts tell you where to find the finest crusts with the most savoury toppings in these Indian cities. (And so can you! Here!)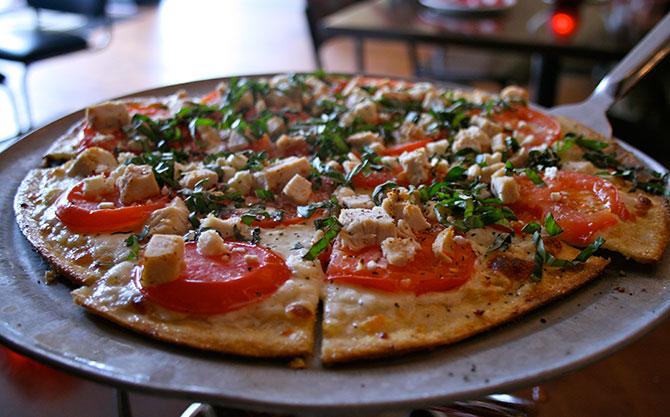 With the leafy environs of Mehrauli in the background and the balmy sun gleaming off the pristine white walls of the restaurant, I sit down to sample Olive Bar & Kitchen's signature 18-inch Parma Ham and Rocket Milano Paper Pizza.
I am sure the embarrassingly loud crunch of the pizza in my mouth can be heard even at the Qutab Minar looming in the distance.
Far from the soggy paratha-like thin crust pizzas served elsewhere, this one is crisp and is loaded with toppings. The freshness of rocket leaves and the nutty Parmesan cheese complement the acidity of the tomato sauce that carries a hint of tabasco.
I am here after Shuchir Suri of Food Talk India -- an exclusive online platform for people to share their culinary adventures -- rated this pizza as the best in Delhi, and I couldn't wait to try it. But, wait, there's a tie.
Olive's Parma ham pizza shares this distinction with Indigo Deli's Parma ham, asparagus and scamorza pizza.
"There are only two places in India that can manage wafer-thin pizzas and one of those is Indigo Deli," says Suri.
It's amazing how the generous toppings of Parma ham, asparagus and cheese don't make the papad-thin crust soggy. Each ingredient does a bit of a solo dance on your palate and yet at the end joins hands with the others to complete the choreography.
Coming in close second is the New York Slice in Hauz Khas which is great for "American-style greasy pizzas," says Suri. And if it's a novel take on Indian ingredients that you want, then head for Fat Lulu's in Gurgaon that uses bhoot jolokia oil in the dough.
Price: Rs 725 plus taxes at Indigo; Rs 1,250 plus taxes at Olive Bar & Kitchen
Where: Indigo Deli, Ambience Mall, Vasant Kunj; Olive Bar & Kitchen, One Style Mile, Haveli 6, Kalka Das Marg, Mehrauli
- Avantika Bhuyan
***
Bangalore: Unusually Well-done!
For Kripal Amanna, editor, Food Lovers magazine, Toscano tops the list of best pizzas in Bangalore. "They make exceptionally good pizzas, whether it's a classic margherita or their salmon pesto pizza," she says.
"To me, a good pizza is the right balance between the crust and the topping, and that's what Toscano does. They have a whole range of toppings available, and I love the texture of the pizzas."
To me, smoked salmon seems like a slightly unusual choice of topping. The pizza comes topped with mozzarella and tomato sauce, with each slice of salmon having been drizzled with basil pesto.
I'm not a big fan of salmon personally, but a colleague, who is not similarly hampered, points out that it's done quite well at Toscano.
The crust is thin, and done perfectly. The flavour of the salmon is strong but not overpowering. I can't get any hints of it having been smoked, though. The pesto, too, is subtle. So if you want to look beyond the usual pepperoni and ham pizzas, the salmon pesto pizza might be an interesting choice.
And in case you fancy some pizza for dessert, try out Amanna's choice of quirky pizzas in Bangalore, the Nutella pizza at JW Marriott's Alba. "It's quite decadent, and I'm done with just half a slice!" he says. Amanna adds that among the unusual pizza toppings he's had is one he sampled while travelling on the East Coast, with lobster and Italian artisanal cheese.
Price: Rs 565 for the salmon pesto pizza (excluding taxes)
Where: Toscano, UB City, Vittal Mallya Road
- Indulekha Aravind
***
Kolkata: Going The Traditional Way
Chef Shaun Kenworthy has worked in kitchens across the world -- The Great Eastern Hotel, London, and Alcazar in Paris to name a few -- and has tasted pizzas at gastro pubs, diners and fine dining eateries. To him, the ones served at Kolkata's Fire and Ice Pizzeria match global standards.
"The best pizza that I have had there is the pepperoni one," he says. "I love making quirky pizzas, but whenever I eat out I stick to traditional Italian hand-tossed ones, the ones they serve in Chicago and New York. Simplicity is key to a good pizza."
I too taste the classic pepperoni pizza and while it is great in taste, it doesn't offer value-for-money to the customer as it doesn't come generously loaded with toppings.
To me, the pizzeria that tops the list is Mezzuna, located on Elgin Road, where the must-haves are: tomato pizza with roasted garlic and sweet basil; mushroom, spinach and goat cheese pizza with sun dried tomatoes; and grilled veg pizza with pesto.
The thin crust of the pizza brings out the distinct taste of cheese. The tantalising smell of basil and the near-perfect amount of garlic in the tomato pizza is a clear winner among the veg spreads.
The signature non-veg pizzas include smoked chicken pizza with balsamic glazed onion and the pepperoni pizza with arugula. For a foodie willing to experiment with meat, it's the pepperoni pizza that is a clear winner.
Price: Pepperoni pizza at Fire and Ice is priced at Rs 575; pizzas at Mezzuna are priced between Rs 345 and Rs 445
Where: Fire and Ice Pizzeria, Jawaharlal Nehru Road, near Russell Street; Mezzuna, Elgin Road
- Kamalika Ghosh
***
Mumbai: Half And Half
I was a little surprised by Kalyan Karmakar's response when I asked him about the best pizza in the city. "Pizza Express' joint in Bandra Kurla Complex is my favourite," says Karmakar, who is a food consultant, columnist and blogger.
"The one that I like very much is with a topping of pancetta, blue cheese and leek." However, he asks them to make it without leek and he believes that the pizza tastes much better as a result. I order the pizza, which is called Da Morire, at the Bandra Kurla joint.
It comes loaded with Gorgonzola cheese, crispy pancetta, leeks, artichoke, mozarella, rosemary and chilli oil. However, I am flummoxed while ordering because I want to try the pizza both with leeks and without.
Amey, who takes my order, offers a solution by making the 14-inch pizza a half and half. And I have to say that Karmakar was right in his assessment of Da Morire -- it tastes better without the leeks.
The pizzas here are bigger, thinner and remain crispy till the last piece has been polished off.
Price: Da Morire is priced at Rs 650 plus taxes
Where: Pizza Express, Bandra Kurla Complex
- Reji John
Where do you get the best pizza in town?
Tell us!
Share the address and contact details of the restaurant and your favourite pizza on the menu here on ZaraBol -- #BestPizza -- and we will publish the most interesting responses right here on Rediff.com!
Image used only for representational purpose
Photograph: Todd Jordan/Creative Commons