How do you beat the sweltering summer heat? Stir up a refreshing cooler using lemon and mint.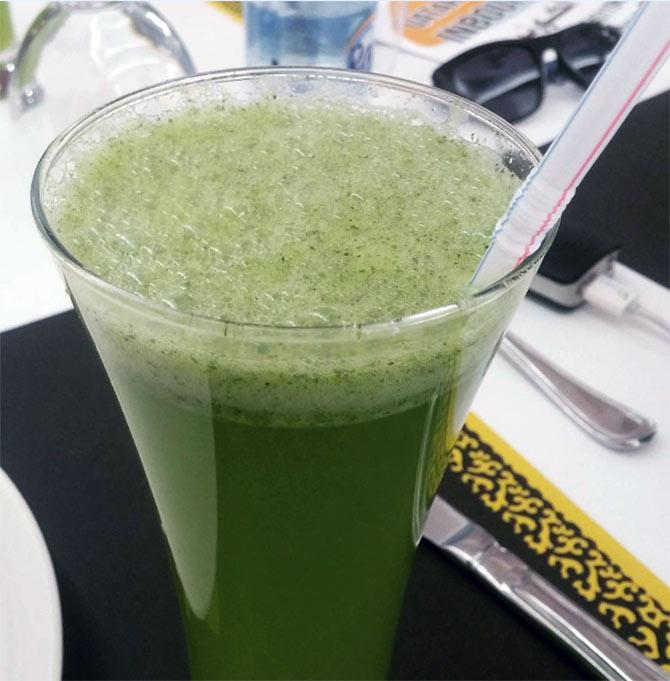 On my recent trip to Doha, Qatar, after an adventurous desert safari at noon, I was treated to this refreshing summer cooler ahead of lunch.
The essence of mint and lemon was just what I needed after the desert adventure.
Here's the recipe:
Ingredients
50 gm mint leaves
Juice of 1 lemon
50 gm crushed ice
Powdered sugar to taste
50 ml soda
For garnish (optional)
Mint leaves
A slice of lemon
Method
In a blender, add mint leaves and 20 gm crushed ice. Blend well to a fine mixture.
In a glass pitcher, add lemon juice and powdered sugar.
Strain the mint mixture and add it to the pitcher.
When you are ready to serve, add soda and mix well.
In a tall glass, add remaining crushed ice.
Add the prepared juice. Check for sweetness.
Garnish it with mint leaves and lemon serve immediately.
Image: Divya Nair/Rediff.com
Click here for interesting recipes and food features
Do you have interesting summer recipes to share? Write in to us at getahead@rediff.co.in (subject: Summer Recipe) with your name, hometown and any interesting details about the origin of the recipe, along with a photograph if possible.
We'll publish the best preparations right here on Rediff.com and in India Abroad.