This easy hack will help you turn your leftovers into something delicious.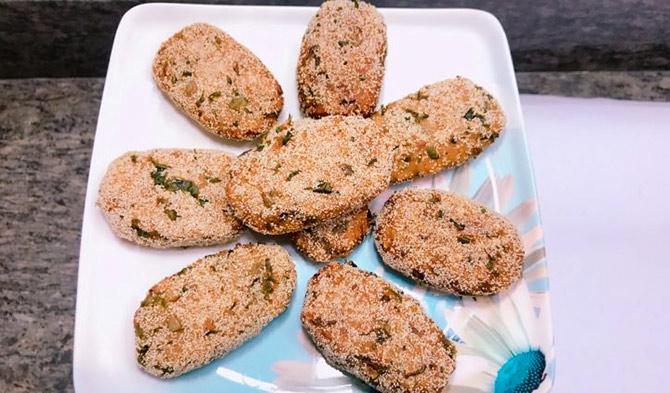 Photograph: Courtesy Siddhi Panchal
Home chef Siddhi Panchal shares her recipe to make delicious rice cutlets with leftover rice.
Just throw in a few healthy ingredients and you have a new dish that will make tea-time exciting.
Ingredients:
1 ½ cup cooked rice
1 large potato, boiled
¼ cup coriander, finely chopped
Semolina, to coat the cutlets
1 tbsp sesame seeds
1 tbsp chat masala
1 tbsp red chilli powder
2 green chilly, finely chopped or crushed
1 tbsp ginger garlic paste
Salt to taste
Method:
Take a bowl, place the boiled potato and mash it.
Add cooked rice and mash. You can use your hands to mash the rice.
Throw in the finely chopped coriander, green chillies, chat masala, red chilli powder, sesame seeds and ginger garlic paste. Add salt to taste and mix all the ingredients well. If you feel that the mixture is sticky, then add breadcrumbs.
Set the mixture aside and heat oil in a pan.
In a plate, spread out the semolina. Make medium-size cutlets with the mixture and coat it with semolina on both sides. Tap the tikki to remove any excess semolina.
Deep fry the cutlets on medium flame until they turn golden brown on both sides. When you fry the cutlets, make sure that the oil is hot enough, or else the cutlets will break.
Place the fried cutlets on a plate covered with a kitchen towel so that all the excess oil is drained. You can then serve the cutlets with green chutney.
You can follow Siddhi Panchal's blog 'Cooking With Siddhi' (external link) for more interesting recipes.