Spicy, tangy and full of goodness, these chutney recipes are hard to resist. Mini Ribeiro picks the top six from her travels.
If you have lived in India long enough, you'd agree how chutneys play an important role in any cuisine.
Served as a side dish, the play of key ingredients with rich spices and preservatives vary from state to state and makes for an interesting food journey.
Mini Ribeiro talks to chefs from across the country to share the best chutney recipes.
---
Tamatar Khejoor Chutney (Tomato and Date Chutney)
Recipe by chef Sirajul Rahaman, Chef de cuisine, Novotel Kolkata
Being from Kolkata, I am partial to this sweet and tangy, tomato and khejoor (dates) chutney.
No Bengali meal is complete without this delectable chutney.
It is usually served at the end of the meal and is best enjoyed with a crisp papad.
Simple to make and delicious to taste, this chutney by chef Siraj, is a must try.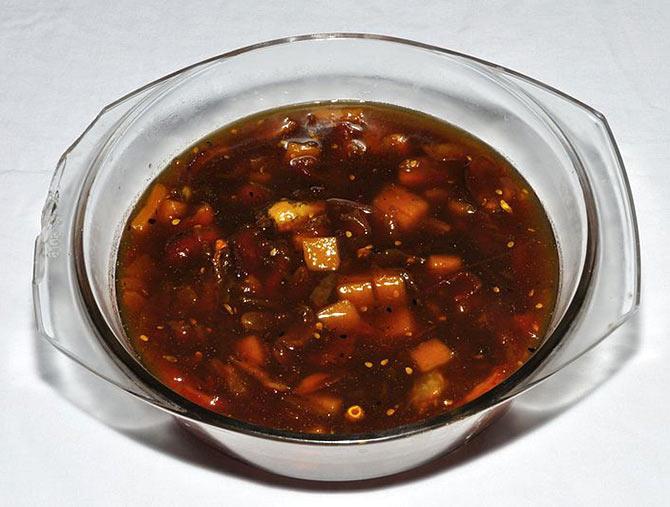 Photograph*: Biswarup Ganguly/Wikimedia Commons
Ingredients
450 gm ripe tomatoes
5 to 6 dates
2 dried Kashmiri red chilli
3/4 tsp mustard seeds or panch phoron (Bengali five spice-blend)
2 tsp grated ginger
3 tbs vegetable oil
1/2 cup or (increase quantity as per taste)
2 tbs raisins
2 tbs amsatta or aam papad (mango jelly)
2tbs cashewnuts
1 tsp salt
Method
Discard the woody tops of the tomatoes and rinse. Roughly dice and set aside.
Pitt and quarter the dates and set aside.
Add oil to heavy bottom sauce pan and heat it.
Add mustard seeds and red chillies.
As soon as the seeds splutter, add the diced tomatoes and cook it with closed lid on medium-low heat until the tomatoes have softened, for about 10 minutes.
Add salt, sugar, amsatta, cashewnuts ginger and dates, and sauté on medium-high heat for another five minutes with the pan uncovered till the chutney is thick and everything blends well.
Remove the lid, taste and adjust seasonings.
The chutney should taste sweet and spicy.
Serve at room temperature or chilled.
---
Kiwi aur Anar ki Chutney (Sweet and Sour Kiwi fruit and pomegranate chutney)
Recipe by Chef Davinder Kumar, vice president, F&B (Production), Le Meridien New Delhi.
Fruits too can prove to be a unique ingredient for chutneys.
The kiwi and anardana chutney is a perfect example of chef Davinder's innovative mind.
Not a traditional Indian fruit, today kiwi is freely available and hence the chef has skilfully combined it with our very own anardana, commonly used in North India, to make a lip-smacking chutney.
I like the way in which anardana, has been incorporated as well, along with some spices, imparting an interesting tangy, flavour to the chutney.
This chutney is is apt with spicy fried pakodas or even spread on a paratha or naan.
Ingredients
8 ripe kiwis peeled and diced
1 tsp dry anardana (crushed pomegranate seeds)
1 tsp refined oil
1/2 tsp ground cumin seeds
1 tsp fine chopped green chili
1/2 tsp fine chopped ginger
1/2 tsp rock salt
2 tsp palm sugar
2 tbsp coarsely chopped raisins
1 tsp fine chopped lemon zest
1 tsp lemon juice
2 tbs fresh anar seeds
Method
Blend the kiwi in a food processor and keep aside.
Heat refined oil in a non-stick pan.
Add grounded cumin, green chilli and ginger and sauté for a while.
Lower the heat, add kiwi and anardana puree and cook for 10 to 15 minutes, stirring continuously till water dries up.
Add rock salt and palm sugar.
Remove from fire and transfer to a mixing bowl.
Add raisins, lemon zest, lemon juice and mix well, check seasoning and let it cool completely.
Store in a sterilised, air tight container in the refrigerator for up to 2 to 3 days.
---
Doddapatre or Ajwain ke patton ki chutney
Recipe by chef Mayur Ramachandran, executive chef, The Deltin Daman
This unique chutney popular in Karnataka, particularly Mangalore is a palate-pleaser.
I remember I was spellbound when I first tasted this at The Deltin Daman.
The spicy and tangy taste of this chutney, along with the fact that something as uncommon as ajwain ke patte or leaves has been used, as the core ingredient, sets this apart.
A perfect complement to a bowl of steaming hot rice and dal.
Ingredients
30 to 40 ajwain ke patte
Curry leaves , few sprigs
2 tsp channa dal
2 tsp urad dal
2 to 4 red chillies
Tamarind 20 gms
2 cups grated coconut
1 tbsp cooking oil
Salt as per taste
For tempering
2 red chillies
1 tsp mustard seeds
1 tbsp urad dal
2 tsp cooking oil
A pinch of asafoetida
Method
Wash and pat dry doddapathre leaves.
Heat a frying pan, add oil, red chillies, chana dal and urad dal. Fry till the dal turns slightly brown.
Reduce the flame, add curry leaves and fry for a minute.
Add ajwain leaves, fry till the leaves become soft and switch off the gas.
Add grated coconut and stir in it with the ingredients and add tamarind.
Blend the ingredients together.
Temper it with oil, red chillies, mustard seeds, hing and urad dal.
Serve with dosas or idlis.
---
Peerkangai Thogayal (Ridge Gourd Chutney)
Recipe by Chef Mayur Ramachandran, Executive Chef, The Deltin Daman
The name ridge gourd conjures images of a boring vegetable in our minds. But Chef Mayur has transformed this not-so popular veggie into an exciting chutney, making us realise how versatile this ingredient can be.
The tempering here, further adds zing to it.
This chutney is popular down South, especially in Palakkad district of Kerala.
One can enjoy this thick chutney with a appams or even mix it with rice.
Ingredients
2 ridge gourd chopped
2 onion
1 tsp mustard
2 sprigs curry leaves
½ tsp asafoetida
2 tbsp urad dal
3 to 4 red chillies
2 tbsp grated coconut (optional)
1 tomato
1 tbsp coconut oil
Method
Wash and scrape the skin of ridge gourd and chop it into medium sized pieces.
Heat 2 tsp of oil. Add chopped ridge gourd, salt and cook covered till tender.
Heat a tsp of oil. Add mustard seeds.
When it splutters, add asafoetida, urad dal and red chillies. Fry till dal turns golden brown.
Add tomatoes and fry for a few more seconds.
Switch off the flame, add grated coconut and saute in the heat of the pan itself. Leave it to cool.
Grind with a little cooked ridge gourd to a smooth paste, then add the remaining vegetable and grind it a bit coarsely.
Add little water only if required.
Check for salt and serve.
---
Kokum Chutney
Recipe by Chef Edridge Vaz, Casa Sarita, Park Hyatt Goa
Kokum, Goa's local hero, is a fruit, which is widely used as a souring agent in curries.
I was blown away by the culinary twist chef Edridge Vaz, at Park Hyatt Goa, gave to this ingredient, by using it in a piquant chutney.
The coconut of course, gives it the complete coastal touch.
This delicacy, from Goa would make an ideal condiment in an elaborate, Saraswat thali.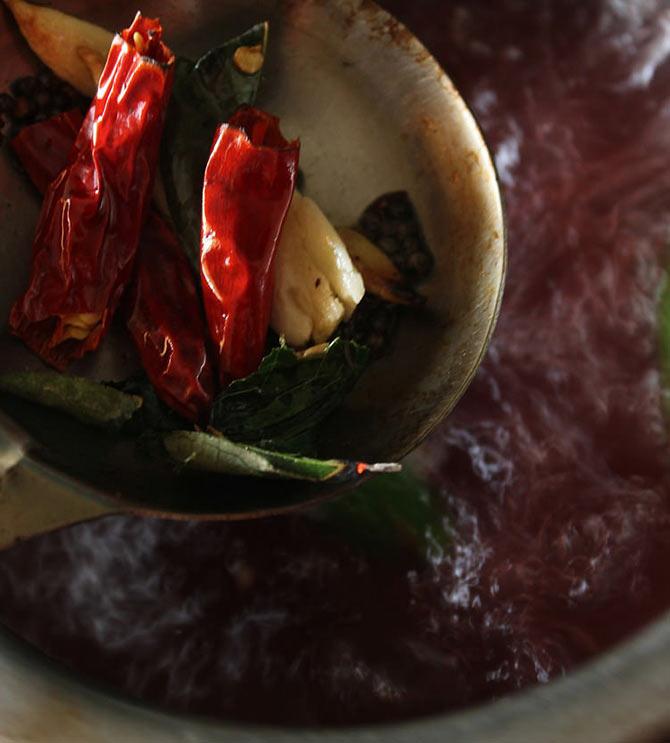 Photograph*: Lavanya Kumara Krishnan/Creative Commons
Ingredients
50 gm kokum
200 gm grated coconut
5 gm garlic
5 gm ginger
2 to 3 green chillies chopped
1/2 tsp cumin seeds
1 small onion sliced
3/4 tsp salt
1 tbsp sugar
1/2 cup water or as required
Method
Grind all the ingredients using little water to a slightly coarse paste.
Transfer to a bowl and serve.
---
Onion Chutney
Recipe by chef Ramesh Kukreti, head chef, Courtyard by Marriott, Kochi Airport
Chef Ramesh Kukreti from Courtyard by Marriott, Kochi Airport, makes chutneys using the rarest of ingredients.
His vast repertoire of chutneys ranging from a red chilli chutney to a curry leaves chutney, tantalise the tatse buds of food lovers. But this onion chutney is the piece de resistance.
A staple in Tamil Nadu and Kerala, it is usually eaten with idlis or dosas.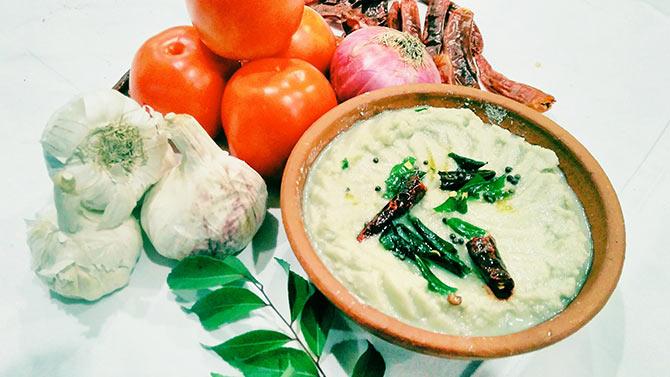 Ingredients
500 gm sliced onion
10 gm ginger
10 gm garlic
A few curry leaves
2 green chillies
20 ml tamarind pulp
Salt as per taste
For tempering
2 gm mustard seeds
2 gm urad dal
5 ml refined oil
A few curry leaves
2 whole red chillies
Method
Heat oil. Add urad dal, ginger, garlic and onion.
Saute well till onions turn golden brown.
Add some curry leaves and green (or) red chilli and tamarind pulp water. Sauté well till smooth.
Blend to a smooth paste.
Check the seasoning as per taste.
Finish with tempering as a garnish.
*Images used for representational purposes only.
Click here for interesting recipes and food features
Do you have an interesting recipe to share? Write in to us at getahead@rediff.co.in (subject: My Fav Recipe) with your name, hometown and any interesting details about the origin of the recipe, along with a photograph if possible.
We'll publish the best preparations right here on Rediff.com and in India Abroad.