This cold dessert is made with thick custard, fresh and dry fruits of your and sponge cake and arranged in layers. You can also top it with whipped cream.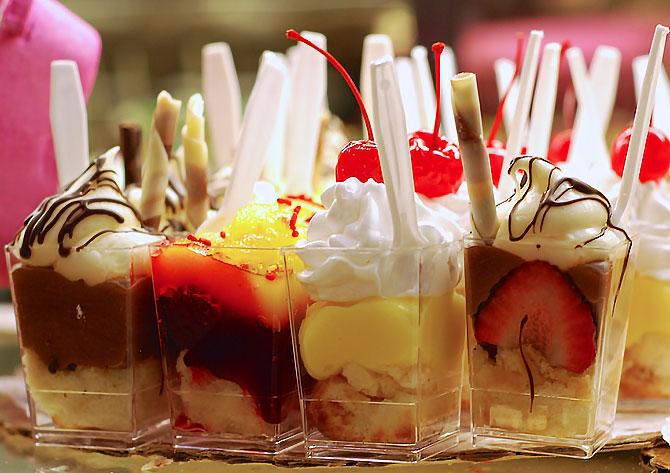 Ingredients
1 vanilla sponge cake 500 grams (readymade available in market)
2 tbsp heaped custard powder
3 to 4 tbsp sugar
½ litre milk
1 pineapple
½ cup walnuts chopped
Water as desired
Method
Cut pineapple into slices and boil for 15 to 20 minutes in 2 cups of water and 2 tbsp sugar.
Remove the pieces and keep aside. Do not throw away the syrup as it will be required to moisten the cake.
In a cup, add custard powder with ½ cup water. Mix well to dissolve the powder, there should be no lumps.
Boil milk. Add sugar and mix well.
Add custard paste to the boiling milk. Stir quickly and continuously for a smooth mixture.
Turn off flame after giving it one boil. Let it cool before you refrigerate it.
Cut the vanilla cake into three layers.
Moisten each layer of cake with the pineapple sugar syrup. Refrigerate for about 10 minutes.
Chop boiled pineapple into smaller pieces.
Now put one cake layer at the bottom of a pudding bowl.
Pour a layer of custard over it.
Put some pineapple pieces and chopped walnut pieces over it.
Now put the second layer of cake and repeat the process.
Refrigerate for an hour.
Serve chilled
Note: You can substitute pineapple with strawberry or mango. No need to boil. Just chop and use. To moisten the cake you can use strawberry syrup or mango juice or Slice or Mazaa.
Photograph: Chef Mick (Michaelangelo) Rosacci/Creative Commons
Loved this recipe? Click here for more interesting recipes and food features!
ALSO SEE
Want to share your favourite recipe? Simply e-mail your recipes to getahead@rediff.co.in (subject line: My Fav Recipe) with your name, hometown and any interesting details about the origin of the recipe, along with a photograph of the recipe, if possible. We'll publish the best preparations right here on Rediff.com and India Abroad.