Rediff reader and food blogger Swayampurna Mishra sent us this festive dessert recipe.
You can send yours too!
This festive season, relish the irresistible combination of rum, raisins and chocolate in a yummy recipe.
Here's the recipe for Rum Raisin Chocolate Brownie: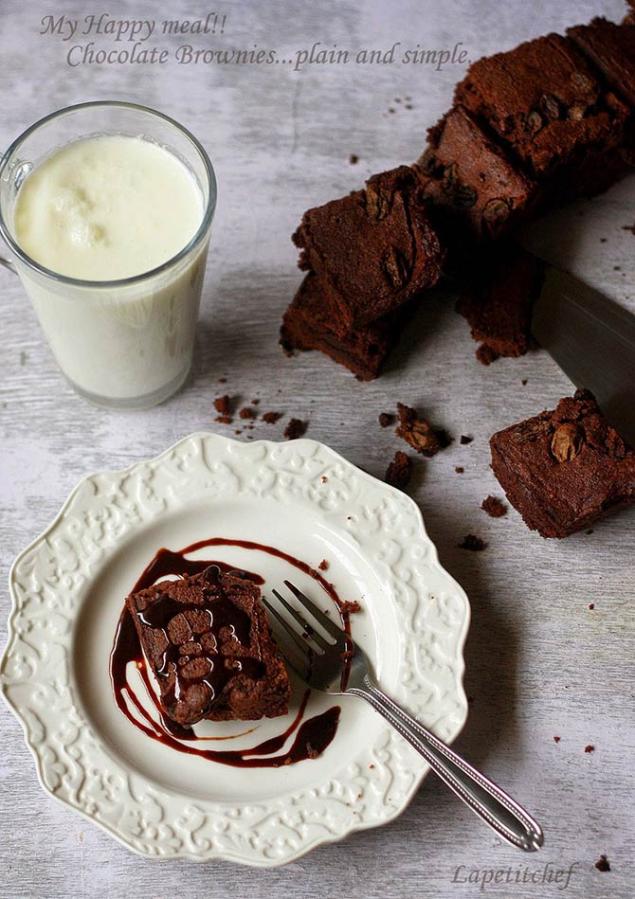 Makes: 16 squares
Preparation time: 15 to 20 minutes
Cooking time: 40 minutes
Ingredients
100 gm unsalted butter
1 1/2 cup granulated sugar
1/2 cup unsweetened cocoa powder
2 eggs
1 tsp vanilla extract
3/4 cup all-purpose flour
2 tbsp rum
A handful of raisins
Method
Heat oven to 350 degree F or 180 degree C.
Line an 8 x 8 baking ban with aluminium foil leaving excess foil hang over two opposing sides for easy removal.
Grease and flour bottom and sides of the foil; set aside.
In medium bowl, melt butter in microwave on high at 30 second intervals, stir and repeat if necessary until fully melted.
Whisk in sugar and cocoa. Beat in eggs and vanilla.
Add rum.
Using a rubber spatula, fold in flour until flour is completely blended in cocoa.
Pour evenly into pan.
Sprinkle the raisins on top.
Bake for 35 to 40 minutes or until toothpick inserted in centre comes out clean.
Notes
This is a thick dense batter. A rubber or an offset spatula is recommended to easy spreading.
You can omit the rum and make it the plain classic way.
One can also add chopped walnuts for a walnut brownie.
Wrap some in cellophane papers and pretty ribbons or put in a jar for edible gifts this season!
Enjoy with a glass of cold milk!
Photo: Swayampurna Mishra
ALSO SEE
Recipe: How to make Eggless Fruit Cake
Loved this recipe? Click here for more interesting recipes and food features!