The irresistible Indian sizzler is not only easy to make, it is gluten-free too. Try this recipe at home and share your favourite recipes with us!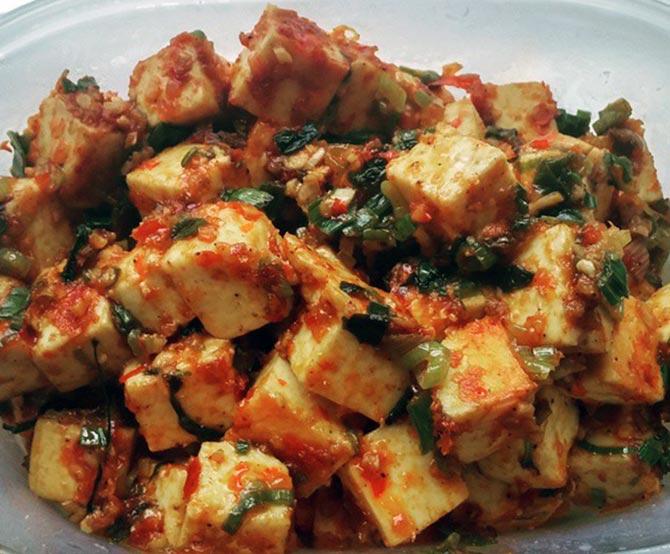 If you visit any vegetarian restaurant in India and you'll find Paneer Chilli to be one of the most tempting items on the menu.
However, the maida and corn flour coating ensures that you will add a few extra calories to your tummy than you intended to.
Presenting an easy recipe to make Paneer Chilli at home, sans the corn flour and maida of course.
Once you have cracked this recipe, you might want to share it with your friends.
Ingredients
200 gm paneer diced
1/2 cup finely chopped spring onion
2 tbsp soy sauce
1 tbsp ginger finely chopped
2 tbsp garlic finely chopped
7 to 8 dry red chillies
1 tsp black pepper powder
A pinch of sugar
Salt as required
Oil for cooking
Method
Wash paneer and drain the water. Sprinkle some salt and pepper and marinate for 10 minutes.
Soak red chillies in hot water for 10 minutes and drain all the water.
Blend ginger, garlic and red chillies to a coarse, semi liquid consistency. Add salt, a pinch of sugar and keep aside.
In a pan, heat some oil and shallow fry paneer for two to three minutes. Drain the oil and keep aside.
In the same pan, heat some oil and add spring onion.
When onions begin to change colour, add the blended mixture.
If the mixture sticks to the pan, lower the flame, add some cooking oil and keep stirring for about 10 minutes on a low to medium flame.
Add marinated paneer cubes and mix well. Add soy sauce and cook for a minute on a medium flame.
Serve hot with fried rice or relish it as an evening snack.
Photograph: Divya Nair